隔夜燕麥粥(Overnight oats)在近幾年從歐美流行到台灣,我也是在約一年前接觸到它,現在也是我早餐的選擇之一。也是要打這篇時才突然發現我好像還沒有分享我自己固定的隔夜粥食譜,近期拍照後再分享,這篇要分享的是很適合當點心或甜點的 全素椰奶隔夜燕麥杯。
Overnight oats get their way into Taiwan a few years ago, and I met them about a year ago. Now they often appear on my desk in the morning. And it is not until this moment that I realize that I haven't shared my overnight oat recipe yet. It'll come soon. I promise. But this time I'd like to share this Vegan Coconut Overnight Oats that are suit for dessert or snack time.
全素椰奶隔夜燕麥杯
Vegan Coconut Overnight Oats
這個食譜是前陣子我在 Angela Liddon 的網站 oh she glows 上看到的,也是先前製作的 藍莓奇亞籽果醬 參考指標。但其實在滿久前就有在 YouTube 上看到我喜歡的 Dani 分享用椰奶做的奇亞籽布丁,而這個燕麥粥也就是類似的食譜,但因為主要是燕麥,所以吃起來更濃稠,而且再加上有果醬的堆疊,讓它的外表更吸睛!
喔對,另外這個食譜還有加入一樣台灣比較少見的食譜:小荳蔻粉 (Ground cardamom)。記得也是在去年才認識小荳蔻的,它很適合加入甜點,增加風味。我是在網路上買小荳蔻,自己用研磨機磨碎後再過篩使用。如果你沒那麼喜歡,或是真的覺得不好取得,不加也無妨,但可能就是少了一丁點風味。
I saw this recipe by Angela Liddon on oh she glows a while ago. It is also the main reference for my Blueberry Chia Jam post. In fact, I have watched a similar recipe by Dani on YouTube before that time. So when this recipe seems to be déjà vu, but it definitely tastes creamier thanks to the oats. What's more, the overnight oats are an eye-catcher with the additional jam layer.
BTW, this recipe also has one special ingredient: ground cardamom, which is not so common in Taiwan… yet ( I guess). It was also a stranger to me not until a year ago. It is suited for dessert or snack recipes. I bought my cardamom online and ground them by myself in my coffee grinder and sift them before using. If you don't like cardamom or find them hard to get, then I'll say just skip them and continue. But the result may be less flavorful due to the omitting ingredient.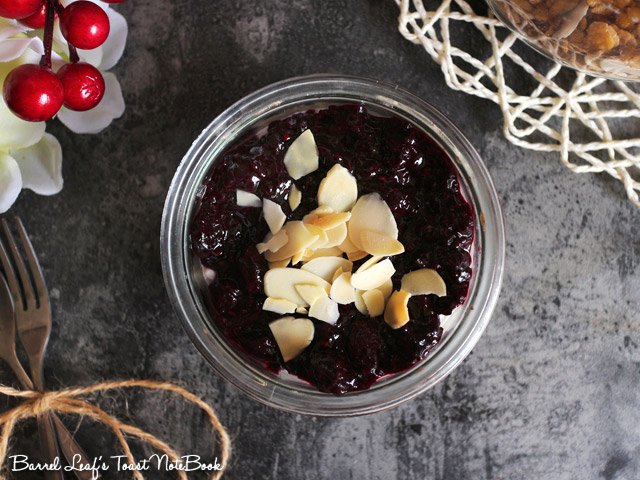 Angela Liddon 在原食譜最後有加上洋梨塊,但因為目前並非洋梨產季,加上我手邊剛好也沒有什麼水果,所以就用我常加的杏仁片來做最後點綴摟。當然也可以自行加自己喜歡的堅果、水果或是燕麥穀片也都可以,自己做就是加自己喜歡的東西!
In the original recipe, Angela adds some chopped pears on top. But since now is not the pear season and I just got no fruits that suit for this recipe on my hand, I decided to use my regular old friend: sliced almonds. Sure you could add any nuts, fruits you want, or granola would be great, too. We make them for our own, so make them as you like. Make them work best for you.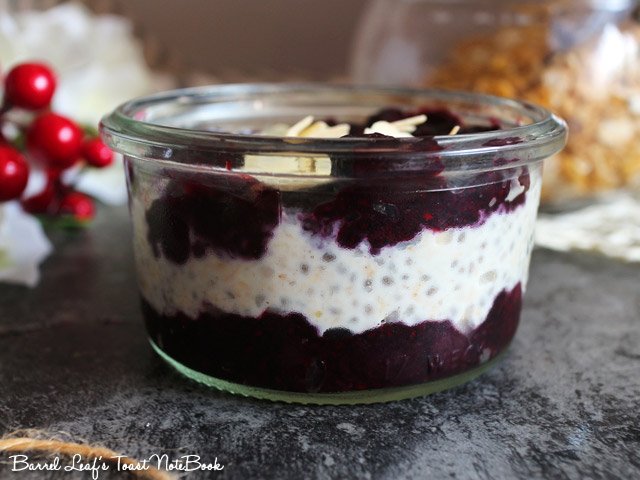 一般燕麥粥通常沒什麼層次,但這個燕麥杯有加入果醬來做層次,讓它看起來格外吸睛,也是一開始我被這個食譜吸引的原因之一。人是視覺動物嘛~ : 9
Common overnight oats do not have layers, but this one has. And it is the additional layer element that makes it look more awesome and beautiful. It is also one of the reasons that I was attracted to this recipe. Humans brains are working visually, right?
這個食譜其實和隔夜燕麥粥差不多,主要是用的"奶"不一樣,一般隔夜燕麥粥會用一般牛奶或是杏仁奶,而這個食譜是使用椰奶,也是椰奶的加持,讓這燕麥杯嚐起來更濃郁、像甜點。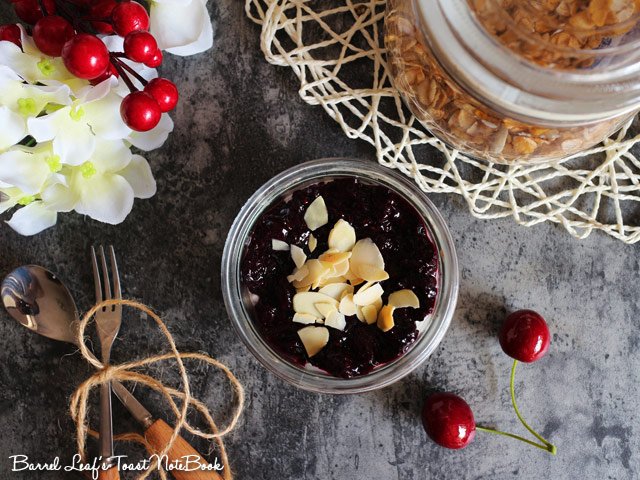 先說一聲,雖然是當成點心、甜點,但是用的楓糖漿比例非常低,吃起來是微甜的滋味,如果你喜歡甜一點,可以再適量添加,但我個人是不愛吃甜,所以覺得這樣的甜度嚐起來很剛好。椰奶加上淡淡的肉桂粉與小荳蔻粉結合成的滋味,再加上藍莓果醬的莓果酸甜,真的讓我忍不住一口接一口。好,來動手做吧!
This recipe is really similar to regular overnight oat recipes. The main difference is the "milk" used. Regular overnight oats often use dairy milk or almond milk. This recipe calls for coconut milk, which makes it taste creamier and richer, more like a dessert.
FYI, even though I say "a dessert," it actually uses very little sugar (maple syrup in this case). The sweetness is really subtle. If you are a "sweet" person, you could add more to taste, but I find the little sweetness is enough and works fine for me. The coconut flavor goes well with the cinnamon and cardamom flavor. With added blueberry chia jam layer, I really cannot hold myself back from finishing a jar at one time.
So, here we go!
---
(※ 引用食譜煩請註明出處與原文網址.勿拿此食譜行商業行為 ※)
椰奶奇亞籽隔夜燕麥杯
Coconut Chia Overnight Oat Parfait
---
食材 :(約 2 – 3 人份)
Ingredients:(Serves: 2 – 3)

200 ml full-fat coconut milk
1.5 Tbs chia seeds
50 g ( 1/2  cup) rolled oats
1/2 Tbs maple syrup
1/4 tsp ground cardamom
1/4 tsp cinnamon
Blueberry chia jam or other berry jam you like
Add-ons: chopped fruits, nuts, or granola
Optional: add some water if the mixture is too dense
---
---
✂ —— 📽  實作影片 ——✂ 
---
作法/步驟:

將除了果醬與搭配配料之外的其它食材放入碗或是一容器中,攪拌混合均勻,之後密封至於冰箱冷藏一晚或至少冷藏4小時
將燕麥粥取出,攪拌一下,若覺得太稠可添加適量飲用水,調製理想稠度
取一個罐子,先在底層鋪一層果醬,再加上隔夜燕麥粥,接著再放上一層果醬
最後再表面上灑杏仁片,或其它喜歡的配料即可享用。剩下的燕麥粥需密封冷藏保存,約可放 3 – 4 天
Directions:

Mix all ingredients except jam and add-ons together in a bowl or container. Wrap the bowl or put the lid on. Refrigerate overnight or at least for 4 hours.
Remove the overnight oats from the fridge. Give it a stir the check the consistency. Add some water if you find it too dense and stir well to the idea thickness.
Layer the jam and oat mixture in a jar. I would recommend jam goes first, followed by the oats, then another jam layer. Add sliced almonds or toppings you like. Enjoy. The left overnight oats can be store in air-tight containers in the fridge for 3 – 4 days.
---
---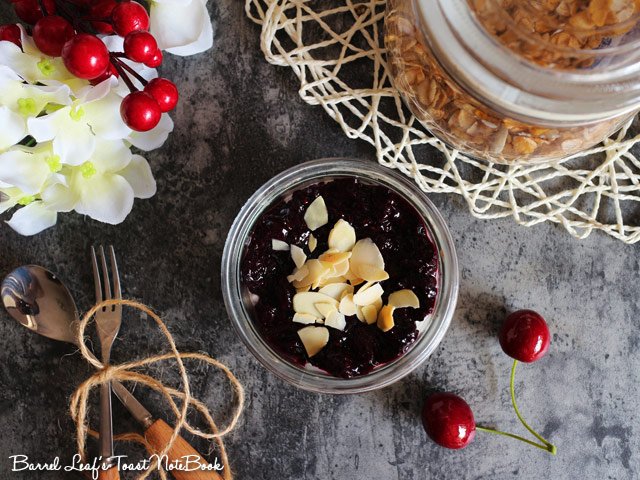 請享用!
Bon appétit!
製作日期:2017/06/09
---
---
You Might Be Interested …
彩虹優格碗 Rainbow Yogurt Bowl|我最愛的早餐之一 One of My Favorite Breakfast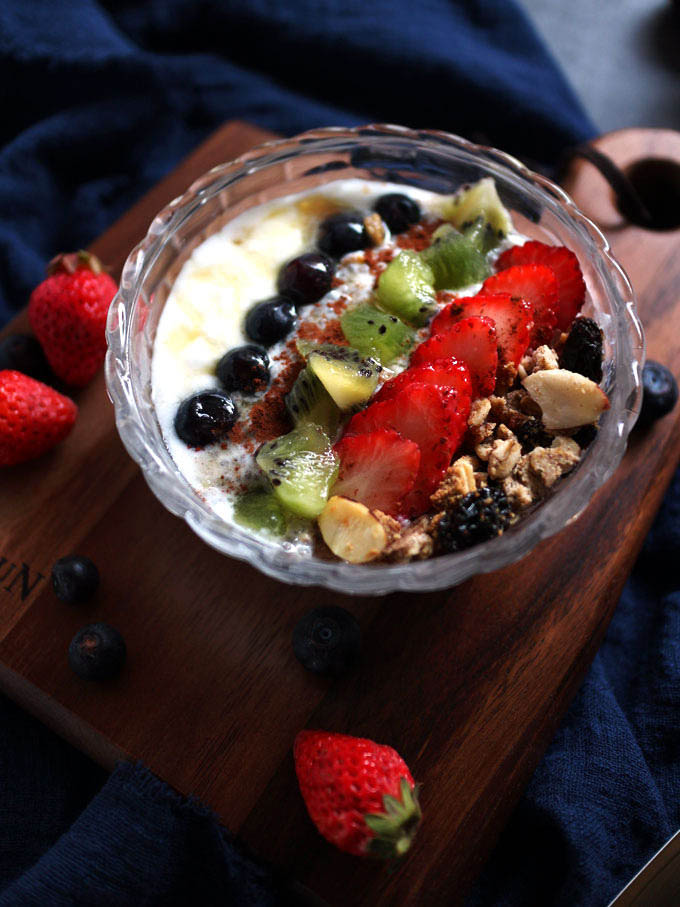 蔓越莓芒果酪梨果昔碗 Cranberry Mango Avocado Smoothie Bowl

---
🔽 新創 FB社團,歡迎大家加入 🔽
『自然飲食小廚房 Healthy Clean Kitchen』
【Barrel Leaf 桶子葉の吐司記|Mellow with Plants】