想要吃塊美味、健康一點的巧克力布朗尼嗎? 試試這個全素黑豆巧克力布朗尼吧! 它嚐起來濃郁但不甜膩,而且因為黑豆的關係,裡頭還藏著許多營養素。
Do you want some delicious and healthier chocolate brownies? Try this Vegan Black Bean Chocolate Brownies! They are rich but not overpowering sweet. With black beans sneaked inside, these brownies are also packed with nutrients.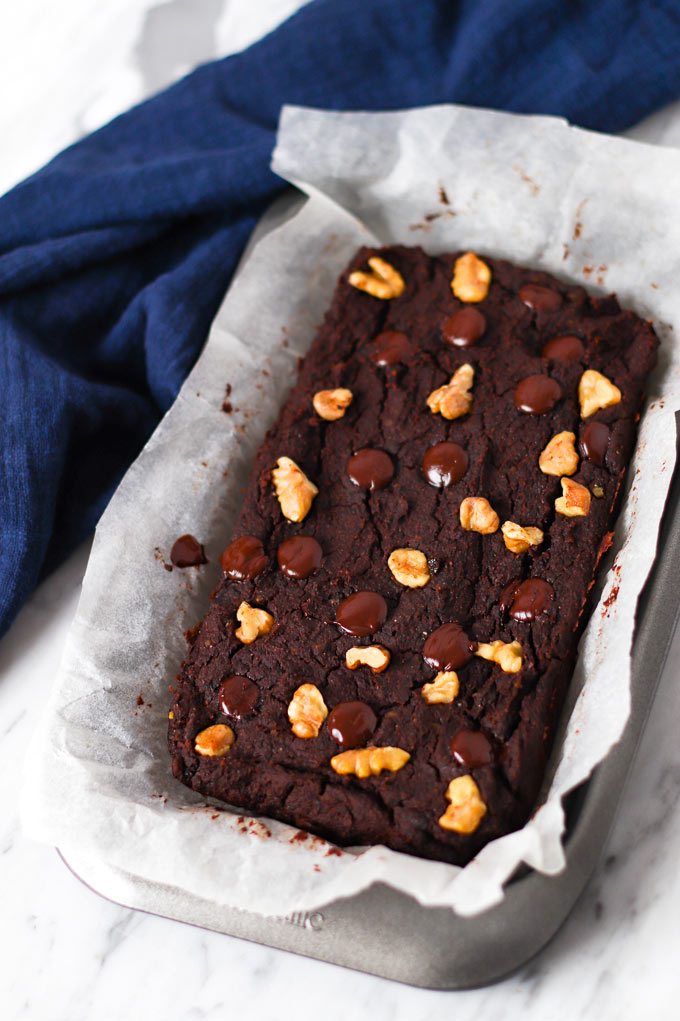 全素黑豆巧克力布朗尼
Vegan Black Bean Chocolate Brownies
在滿早之前就有想利用黑豆製作巧克力布朗尼的想法,先前有試作過幾次,但成品不太很理想,而這幾次製作,終於做出讓自己滿意、甚至有點停不下口的黑豆巧克力布朗尼了!
I've been thinking about making vegan chocolate brownies with black bean, and in fact, I really "bean" there. But the previous results were not great. And this time, I finally make "the" Vegan Black Bean Chocolate Brownies that I kind of non-stop eating.
這個巧克力布朗尼有兩個我個人認為美味布朗尼要有的重點:
They got two things that I personally think delicious brownies should have:
Rich chocolatey flavor
Fudgy & firm texture
因為我個人不太喜歡太軟潤的食物,布朗尼當然也包含其內,所以它並不會到太軟潤,還是有一點咬實的口感。如果你喜歡那種非常軟的口感,那麼我想你可以試試減短烘烤的時間,但我自己是還沒試過啦,因為我不喜歡那樣嘛。那麼或許這也是個可以讓你和烤箱培養感情的好機會…吧。
I don't like food get too soft, which also apply to brownies, so these brownies are fudgy yet with a "bite" texture. If you prefer extra fudgy, you could probably reduce the baking time. However, I haven't tried to do so since that's not what I want. So it's time for you to cultivate the relationship with your oven, I guess. 🙂
雖然開門見山就說了它有黑豆,但我想你應該吃不出來黑豆的存在的,至少我是吃不太出來的,而它要美味,有兩個關鍵:
就是在用你愛的可可粉 (我很喜歡這款可可粉的味道)
用食物調理機製作
相信我,因為我已經用食物處理機做過幾次,但口感就不理想,所以 … 已經告訴你嘍! 如果你還是要試的話。 😛
Even though I've spilled "the black bean" out, I think you probably would not know that these brownies are made of black beans. At least I don't taste them. The key points are:
Using your favorite cocoa or cacao powder. (I love the flavor of this one)
Making them with a blender
Trust me on this because I've been trying to use a food processor to do the work for a few times but they didn't turn out great. So, I've told you, if you want to try.
核桃除了是我很愛的堅果,也是讓我覺得和巧克力布朗尼最搭的堅果之一! 然後巧克力豆應該再多也不嫌多,對吧?
Walnuts are not only one of my favorite nuts, but also one of those things go really well with chocolate brownies, in my humble opinion. And, you know, there's never too much chocolate chips, right? 😉
這些布朗尼們可以熱熱得或是冰冰的享用。熱的時候口感較軟、滋味也較濃郁;冷的吃口感較緊實、也比較沒那麼濃。我個人偏好喜歡從冷藏拿出來冰冰得吃,因為喜歡那咬實感;但當我想吃濃郁巧克力滋味時,就會把它們放到微波爐用最小火加熱約 10 秒,或是放入烤箱稍微回烤一下,讓巧克力豆融化。
These brownies can be enjoyed both warm or cold. They get softer and richer when warm, firmer and lighter when cold. I personally love them cold because I like the "bite" texture. But when I want something really rich with chocolate flavor, I just microwave them for about 10 seconds or warm them in the oven for a few minutes to let the chocolate chips melt.
一些額外想說的:
黑豆我是用自己煮的黑豆,你也可以用罐頭裝的,但記得把水瀝掉後,要再沖洗一下,因為罐裝的通常會加鹽
巧克力豆的部份我是加在表面而已,但若你想有更濃郁的巧克力滋味,可以在烤之前,再拌入一小把巧克力豆進布朗尼混合料裡
如果你也很愛巧克力布朗尼,那麼我建議你也可以試試 全素溼潤酪梨巧克力布朗尼、全素生巧克力布朗尼、全素焦糖大理石巧克力布朗尼。那麼我們就接著來動手做吧! Let's do this!
Some Final Thoughts:
I cook my own black beans, but you can also use a canned one. Just remember to give them a rinse after draining because the canned ones usually contain salt.
I only add the chocolate chips on top but feel free to stir in extra chocolate chips into the brownie batter for a richer chocolate flavor.
If you love chocolate brownies as I do, I'll also recommend to try out the Vegan Fudgy Avocado Chocolate Brownies, No-Bake Chocolate Brownies (with delish silk chocolate frosting), and Caramel Marbled Chocolate Brownies.
完整食譜 How To Make
Print Recipe
全素黑豆巧克力布朗尼 Vegan Black Bean Chocolate Brownies
Ingredients
240

g

cooked black beans 煮熟黑豆

,

~from a 400 ml canned black bean

140

g

pitted dates 去籽椰棗乾

10-12

Tbsp

water 水

1

tsp

vanilla extract 純香草精

1/2

tsp

baking powder 泡打粉

8

Tbsp

cacao or cocoa powder (生)可可粉

A

pinch

salt 1 小撮鹽

1

Tbsp

ground chia seeds 奇亞籽粉

3

Tbsp

peanut butter flour 花生醬粉

,

or 2 Tbsp peanut butter 或 2 Tbsp 花生醬*

4

Tbsp

walnuts, chopped 切碎核桃

4

Tbsp

dark chocolate chips 70% 黑巧克力豆
Instructions
取一長條麵包模,裡頭鋪烘焙紙,再將布朗尼混合物填壓入模具中,儘可能鋪平

將碎核桃與黑巧克力豆灑於表面,再稍微按壓入布朗尼體中

放入烤箱烘烤 20-25 分鐘,至表面偏乾、用刀子插入中間無溼液體沾黏

取出,置於網架上讓它稍放涼 5-10 分鐘,再放入你的口中
English Version
Preheat the oven at 175 C / 350 F.

Add the black beans, water, pitted dates, and vanilla extract to a blender to blend together. Recommend to use a tamper if you got one. Stop and scrape down the side as needed.

Grab a loaf pan or small baking sheet. Line the pan with parchment paper. Transfer the brownies mixture into the pan and spread it out evenly.

Sprinkle the walnut pieces and chocolate chips on top and push them a little bit inside the chocolate brownies mixture.

Place it into the oven to bake for 20-25 minutes until the surface is a little bit dry and you can insert a fork into the center with no liquid attached.

Remove from the oven. Place onto a wire rack to let it cool for 5-10 minutes before putting them into your mouth. 🙂
Video
Notes
我手邊還有先前買的花生醬粉,想用完它,也可以用純花生醬替代,但因為花生醬本身就有流動性,因此水的份量可能要減少到 6-8 Tbsp
此食譜份量可做出照片中布朗尼 2 份
保存:放入密封盒中冷藏保存 3-5 天;冷凍 2 週
I still got some peanut flour which I bought a few months ago and want to use it up. You can use pure peanut butter instead. But since peanut butter is on the liquid side, you probably want to reduce the water to between 6-8 Tbsp.
This recipe yield 2 batches of the brownies in the photos.
Store in the food container in the fridge for 3-5 days or 2 weeks in the freezer.
---
---
其它巧克力甜點食譜:, 全素提拉米蘇蛋糕, 全素偽巧克力起司蛋糕
更多甜點食譜:點我
更多純素食譜:點我
我的器具與食材:點我
此頁面含贊助連結,透過連結購買能透過第三方間接贊助此站,提供更豐富優質食譜與內容,您的購買並不會有任何多的附加費用
Other Chocolate Dessert recipes: , Vegan Tiramisu Cake, Vegan Chocolate "Cheesecake"
More Dessert recipes: HERE
More Vegan recipes: HERE
My Tools, Equipment & Ingredient List: HERE
This page contains affiliate links, which supports me with a small commission to produce more great content on this site at no additional cost to you. Thank you for reading and supporting Barrel Leaf.
---
Click Below to Pin
---
You might be interested …
自製全素 Twix 特趣巧克力條 Homemade Vegan Twix Bars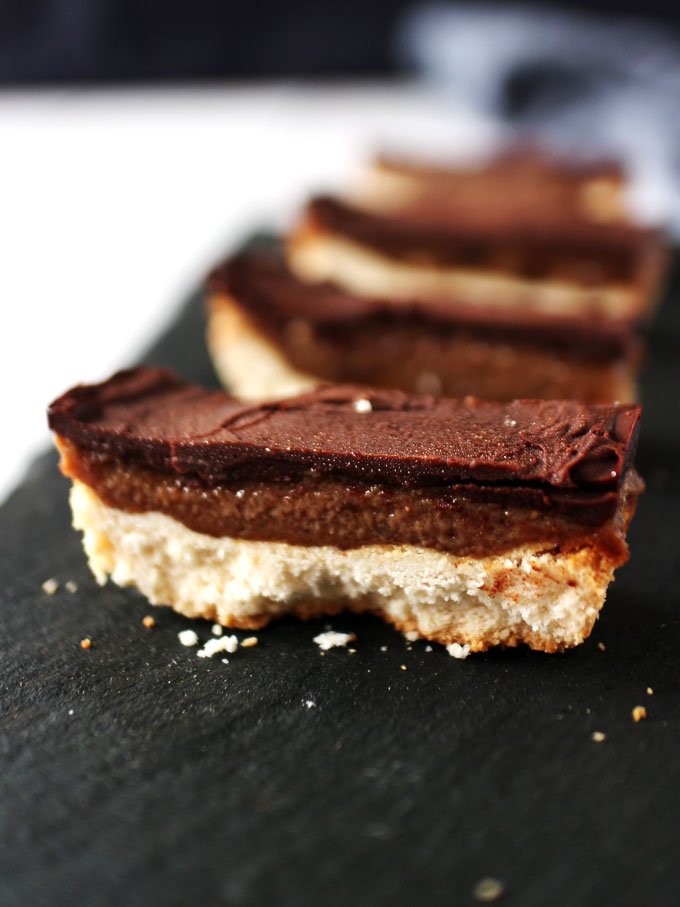 無罪地瓜巧克力布朗尼 (全素+無麵粉) Best-ever Guilt-free Sweet Potato Brownies (Vegan, GF)