Read the post in:
繁體中文
This Mango Sorbet is sweet, creamy, and super refreshing. It only requires 3 ingredients and is easy to make without an ice cream maker. I also share some tips to accelerate the whole process so you could enjoy the mango sorbet as soon as possible!
Mango Sorbet
I didn't have that much love for mangoes until this year. Before this year, I could eat them but I was not really seriously obsessed with them as I'm with chocolate or peanut butter (if you know me well, haha).
But this year I find myself craving mangoes like never before. I don't know why, but here it is. It's a change, and I'm embracing it with curiosity and excitement.
I think it's kind of similar to a situation where you didn't eat certain food when you were little but actually like it when you grow up. I mean, that's quite common, right? And I think it's really interesting, too. Anyway, thanks to this craving for mangoes, here is a Mango Sorbet recipe!
Mango Sorbet is actually really easy to make from scratch. Or I should say, sorbet is not so hard to make. I don't know what's your thoughts on sorbet, but the name of it really made me think it's kind of high-end or complicated stuff.
However, after some testing and trying, I find that it's actually quite easy to make your sorbet at home. Yes, you heard me right. You can make your own sorbet without an ice cream maker or any other special equipment!
The other great thing about making this mango sorbet is that you only need 3 ingredients to make the delicious Mango Sorbet, without any animal product or cruelty involved (I'm vegan so this is for sure).
The 3 ingredients are also very common and easy to get, and you probably already know 1 one them. All you need is mango, lime juice, and a little sugar. Done. Oh, and some water too, if you are really meticulous about the number of ingredients.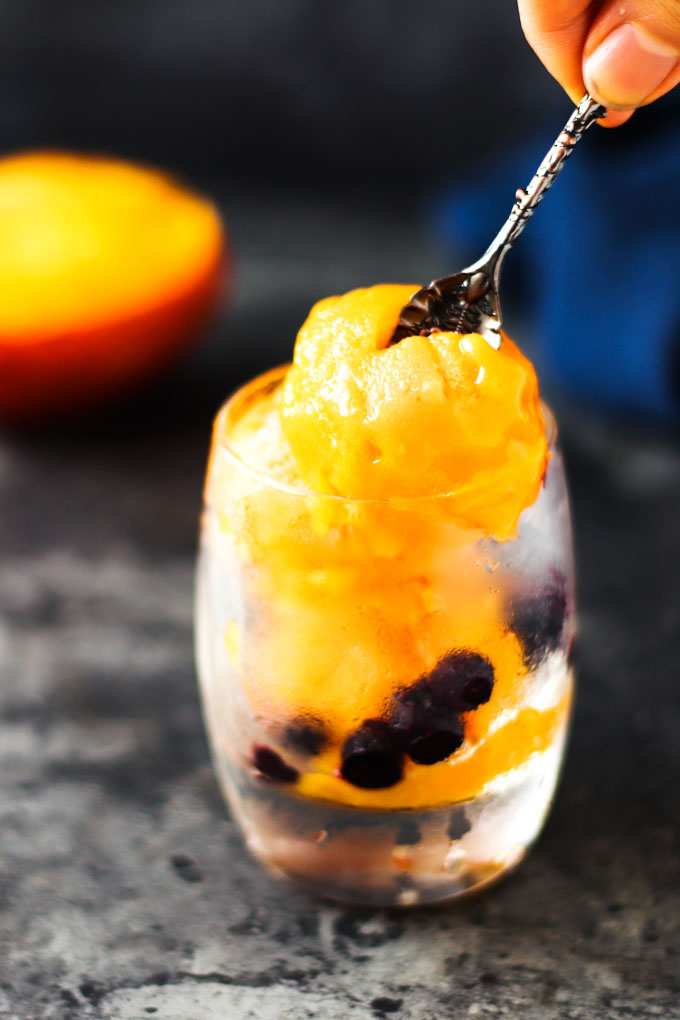 There's a little trick to make your mango sorbet super fast: Peel and separate the mango meat from the seeds. Chop the mango meat in big chunks, spread them out on a baking sheet lined with parchment paper, then freeze them. Yes, FREEZE.
Then when you are serious about to make the mango sorbet, let's make a "syrup" first. Cook the sugar and the water in a small pot and bring it to a small boil. Make sure that the sugar is dissolved and let it boil for about 30-60 seconds. Then turn off the heat.
Followed by blending all ingredients in a blender and you're done. That's really simple, right?
Since we've frozen the mango first, the finished product is like soft-serve ice cream. But if you prefer a hardier texture, transfer the mango sorbet into a freezer-safe container and let it sit in the freezer for another 1-2 hour.
This Mango Sorbet is so creamy, sweet, and refreshing. I really love the addition of the lime juice to add a little sourness to the sweet thing so you don't get overwhelming mango-sweetness.
I really like to freeze my mango and banana because they are like frozen sweet treats just as they are. And they are super great basic ingredients for my smoothie bowls.
More Mango Recipes: