This post is also available in: 繁體中文
Crunchy, Crispy, and made with only 6 simple ingredients, this Chunky Monkey Granola is delicious and perfect for the morning when you feel like something "Chunky Monkey"!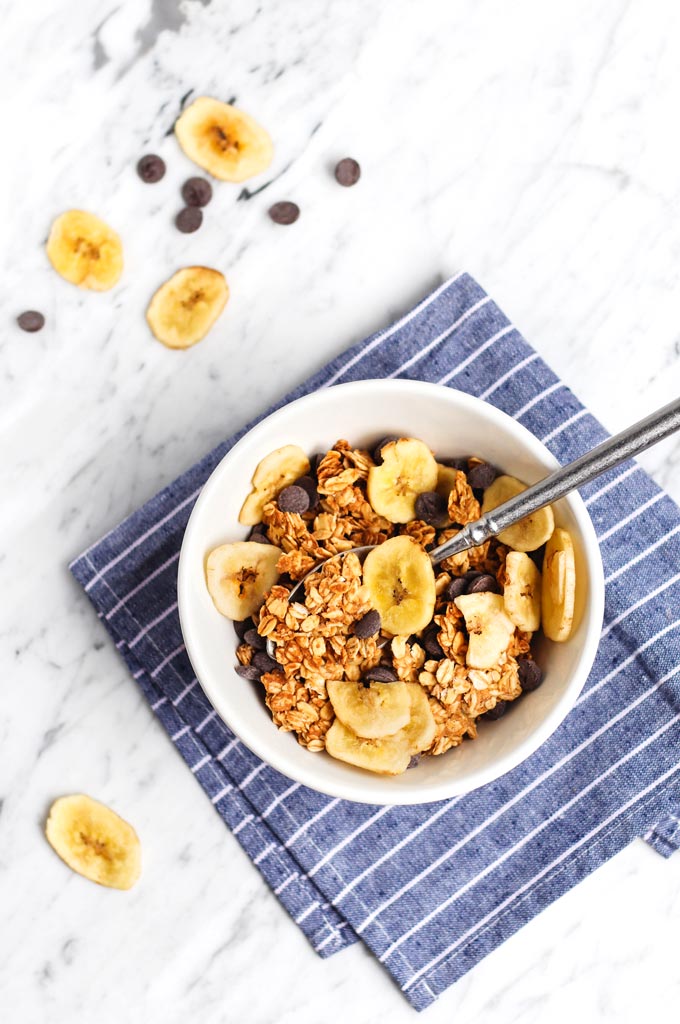 Chunky Monkey Granola
I'm an authentic Taiwanese who never been abroad yet, so I didn't know there's a thing called "Chunky Monkey" until I watched some videos on YouTube featuring "chunky-monkey" flavored recipes.
After understanding "Chunky Monkey" involves bananas and chocolate, I think I have no reason to not like the idea of it because, you know, I love bananas and chocolate.
I know that the "chunky monkey" term is famous because it's one of the ice cream flavors from Ben & Jerry's, which I have never had in my life so I'm not sure what's the real flavor. But I guess I could imagine the flavor based on the ingredients and the picture of it.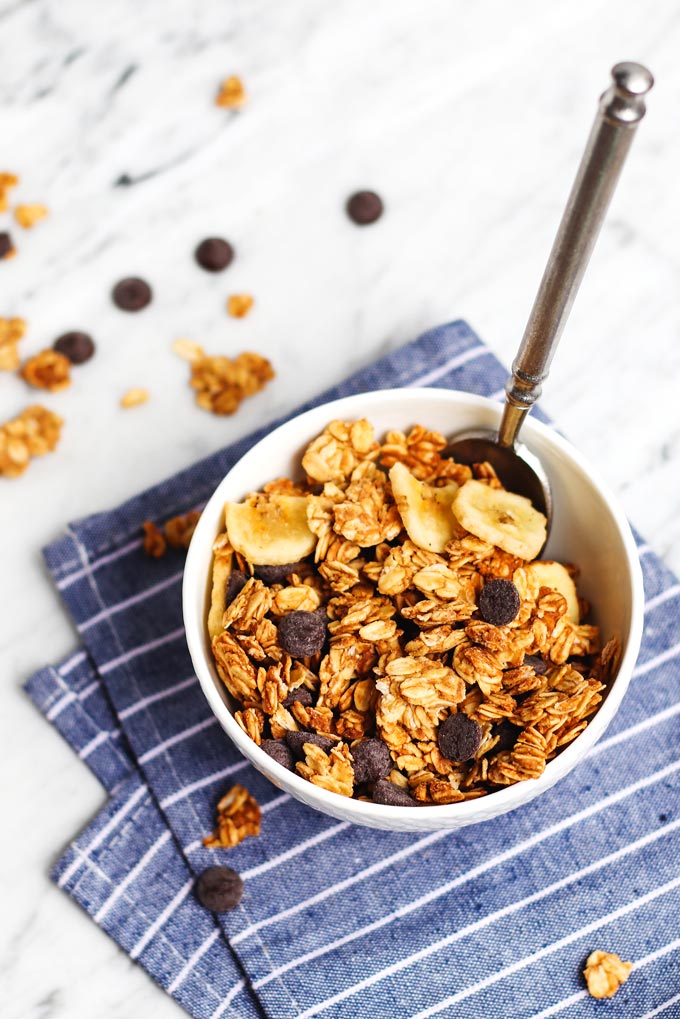 I'm more in the mood for granola these few weeks, so… I just made Chunky Monkey Granola.
I guess you have known that I'm a vegan (but if you're first time here, Hi!), so there's no dairy, no egg, no animal products involved. Yeah.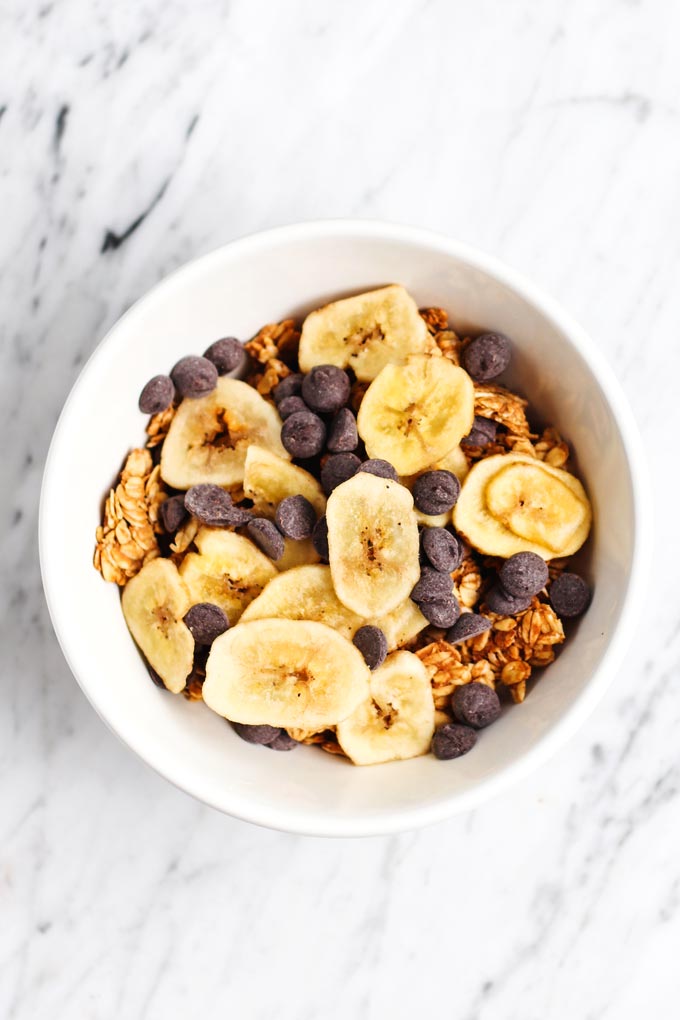 INGREDIENTS FOR CHUNKY MONKEY GRANOLA
I want to keep this recipe simple so here's the 6 ingredients for this vegan chunky monkey granola.
Rolled Oats: You need rolled oats in a granola recipe (at least most of the time).
Peanut Butter: I think the flavor of peanut butter goes really well with banana (I mean, peanut butter goes well with everything, I suppose lol). If you have an allergy to peanuts, you can use almond butter instead. (You can read here to see How to Make Nut Butter)
Coconut Oil: Give our granola the crispiness we want. You don't need much of it, just a little is enough.
Maple Syrup: You got to use maple syrup in this recipe. The unique sweetness of maple syrup is unbeatable.
Chocolate Chips: I like to use dark chocolate chips (around 70 % cacao content). But since this granola is not super sweet, you can use semi-sweet chocolate chips as well if you prefer.
Banana Chips: I think banana chips are the best incarnation of the "Chunky Monkey" idea in this granola recipe. I've tried to use mashed bananas but it turned out more like banana bread granola. So banana chips work best here for me.
Optional ingredients: walnuts, pecans. I love adding walnuts or pecans to this granola for a nutty flavor. And I believe walnuts will do more justice to its Chunky Monkey name.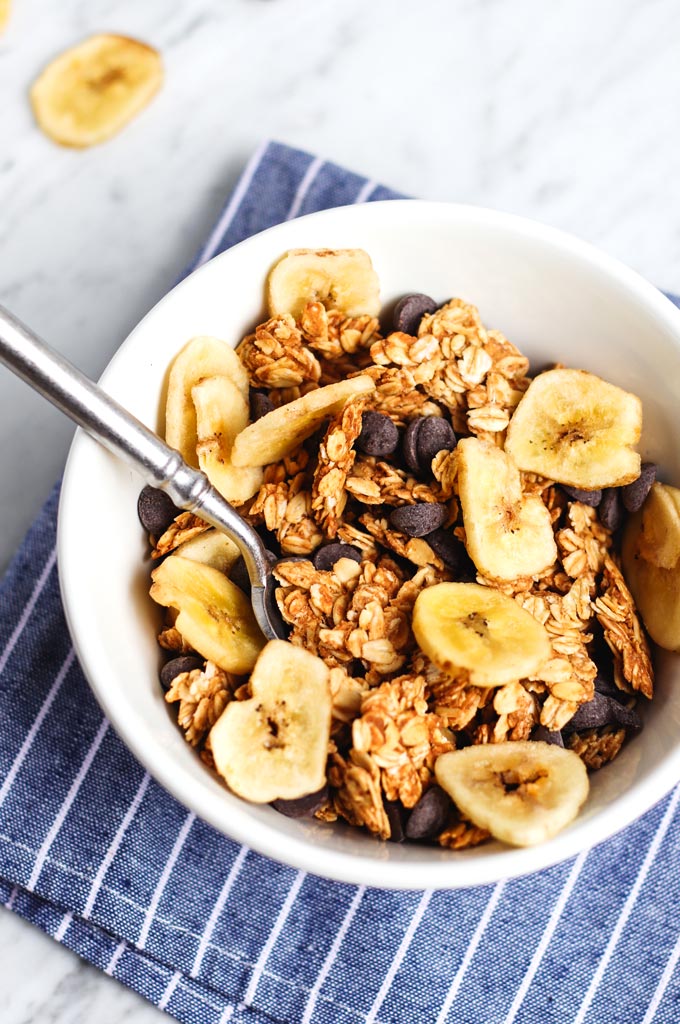 HOW TO MAKE CHUNKY MONKEY GRANOLA
It's really easy to make this chunky monkey granola. Add you need is a bowl and a fork.
Mix the peanut butter, melted coconut oil, and maple syrup together.
Stir in the rolled oats. Spread the mixture on the baking sheet.
Bake at 160 C / 325 F for 20-25 minutes.
Let it cool before adding the chocolate chips and banana chips. Done!
I love sweet things but I'm not a big fan of super sweet stuff. So this granola is not very sweet, which is usually the case for my recipes.
But if you prefer a sweeter version, feel free to add another 1/2-1 Tbsp maple syrup will do the work.
This Chunky Monkey Granola definitely does justice to its name. It's chunky, crunchy, and really good on its own or with plant milk, especially walnut milk.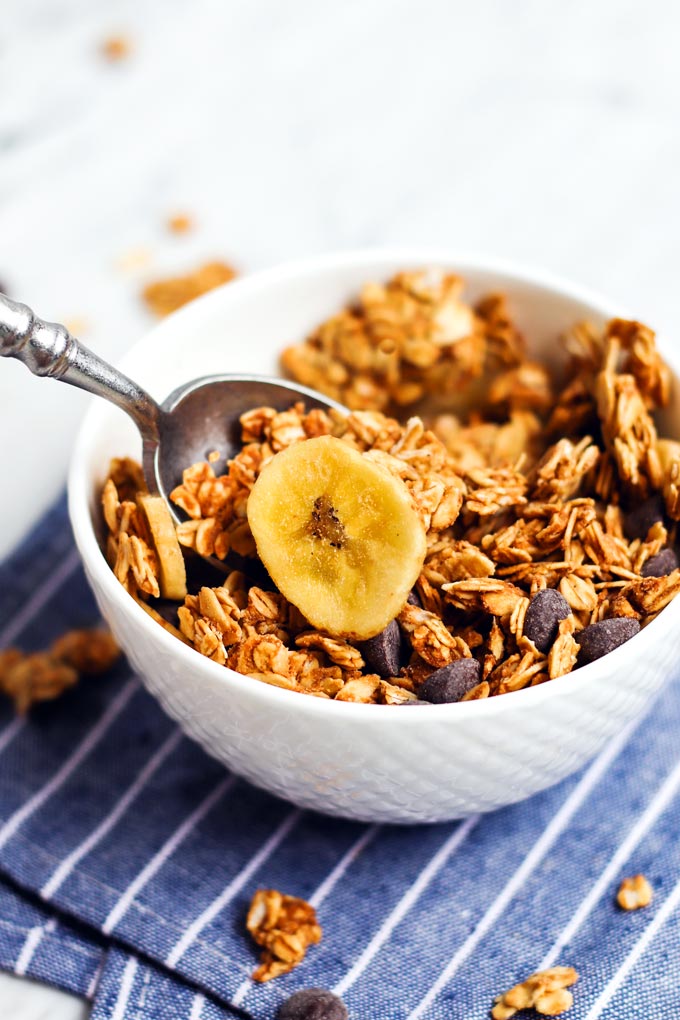 I love the peanut butter notes in this granola. Along with the chocolate chips, this Chunky Monkey Granola makes me feel really satisfied and happy.
To my knowledge, most people enjoy peanut butter and chocolate, right? So I think you will enjoy this granola as well. 🙂
---
If you love banana or chocolate as I do, you might also be interested in:
---
Finally, I hope you enjoy it as much as I do. If you make this recipe, don't forget to tag @Barrelleaf + #barrelleaf on Instagram. I always love to see them and to know how it went. ❤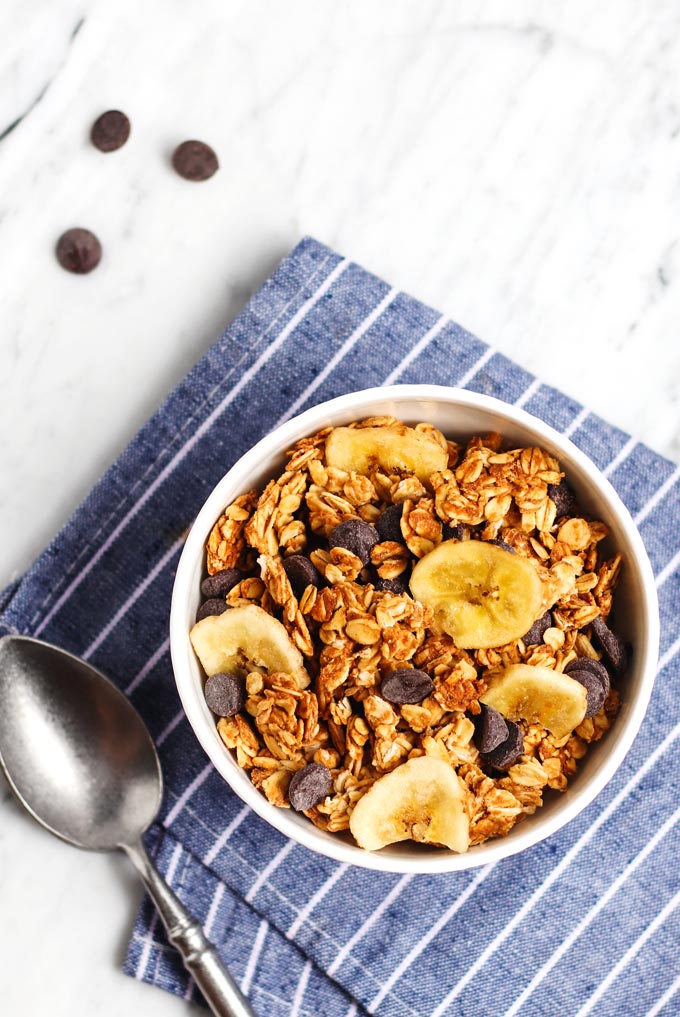 Chunky Monkey Granola (6 ingredients, Vegan)
Instructions
Preheat the oven to 160 C / 325 F. Line a baking sheet with parchment paper.

In a mixing bowl, add the peanut butter, melted coconut oil, and maple syrup. Mix to combine.

Add the rolled oats. Stir to combine.

Spread the mixture onto the baking sheet into a single layer.

Bake at 160 C / 325 F for 20-25 minutes until golden.

Let it cool in the oven. Once cool, add the chocolate chips and banana chips. EAT!
中文版
烤箱以 160 C 預熱。烤盤鋪烤墊

於一碗中混合花生醬、椰子油、楓糖漿

加入燕麥片混拌

將混合物平鋪於烤盤上

以 160 C 烘烤 20-25 分鐘

放涼後再加入巧克力豆和香蕉脆片,吃吧!
Notes
Storage: Store in an air-tight jar on the counter for 2-3 weeks.
---
---