Read the post in:
繁體中文
This Vegan Tofu Tiramisu is rich, not heavy, classic, and new at the same time! It's made with a creamy vegan "mascarpone cheese" and coffee-infused sponge/cookies. I'm amazed by it and I hope you're ready to be, too!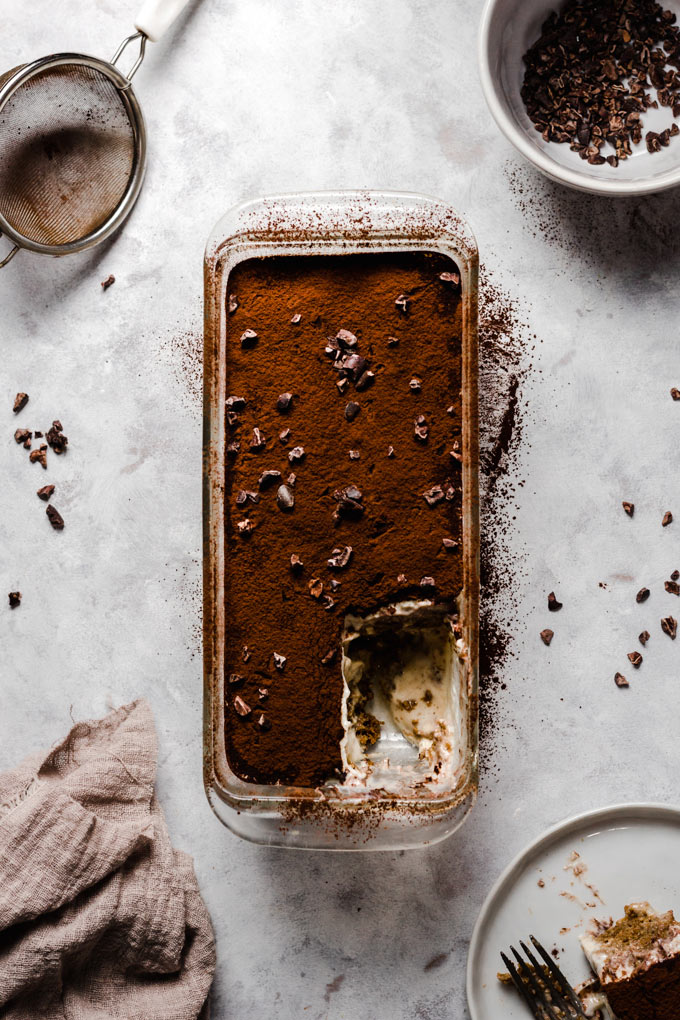 Tiramisu is one of the most classic desserts in this world. I loved it before I went vegan, and I still love it, but it's a vegan version.
I've shared a raw, no-bake vegan tiramisu cake, which is more like a dense mousse cake. This one is like the traditional, classic one, but with a veganized mascarpone cheese filling made with tofu.
I know you might be a little be skeptical about tofu in desserts, but trust me you won't taste it, at least I don't. (wink wink)
Ingredients You Need
I want to make this recipe as simple as possible for most people, so this recipe mainly focuses on the vegan tofu "mascarpone cheese" filling. You can just use homemade or storebought cookies/spongecakes for the "ladyfinger" layer.
So basically, all you need is:
Silken Tofu
Maple Syrup
Vanilla Extract
Cacao Butter
Full-fat Coconut Milk
Ladyfinger Cookies or Spongecake
Strong Coffee
Cacao Powder
By the way, here I count the ladyfinger cookies or spongecake as one ingredient because you can just use store-bought one to make your life easier.
The cookies in the photo are OK but not good enough. I'm testing another vegan ladyfinger cookie recipe and hope I will make it good soon. I just want to share the vegan cream part because it's really good!
In the meantime, you can just use some fluffy cookies or sponge cake. You can also use graham crackers as well. I will update the recipe as soon as I perfect the ladyfinger recipes.
Besides the above the "must-have" ingredients, here are two optional but recommended ingredients to bring more flavor into this vegan tofu tiramisu: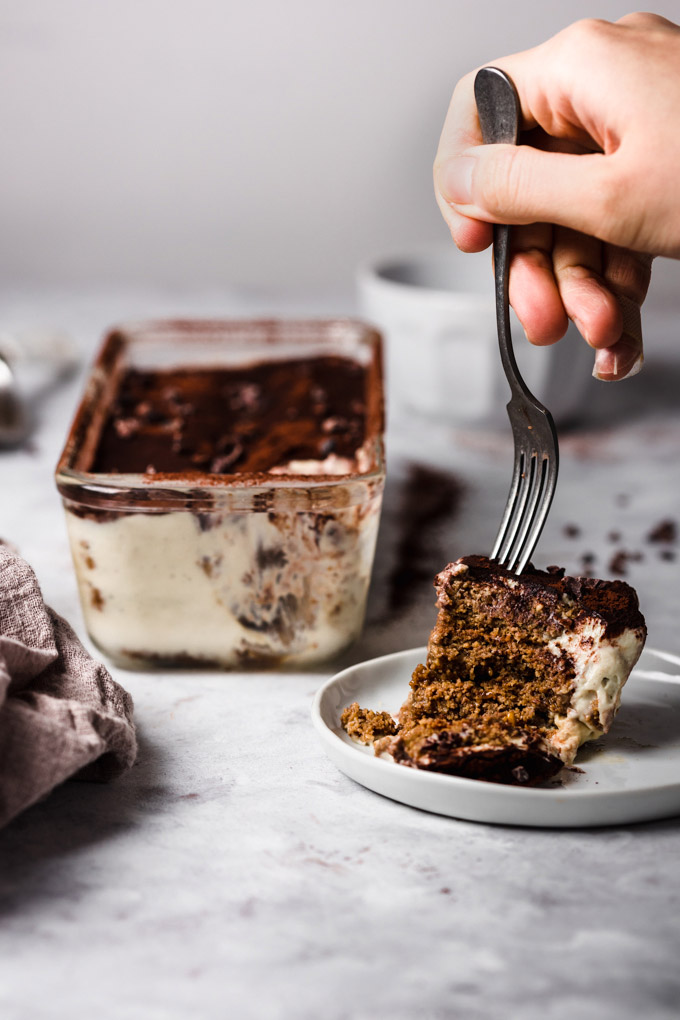 How to Make Vegan Tofu Tiramisu
It's a simple recipe as long as you have sponge cake or ladyfinger cookies at hand.
The tofu "Mascarpone cheese" cream part is super straightforward. Blend all ingredients together and let them sit in the fridge for a while.
Then dip the sliced spongecake or ladyfinger cookies into the coffee. Layer the cookies with the cream. Finally, dust the top with some cacao powder and done!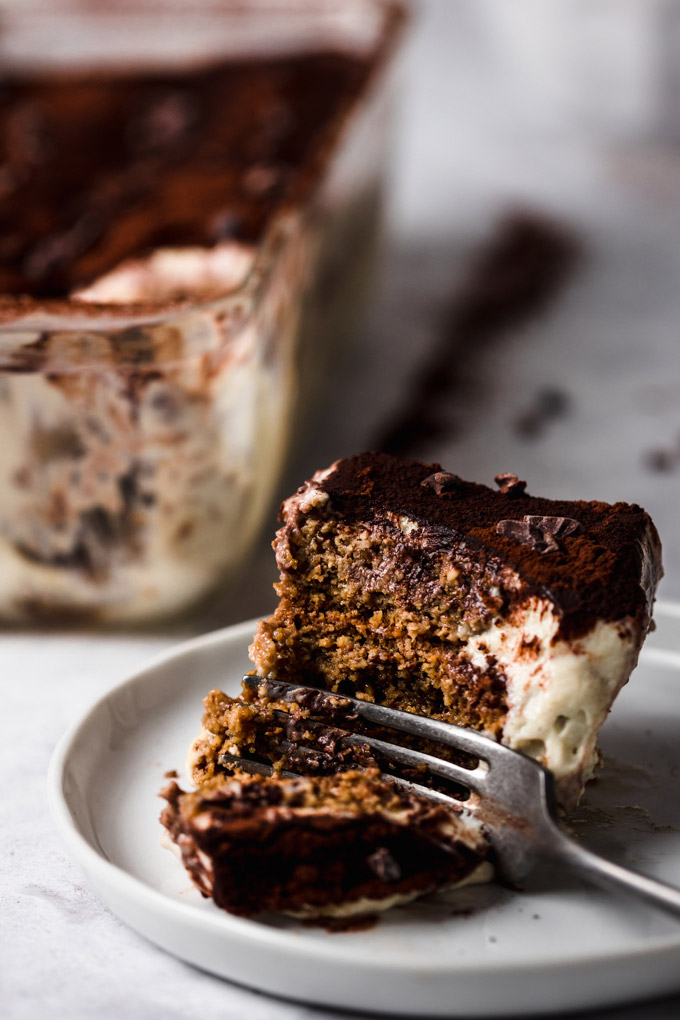 How to Serve Vegan Tofu Tiramisu
It's better to let the whole thing chill in the fridge for 1-2 hours before digging in. This way the cream will set up a little bit more, and the flavor will go deeper.
You can also add some dark chocolate or cacao nibs on top for more texture.
How to Store Vegan Tofu Tiramisu
This tiramisu will be fine in the fridge for 3-5 days. If you're planning to save it for later, I suggest leaving out the cacao powder on top before serving.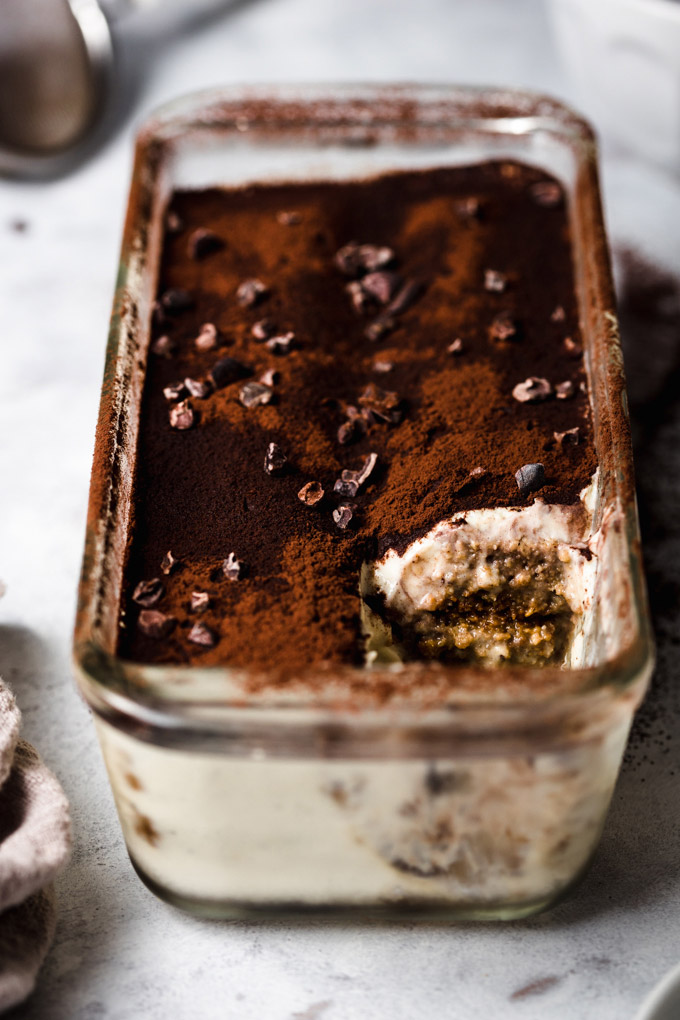 Other Questions You Might Have
Can I use anything to replace cacao butter?
The cacao butter here is to make the cream more solid and yellowy, and its flavor is one of a kind. Yet I know it's not really easy to get, so another option will be coconut oil.
Can I make more at one time?
Sure. This recipe will make an 8″ long rectangle tiramisu. You can double the recipe and use an 8″ square pan to bump it up.
If you have other question, please comment down below! And I hope you like this recipe. If you're looking for more delicious vegan desserts, here are:
Vegan Tofu Tiramisu (8 ingredients)
This Vegan Tofu Tiramisu is rich, not heavy, classic, and new at the same time! It's made with a creamy vegan "mascarpone cheese" and coffee-infused sponge/cookies. I'm amazed by it and I hope you're ready to be, too!
Ingredients
"Mascarpone Cheese" Cream Layer
180

g

silken tofu

,

firm style, gently pressed and drained

40

g

maple syrup

1

tsp

pure vanilla extract

40

g

full-fat coconut milk

A

pinch of

salt

,

optional

2

Tbsp

cacao butter,

melted
For Assembly
240

ml

strong coffee

2

Tbsp

coffee liquor

,

optional

8-12

vegan ladyfinger cookies

,

or sliced sponge cakes, or graham crackers

2-3

Tbsp

cacao powder
Instructions
To make the cream
In a blender, add the tofu, maple syrup, vanilla extract, coconut milk, salt(optional), and melted cacao butter. Blend until smooth.

Stop the blender and scrape down the sides. Blend again for 5-10 seconds.

Put the mixer into the fridge for 1-2 hours to set up a little. In the meantime, prepare the coffee.
Assembly
Prepare the coffee by using a coffee machine or dissolve 1 Tbsp of instant coffee powder with 240 ml (1 cup) of water.

Add the coffee liquid (if using) into the coffee to combine. Let it cool completely.

Dip the cookies/spongecakes into the coffee mixture. Let them absorb the coffee.

Grab an 8-inch long glass loaf pan. Place 2-3 coffee-infused cookies/spongecakes into the pan. Pour about 1/3 of the vegan tofu cream mixture over the cookies. Then repeat with the cookies and cream to layer up.

Let it sit in the fridge for 1-2 hours. Then take it out and dust cacao powder on top. Dig in!
---
Notes
*Storage: Covered and store in the fridge for 3-5 days. Dust the cacao powder before serving.
Adapted from Ela Vegan