This post is also available in: 繁體中文
Sweet and fluffy, this Vegan Banana Bread is vegan, made without wheat flour (gluten-free), and super delicious! Got too many ripe bananas at hand? Make this!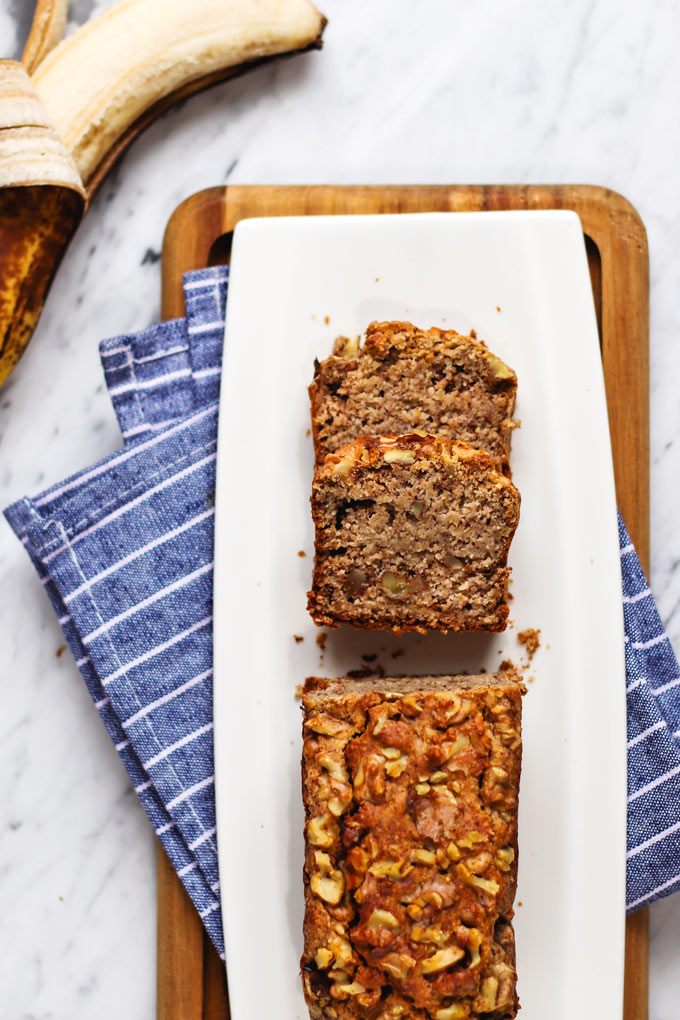 Vegan Gluten-Free Banana Bread
When talking about banana bread, I have a bitter-sweet story to tell. I remeber that when I started baking, I couldn't make a good banana bread no matter how many times I've tried. So I gave up at that time.
These few years I've become a vegan. My heart is open again towards banana bread. But this time, it's a vegan version for sure.
And you know what? It turns out fantastic. In fact, I think this is the most delicious banana bread I ever had in my life, at least for now.
Not only it's vegan. It's also gluten-free without any wheat flour. I just want to share a banana bread that almost everyone can enjoy, including those sensitive to gluten. (Hi!)
If you're really sensitive to gluten, make sure you're using gluten-free oats for this vegan banana bread. And if you're not, still welcome to have this banana bread in your morning or afternoon with a cup of tea.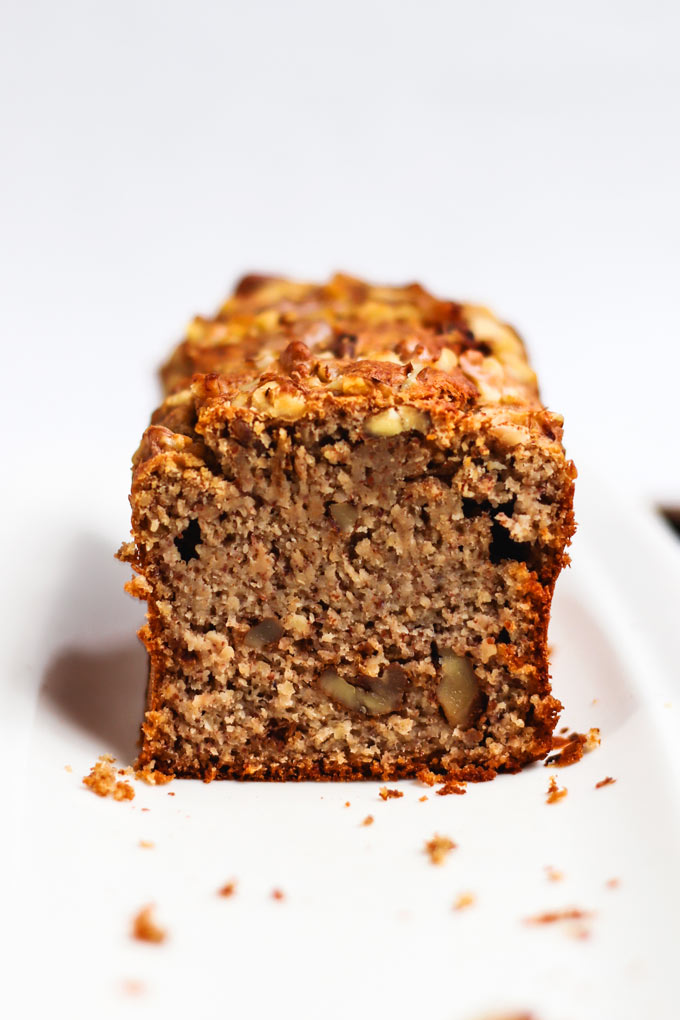 This recipe is adapted from Beaming Baker's. The measurement of her is using cups. But I think it's really important to measure the banana by weight with previous experiences.
That's also why I usually use weight for measurement instead of volume. Anyway, I've tested out the exact measurement and I want to share it with you!
I also reduce the amount of maple syrup in this recipe because I find the bananas are already sweet enough. Sometimes I use palm syrup for a different flavor.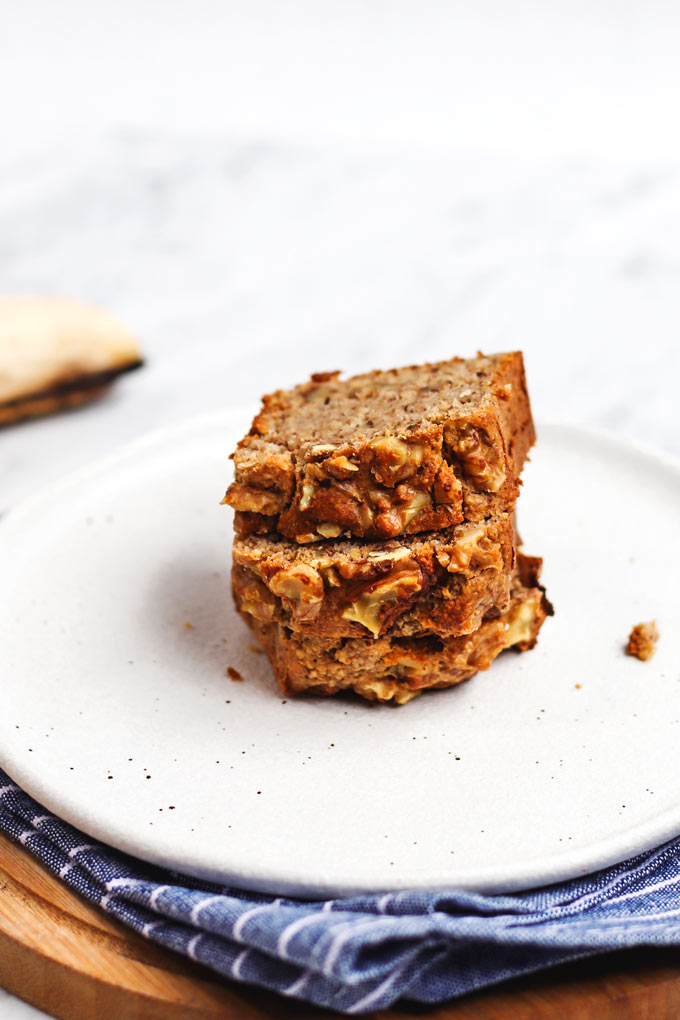 And you know which ingredient goes really well with bananas? (not chocolate, though it's a common match in Taiwan)
It's walnut! I mean, I love walnuts, but the baked walnuts really bring this vegan banana bread to the next level. It smells really really really AMAZING.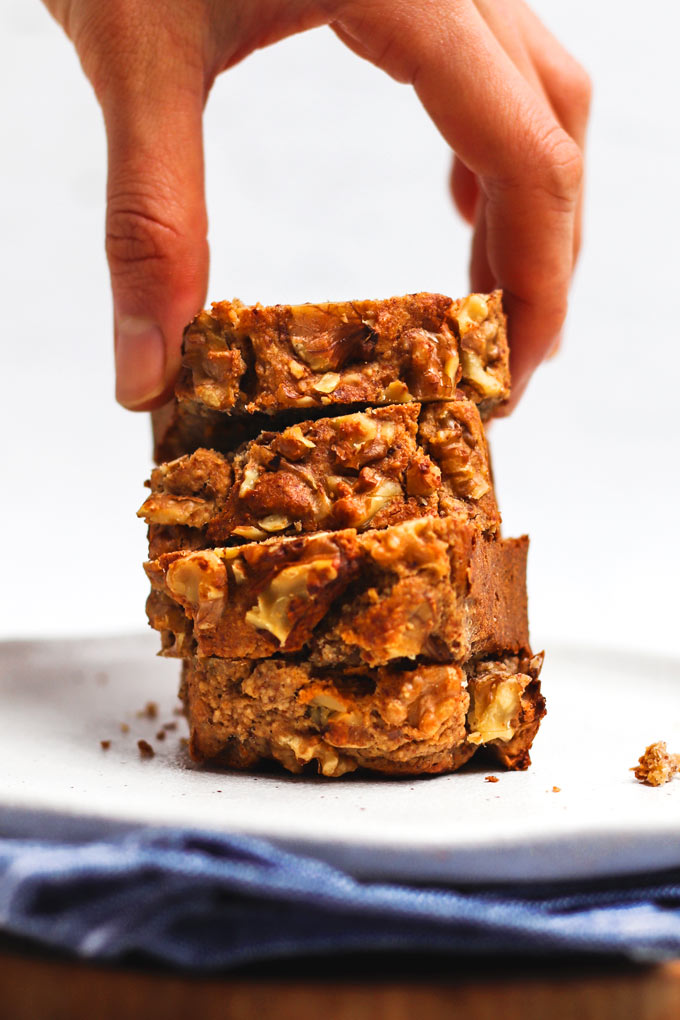 You can enjoy this bread in the morning as breakfast or snacks in the afternoon. Or, whatever you want, actually. It's freezer-friendly. This is also a great recipe to use your over-ripe bananas.
---
If you're interested in more banana recipes, check out:
---
Okay, shall we?
Finally, I hope you enjoy it as much as I do. If you make this recipe, don't forget to tag @Barrelleaf + #barrelleaf on Instagram. I always love to see them and to know how it went. ❤
全素核桃香蕉蛋糕 (無麵粉) Vegan Gluten-Free Banana Bread
Sweet and fluffy, this Vegan Banana Bread is vegan, made without wheat flour, and super delicious!
Ingredients
Wet ingredients
135

g (1 cup+1 Tbsp)

bananas 香蕉

,

super ripe 非常熟

2

Tbsp

coconut oil 椰子油,

melted, or macadamia nut butter 或夏威夷豆醬*

1

Tbsp

maple syrup 楓糖漿

½

Tbsp

ground flaxseed 亞麻籽粉

1+½

Tbsp

water 水

½

tsp

pure vanilla extract 純香草精
Dry ingredients
69

g (½+¼ cup)

oat flour 燕麥粉

35

g (3/8 cup)

almond flour 杏仁粉

½

tsp

baking powder 泡打粉

¼

tsp

baking soda 小蘇打粉

A

pinch of

salt 鹽
Add-ins
45

g (3/8 cup)

walnuts 核桃

,

more for sprinkling on top
Instructions
Mix ground flaxseed and water together and let it sit for 15 minutes (to make the "flax egg")

Preheat the oven at 175°C. Line or grease a pound cake pan (Mine is 15.5×6.5 cm).

Mash the bananas with a fork until smooth, then add other wet ingredients (coconut oil, syrup, "flax egg," and vanilla extract). Whisk until all mix combine.

Add the dry ingredients (oat flour, almond flour, baking powder, baking soda, and salt). Whisk until all incorporate, no flour or lump in sight.

Stir in the chopped walnuts.

Pour the batter in the pre-lined / greased baking pan. Smooth the top, then sprinkle with additional chopped walnuts.

Bake at 175 C / 350 F for 30 – 40 minutes until you stick a toothpick in the middle and it comes out clean.

Move on to a wire rack to cool down for 30-60 minutes. Remove from the mold, slice, and enjoy.
中文版
將亞麻籽與水混合攪拌均勻,靜置 15 分鐘

烤箱以 175°C 預熱。烤一個長條蛋糕模 (我模具內徑 15.5×6.5 cm)模內鋪烘焙紙或抹油

將香蕉用叉子壓成泥,再加入其它溼料(椰子油、糖漿、亞麻籽液、香草精),用打電器攪拌混合均勻

將乾料(燕麥粉、杏仁粉、泡打粉、小蘇打粉、鹽)全部加入,攪拌混合均勻至確定沒有粉粒

拌入大略切碎的核桃,攪拌均勻

將麵糊倒入模具中,大略鋪平,再灑上額外的核桃塊

放入烤箱,以 175°C 烤 30 – 40 分鐘,至竹籤插入沒有沾黏

移至網架上放涼 30-60 分鐘。脫模,切片即可享用
---
Notes
*I've tried with macadamia nut butter instead of coconut oil with success, so I added it in this recipe.
Storage: Store the leftover in an air-tight container in the fridge for 3 – 4 days or in the freezer for up to 1 month. Just let them thaw at room temperature or heat in the oven or microwave until warm.
Adapted from Beaming Baker
保存:剩下的蛋糕放密封盒冷藏保存,約可放 3 – 4 天;欲長期保存可放冷凍,約可放 1 個月,要吃前再拿到室溫解凍,或用烤箱或微波加熱即可
Note: This page contains affiliate links, which support me with a small commission to produce more great content on this site at no additional cost to you. You could go to the Disclosure Page for more information. You can also directly support us on Patreon. Thank you for reading and supporting.
---