Read the post in:
繁體中文
Chewy, nutty, and naturally sweetened, these Vegan Granola Bars are one of the best healthy, nutritious snacks you could have with only need 6 ingredients!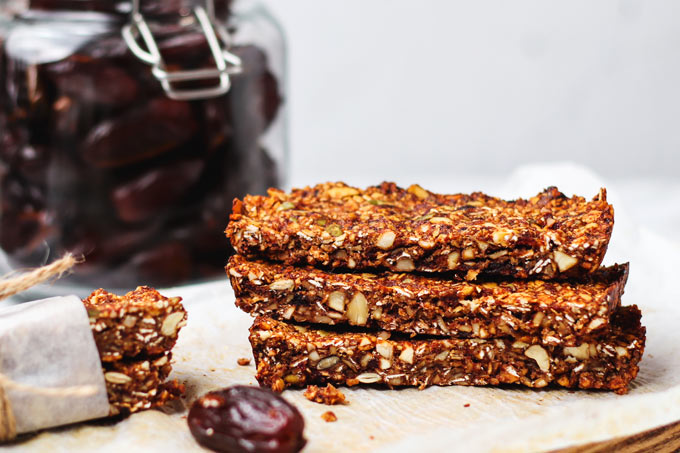 Vegan Chewy Granola Bars
One of the things that I can eat all day long besides chocolate and peanut butter is granola. And one of the adaptation is turning granola into grab-and-go, packable, easy to eat granola bars. Sounds good, right?
As the name suggests, these granola bars belong to the chewy tribe. Honestly, I used to prefer crunchy granola bars to chewy ones. But when there is my beloved food inside, it's an exception, which is what I'm talking about in this case.
INGREDIENTS FOR CHEWY VEGAN GRANOLA BARS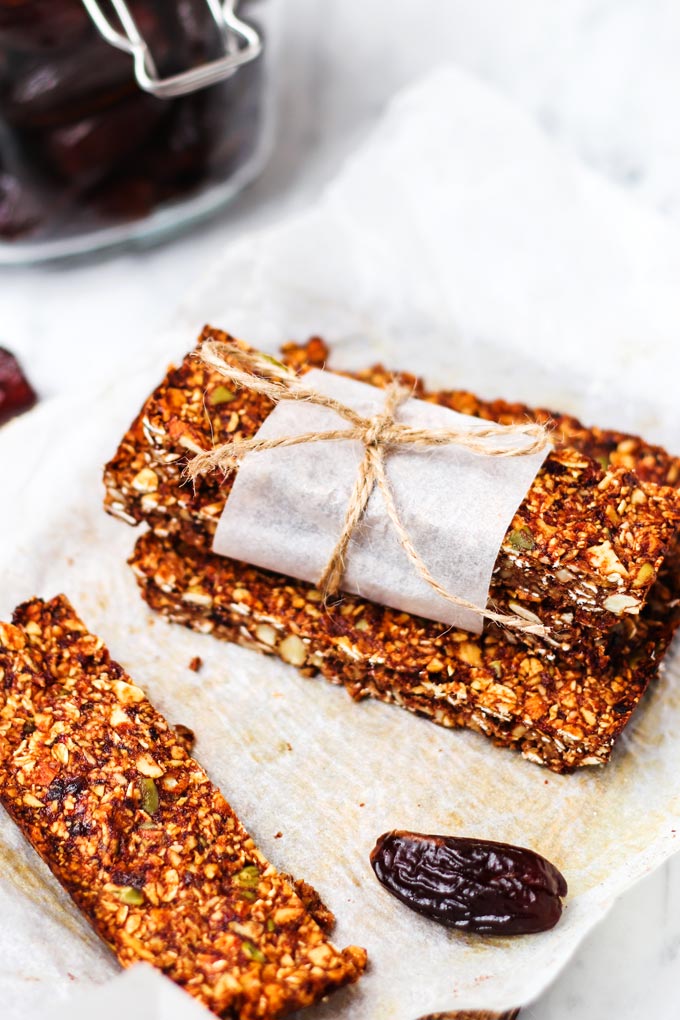 These granola bars are naturally sweetened with dates, aka my love. And you only need 6 ingredients to make them!
Almonds: for the bite texture and the slightly nutty flavor. Almonds give these granola bars the "body" and I think they're essential to making these granola bars taste like the store-bought ones.
Cashews: also provide a different texture and flavor. Both toasted or raw would be fine. You can also use other nuts like macadamia nuts or hazelnuts.
Pumpkin Seeds: give these granola bars different color and nutrients. You can also use sunflower seeds for sure.
Rolled Oats: essential for these granola bars. I think it's pretty self-explanatory. I always use rolled oats but you can use instant oats as well.
Dates: the hero sweetener in these granola bars. They're naturally sweet with the caramelly undertone which I adore so much.
Ground Cinnamon: adds another aroma and sweetness to these granola bars. I really love the flavor of this Ceylon Grond Cinnamon.
I know some of you might ask, is ground cinnamon necessary for these granola bars? I want to say it's optional but it's not optional to me, so … it's all up to you, I guess. 😉
HOW TO MAKE CHEWY VEGAN GRANOLA BARS
To make these chewy vegan granola bars is quite easy as long as you have a food processor. You don't need a fancy one, just one that can do regular chopping work. (But a good one will make it more efficient.)
Chop the dry ingredients first.
Puree the dates.
Combine them all together.
Transfer them into a baking pan, cut out the lines, and bake.
Let them cool. Cut them into slices. Then EAT!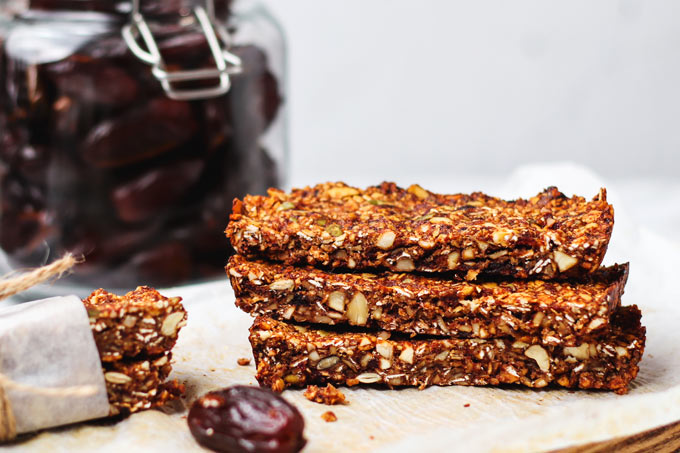 These vegan granola bars are chewy, nutty, and full of nutrients.
They're also freezer-friendly. You can make them ahead and store them in the fridge. Whenever you feel like something sweets, grab them and let them defrost before you bite in.
You can also store them in the fridge for about 1 week so you can always have something sweet to enjoy. They're one of my favorite nutritious snacks to have.
If you're looking for other naturally sweetened sweets, here are my Vegan Chocolate Salted Caramel Tart, Naturally Sweetened Granola, and 3-ingredients Rawnola for my minimalist friends.
I hope you enjoy it as much as I do. If you make this recipe, don't forget to tag @Barrelleaf + #barrelleaf on Instagram. I always love to see them and to know how it goes.
耐嚼全素燕麥棒 (6 樣食材) Vegan Chewy Granola Bars
有嚼勁、帶著堅果的香氣,用食材的味道來產生自然甜,這全素燕麥棒是我覺得最棒、健康營養的點心之一,而且製作它們只需要 6 樣食材!
食材
60

g (3/8 cup)

almonds 杏仁

25

g (a heaping ⅛ cup)

cashews 腰果

25

g (a scant ¼ cup)

pumpkin seeds 南瓜籽

45

g (½ cup)

rolled oats 傳統燕麥片

,

use gluten-free ones if sensitive to gluten

½

tsp

ground cinnamon 肉桂粉

A

pinch of

salt 鹽

,

optinoal

45

g (¼ cup)

water 水

100

g (½+⅛ cup)

pitted dates 去籽椰棗乾
作法
Preheat the oven to 150 C. Line an 8-inch loaf pan with parchment paper.

In a food processor, add the almonds, cashews, pumpkin seeds, rolled oats, ground cinnamon, and salt. Roughly chop them, then transfer the mixture into a bowl.

Add the water and the pitted dates to the same food processor. Blend until the dates turn into an almost paste-like consistency. Stop and scrape down the sides as needed.

Add the nut-seed-mixture. Continue to process to combine all together.

Transfer the mixture into the lined loaf pan. Press it down firmly.

Use a knife to slightly cut out the lines between each bar. Bake at 150 C / 300 F for 25 minutes first, then turn down the oven to 125 C / 250 F for another 5-10 minutes until they're golden brown.

Transfer to a wire rack to cool down completely. Then cut into the lines to separate each bar. EAT!
中文版
烤箱以 150 C 預熱。取一個 8 吋麵包模,內部鋪烘焙紙

將杏仁、腰果、南瓜籽、燕麥片、肉桂粉、鹽放入食物處理機中,大略切碎,之後倒入一個碗備用

將水與去籽椰棗放入食物處理機,攪打成偏泥狀。視情況停下來做刮杯動作

用刀子先劃出分切線,放入烤箱烘烤約 20 分鐘,再將烤箱溫調調降至 125 C 烘烤 5-10 分鐘至金黃
---
備註
Storage: Store in an air-tight container in the fridge for 1 week or 1 month in the freezer.
保存:密封冷藏 1 週、冷凍 1 個月
---