Read the post in:
繁體中文
With homemade blueberry jam inside, oatmeal base, and crumble toppings, these Vegan Blueberry Oat Bars are easy-to-make, warm, and satisfying with only 8 ingredients.
Recently I'm really in the "blueberry-mood." I'm not sure it's due to that the winter walks in or other things that trigger this craving. Anyway, I just want to tell you that that's why we got the Blueberry Oat Bars here.
Watch How to Make
I add "breakfast" to the name because they are really on the healthy side and great for breakfast, unlike regular chocolate bars, though I do have chocolate bars for breakfast sometimes. Anyway, you know what I mean.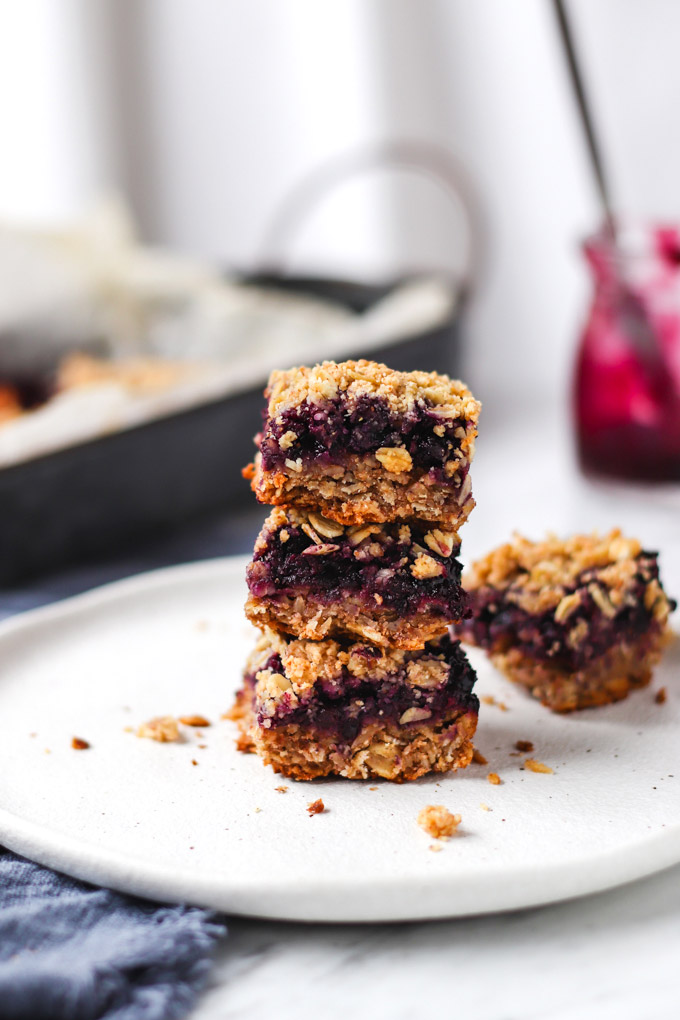 These blueberry bars have 3 layers:
Oatmeal base
Blueberry jam filling
Oat Crumble Topping
Don't go away because it seems complicated yet. They are really easy to make and only require 8 ingredients. Most of them are the things that I often use and they might already in your cabinet as well. The 8 ingredients are the "most," with some optional yet recommended ingredients to bring out more flavor.
The steps are easy, mostly stirring and mixing. I also separate the measurement and instruction part for each layer to make it more clear and easier to understand. So really, don't panic to see a long list of to-dos.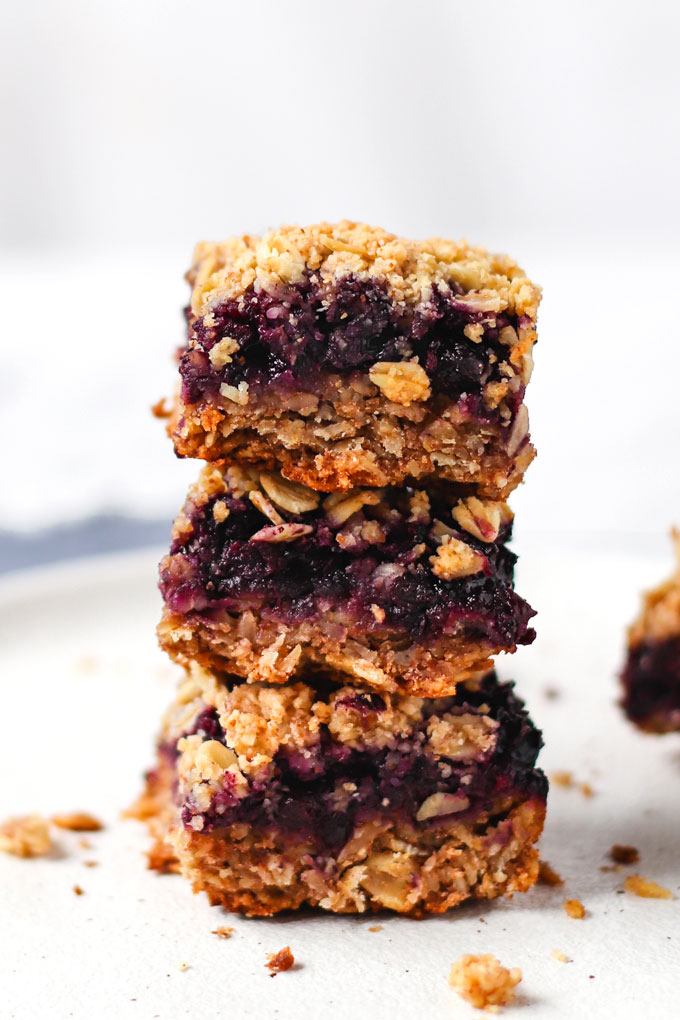 If you want to go a more minimalist style, you could use store-bought blueberry jam for the filling. No judgment here as long as it works for you and they are tasty. 🙂
The oatmeal base is full of the baked oat tasty flavor, the blueberry jam filling is warm, sweet with a bit naturally tart taste from the berries, and the topping is a bit crumbly, which makes every bite interesting.
They are great make-ahead breakfasts. I love to enjoy them warm or even hot, so I usually make them ahead of time and freeze them for a rainy day when I feel like some blueberry oat bars, be it in the morning or in the afternoon.
These vegan blueberry oat bars are really great warm and cozy breakfast options. If you're looking for more cozy breakfast recipes, you could check out my Vegan Peanut Butter Waffles, Apple Raisin Oatmeal, and Strawberry Crumble Bars.
If you feel like something chocolate in the morning from time to time, I've got your back with these Vegan Chocolate Caramel Oat bars. You could also watch this video in which I share 3 vegan chocolate breakfast recipes.
Ok, for now, shall we?
Tips & Notes:
I use frozen blueberries because they are more budget-friendly and they can release more juice than fresh ones. You can also use fresh blueberries as well, but you probably need to add some water to get to the right consistency.
I use arrowroot starch as my thickening agent. You can also use corn starch if you don't have arrowroot starch at hand.
I use almond butter to add an additional nutty flavor to the base. You can use coconut oil to minimalize the ingredient list if you prefer.
I usually make my own applesauce. Store-bought one is the easy path. If you couldn't get it, another substitution would be coconut oil, though I haven't tried it so I cannot promise the result would be the same.
Vegan Blueberry Oat Breakfast Bars (8 ingredients)
With homemade blueberry jam inside, oatmeal base, and crumble toppings, these Vegan Blueberry Oat Bars are easy-to-make, warm, and satisfying with only 8 ingredients.
Ingredients
Blueberry Jam
170

g (6 oz)

frozen blueberries

2

tsp

maple syrup

1

Tbsp

lemon juice

,

or lime juice

2

tsp

arrowroot starch

½

tsp

pure vanilla extract

,

optional
Base
67.5

g (1/2+1/4 cup)

rolled oats

45

g (1/2 cup)

ground almond

½

tsp

ground cinnamon,

optional

1/4

tsp

baking powder

A

pinch of

salt

,

optional

1

Tbsp

applesauce

1

Tbsp

maple syrup

1

Tbsp

almond butter

,

or coconut oil
Topping
2

Tbsp

rolled oats

2

Tbsp

ground almond

2

Tbsp

oat flour

, I ground rolled oats in my coffee grinder.

1

tsp

coconut oil,

soft

1

tsp

maple syrup
Instructions
To make blueberry jam
In a small pot, add the frozen blueberry and lime juice first. Cook and stir until the blueberries start to release their juice, but they are still cold.

Add the arrowroot starch. Stir to combine. Cook until the consistency get thick, like jam.

Remove the pot from the heat. Let it cool down while we make other parts.
To make the base
Preheat the oven at 175 C / 350 F.

In a food processor, add the oats, ground almonds, cinnamon, baking powder, and salt. Process for about 10 seconds to break down the oats.

Add in applesauce, almond butter, and maple syrup. Continue to process until the mixture comes together.

Grab a 6" loaf pan. Line the pan with parchment paper.

Transfer the mixture into the pan. Press down evenly to form our base. Set it aside.
To make the topping
In a small bowl, add rolled oats, ground almonds, and oat flour. Give them a mix.

Add the coconut oil and maple syrup. Mix all together.
Assembly
Spread the cooled blueberry jam onto the base evenly. You might be left with a bit more. Just save it for your break or scone.

Sprinkle the toppings onto the jam layer. Gently press the crumble a little bit so it can stick to the jam.

Bake at 175 C / 350 F for 25-30 minutes until the topping is golden.

Remove it from the oven to cool for at least 20 minutes before removing from the pan. Otherwise, they might fall apart. Chop into squares and enjoy. Reheat them in the oven if you like.
---
Notes
Storage: Store them in an air-tight container in the fridge for 3 days or 2 weeks in the freezer.