Read the post in:
繁體中文
Super crispy and full of peanut butter richness, these Peanut Rice Krispies are perfect snacks/treats for anyone, anytime!
I hope I'm not too late to join the cereal-treat party because I just had my first rice crispy a few months ago. (I'm a Taiwanese living in Taiwan. Rice Krispies are not very common here.)
I assumed that the rice crispy are similar to puffed rice, so I wasn't very interested in buying them. But after I really bought a box and gave it a taste, I realized they are quite different from puffed rice in terms of texture.
They are so crispy and light, which makes them perfect as breakfast cereals as well as ingredients for treats and snacks.
Watch How to Make It >>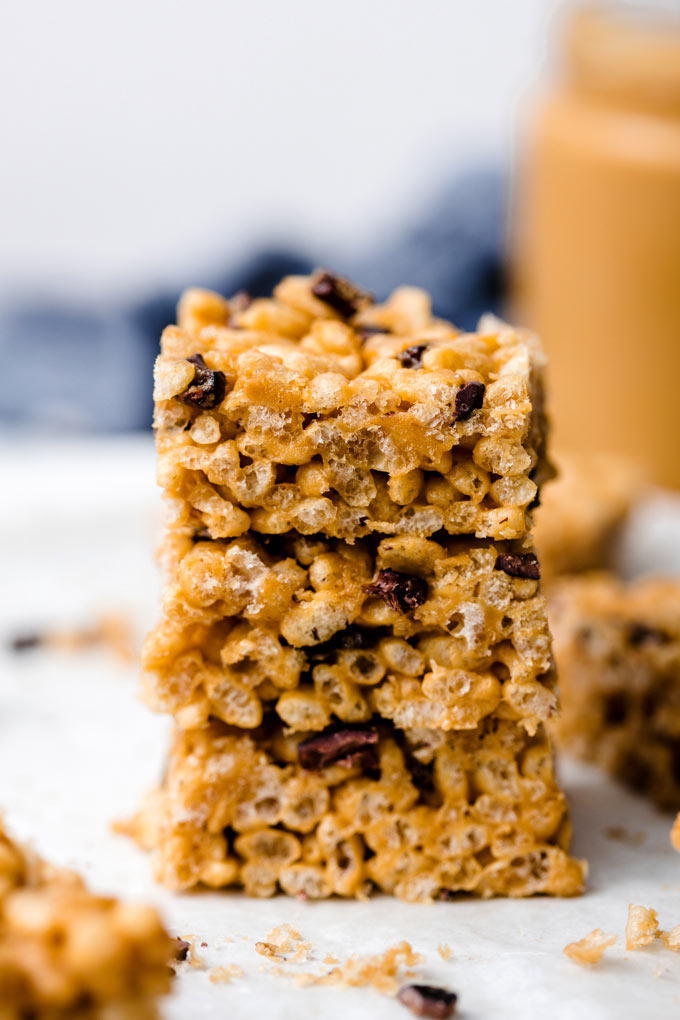 I've noticed a few rice Krispies recipes online before. And the first thing that came to my mind is the combination of rice Krispies and peanut butter. So here we are!
Actually, I've made these Peanut Butter Rice Krispies more than 3 times because they have officially become one of my favorite go-to snacks.
These peanut butter rice Krispies are super easy to make and you only need 4 simple ingredients to make them!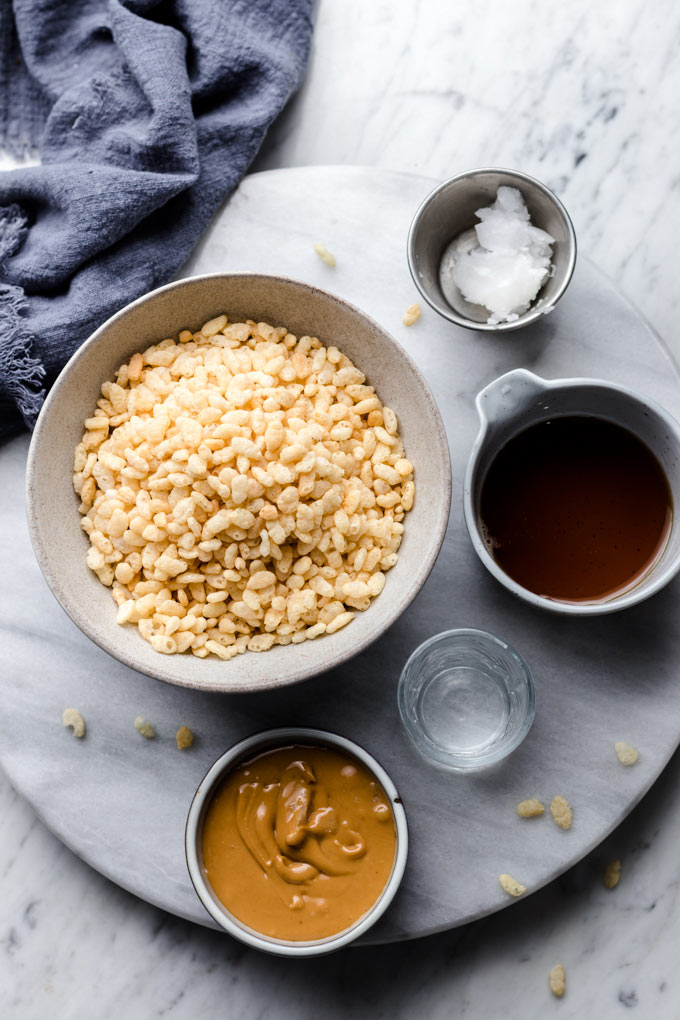 Ingredients You Need
The 4 simple ingredients are:
Crispy rice cereal: Here I see it as one ingredient for these peanut butter treats. I found the Kellogg's Rice Krispies box in a Carrefour store in Taiwan. I assume they are more common and easy to find in western countries.
Maple Syrup: Yes, we need my favorite liquid sweetener again. It's my staple and hope it's also yours, too.
Peanut Butter: I mean, you might want to say "duh" with me for this, but still I need to say it. It's better to use the natural kind without added oil. I usually use homemade peanut butter.
Coconut oil: We need a little bit of coconut oil to glue and solidify these crispy treats. Other oil will not work the same so stick to the coconut oil. If you're not a big fan of the coconut taste, you can use refined/deodorized coconut oil.
The above 4 ingredients are "musts" for these yummy peanut butter rice crispy. One optional ingredient is salt, which I usually add to most of my recipes to bring out more flavor.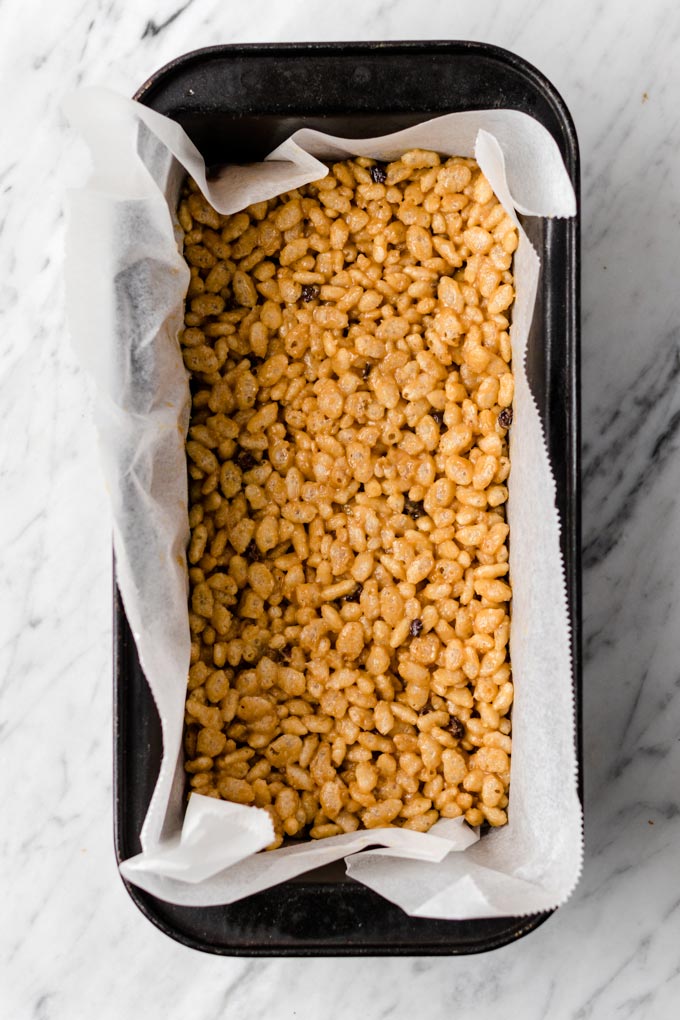 How to Make Peanut Butter Rice Krispies
It's really simple. All you need to do is basically heating and mixing. No baking required.
Oh, sometimes I also like to add a handful of cacao nibs to give them more texture. You can also add chocolate chips to make them into yummy treats.
One thing to keep in mind is that they need to stay in the freezer for 15-20 minutes to set up, which is probably the hardest part of this recipe.
Finally, cut them into squares and enjoy!
How to Store Peanut Butter Rice Krispies
Store them in the freezer. They should last at least 2-3 weeks.
Questions You Might Have
Can I make a bigger batch at one time?
Yes, for sure. You can double or triple the recipe to make a bigger batch. Just remember to use a bigger pan or tray as well.
I make a small batch at one time because I usually just make food for myself. But even in that case, I'm also thinking that maybe I should make a bigger batch because I often finish it all in one week.
Can I reduce the amount of maple syrup?
No, please don't cut down the amount of maple syrup because it will affect the overall texture. And I've already tried to cut down the overall usage.
Can I use another oil to replace coconut oil?
No, other oil will not work the same as coconut oil. However, I think you can use melted vegan butter instead.
That's it! I hope you love these peanut butter treats as much as I do. If you're searching for more easy vegan snack recipes, here are:
Peanut Butter Rice Krispies Treats (4 Ingredients)
Super crispy and full of peanut butter richness, these Peanut Rice Krispies are perfect snacks/treats for anyone, anytime!
Ingredients
40

g (2 Tbsp)

maple syrup

60

g (1/4 cup)

peanut butter

1

Tbsp

coconut oil

,

*

45

g (1.5 cups)

crispy rice cereal,

**

A

pinch of

salt

,

optional

A

small handful of

cacao nibs,

optional
Instructions
Line an 8-inch loaf pan with parchment paper.**

In a non-stick pan, add the maple syrup, peanut butter, and coconut oil. Place the pan over small heat. Mix to combine.

Add the rice cereal and salt. Turn off the heat. Quickly mix all together.

Transfer the mixture into the lined loaf pan. Use the sides of the overflowing sides of the parchment paper to press the mixture down firmly.

Place it into the freezer for 15-20 minutes to set up.

Remove it from the freezer and grab the parchment paper to take it out from the pan. Cut it into squares and enjoy!
---
Notes
*Coconut oil: We just use a little so there will be no prominent coconut taste. But if you're worried, you can use refined coconut oil.
**Pan: If you double the recipe, use an 8″ square pan. Storage: Store in the freezer for 3-4 weeks, though I bet it won't stay that 1ong. (wink wink)
Serving size & Calories: This recipe can make 8 squares. I usually have 1-2 once, so I assume this is for 4 people. And the calories are just roughly calculated for 1 serving (2 pieces). Feel free to have more if you feel like it. I personally practice and root for intuitive eating.
Calories are roughly estimated with an online tool.
Adapted from Nutritiously Natalie