Read the post in:
繁體中文
Cozy, creamy, and satisfying, this cup of vegan hot chocolate is a mug made in heaven. The frothy foam on the top will bring it up to the next level!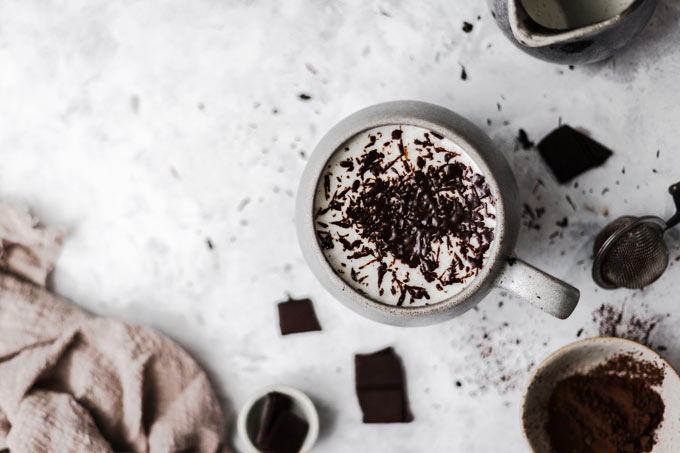 If you know me, you know I love chocolate. I've shared a few hot chocolate recipes before, but none of them like this one. Why? Because it got the thick, frothy, cloud-like foam on top!
I loved the hot chocolate in coffee shops because of that frothy foam. When I just turned vegan, I thought I could never have it, but then I found out that plant-based milk can do the same magic, aka thick, frothy foam on top!
But let's not forget the bitter-sweet drinking chocolate beneath. I admit that I'm a sweet tooth, but I don't like food super sweet. So if you are on the same team, I think this hot chocolate will suits you too.
Common hot chocolate often uses dairy milk, which was what I drank for several years. But after trying the one made with plant-based milk, I found that the dairy milk version doesn't suit me anymore.
Here's why:
a) Dairy milk steals the limelight from the chocolate taste.
b) I'm a vegan now. And, let me tell you, after a long time without consuming dairy milk, I actually cannot tolerate the taste and smell of dairy milk now.
c) Non-dairy milk in hot chocolate is so freaking delicious!
Fortunately, there are more and more non-dairy milk options on the market now. Soy milk, almond milk, oat milk, hazelnut milk. You Name it. And you can also definitely make your own, too.
Ingredients You Need
You won't need a lot of ingredients for this simple cup of chocolate heaven. Only 5 important ingredients:
Cocoa powder: Use your favorite unsweetened cocoa powder. The flavor of the cocoa powder is really crucial here.
Maple syrup: I like the sweet maple taste in this hot chocolate. You can also use other sweeteners you like.
Pure vanilla extract: Vanilla and elevate the cacao taste. A little will be enough.
Plant-based Milk: Plant milk instead of dairy milk will give the cocoa the spotlight that it's meant to have.
Dark chocolate: I love a rich chocolate taste so I add some dark chocolate as well. The real cacao butter in the chocolate will bring it to another level.
We also need some hot water and I like to add a tiny pinch of salt to my hot chocolate as well.
How to Make Vegan Hot Chocolate
It's very easy to make this cup of vegan hot chocolate. All you need to do is adding ingredients to a cup and mixing. Make sure your plant milk is hot both for the hot chocolate and the top foam. I use a manual frother to make the topping foam with soy milk, which is my go-to plant milk for froth.
As for the hot chocolate, I've tried a few plant-based milk options in this hot chocolate recipe, including a few combinations. I found that I love to use half soy milk and half oat milk. However, I definitely won't stop you to try different non-dairy milk options in this recipe to find your favorite one!
This hot chocolate is super creamy and satisfying. I would happily drink this cup of hot chocolate even in summer, seriously.
I hope you could try this vegan hot chocolate as well. If you do, let me know how it goes! 🙂
Other recipes you might like:
Creamy Vegan Hot Chocolate
Cozy, creamy, and satisfying, this cup of vegan hot chocolate is a mug made in heaven. The frothy foam on the top will bring it up to the next level!
Ingredients
1/2

Tbsp

cocoa powder

60

ml (1/4 cup)

hot water

1/2

Tbsp

maple syrup

1/4

tsp

vanilla extract

1/8

tsp

salt

,

optional

240

ml (1 cup)

non-dairy milk

,

plus 100 ml for the froth*

10

g (~1 Tbsp)

dark chocolate

,

50-70% cacao content
Instructions
In a mug, add the cocoa powder and hot water. Mix to combine.

Add maple syrup, vanilla extract, and salt. Mix to incorporate.

In a small pan over small heat, add the non-dairy milk. Warm it until you see some little bubbles on the edges.

Add the warm milk to the cocoa mixture. Whisk to combine. Add the dark chocolate. Let it sit for a few minutes while preparing the foam.

Add the hot milk to a frother to make thick foam. I use a manual frother.

Add the foam on top of the hot chocolate. Shave some more chocolate on top if you like. Enjoy!
---
Notes
Storage: Cover and store the leftover in the fridge for 3 days. Reheat in a microwave before serving.