Read the post in:
繁體中文
Even though the name sounds fancy, but trust me, it's not! This Burcha Mix is easy to put together with budget-friendly options. It's still nutritious, wholesome, and most importantly, delicious!
Easy Burcha Mix (Superfood Muesli)
Many of you ask for easy breakfast recipes, so I start to browse around to find inspiration. Then I saw Loni Jane's Burcha Mix. This is really a new thing for me. My first reaction was: "What is that?"
WATCH HOW TO MAKE HERE
WHAT IS BURCHA MIX
After reading for a few paragraphs and articles, I realized that it's like Muesli but crown with "superfoods." I add quotation marks because, in the eyes of an ex-eating-disorder person, this is kind of deja vu. I mean, food is food (no animal cruelty included, thank you!).
I totally understand why those "superfoods" got this tag: They're more nutritious than the other counterparts. This is a fact that I will not argue.
But I just want to take this chance to use my own words to remind myself and, to a certain degree, to you that don't get obsessed about the "superfood" tag. You can call any food superfood in your own right as long as you think it's super.
I don't want you to be intimidated because of the "superfood" tag, so I add the word "Easy." I hope it works and they're actually really easy to get and make. Instead of "superfoods", a more simple and candid way to call them is "nuts and seeds."
THE INGREDIENTS FOR BURCHA MIX
As I mentioned above, the Burcha Mix is just a mix of nuts and seeds, so it's pretty flexible and customizable.
I just use the ones that are EASY to get and more budget-friendly, at least to me. But since we might be in different countries and places, I also list some substitution options for your references.
Sunflower Seeds: very cheap and easy to find at grocery stores or online.
Pumpkin Seeds (Pepitas): another budget-friendly type of seeds that add more color and nutrition.
Shredded Coconuts or Coconut flakes: add more sweet hints and coconut flavor
Raisins or other Dried Fruits: add different texture and sweetness
Sesame Seeds: to add a different flavor. You can use both white sesame seeds or black ones.
Flaxseeds: one of the cheapest superfoods that packed with omega-3
Chia Seeds: another cheap superfood that is full of omega-3 and protein. They are pretty easy to find at supermarts or online.
Rolled Oats or Sprouted Buckwheat: great additional grains to enrich the nutrition profile.
Cacao Nibs or Dark Chocolate Chips: add some cacao flavor, which is always a plus.
You can change the seeds according to your liking. Just be sure to pick the one you LOVE and make it work for you.
There's one thing about the chia seeds and flaxseeds I want to mention. I usually ground them because it makes them more easy to be digested and absorbed, which also makes this mix very absorptive. If you're not into that, no biggie, just use the whole ones.
HOW TO MAKE BURCHA MIX
As I've mentioned above, it's really easy to make. All you need to do is put them in a jar and give it a few shakes, and done. I mean it. But I know you might want to take some photos to share on Instagram, so add them layer by layer if you like. (Btw, have you followed me on Instagram? 😉)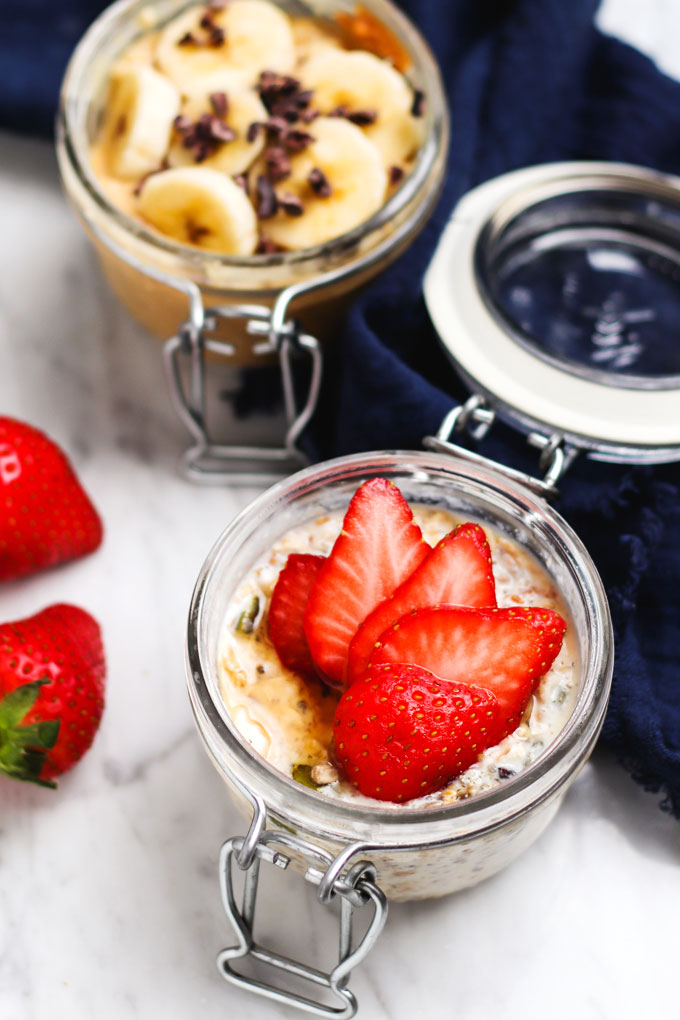 HOW TO EAT BURCHA MIX
Burcha mix is just like a more nutritious version of Muesli, so just treat it as you do to Muesli. You can make overnight with it, add it to top your vegan yogurt or ice cream (Vegan Chocolate Ice Cream, Peanut Butter Ice Cream), or stir in your oat milk.
But since this Burcha mix is mostly made of seeds, you probably want to adjust the ratio when making overnight oats with it. Here's a simple ratio:
Overnight Oat with Burcha Mix
60 ml (1/4 cup) Burcha mix
60 ml (1/4 cup) rolled oats
1-2 Tbsp soy yogurt or other vegan yogurts
120 ml (1/2 cup) plant milk (I usually use soy milk)
Some maple syrup to your taste
More toppings of your choices, like nut butter, fresh fruit
Put it in the fridge for 4 hours or overnight. In the morning (or any time), just grab them from the fridge and eat! You can add more plant milk or water to adjust the consistency to your liking.
HOW TO STORE BURCHA MIX
Because Taiwan is very humid, I always store my nuts and seeds in air-tight jars in the fridge. And since I use ground chia seeds and flax seeds, I'll highly recommend storing this Burcha mix in the fridge.
If you're interested in more vegan breakfast ideas, check out my Vegan Blueberry Oat Bars, Naturally Sweetened Granola, and Steel-cut Oat Oatmeals.
I hope you enjoy it as much as I do. If you make this recipe, don't forget to tag @Barrelleaf + #barrelleaf on Instagram. I always love to see them and to know how it goes.
Easy Burcha Mix (Superfood Muesli) 超級食物什錦麥片
Even though the name sounds fancy, but trust me, it's not! This Burcha Mix is easy to put together with budget-friendly options. It's still nutirtious, wholesome, and most importantly, delicious!
食材
120

ml

sunflower seeds 葵花籽

120

ml

pumpkin seeds

60

ml

shredded coconut 椰絲

60

ml

raisins 葡萄乾

3

Tbsp

sesame seeds 芝麻

,

I like to slightly toasted them

2-3

Tbsp

ground flax seeds 亞麻籽粉

2-3

Tbsp

ground chia seeds 奇亞籽粉

60

ml

rolled oats 傳統燕麥片

2

Tbsp

cacao nibs 可可碎豆
Overnight Oats with Burcha Mix
60

ml (¼ cup)

Burcha mix 超級食物什錦麥片

60

ml (¼ cup)

rolled oats 傳統燕麥片

1-2

Tbsp

vegan yogurt 植物性優格

120

ml (½ cup)

plant milk 植物奶

maple syrup 楓糖漿

,

to taste

fresh fruits 新鮮水果

nut butter 堅果醬
作法
Add all ingredients in a jar. Seal the lid and give it a few shakes. Done!
---
備註
Storage: Store in the fridge for 1 month.
保存:冷藏保存 1 個月
---