Read the post in:
繁體中文
Combined with banana and peanut butter, these Vegan Chunky Monkey Cinnamon Rolls are here for my peanut lover friends!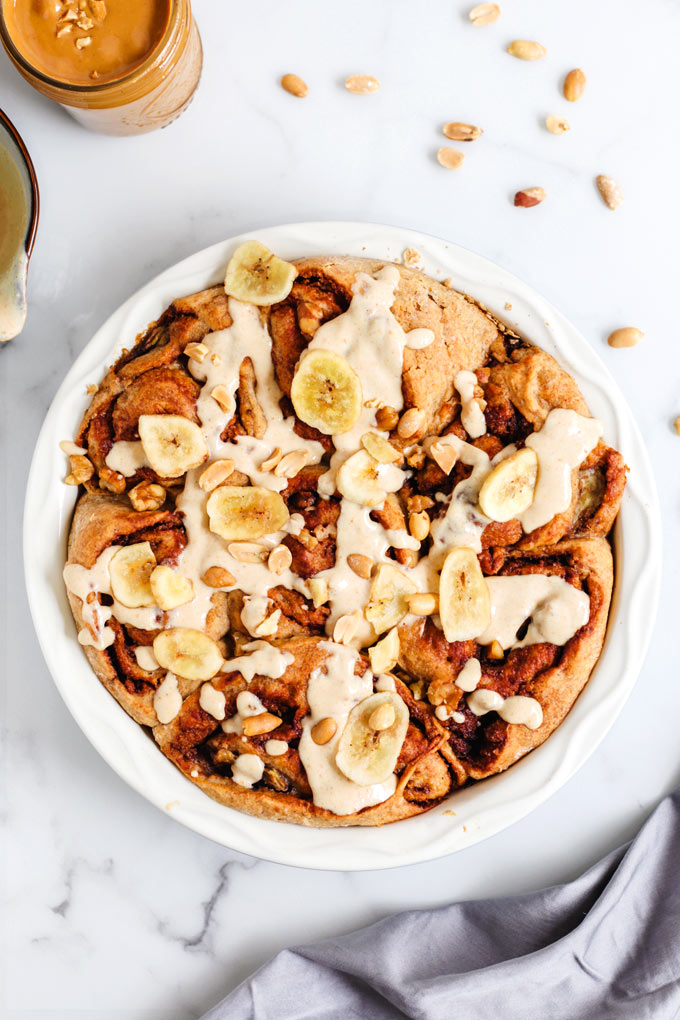 Vegan Chunky Monkey Cinnamon Rolls
It's been a while since I made cinnamon rolls and I really want them. However, I wanted to make a different version, and the first thing that came to my mind is peanut butter.
And I also thought of the Chunky Monkey Granola that I've made earlier, so here are the Chunky Monkey Cinnamon Rolls.
The other reason that makes me I want to make cinnamon rolls is that I got my first KitchenAid stand mixer this week! I'm so excited about it!
[Note: I want to be completely honest with all of you so here is something I want to clarify. I got sponsored by KitchenAid Taiwan for the video post (in Chinese) but not for the English post. The English post is all written only because I want to share the recipe for these baked goods in English as well. I could have omitted this part but it feels a bit weird to me if I didn't mention this. And I love writing recipes in English more than in Chinese, even though I'm a Taiwanese, seriously. (Chinese tying is a bit annoying.) Anyway, I hope you know what I mean. Let's go back to the recipe.]
I've shared a healthy-ish 100% Wholewheat Cinnamon Rolls before. These Chunky Monkey Cinnamon Rolls are also kinda healthy but that's not the main point here.
The point is we got peanut butter inside out in these cinnamon rolls.
And to justify their name, I add banana and walnuts for the Chunky Monkey vibe. Oh, and this recipe is adapted from Minimalist Baker's banana bread cinnamon rolls.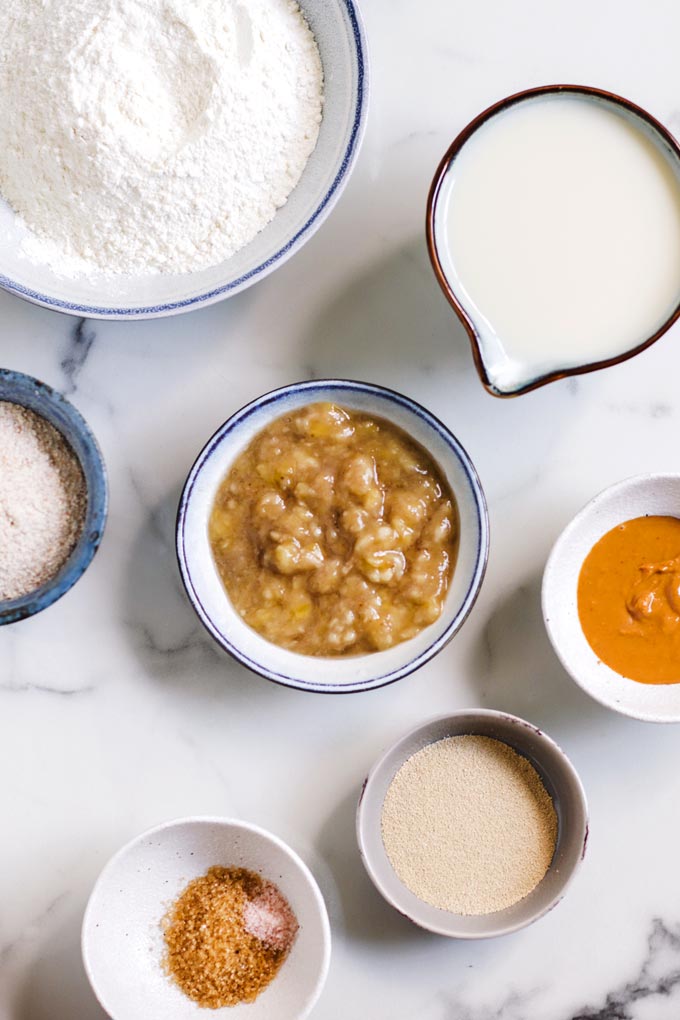 INGREDIENTS FOR CHUNKY MONKEY CINNAMON ROLLS
Soy Milk: I use my homemade soy milk, which is thicker than store-bought ones. You can also use other plant milk.
Water: I think most of us can get it easily. Just want to mention that you can replace water with plant milk as well if the milk you're using is thin.
Creamy Peanut Butter: The hero of these cinnamon rolls. It's better to use pourable creamy peanut butter in this recipe. If it's right out of the fridge, microwave for 20 seconds to warm it up a bit.
Grapeseed Oil: Grapeseed oil is pretty neutral in flavor and it can stand high heat. I use it in baked goods from time to time. You can also use melted vegan butter as well.
Instant Yeast: It's convenient to get. You can find it in most supermarkets.
Cane Sugar: Cane sugar got the mildly sweet flavor that fits in this cinnamon rolls recipe very well. I also use brown sugar in the filling part to elevate the flavor.
Salt: You don't need a lot of it, but you do need it in our dough.
Bananas: The existence of cheap bananas in Taiwan is really one of the reasons that I love Taiwan. Bananas are sweet and they can add moisture in our baked goods. It's better to use ripe bananas because they can be easily mashed. But just a heads-up, the riper the bananas, the stronger the banana-y flavor will be in your final product.
All-purpose flour: We need finer flour for the fluffy and soft texture. But if you like me want to have some whole wheat flavor and nutrition in there as well, you can replace about 1/4-1/3 portion with whole wheat pastry flour or whole wheat spelt flour. The pastry flour will give these rolls more body.
Walnuts: They are more texture and nutty flavor to these cinnamon rolls.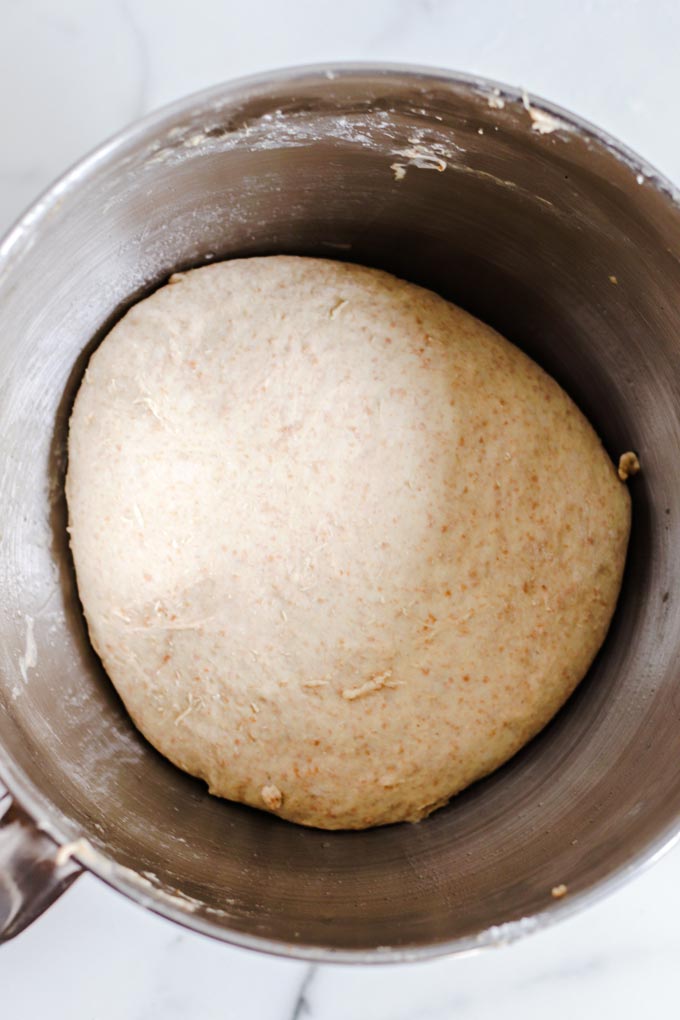 The banana and peanut butter join the party in two ways.
Bananas:
1) mashed bananas in the dough.
2) sliced bananas in the rolls.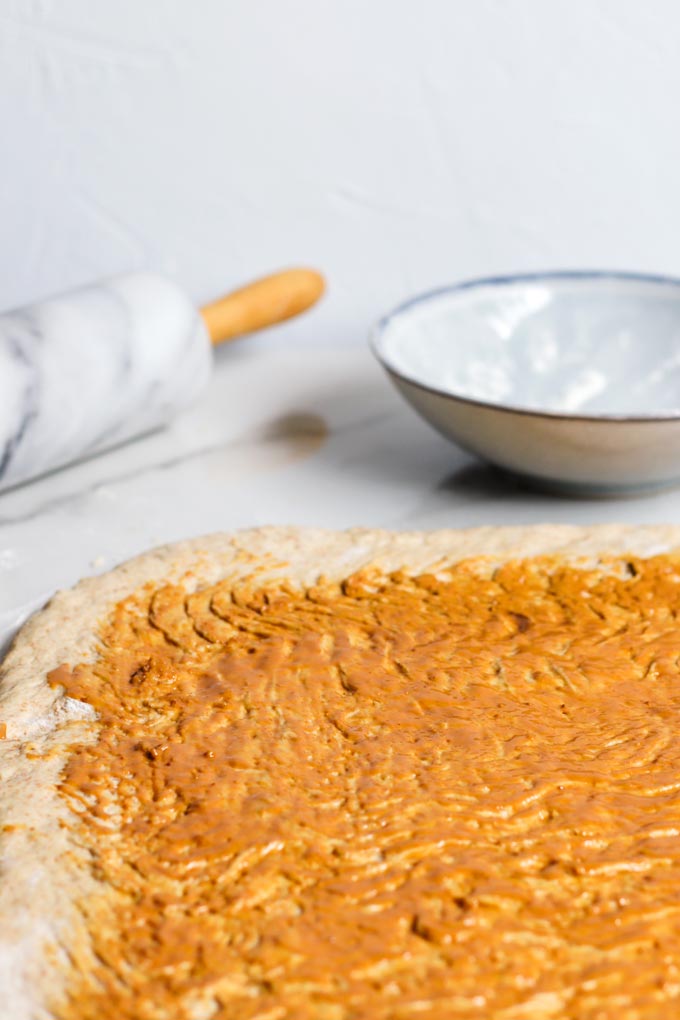 Peanut Butter:
1) peanut butter blend into the dough.
2) spread-out peanut butter in the filling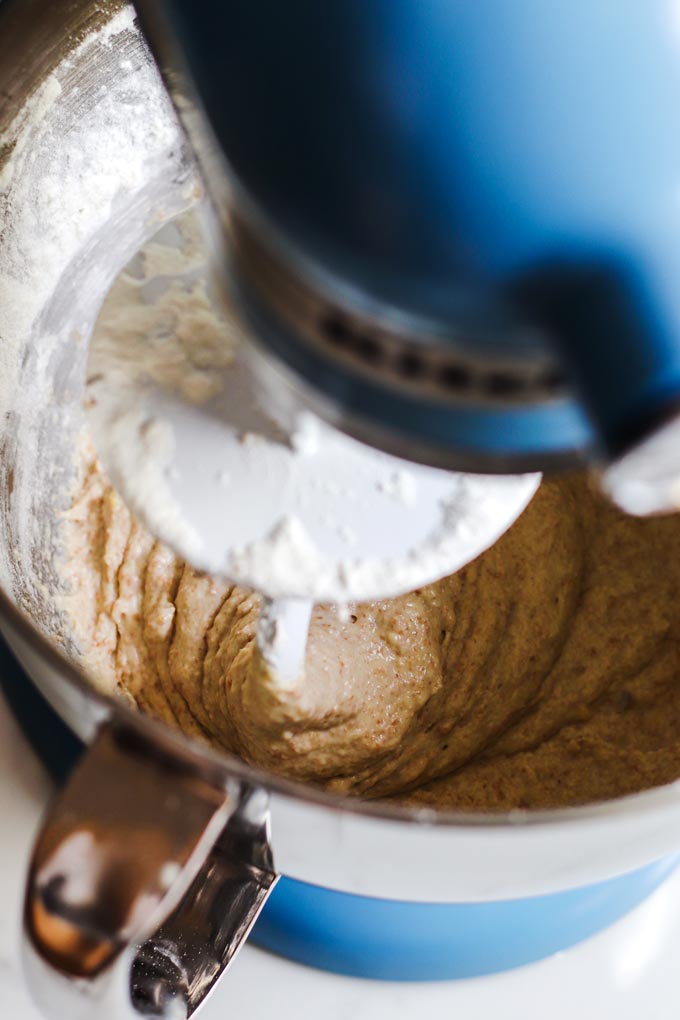 I make desserts more often than making bread or dough because the dough is more time-consuming. Kneading dough by hands also takes skills.
So, for a person who doesn't really have much time and patience kneading the dough, a stand mixer is really a savior. (And I love the velvet blue color so much!)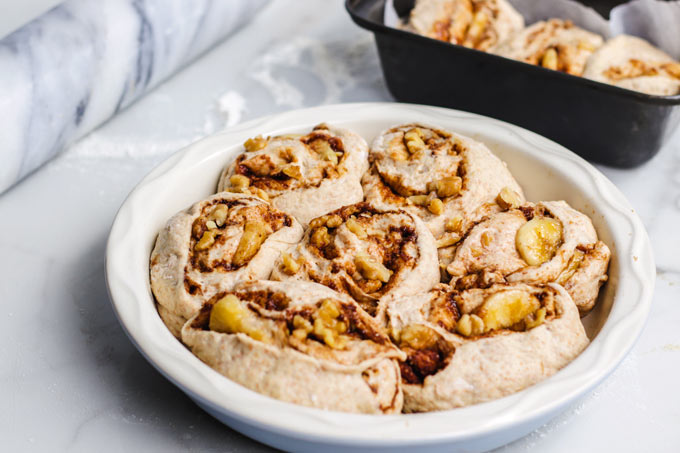 However, the dough still needs to rise two times, so this recipe still takes some time. But you don't need to do anything while the dough is proofing.
You can sleep during that time if you want. (But make sure to set up an alarm because you don't want your dough to overproof.)
It's kind of therapeutic to play with the dough and see it double in size, like magic.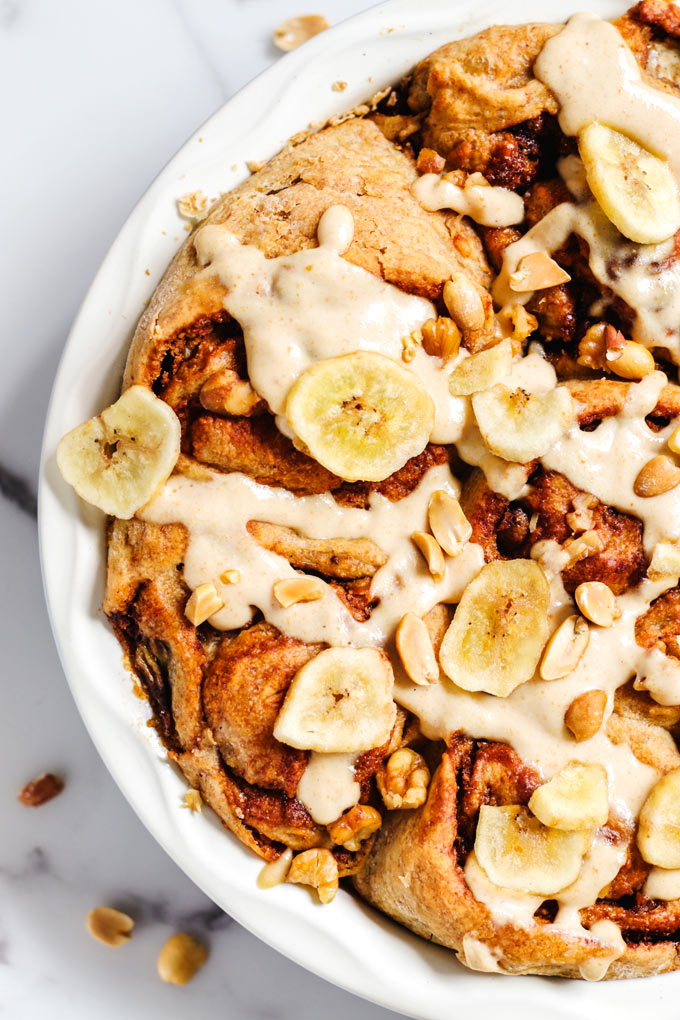 Adding mashed bananas really makes the dough got soft without the need to add tons of oil.
And what makes me surprised is that the dough doesn't taste very banana-y. I mean, I can't even taste it. Instead, there's only a mild peanut-butter fragrance in the dough that I adore so much.
However, the banana slices do get a bit soggy in the filling. So you're not a fan of that, just omit them.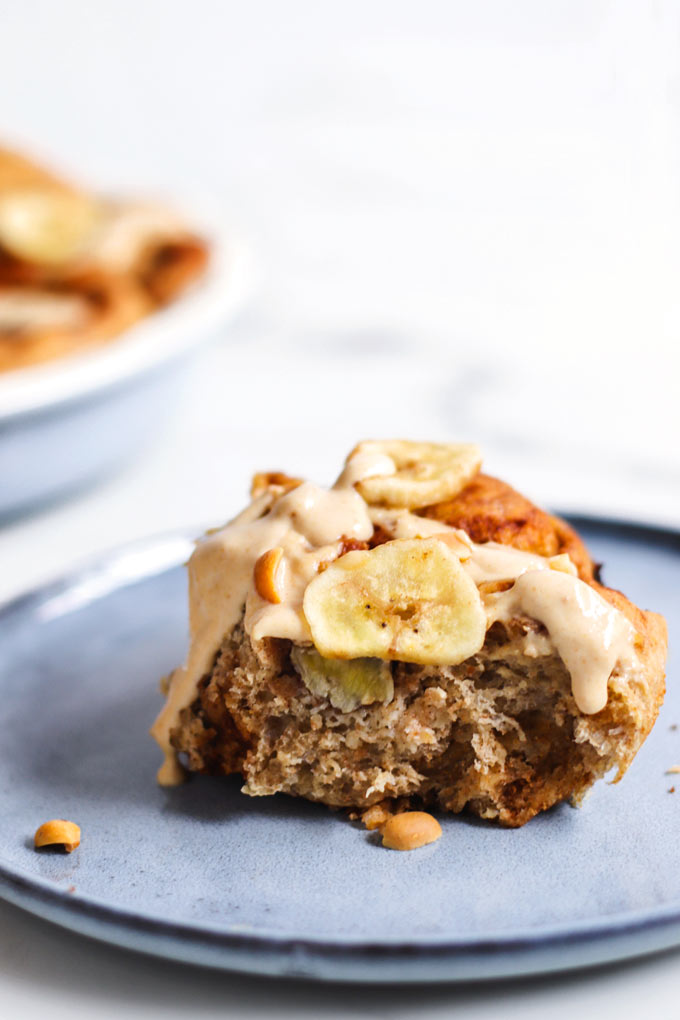 These Chunky Monkey Cinnamon Rolls are really soft and fluffy. With the peanut butter in the filling. They really remind me of the peanut butter buns I loved when I was a kid.
I hope you got the chance to give them a try and let me know how it went!
---
More Vegan Peanut-Butter related recipes:
---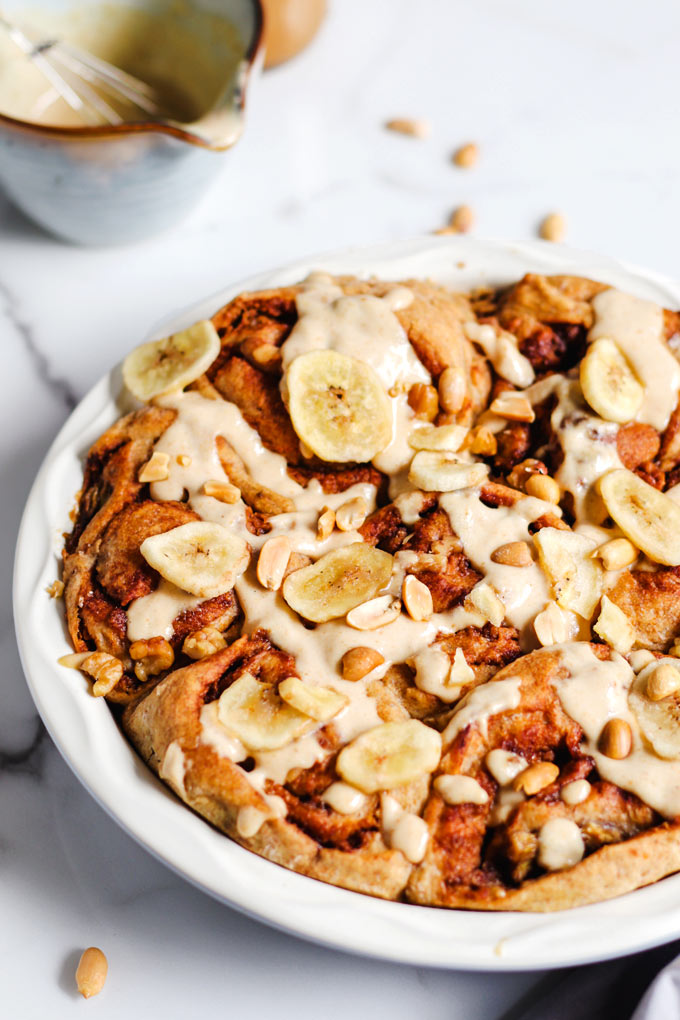 Vegan Chunky Monkey Cinnamon Rolls 全植物花生醬香蕉肉桂捲 (純素)
Combined with banana and peanut butter, these Vegan Chunky Monkey Cinnamon Rolls are here for my peanut lover friends!
這個 全植物花生醬香蕉肉桂捲 融入香蕉,多了自然的甜味,還有迷人的花生醬氣息,愛花生醬和肉桂捲的你可別錯過!
食材
DOUGH 麵團
120

ml

unsweetened soymilk 無糖豆漿

120

ml

water 水

,

或植物奶

1.5

Tbsp

creamy peanut butter 滑順花生醬

1.5

Tbsp

grapeseed oil 葡萄籽油

,

or melted vegan butter

7

g

instant yeast 速發酵母

1

Tbsp

can sugar 蔗糖

1/4

tsp

salt 鹽

112

g

mashed banana 香蕉泥

,

~1 large banana

120

g (1 cup)

whole wheat spelt flour 斯佩爾特小麥粉,

*替代請見註

210-270

g (1 3/4 cup – 2 1/4 cup)

unbleached all-purpose flour 無漂白中筋麵粉
FILLING 內餡
TOPPTINGS 表面 選加()
1

Tbsp

crushed peanuts 碎花生

1

Tbsp

banana chips 香蕉脆片
作法
製作麵團:於一碗中放入豆漿、水、花生醬、葡萄籽油,用微波爐或直火溫熱至 38 度 C,摸起來微溫但不燙

將油水混合物放入攪拌碗中,將酵母平均撒於表面,靜置 10 分鐘,應該會看到有泡泡產生

攪拌機裝上勾形攪拌器,以一次 1/2 cup (120 ml) 的方式加入麵粉攪拌,至麵團成形,麵團會偏溼黏,攪打至攪不太動後就停

乾淨桌面灑適量手粉,將麵團移出,稍微揉一下後塑形成圓球狀

原本的攪拌碗內抹油,將麵團開縫朝下放入攪拌碗中,表面蓋上乾淨的布,靜置發酵約 40-60 分鐘至兩倍大

桌面再灑一些手粉,將長大的麵團取出,擀開成一大片長方形

製作餡料:於一碗中混合花生醬與葡萄籽油,將其抹於麵團上

於另一碗中混合肉桂粉與糖,將肉桂粉糖與核桃均勻撒於麵團上,接著擺上香蕉切片

從長邊開始往有餡料那一面折,滾成像香腸那樣的長條狀,再分切成 4 公分的小塊,約會有 10 個分塊

烤盤內抹油,放入肉桂捲團塊,蓋上布,再讓它再發酵長大一些,大約 20 分鐘,後 10 分鐘時將烤箱以 175 C (350 F) 預熱

表面刷一些植物奶。將肉桂捲團放入預熱好的烤箱,烘烤 30-35 分鐘,至表面金黃

取出,讓肉桂捲靜置一下子

將糖霜淋於肉桂捲上,撒上碎花生與香蕉脆片,趁熱享用。你也可以搭配 全麥肉桂捲 中的糖霜食譜
English Version
To make the dough: In a bowl, add the soy milk, water, peanut butter, and grapeseed oil. Warm it in a microwave or over the stove to about 38 C / 100 F. It should be warm not hot.

Transfer the mixture into the mixing bowl of a stand mixter. Sprinkle the yeast on top and let it sit for 10 minutes. You should see bubbles on top after that.

Give the mixture a mix, then add the salt and sugar. Mix all together.

With the paddle attcachment on, use the stand mixter to mix all while graudally adding flour, 1/2 cup at a time. Beat until the dough is too sticky to conitnue.

Sprinkle some flour on a the working surface, transfer the dough out and knead the dough for about 1-2 minutes, use enough flour to prevent sticking but not too much. Shape the dough into a ball.

Grease the mixing bowl with some oil. Transfer the dough into the bowl, seal on the bottom. Cover with clean cloth and let it sit until it doubles in size, about 40-60 minutes.

Sprinkle flour on the table again. Gently transfer the dough out. Use a rolling spin to roll out the dough into a long rectangle layer, about 1 cm (1/3 inch) thick.

To make the filling: In a bowl, add the peanut butter and grapeseed oil. Mix them together. Pour the mixutre onto the dough and use a spatula to spread it out evenly.

In another bowl, mix the ground cinnamon and sugar. Sprinkle it evenly on top of the peanut butter layer along with the walnuts and banana slices.

Start to roll from the longer side to wrap the filling inward to form a log. Then divide it into about 4 cm (1.5 inch) thick rolls. You will have 10 rolls for this recipe.

Grease a 10" pie pan with oil. Place the rolls into the pan. Cover with a clean cloth again to let it sit for about 20 minutes. The last 10 minutes is the time to start preheat your oven.

Brush some plant milk on each rolls. Place the rolls into the oven to bake for 30-35 minutes until they're golden brown. Remove the pan from the oven. Let it cool a little bit.

Drizzle the frosting on top and sprinkle the crushed peanuts and banana chips if you want. Serve warm. You can also use the frosting in this Wholewheat Cinnamon rolls recipe as well.
---
備註
保存:室溫密封保存 1 天,冷凍 2 週
麵粉:可以全用中筋麵粉或低筋全麥麵粉替代,用中筋麵粉口感會較鬆軟,用低筋麵粉口感會比較紮實
Storage: Store in an air-tight container at room temperature for 1 day or 2 weeks in the freezer.
Adapted from Minimalist Baker