Read the post in:
繁體中文
Crispy, crunchy, and puffy, these Vegan tahini Chocolate Chip Cookies are one of the easiest snacks to make. And yes, they are made with only 8 ingredients.
I think my love for peanut butter is not a secret, but I think I haven't done justice to my feelings toward tahini.
I love tahini, not like the degree I love peanut butter, but I really love it. And it's also a perfect substitute for peanut butter in some recipes. (without the peanut butter taste)
These tahini chocolate chip cookies are a perfect example of including tahini in baking recipes, and they are really awesome, super crunchy, and satisfying.
Oh, did I mention there are also chocolate chips?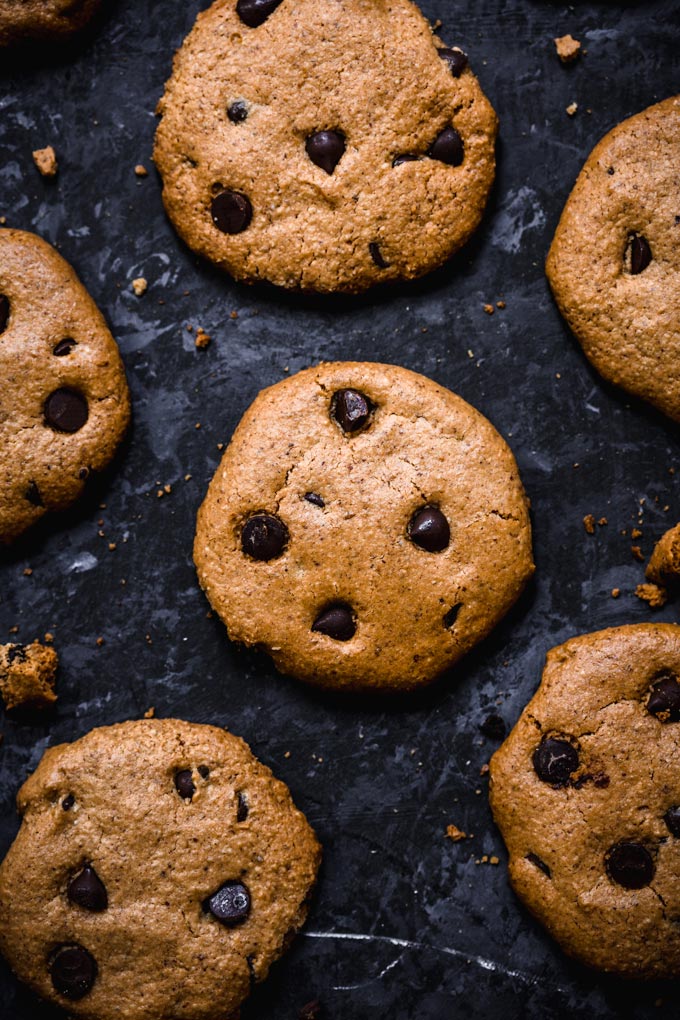 Ingredients You Need
These cookies only require 8 simple ingredients. They are:
Tahini: Tahini has a pretty unique flavor and not-so-strong taste compared with peanut butter. It's also a perfect replacement for those who are allergic to peanut butter. (I love peanut butter though.)
Maple Syrup: Please use maple syrup because the flavor is way too gorgeous for other substitutes.
Vanilla Extract: We need a little bit of vanilla to elevate the whole flavor.
Ground almonds: We need the crispy texture from them. You can also use almond flour for a more light texture.
Oat Flour: It's just ground oat flakes. I usually make my own by grinding rolled oats or instant oats in my grinder. Use gluten-free if necessary.
Baking Powder & Baking Soda: They are the leavening agent for these cookies to make them super crunchy and crispy.
Dark Chocolate Chips: You can use any vegan-friendly chocolate chips you like. I personally like to use the ones with 70% cacao content.
Vegan & Gluten-free
As you might have noticed, these cookies are vegan, gluten-free, and made with just a few awesome and wholesome ingredients, which is just a plus. The point is, they are DELICIOUS!
Just want to put a fact here: With less than 1 percent of people with celiac, most people don't need to adopt a gluten-free diet. So I don't suggest normal people go restrictive.
How to Make Tahini Chocolate Chip Cookies
These tahini chocolate cookies are pretty easy to make. They will take you less than 10 minutes to put together and about 15 minutes to bake in the oven.
Simply say, it's a one-bowl recipe that all ingredients get mixed together.
The important part is to let them cool completely so they can get super crunchy. The waiting part probably the hardest one in this recipe. (Right?)
How to Store These Cookies
These cookies can last quite long, about 2-3 weeks in an air-tight jar. But I normally finish them all in one week, by myself.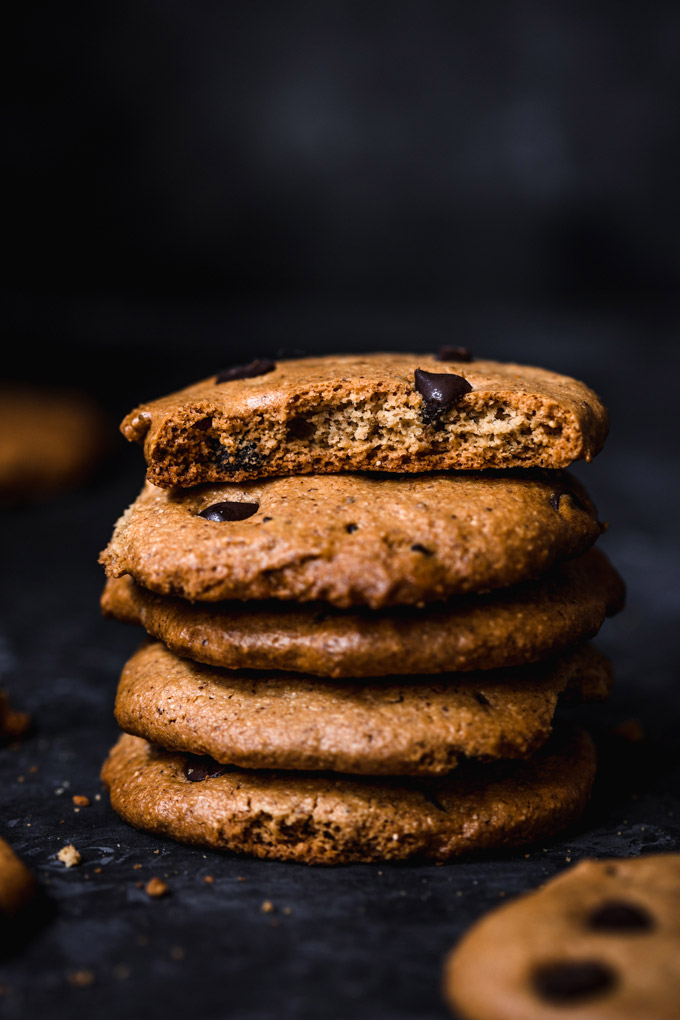 Other Recipes You Might Like
I hope you will like these cookies. If you're looking for more vegan snacks, here are:
Vegan Tahini Chocolate Chip Cookies (Gluten-free, 8 Ingredients)
Crispy, crunchy, and puffy, these Vegan tahini Chocolate Chip Cookies are one of the easiest snacks to make. And yes, they are made with only 8 ingredients.
Ingredients
60

g (4 Tbsp)

tahini,

running & drippy

60

g (3 Tbsp)

maple syrup

1/2

tsp

vanilla extract

50

g (1/2 cup)

ground almonds

,

or almond flour

45

g (1/2 cup)

oat flour

,

use gluten-free if necessary

1/4

tsp

baking powder

1/4

tsp

baking soda

2-4

Tbsp

vegan dark chocolate chips,

plus more for decorating

A

pinch of

salt

,

optional
Instructions
Preheat the oven to 175 C. Line a baking sheet with parchment paper.

In a big bowl, add the tahini, maple syrup, and vanilla extract. Mix all together.

Then add the ground almonds, oat flour, baking powder, and baking soda (and a little pinch of salt if you feel like). Mix to combine.

Finally, stir in the dark chocolate chips. The mixture will be sticky and wet.

Use a tablespoon to scoop out the mixture and put it on the lined baking sheet. Leave some space between each cookie because they will spread a little. Repeat to use up all mixture.

Wet your finger a little bit. Then use them to press down the mixture into a disk.

Bake for about 15 minutes until they are golden brown. Then transfer the baking sheet onto a wire rack to cool down completely. Enjoy!
---
Notes
Storage: Store in an air-tight container for 2-3 weeks. But I think you won't let them last that long.
Adapted from Kale Junkie