Read the post in:
繁體中文
Want to berry and chocolate combo? These Vegan Raspberry Chocolate Muffins are perfect for you if you love berries and chocolate as I do! You got the sweet-sour raspberries inside the bitter-sweet chocolate cake. I mean, it couldn't go wrong.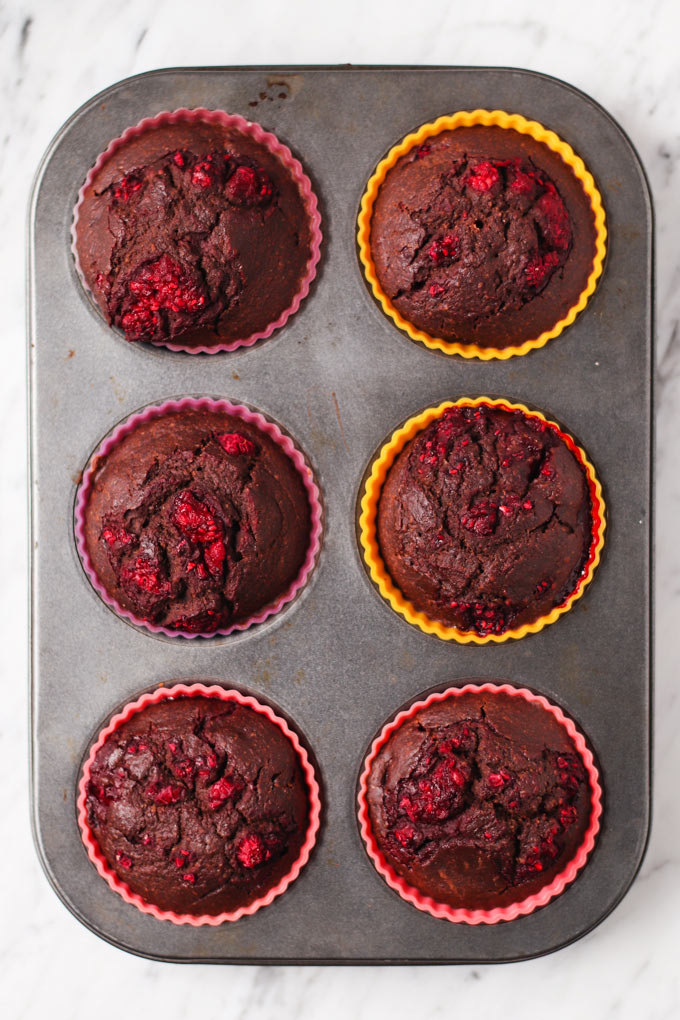 Vegan Raspberry Chocolate Muffins
We often see the combination of chocolate and black cherries thanks to the famous black forest cakes. But you know what? I found that raspberries and chocolate are also a match made in heaven when I tasted a chocolate cake with raspberry inside.
It made me feel that the prominent sourness from the raspberries broadens the flavor of chocolate. And you know I love both berries and chocolate, so, here we are!
These Raspberry Chocolate Muffins are vegan, which means no egg, no dairy, no animal product. So, hi, my vegan friends. : )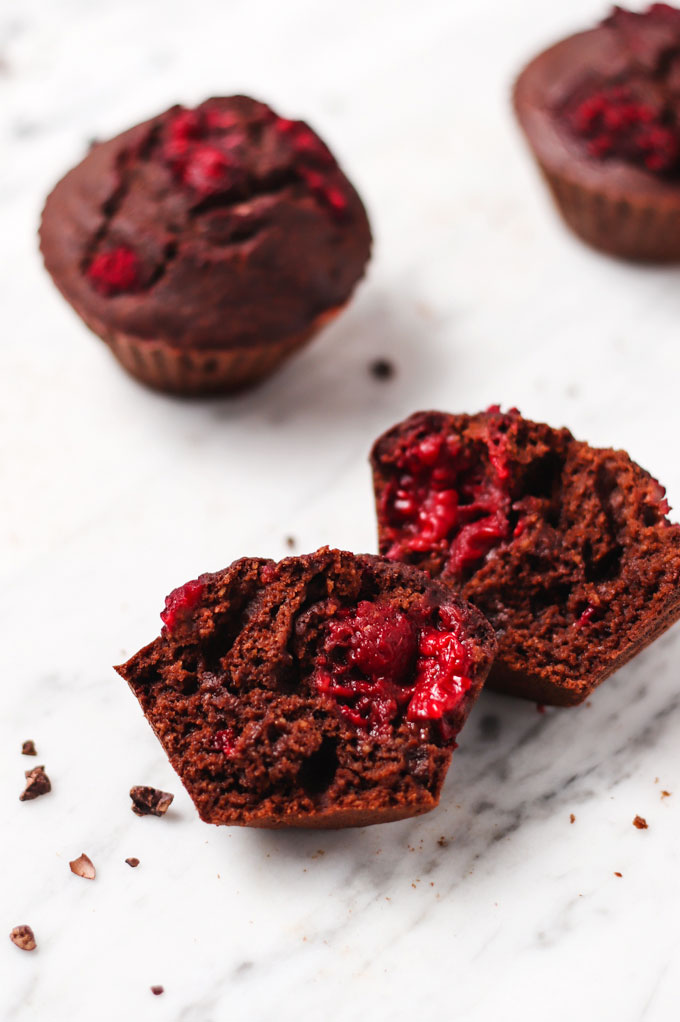 Muffins are firmer in texture compared to cakes, so I use whole wheat spelt flour in these muffins to get the ideal texture. However, on the other hand, they are not gluten-free because of that.
But if you are gluten-sensitive, don't leave just yet. You could try to replace the spelt flour with gluten-free flour. But I haven't tried to use other flour in this recipe, so I'm cannot guarantee if the texture differs much. If you have tried with other substitutions, welcome to leave your comment below. 🙂
These muffins carry the bitter-sweet cacao flavor with the juicy, sour-sweet raspberries inside. These raspberries might surprise you when you bite into them.
Raspberries are kind of expensive in Taiwan. I love them, so frozen raspberries are a more budget-friendly option. And frozen ones can hold their shape when stirred in the batter and produce more juice while baking.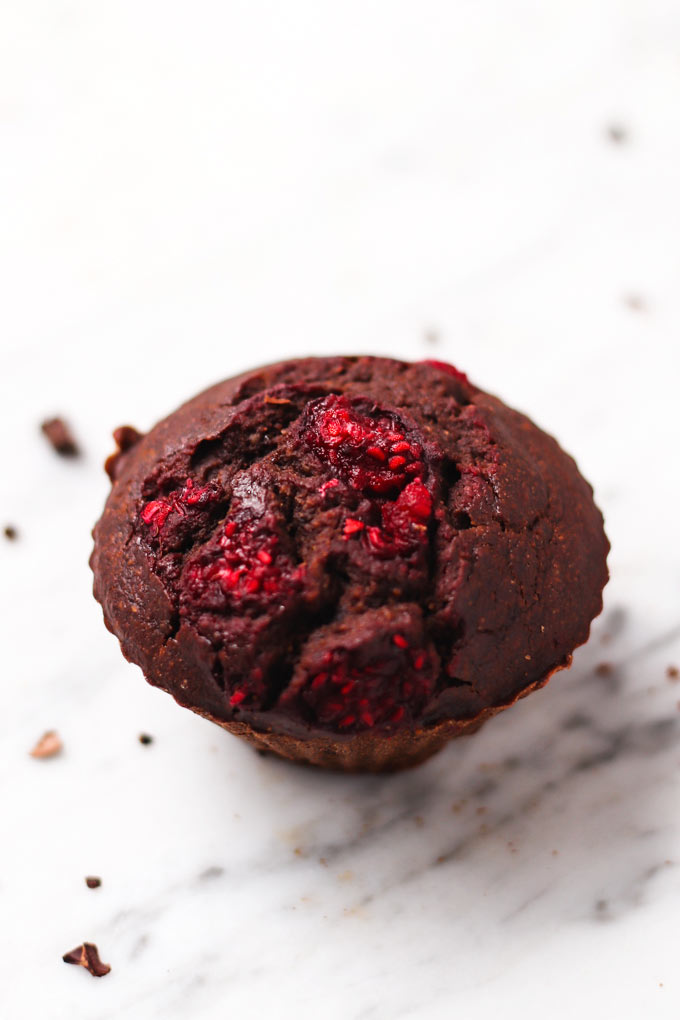 These Raspberry Chocolate Muffins hold their shape pretty well, which makes them a good grab-and-go breakfast or snack options. You could drizzle some melted chocolate or peanut butter on top to make it more naughty. (I actually want to do that right now. Why I didn't? And I even forgot the add the chocolate chips … Pardon me.)
Oh, I use frozen raspberries for this recipe. But if you don't have raspberries at hand, you could also use frozen cherries or frozen berries that seem to work for you. I think it wouldn't be wrong as long as you got the chocolate part right. (Smile)
If you love chocolate sweets as I do, then don't miss out on the Sweet Potato Chocolate Brownies and Chocolate Peanut Butter Macadamia Granola I make all the time. Anyway, happy baking. Let's do this!
Some points to mention:
If you know me, you should know that I'm not a big fan of "overly-sweet" things, so these muffins are not very sweet, at least to my taste. But if you prefer a sweeter version, feel free to add 2-3 tablespoon of sugar of choice.
I use whole wheat spelt flour in this recipe. Feel free to use white spelt flour for replacement. However, I haven't used other types of flour for this recipe, so I'm not sure how it would come out. Let me know if you have tried other substitutions.
Since spelt flour has gluten, really make sure you don't overmix the batter; otherwise, the texture would not be great in the end.
If you don't have frozen raspberries at hand, frozen cherries or blackberries would also be good options.
I've cut down the oil to the minimum and do not recommend to cut it off entirely since the muffins need the oil to get soft. It's also recommended to enjoy these muffins warm because the texture is softer. I usually reheat them in the oven before enjoying them with a drizzle of peanut butter.
Pin it
覆盆莓巧克力瑪芬 Vegan Raspberry Chocolate Muffins
Want to berry and chocolate combo? These Vegan Raspberry Chocolate Muffins are perfect for you if you love berries and chocolate as I do! You got the sweet-sour raspberries inside the bitter-sweet chocolate cake. I mean, it couldn't go wrong.
食材
½

Tbsp

ground flaxseed 亞麻籽粉

1.5

Tbsp

aquafaba 鷹嘴豆水

,

or water*

37.5 (3/8 cup)

g

rolled oats 傳統燕麥片

,

ground, or just use pre-ground oat flour

A

pinch of

slat 鹽

70 (½ cup)

g

whole wheat spelt flour 斯佩爾特小麥粉

60

g

coconut sugar 椰糖,

~5 big Tbsp

1

tsp

baking powder 泡打粉

20

g

cocoa powder 可可粉

,

3 Tbsp + 2 tsp

2

Tbsp

applesauce 蘋果醬

½

tsp

apple cider vinegar 蘋果醋

120

ml

plant milk 植物奶

1

Tbsp

coconut oil 椰子油,

melted

¼

tsp

vanilla extract 香草精

75

g

frozen raspberries 冷凍覆盆莓

,

a heaping ½ cup

A

handful

dark chocolate chips 黑巧克力豆
作法
Preheat the oven at 175 C / 350 F.

Start by making the "flax egg:" In a small bowl, mix together the ground flaxseed and water.

Ground the rolled oats in a grinder or food processor into flour if you haven't already. Then add the oat flour to a mixing bowl along with the salt and coconut sugar. Add the cocoa powder and baking powder through a sieve if you have one; otherwise, do your best to mix until no clump to be seen.

In another bowl, add the applesauce, coconut oil, vanilla extract, and plant milk. Mix to combine. If the coconut oil gets solidified after touching the milk, you could heat the mixture a bit so the oil could melt.

Add the wet mixture to the dry one. Mix until all combined. Pay attention to it because you don't want to overmix it.

Stir in the raspberries and chocolate chips. You could save some for toppings.

Grab a 6-cup muffin pan and place in the muffin liners or grease the pan with vegan butter or coconut oil.

Pour the batter into the muffin pan. Add the saved toppings or just add more if you like.

Bake for 20-25 minutes until a toothpick inserted in comes out clean.

Place the muffin pan onto a wire rack to cool for 15 minutes. Then enjoy them as you like!
---
備註
Aqufaba is the liquid left from cooking chickpeas. It gives these muffins a fluffier texture. You could just the liquid from canned chickpeas or save the water from cooking the chickpeas as I do.
Store in an air-tight container in the fridge for 3 days or 2 weeks in the freezer.
---