Read the post in:
繁體中文
Chocolatey, fluffy, and moist, this Vegan Sweet Potato Chocolate Bread is an amazing breakfast or snack for you whenever you fancy a slice of yumminess!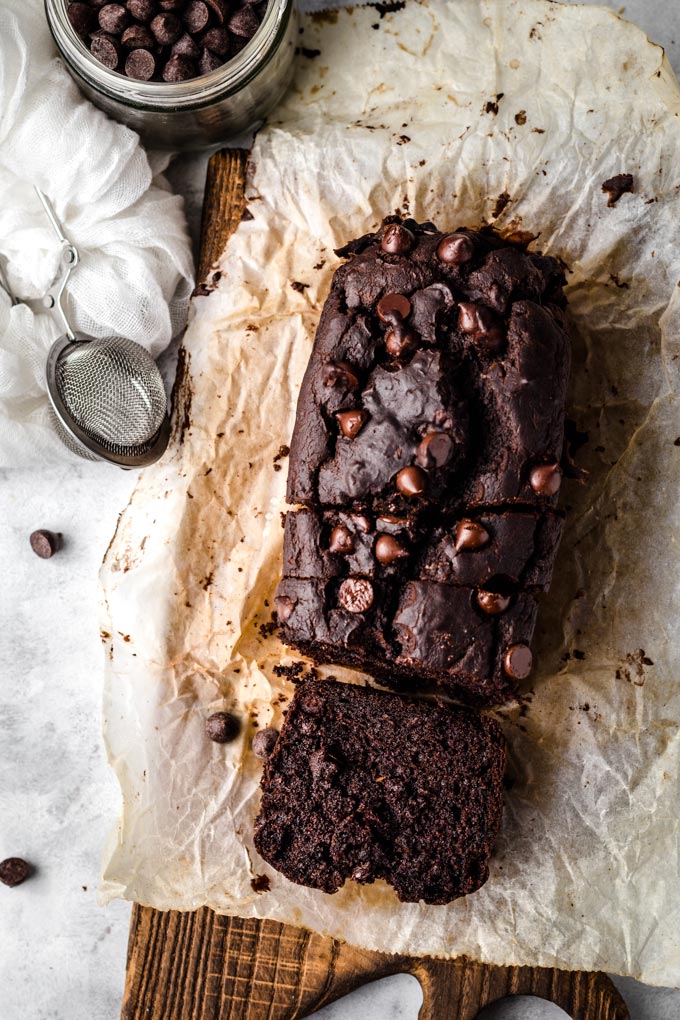 I know I might have said it quite a few times before, but I really have been thinking about making this, a chocolate bread made with sweet potatoes, for a long time. (I got a never-end list of things to make)
And this chocolate sweet potato bread really took me quite a while to test, three times to be exact, that I finally present this beautiful, soft, warm (okay, you might not be able to see that) chocolate bread.
Watch How to Make It >>
It's dairy-free, vegan, and super easy to make! The soft, moist texture and not-so-sweet characteristics make it perfect for breakfast or any-time snacks.
For a better understanding, let's use an analogy. Though it's called chocolate bread, it's more like a soft chocolate banana bread without the banana, which will serve as a perfect replacement for those who're not a big fan of banana taste.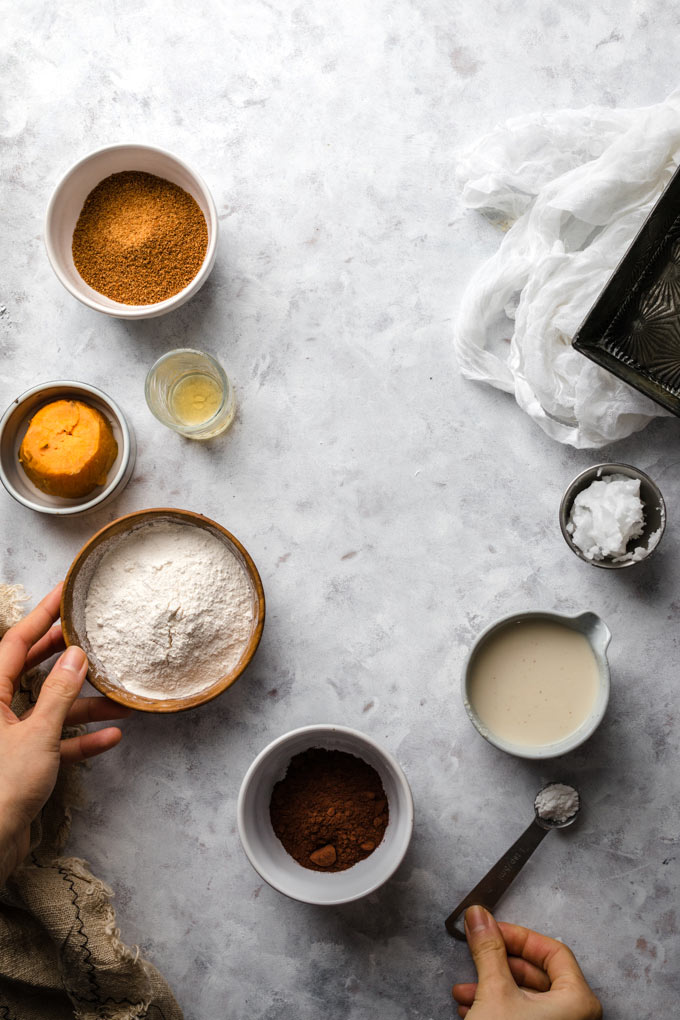 This recipe is inspired by mina and I make adjustments through the 3 testing tries. Even though the previous tries didn't work out, it's worth it in the end.
It's pretty chocolatey and fluffy. And though I did point out that there are sweet potatoes in it, you won't taste the sweet potato in there. They are already mashed and fully blended into the chocolatey wonder.
And, like banana bread, it's not really like a "bread" bread but more leaning toward a cake. But I know we don't need to go into the naming game again because be it called either, it's really delicious!
How to make Chocolate Sweet Potato Bread
This is really a simple, one-bowl recipe. In a nutshell, all you need to do is to mashed the cooked sweet potatoes, mix them with other ingredients, and then bake. More detailed steps will be down in the recipe card.
Tips & Notes for the Chocolate Sweet Potato Bread
Measuring: I will suggest using a scale if you can because the weight is really important here, I mean, in baking, overall. The weight is the most precise measurement for recipes. But if you don't have a scale and decide to use the cups, make sure to level off every single time.
Sweet Potatoes: Here cooking the sweet potatoes means boiling them in water until they are soft. I've tried to use steamed potato but it didn't work the same. And weigh them after boiling without any skin.
Mashing: It's best to mash the sweet potatoes with a potato masher or a fork while they are still hot, which is the best way to mash them into a smooth paste. If you want to make sure there will be no chunks in your chocolate bread, just blend them with the liquid ingredients.
Flour: Stick to the white wheat flour to make sure it works. I've tried to use cassava flour but it didn't work out as I expected. But still, you sure can have fun if you want to test it with didn't flour. If you do have experience trying it with different flour, I would love to hear from you in the comment down below.
Baking Time: I think many people know this but I still want to point out that the baking time is not an absolute number for each oven. All oven behaves differently even from the same brand. And the baking pan you use also has an impact on the baking time.
How to Store Chocolate Sweet Potato Bread
This chocolate sweet potato bread is freezer-friendly, meaning you can store it in the freezer for a long time.
But if you want to put the bread into the freezer, I'll suggest slicing it and putting them into a bag. So when you want one or two slices, you won't in the risk of hurting your hand while chopping the frozen brick. (I learned it the hard way)
How to Serve Chocolate Sweet Potato Bread
I'll recommend enjoying this chocolate sweet potato bread warm. This way it will be fluffy, soft, and moist, as the way it should be.
If you put it into the freezer or fridge, reheat the slices in the oven before serving.
You can add other toppings or spread you like. I like to drizzle some peanut butter and maple syrup on top, or cookie butter. (Yumm~)
I hope you enjoy this fluffy chocolate sweet potato bread as I do. If you make it, I would be happy to know how it goes.
If you're hungry for more vegan, breakfast ideas, check out:
Vegan Chocolate Sweet Potato Bread
Chocolatey, fluffy, and moist, this Vegan Sweet Potato Chocolate Bread is an amazing breakfast or snack for you whenever you fancy a slice of yumminess!
Ingredients
60

g (1/4 cup)

cooked sweet potatoes

,

weighted after cooking without skin

90

ml (3/8 cup)

plant milk

,

I use homemade soymilk

3

Tbsp

coconut sugar

,

or can sugar

20

g (1 Tbsp)

maple syrup

2

Tbsp

coconut oil

,

or vegan butter, melted

1

tsp

apple cider vinegar

70

g (1/2 cup)

all-purpose flour*

12

g (2 Tbsp)

cocoa powder

1.5

tsp

baking powder

1/2

tsp

baking soda

A

pinch of

salt

3 to 4

Tbsp

vegan-friendly dark chocolate chips
Instructions
Preheat the oven to 175 C / 350 F. Line a small loaf pan with parchment paper. (Mine is 13*9.5 cm**)

Mash the cooked sweet potatoes with a potato masher or a fork until it's mostly smooth.

Add the plant milk, coconut sugar, maple syrup, and melted coconut oil. Mix to combine.

Minx in the apple cider vinegar.

Sift in the flour, cocoa powder, baking powder, baking soda, and salt. Mix to just combine. Make sure do not overmix. The batter will be on the thinking side.

Stir in the dark chocolate chips. Keep in mind to to not overmix.

Transfer the mixture into the lined baking pan. Bake at 175 C / 350 F at 30-35 minutes***. Use a knife to insert in the middle of the bread and pull it out. It should be clean.

Let it cool in the pan for 15-20 minutes before slicing. Enjoy warm.
---
Notes
*Flour: Stick to white all-purpose flour for the exact texture shown in the photo. I've tried to use cassava flour but it didn't turn out right. I haven't tried it with other flour so not sure if gluten-free flour will work. If you do try it with other flour, let me know in the comment!
**Loaf pan: Since I usually make it only for myself, I use a small loaf pan to make a small chocolate sweet potato bread. You can triple the recipe for an 8″ loaf pan.
***Baking time: If you double or triple the recipe, bake for another 5-10 minutes. Use a toothpick or knife to test.
Storage: Store in an air-tight container in the fridge for 3 days or 2 weeks in the freezer.