Read the post in:
繁體中文
Sweet and fluffy, this Vegan Banana Bread is vegan, made without wheat flour (gluten-free), and super delicious! Got too many ripe bananas at hand? Make this!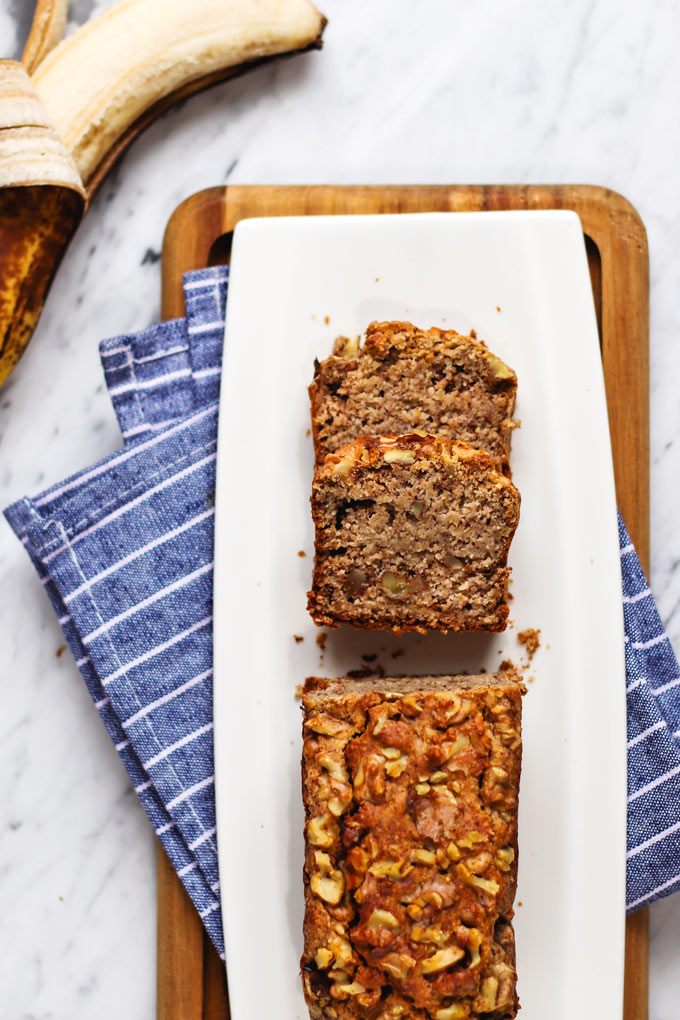 Vegan Gluten-Free Banana Bread
When talking about banana bread, I have a bitter-sweet story to tell. I remember that when I first started baking, I couldn't make a good banana bread, no matter how many times I've tried. So I gave up at that time.
These few years, I've become a vegan. My heart is open again towards banana bread. But this time, it's a vegan version for sure.
And you know what? It turns out fantastic. In fact, I think this is the best banana bread I've ever had in my life, at least for now. So that's why I'm so thrilled to share it with you.
Not only it's vegan. It's also gluten-free, without any wheat flour. I just want to share a banana bread that almost everyone can enjoy, including those sensitive to gluten. (Hi there.)
If you're really sensitive to gluten, make sure you're using gluten-free oats for this vegan banana bread. And if you're not, still welcome to have this banana bread in your morning or afternoon with a cup of tea.
This is also a great recipe to use your over-ripe bananas. So if you're panicking about how to use them right now, I've got your back.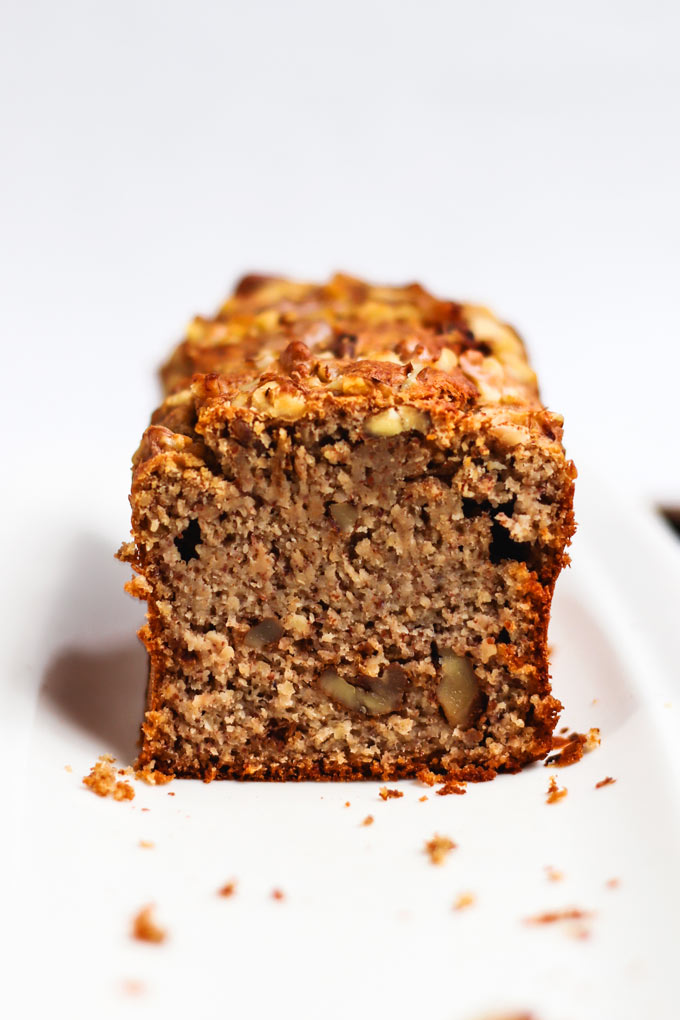 This recipe is adapted from Beaming Baker's recipe. The measurement of her is using cups. But I think it's really important to measure the banana by weight based on my personal experiences.
Weight is the most accurate measurement. That's also why I usually use weight for measurement instead of volume. Anyway, I've tested out the exact measurement and I want to share it with you!
I also reduce the amount of maple syrup in this recipe because I find that the bananas are already sweet enough. Sometimes I use palm syrup for a different flavour as well.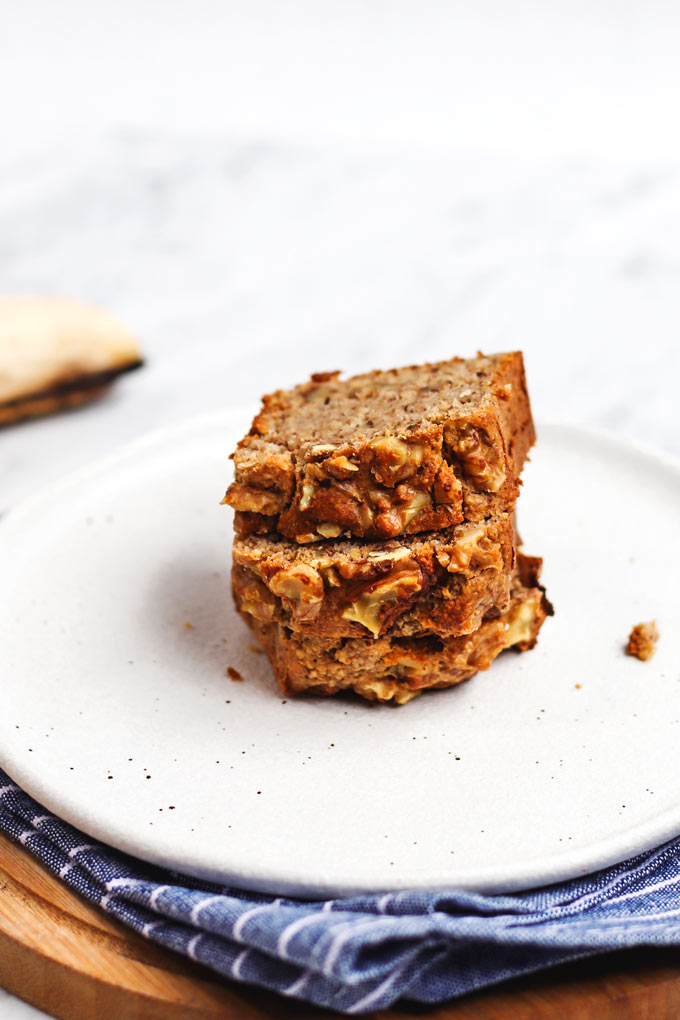 And you know which ingredient goes really well with bananas? (not chocolate, though it's a common match in Taiwan)
It's walnut! I mean, I love walnuts, but the baked walnuts really bring this vegan banana bread to the next level. It smells really really really AMAZING. Just give it a try and you'll know what I'm talking about. (wink wink)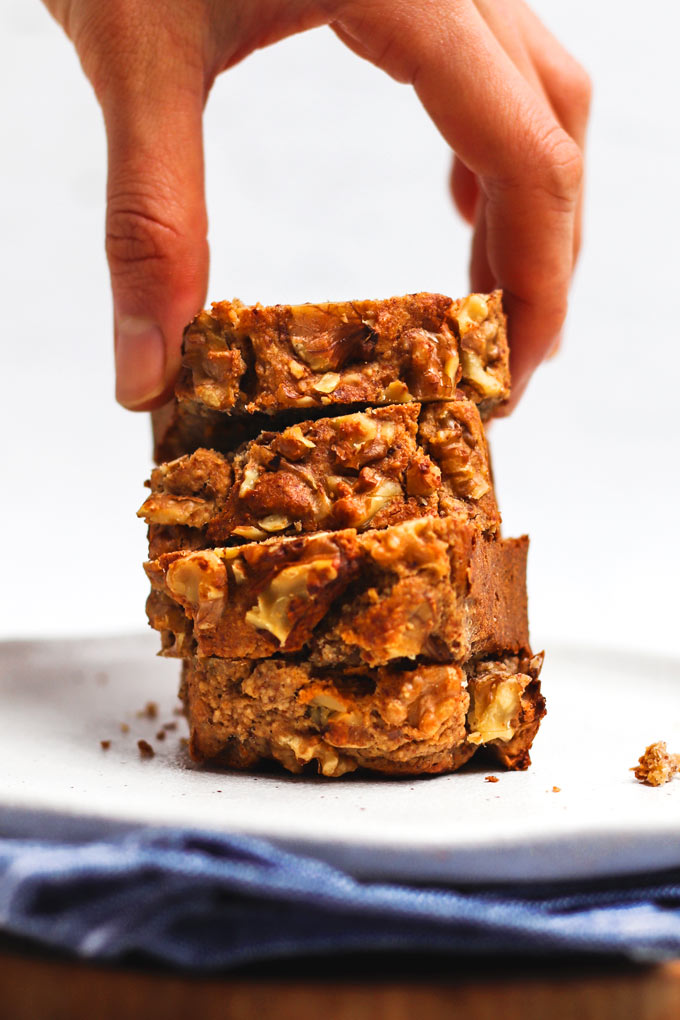 You can enjoy this bread in the morning as breakfast or snacks in the afternoon. Or, whatever you want, actually. It's freezer-friendly.
Okay, shall we?
More Vegan Banana Recipes:
Vegan Banana Bread (Gluten-Free + Easy)
Sweet and fluffy, this Vegan Banana Bread is vegan, made without wheat flour, and super delicious!
Ingredients
Wet ingredients
½

Tbsp

ground flaxseed

1+1/2

Tbsp

water

135

g (1 cup+1 Tbsp)

overripe bananas

,

weighed after peeling

2

Tbsp

extra-virgin coconut oil,

melted, or macadamia nut butter*

1

Tbsp

maple syrup

1/2

tsp

pure vanilla extract
Dry ingredients
69

g (1/2 + 1/4 cup)

oat flour

35

g (3/8 cup)

almond flour

1/2

tsp

baking powder

1/4

tsp

baking soda

A

pinch of

salt
Add-ins
45

g (3/8 cup)

walnuts

,

plus 4~6 Tbsp for sprinkling on top
Instructions
Mix ground flaxseed and water together and let it sit for 15 minutes (to make the "flax egg")

Preheat the oven to 175 °C (350 °F). Line or grease a pound cake pan (Mine is 15.5×6.5 cm).

Mash the bananas with a fork until smooth, then add other wet ingredients (coconut oil, syrup, "flax egg," and vanilla extract). Whisk until all mix combine.

Add the dry ingredients (oat flour, almond flour, baking powder, baking soda, and salt). Whisk until all incorporated, no flour or lump in sight.

Stir in the chopped walnuts.

Pour the batter into the pre-lined / greased baking pan. Smooth the top, then sprinkle with additional chopped walnuts.

Bake at 175 °C (350 °F) for 30 – 40 minutes until you stick a toothpick in the middle, and it comes out clean.

Move on to a wire rack to cool down for 30–60 minutes. Remove from the mould, slice, and enjoy.
---
Notes
*Coconut oil: I've tried with macadamia nut butter instead of coconut oil with success, so I added it to this recipe.
Storage: Store the leftover in an airtight container in the fridge for 3 – 4 days or in the freezer for up to 1 month. Just let them thaw at room temperature or heat in the oven or microwave until warm.
Adapted from Beaming Baker