Read the post in:
繁體中文
Moist on the inside and crispy on the outside, chocolatey, and super satisfying, these Vegan Chocolate Brownie Cookies are not only unforgivingly delicious, but they are also healthier with tons of hidden goodness.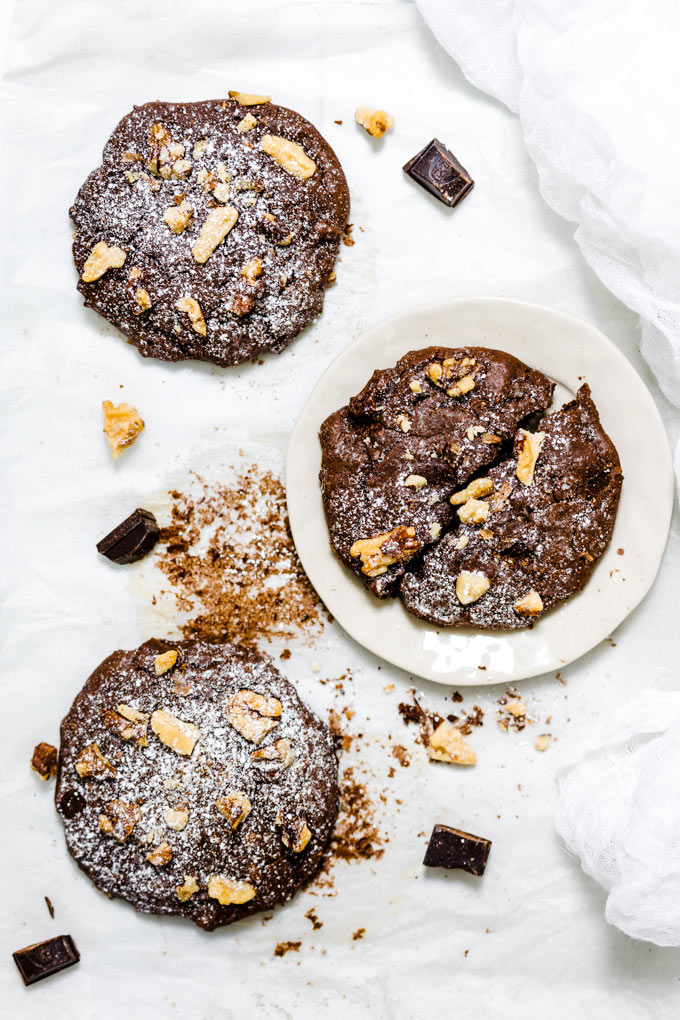 I always lost my words when I'm about to write a chocolate-related recipe. I mean, do we have to have a reason/motive for making something with chocolate? I feel like the answer is no, at least for me, especially when there is a word "brownie" in it. Am I right? (wink wink)
This recipe was actually born when I was thinking about brownies and cookies at the same time. As you might have known (or not), both of them are my staples. So, I adapted one of my old cookie recipes (Copycat Levain Bakery Chocolate Chip Cookies) to create this gorgeous deliciousness.
If you adore chocolates and cookies (like I do), I promise these chocolate brownie cookies won't disappoint you.
Watch How to Make It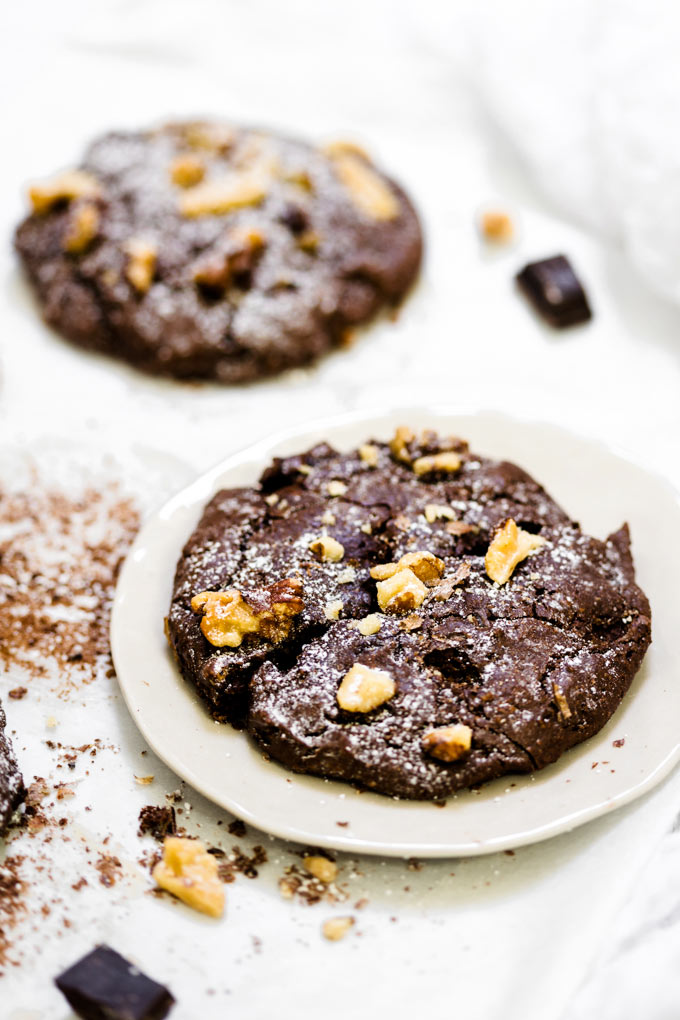 Ingredients You Need
I know the list might look a bit long. But if you bake from time to time, I think you have most of them in your cabinet already.
Oat flour: I like to use oat flour in cookies because it makes them so tasty. If you're allergic to gluten, make sure to read the allergy warning when buying oats and other ingredients.
Almond flour: to give these cookies a bit of texture and more flavor. You can also use ground almonds.
Cocoa powder: Use the one that you like.
Arrowroot starch: This is a powdered starch that I use quite often. You can also use tapioca starch if you don't have it.
Baking soda: It makes these cookies rise a bit so it's not dense.
Salt: Don't underestimate the impact of a pinch of salt in a recipe.
Coconut sugar: Coconut sugar is my favorite granulated sugar. And it tastes really good with chocolate as well.
Almond butter: Almond butter gives these cookies a slightly nutty and rich flavor that accomplishes the classic, decadent taste of chocolate brownies. (Make Your Own Almond Butter – How to Make Nut Butter)
Aquafaba: aka chickpea water, literally the water left from cooking chickpeas. You can just use the liquid from store-bought canned chickpeas to save your time.
Pure vanilla extract: A hint of vanilla will make it more heavenly.
Dark chocolate chips: I recommend using chocolate chips with 50~70% cacao content.
Walnuts: Walnuts is one of the "must-have" things in brownies for me, so it's also applicable here, obviously.
Plant-based milk: Any non-dairy, plant-based milk like almond milk, oat milk can work.
How to Make Chocolate Brownie Cookies
This recipe is also very easy and simple. You don't need any special equipment. Just your hands and a few basic tableware.
First, mix all the dry ingredients except for chocolate chips and walnuts in a big bowl.
In another small bowl, add the wet ingredients except for the plant-based milk. Mix well.
Add the wet mixture to the dry one. Mix to incorporate all.
Depending on the texture, add 1/2~1 tablespoon of plant milk to loosen the batter. It should look bit wet and sticky.
Stir in the chocolate chips into the mixture.
Divide the mixture into 3 big cookie doughs on a lined baking tray. Flatten them into about 1.5 cm thick disks.
Add the walnut pieces on top the cookie disks.
Bake them in the preheated oven at 175°C/350°F for 13~16 minutes. They should be solid on the outside but a bit soft on the inside.
Let them cool on a wire rack for 5 minutes and then dig in!
I first decorated them with some icing sugar for aesthetic reasons, but I also found that it adds a slight sweetness once you put them into your mouth. It's really good!
How to Store Vegan Chocolate brownie cookies
These chocolate brownie cookies are best served on the same day you make them as the inside will gradually dry out as time they sit. But if you have leftover/extra, store them in an air-tight container in a dry, cool place, where they should be fine for 3~5 days.
But if you live in a warmer place or it's summer, I'll suggest storing them in an air-tight container in the fridge and letting them sit at room temperature for a while before serving.
Questions You Might Have
Can I use peanut butter instead of almond butter?
Yes. As long as you're comfortable (or obsessed) with peanut butter flavor, you can replace almond butter with peanut butter.
Are there other substitutions for aquafaba?
I haven't tried other substitutions for aquafaba in this recipe, but I think you can try to use plant-based milk to replace aquafaba. Though I think there will be a slight difference in the final texture.
Can I use other types of sugar instead of coconut sugar?
Yes, you can. My second choice is usually organic cane sugar or golden sugar. Just keep in mind that some granulated sugar (especially in the USA) is not vegan due to the process (contacted with animal bones). Most sugar sold in the UK is vegan. I usually check the package or double-check it online.
Pro Tips & Notes
These chocolate brownie cookies are best served on the same day you make them. This way they will still get the moist middle that is reminiscent of chocolate brownies. They will get a bit dryer as time pasts by. But they will still be great in taste.
Underbaked is better than overbaked because you can always bake them for another few minutes if underbaked. So just keep an eye on them around the13-minute mark.
If you want to make them ahead of time, you can premake the cookie dough first, and then wrap/cover it well and put it in the fridge. When you want some chocolatey delight, just take it out, shape them, and bake the same as the recipe indicates.
Gluten-free flour: I haven't tried this chocolate brownie cookie recipe with gluten-free flour before, but I think you can try to replace the oat flour with gluten-free plain flour to make it work as well.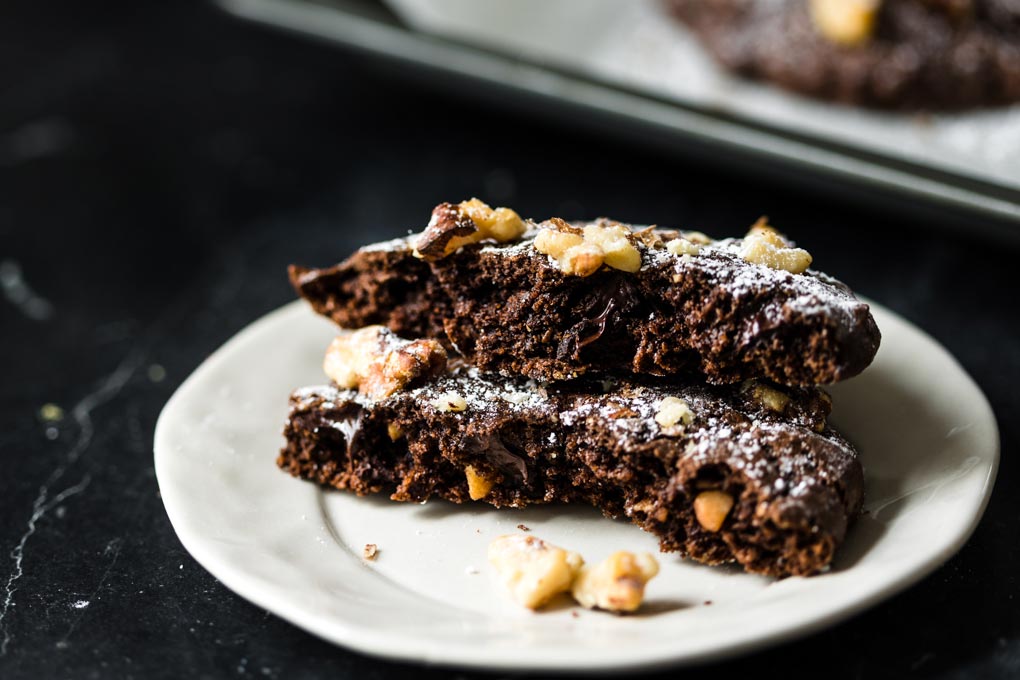 Final Words
The chocolate brownie cookies are really to die for, especially if you are a chocoholic like I am. I hope you will enjoy these chocolate brownie cookies as much as I do. If you make them, welcome to let me know by commenting down below, or tag me on Instagram (@barrelleaf) with your final work!
Let's dig in!
More Vegan Recipes:
Vegan Chocolate brownie cookies (Gluten-free)
Moist on the inside and crispy on the outside, chocolatey, and super satisfying, these Vegan Chocolate Brownie Cookies are not only unforgivingly delicious, but they are also healthier with tons of hidden goodness.
Ingredients
25

g

oat flour

,

use gluten-free if necessary

9

g

almond flour

6

g

cocoa powder

,

sifted if chunky

2

Tbsp

arrowroot starch

1/4

tsp

baking soda

1/8

tsp

salt

30

g

coconut sugar,

*

60

g

almond butter

,

**

20

g

aquafaba

1/4

tsp

vanilla extract

1/2

Tbsp

plant-based milk

40

g

dark chocolate chips

2

Tbsp

walnuts

,

broken into small pieces
Instructions
Preheat the oven to 175°C/350°F. Line a baking sheet (baking tray) with parchment paper or a baking mat.

In a large bowl, add oat flour, almond flour, cocoa powder, arrowroot starch, baking powder, salt, and coconut sugar. Use a whisk or for to mix them together.

In a small bowl, add almond butter, aquafaba, and vanilla extract. Use a fork or small whisk to combine them together into a homogeneous runny paste.

Pour the running paste into the flour mixture. Use a fork to combine all together.

Add the plant-based milk, 1/2 tablespoon at a time, to the dough to make it slightly wet.

Then stir in the chocolate chips.

Use a spoon to divide the mixture into 3 cookie doughs and place them onto the lined baking sheet, evenly spaced. These cookies will spread out a little, so make sure to leave some space around each cookie.

Evenly divide the walnuts on top of the cookie dough.

Place the baking sheet in the middle or lower 1/3 rack in the oven to bake at 175°C/350°F for 13~16 minutes. The cookies should be solid to touch on the outside but a bit soft on the inside. Just remember that the longer you bake them, the dryer they will get.

Once they have been baked, transfer the baking sheet onto a wire rack to cool for 5 minutes. Then you can dig in or optionally sprinkle some icing sugar to make them look even more divine!
---
Notes
*Coconut sugar: You can also use organic sugar or golden sugar.
**Almond butter: You can replace it with peanut butter if you like a hint of peanut butter taste in them. It's best to use the nut butter without any added oil. (You can check it out: How to Make Nut Butter)
Quantity: This recipe makes 3 large chocolate brownie cookies. You can also make them smaller if you want. In that case, you might need to adjust the baking time.
Storage: Let the chocolate brownie cookies cool completely and then put them into an air-tight container. They should be fine for 3~5 days at room temperature. You can also put them into the fridge, where they can last 5~7 days, which is recommended if you're living a in warmer country. (Yes, Taiwan is included.)