Read the post in:
繁體中文
These Vegan Banana Muffins are fluffy, sweet but not so sweet, and nutritious. They're great as make-ahead, take-and-go breakfast. Plus, they're easy to make and all is done in one bowl!
Vegan Banana Muffins
It's been pretty hot lately, so the bananas go ripe much faster than I can consume. I've freeze a huge bag of banana slices. And those unfrozen ones seemed to go spotty in just a few seconds, so I decided to make something out of them, hence these Vegan Banana Muffins.
These banana muffins are vegan, meaning no egg, no dairy, no animal products. They also don't contain refined sugar because we're going to sweeten these nutritious muffins with my beloved maple syrup.
Watch How to Make Vegan Banana Muffins Here
This time I also use whole wheat spelt flour instead of regular white flour to make these banana muffins. Spelt flour contains more nutrients such as fiber, iron, and some minerals. (Ref. Bob's Red Mill, Healthline)
I bought my first bag of spelt flour at city'super, but later I found it on iHerb, where I stay as a loyal customer to buy different ingredients. If you don't really have them at hand but want to make these banana muffins, go ahead to replace it with all-purpose flour.
Aside from spelt flour, these banana muffins also made from ground almonds, oat flour, baking powder, and baking powder to create the right fluffy texture.
I add in some walnut pieces because I think they go really well with bananas. They also add more texture and flavor to these banana muffins.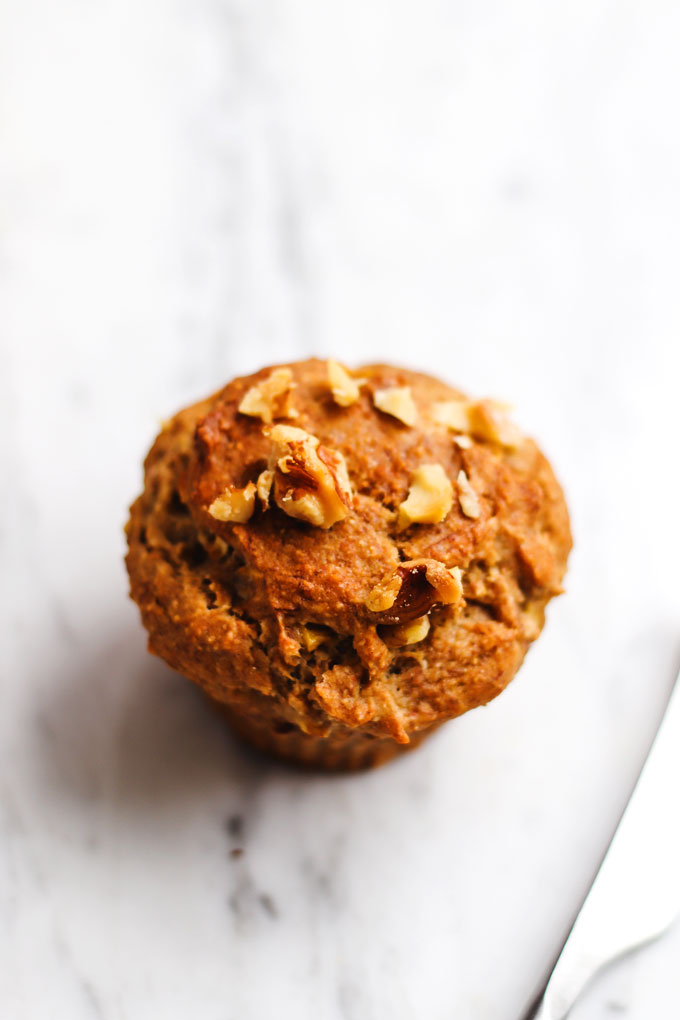 And to make them look more like breakfast, sometimes I'll top them with some oat flakes. Otherwise, just more walnuts because walnuts and bananas go really well, in my humble opinion.
HOW TO MAKE VEGAN BANANA MUFFINS
It's really easy to make these banana muffins because all happens in one bowl!
Mix the ground flaxseeds and water.
Mash the bananas and mix them with wet ingredients.
Add in flour.
Stir in walnut pieces.
Bake, cool, and done!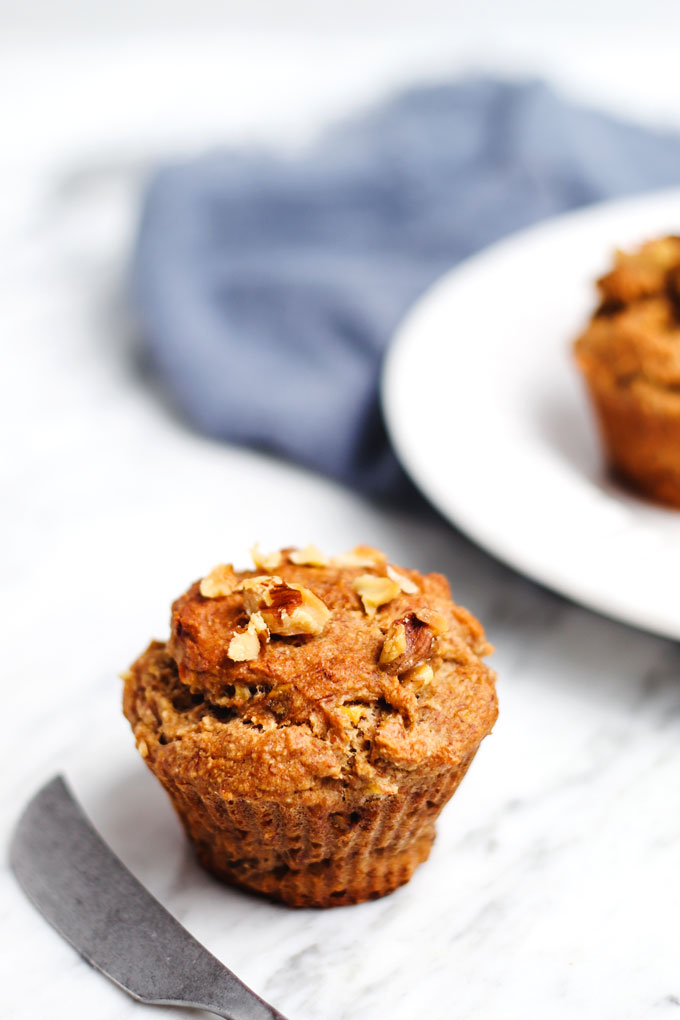 These banana are fluffier than regular muffins. With the sweetness from the banana and walnuts pieces inside, they're really great and enjoyable breakfast/snack.
I like to reheat them in the oven right before eating, so they're warm, toasty outside, and softer inside.
If you have too ripe bananas at hand and not sure how to do with them, make these banana muffins! I think you won't regret it.
---
And if you're interested in more banana recipes, check out:
---
I hope you enjoy it as much as I do. If you make this recipe, don't forget to tag @Barrelleaf + #barrelleaf on Instagram. I always love to see them and to know how it goes.
Vegan Banana Muffins 全素香蕉瑪芬
These vegan banana muffins are fluffy, sweet but not so sweet, and nutritious. They're great as make-ahead breakfast and super easy to make!
食材
170

g

bananas 香蕉

,

net weight

½

Tbsp

ground flaxseed 亞麻籽粉

1+½

Tbsp

water 水

1

Tbsp

grapeseed oil 葡萄籽油

½

Tbsp

coconut oil 椰子油

1

Tbsp

maple syrup 楓糖漿

90

g (¼+⅛)

unsweetened soy milk 無糖豆漿

A

pinch of

salt 鹽

½

tsp

vanilla extract 香草精

½

Tbsp

baking powder 泡打粉

½

tsp

baking soda 小蘇打粉

40

g

ground almond 杏仁粉

50

g (½ cup)

oat flour 燕麥粉

100

g

whole wheat spelt flour 斯佩爾特小麥粉,

or all-purpose flour

½

tsp

apple cider vinegar 蘋果醋

50

g

walnuts 核桃

,

roughly chopped 略切
作法
Mix the ground flaxseed and water and let it sit for 10 minutes.

Grease a 6-cup muffin pan or use muffin liners. Preheat the oven at 175°C / 350°F.

Mash the banana with the back of a fork.

Add the flaxseed water, grape seed oil, coconut oil, palm syrup, soy milk, salt, and vanilla. Mix well.

Add other ingredients except for walnuts. Mix to combine.

Stir in the chopped walnuts.

Divide the batter into the baking pan. Drop the pan on the counter a few times to remove the air bubble.

Bake at 175°C / 350°F for 25-30 minutes until you stick a toothpick in the middle of a muffin and it comes out clean.

Remove the pan from the oven onto a wire rack to cool down a little, about 10 minutes. Then remove the muffin from the pan and let them cool before serving. Reheat them in the oven if you want a warm muffin.
中文版
將亞麻籽與水混合靜置 10 分鐘

將一個 6 連瑪芬烤模內抹油,或鋪瑪芬紙模。將烤箱以 175°C 預熱

將香蕉用叉子的背部壓成泥狀

加入亞麻籽水、葡萄籽油、椰子油、椰糖漿、豆漿、鹽、香草精,混合攪拌均勻

再加入除了核桃之外的所有食材,混合攪拌均勻

最後再拌入切碎的核桃,混合均勻

填入模具中,用模具輕敲檯面,把裡頭的空氣敲出來

放入烤箱中,以175°C 烘烤 25 – 30 分鐘,至竹籤插入瑪芬中間沒有沾黏

移出烤箱,置於網架上約 10 分鐘,稍放涼之後再脫模至完全放涼即可享用
---
備註
Storage: Store them in an air-tight container in the fridge for 3-4 days or 2 weeks in the freezer.
Recipe dapted from minimalist baker
保存:1冷藏 3-4 天,冷凍 2 週,要吃前再拿到室溫解凍,或用烤箱或微波加熱即可
---