This post is also available in: English
如果你每天都想吃幾片麵包,這個全素斯佩爾特全麥麵包是較營養的選擇。它是由完整的全穀物製成,只要 7 樣食材,沒有不必要的添加物,而且每一口都有我愛的全穀滋味!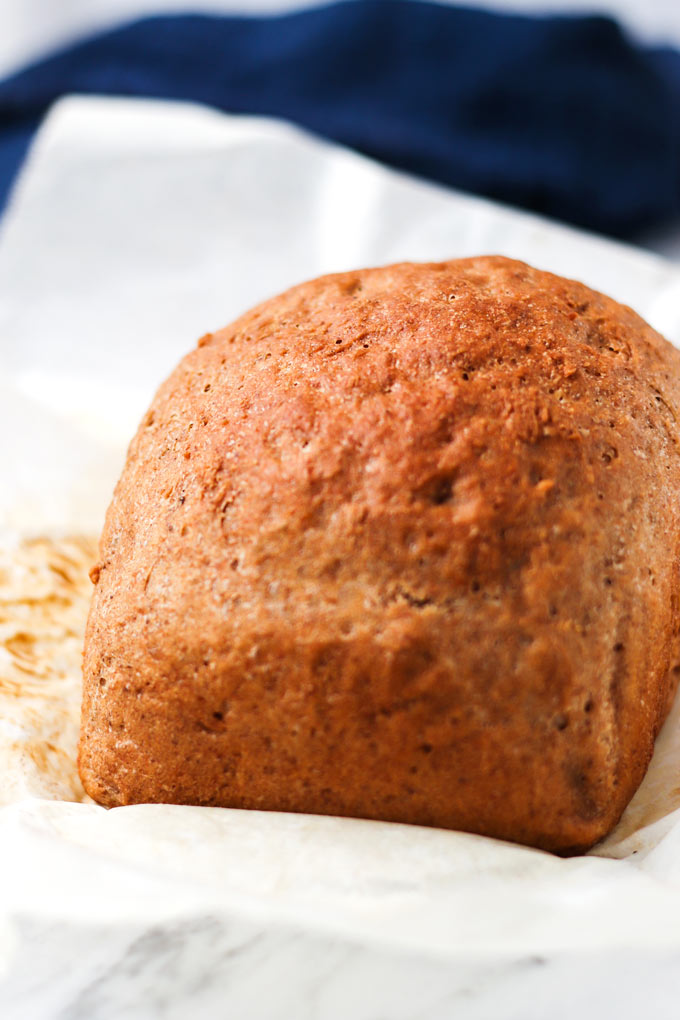 全素斯佩爾特全麥麵包
Vegan Whole Wheat Spelt Bread
最近我常用斯佩爾特小麥,畢竟,我買了一整袋嘛。喜歡變化的我,也就想將它應用於不同的食譜上,像是瑪芬、餅乾,還有許多不同的點心。
這樣說,好像我烤什麼東西都很厲害,但這次我想來坦白一件事 ─ 過去我總下意識的把做麵包這選擇拋至於腦後。
為什麼? 老實說,因為我對製作麵包沒有那麼熟悉,而且過去我有些不好的經驗,你知道的,讓我覺得失望的經驗。
直到前一陣子,當我在烘焙店或是一些商店看到斯佩爾特小麥麵包,我知道自己真的很想來試著自製它們,也是這個時候,我才告訴自己:我應該要讓過去不好的回憶過去,讓那些對我來說沒有益處的事情離開我的腦袋。
但是我無法說謊,我還是對自己不太有自信,所以這次並沒有拍很多張照片 (你應該也能發現),因為我不期待成品會好。但你知道嗎? 這次真的成功了,所以才有這一篇全素斯佩爾特全麥麵包食譜。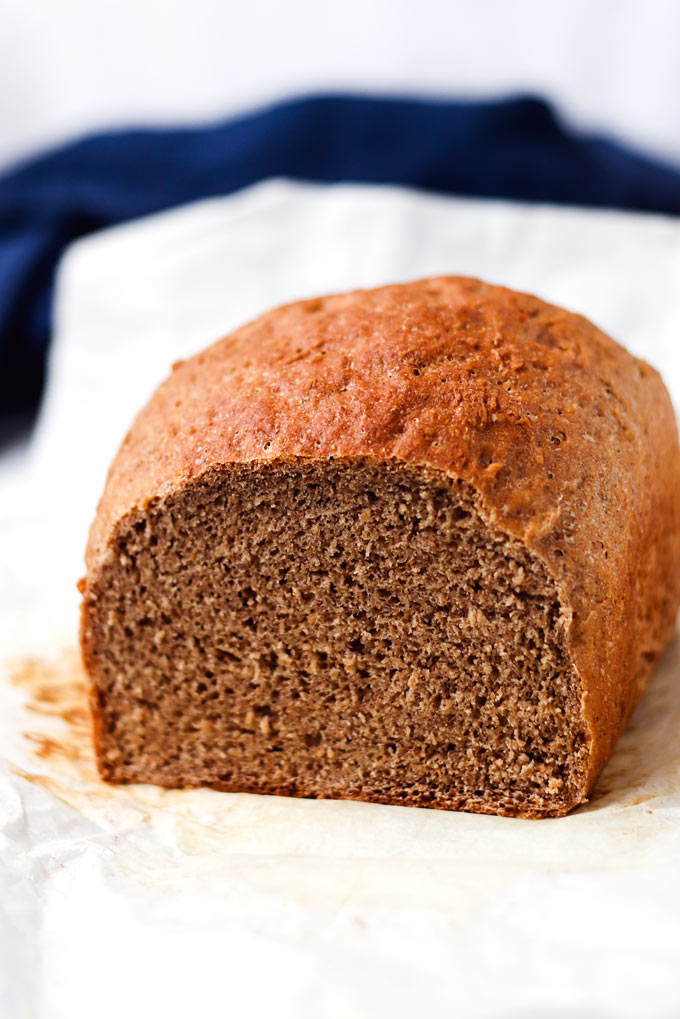 製作這全素斯佩爾特全麥麵包是成功了,但我還是想先給個小提醒、說明一下,這個斯佩爾特全麥麵包和一般常見市售的麵包口感滋味很不一樣,因為它是由整粒的全穀物、全小麥製作,保留麥上的麩皮,所以質地相較起一般來說比較沉重一些;
另外因為這也僅在揉麵團時用一點點油來讓它好揉一些,麵團裡並沒有加油,所以它也不像常見麵包那麼鬆軟。
PS. 別誤會,我一樣會食用適量的油,只是我想盡可能簡化食譜,而且我可能平常有點吃太多花生醬和堅果醬,所以,你知道的,老話一句:找到平衡點。
如果你想製作鬆軟一些的口感,你也可以去麥麩的白斯佩爾特小麥粉來取麥全穀斯佩爾特小麥粉、中筋麵粉取代全麥麵粉,但要注意的是,這樣的改變可能會需要調整水量。
如果你想試更多不同的斯佩爾特小麥粉食譜,你可以試試 全素小荳蔻燕麥餅乾、斯佩爾特巧克力豆餅乾,還有斯佩爾特香蕉瑪芬。來快樂得烘焙吧!
完整食譜 How To Make
Vegan Whole Wheat Spelt Bread
Ingredients
155

ml (½+⅛)

lukewarm water 溫水

1

Tbsp

ground chia seeds 奇亞籽粉

3.5

g

instant dry yeast 速發乾酵母

1

tsp

maple syrup 楓糖漿

60

g (½ cup)

whole wheat spelt flour 斯佩爾特小麥粉

175

g (1+⅓ cup)

whole wheat flour 全麥麵粉

½

tsp

salt 鹽

2-3

tsp

olive oil 橄欖油

,

for kneading and greasing
Instructions
In a small bowl, add the lukewarm water, ground chia seeds, dry yeast, and maple syrup. Mix all together and let it sit for 5 minutes.

In the meantime, let's mix our dry ingredients: In a big bowl, add the spelt flour, whole wheat flour, and salt. Mix all evenly.

Add the wet mixture to the dry one. Mix to combine and knead for about 5-10 minutes. I add a bit of olive oil to make the kneading process much easier because the dough can be sticky at a certain stage. Just keep kneading until it forms into a dough without too much stickiness.

Grease the inner part of the bowl with some olive oil. Place the dough in and cover the bowl with a clean towel. Let it rise in a warm place (like the top of the oven) for about 1 hour until double in size.

Remove the dough from the bowl. Gently shape it into a loaf shape.

Slightly oil the pan or line it with parchment paper. Place the dough into an 8" loaf pan.

Cover and let it sit for another 30-60 minutes until it becomes about 1.5 times bigger in size. When it's almost there, preheat the oven at 180 C / 356 F.

Bake at 180 C / 356 F for 25-30 minutes. Then remove the pan from the oven and let the bread sit in the pan for 20 minutes before removing from the pan.

Let the bread cool completely before slicing. Top any spread or toppings you like. EAT. 🙂
Video
Notes
Storage: Slice all the bread at once and store the slices in freezer-safe bags. Store them in the freeze for 2 weeks. Reheat it the oven before serving.
---
Note: This page contains affiliate links, which support me with a small commission to produce more great content on this site at no additional cost to you. You could go to the Disclosure Policy Page for more information. You can also directly support us on Patreon. Thank you for reading and supporting.
註:此頁含聯盟連結,透過此連結下單,能撥出少許金額支持本站創作,對您來說並無任何額外支出。也可透過 Patreon 獲得更多獨家內容與提供實質的支持。謝謝你們!
---