綿潤、帶著巧克力的滿足滋味,這個全素巧克力冰淇淋充滿著可可的苦甜滋味與濃郁豐厚感。如果你像我一樣是個巧克力控,那麼我想你應該不想錯過這個美味、無蛋奶的夏日甜點!
Creamy, chocolaty, and Satisfying, this Vegan Chocolate Ice Cream is full of the bitter-sweet cacao flavor and richness. If you are a chocolate lover as I am, then don't miss out this beautiful dairy-free summer heaven dessert!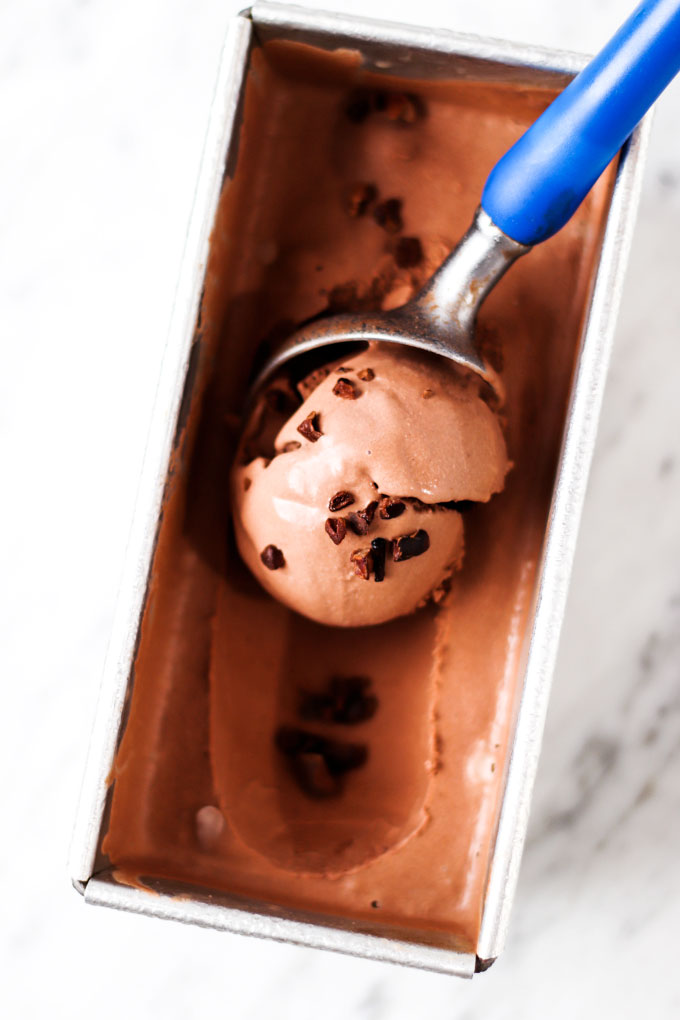 全素巧克力冰淇淋
Vegan Chocolate Ice Cream
I mean, this summer (or any other) should not go without some ice cream, right? So as a chocoholic, I seriously want to make THE chocolate ice cream that's creamy and kind of still having some nutrition (so I could have them almost every day, haha). And here is the Vegan Chocolate Ice Cream!
This Chocolate Ice Cream is vegan of course, which means it's dairy-free and cruelty-free (for more info, read the text in the grey box below). What's more, it contains an uncommon ingredient in terms of dessert: Tofu.
I love tofu, it's such a great thing that could easily be incorporated into different kind of dishes, including dessert. Don't worry, you will not taste it. But with the tofu inside, this vegan chocolate ice cream does have higher protein content, which could make you feel more satisfied.
我說,這個夏天(或是任何一個)應該不能沒有冰淇淋就度過,對吧? 而身為一個巧克力控,我真的很想做一個濃郁、又還是有點營養含量的巧克力冰淇淋 (讓我可以幾乎每天都吃,哈哈),所以就有這個巧克力冰淇淋啦!
這個巧克力冰淇淋當然是 Vegan 的,不含蛋奶與任何動物性製品,沒有任何殘忍的事情發生 (有關這部份,可閱讀下方的灰框)。而且它還有一種不常出現在甜點裡頭的食材:豆腐。
我非常愛豆腐,它是個非常棒、容易結合入不同料理的食材,包含甜點。別擔心,你吃不到它的存在的。而有了豆腐的加入,讓這個全素巧克力冰淇淋提高蛋白質含量,更讓人容易有滿足感。
I actually have shared the cruelty topic in My Vegan Journey video on YouTube. So if you're interested in this topic, then you could check out the video. Maybe you could learn or start to think about something that you haven't been paying attention to. OK, back to the recipe.
其實有關動物所受殘忍這部份,我有在我 一年的全植旅程 影片中分享,如果你對這議題有興趣的話,你可以去看看影片。或許你可以了解一些、或是開始思考一些過去你沒有仔細注意的事情。好了,回到食譜吧。
This chocolate ice cream doesn't taste "vegan," if I could say that for those who have prejudice on vegan food. It's rich, creamy, and super chocolaty.
I prefer my chocolate on the bitter side in its bitter-sweetness, so I didn't use very much sugar. But if you prefer a sweeter version, you could add 1-2 tablespoons more sugar.
Try not to cut down the amount of sugar because the ice cream needs it to have the creamy texture, and I already reduce the amount of sugar to the lowest possible as far as I could say.
這個巧克力冰淇淋吃起來不會像「全素」的,如果我可以向那些對全素產品有偏見的人這麼說的話。它非常濃郁、綿潤、充滿巧克力。
我喜歡偏苦的巧克力滋味,所以我沒有加很多的糖,如果你偏好甜一些,可以多加 1-2 大匙的糖。建議不要再減糖,因為這冰淇淋需要一定的糖量來達到綿潤的口感,而且我也已經試著將糖量盡可能降低。
For the creamiest result, I'll recommend using an ice cream machine to make this Vegan Chocolate Ice Cream. (I use this one which I bought a year ago.)
But if you don't have an ice cream machine or for whatever reason, you don't want to use it, then you could manually churn the ice cream too. But I have to warn you that it will take more time and energy without the machine.
To manually churn the ice cream, put the ice cream mixture into a freezer-safe bowl and place it into the freezer. Take it out to use a fork to churn the mixture every one hour. Repeat for 3-4 times until the ice cream is smooth.
為了讓口感達到最滑潤,我建議使用冰淇淋機。(我是用這台我去年買的冰淇淋機)
如果你沒有冰淇淋機,或是不管為何你不想用,那麼你也可以手動攪冰淇淋,但我要先提醒你,手動攪會比較花時間和力氣。
手動攪冰淇淋,就是將製作好的冰淇淋糊倒入可冷凍的碗中,放入冷凍庫,每個小時取出,用叉子攪拌一下,重複 3-4 次,直到冰淇淋滑潤。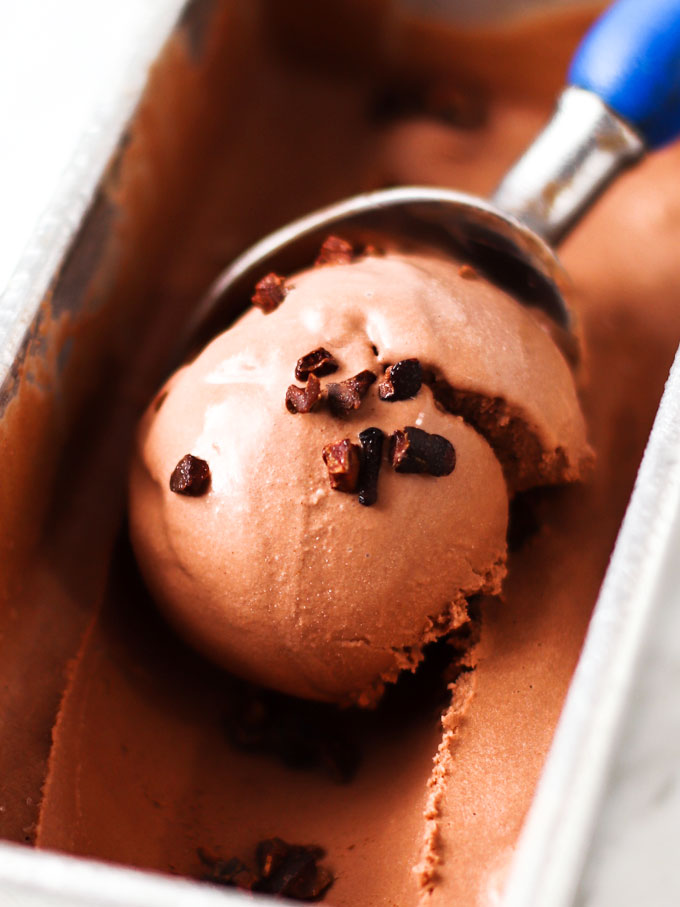 This Vegan Chocolate Ice Cream has become one of my favorite summer desserts, and I think I probably will make them in winter as well as long as I'm cozy inside. Haha. : )
這個全素巧克力冰淇淋已變成我最愛的夏日甜點之一,我可能冬天也會做它吧! 只要我保暖足夠,嘿嘿。
Click Below to Pin
完整食譜 How To Make