製作日期:2017.04.16
前陣子在快打烊的菜市場買到一把好大又便宜的蔥,第一個想到的就是拿來做蔥油餅。
做過幾次蔥油餅,大部份都是用中筋麵粉,想試著全部用全麥麵粉做做看,
就把這用全麥麵粉製作的蔥油餅稱為「100%超級全麥蔥油餅」吧!

A few days ago, I bought a huge bunch of green onions in the sooner-closed traditional market. The first thing I want to make with them is Green Onion Pancake. I've made green onion pancakes a few times before with all-purpose flour as the main ingredient. This time I wanna try to replace the all-purpose flour with 100% whole wheat flour. So call them…. 100% Super Wholewheat Green Onion Pancakes.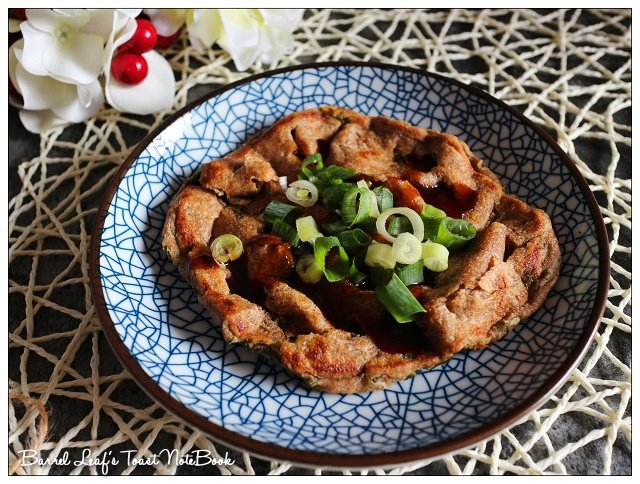 這次是參考網路上一般蔥油餅食譜,試著將麵粉全部改用全麥麵粉。
然後因為前陣子有新買一台麵包機,就麻煩它代揉麵團摟。
製作出來的全麥蔥油餅口感比一般的蔥油餅紮實很多。
有滿滿的蔥香,還是吃得出來是蔥油餅就是。
因為我不想攝取太多動物性油脂,所以揉入麵團的是用酪梨油,
而煎的是用酪梨油加少許豬油。若全用豬油是會最香最好吃的。
I use whole wheat flour to replace the all purpose flour in a green onion pancake recipe I found online. I bought a bread machine a while ago. This time I use it as a kneader in the first kneading process, but it should be easy even with bare hands.
These wholewheat green onion pancakes taste more dense than regular ones. But thanks to the bulk chopped green onions, they are still like regular green onion pancakes in terms of flavor.
Because I don't want to consume too much animal fat, so I use avocado oil in the dough, and add some lard in the frying process. If you want the best taste, I'll recommend use lard instead of vegetable oil.
(※ 引用食譜煩請註明出處與原文網址.勿拿此食譜行商業行為 ※)
100%超級全麥蔥油餅
100%Wholewheat Green Onion Pancakes


.食材:
麵團:
全麥麵粉 200g
滾水 80g
冷水 40g
鹽 3g
蔥餡:
油 適量
白胡椒粉 適量
蔥花 適量
.Ingredients:
For the dough:
200g whole wheat flour
80g boiling water
40g water (room temperature)
3g salt
For the green onion filling:
oil
ground white pepper
green onion, chopped
※ 準備工作 Preparation:
.食材秤量好
.Measure all ingredients.
〔實作影片〕

.作法/步驟 :
1.將全麥麵粉、鹽放入盆中,再加入滾水,用筷子攪拌混合
2.再加入冷水,揉至麵團均勻無顆粒 (可用手揉或攪拌機/麵包揉)
3.均勻後,將麵團用保鮮膜或容器蓋上,鬆弛20分鐘
4.再搓揉至光滑(很快,手揉應該3分鐘內)
5.將麵團擀開成長方形 (若麵團偏黏可以灑點粉或抹點油在檯面上)
6.處理蔥花餡:將蔥花、油和白胡椒粉拌勻,再舀至麵皮上均勻鋪平
7.由長邊捲起,將蔥花餡包入麵皮中
8.分切成3~5個 (我習慣切小一點做小的,也可以切大一點做大的)
若可以的話,把頭尾捏好防止蔥跑出來。
(但若像我一樣有些蔥餡太多,就不管了lol)
9.鬆弛1個小時,或放到保鮮盒裡冷藏一夜
10.將麵團擀開成圓餅貌,若沾黏擀麵棍可以抹點油或灑粉
11.熱鍋,鍋中放少許油,油熱了後再將蔥油餅放入,將兩面煎至金黃即可
可以煎顆蛋或加點醬油膏增加滋味。
.Directions:
1.Place flour, salt in a bowl or tin. Add boiling water and mix with chopsticks.
2.Add room temperature water. Knead until no flour can be seen.
3.Cover the dough and let it rest for 20 minutes.
4.Knead the dough again until it becomes smooth. (It should be under 5 minutes even by hands.)
5.Roll out the dough into a flat rectangle. (Flour or oil the working surface if you feel it sticky.)
6.Mixing all ingredients in filling and spread them out on the rolled-out dough.
7.Rolled up by the long side to wrap the filling into the dough.
8.Divide into 3~5 chunks. (I personally like smaller ones.)
9.Cover and let them rest again for 1 hour at room temperature or overnight in the fridge.
10.Roll out the dough into a round, pancake shape. Flour or oil the surface if sticky.
11.Heat the frying pan with some oil. Fry two sides until golden.
You can fry an egg or add some thick soy sauce to go with these green onion pancakes.
Bon appétit!
【桶子葉の吐司記 Barrel Leaf's Toast NoteBook】


[Facebook.IG.YouTube.Profile.Website]