If you're interested in turning vegan or adopting a plant-based diet but still have a massive craving for cheese, Violife might be your best friend. They have a selection of different cheese alternatives including sliced cheese, cheddar, Camembert, etc.
This time I'm going to try 5 different vegan cheese alternatives by Violife and also share my experience with them (like some vegan recipes for inspiration!)
THIS POST IS SPONSORED BY Violife. All the content in this post is created by me (Nora – Barrel Leaf) Read more about the Disclosure Policy
I still remember the excitement I felt when I saw different kinds of plant-based cheese by Violife in the grocery shops for the first time. I've tried a few of their cheese alternatives before and found them really convincing/tasty.
Just want to give an FYI first: Some cheese photos in this post look a bit "freezing" because I put them too close to the freezer section in my fridge. Usually, they look just like common cheese when properly refrigerated.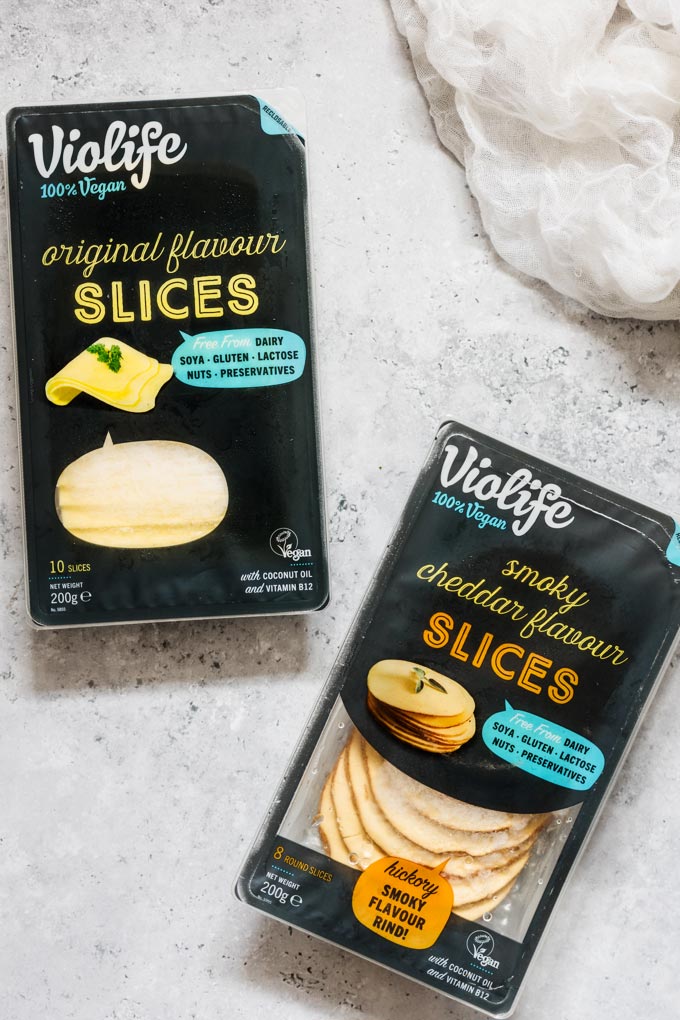 Violife – Original Sliced Vegan Cheese (200g)
The original sliced vegan cheese was the first vegan cheese I tried when I was working as a chef in a vegan cafe.
This Violife – Original Sliced Vegan Cheese tastes quite light and gentle when consumed cold. But we all know that the best way to eat sliced cheese is to melt it by sandwiching it in warm toast or a burger, which is what I usually do.
It takes a tiny bit longer to melt compared to dairy cheese. But as long as your burger patty is hot enough, trust me the cheese slice will melt beautifully. Once melted, the cheese will give out a more "cheesy" flavour, which I'd say it's really close to dairy cheese.
It's not very salty, which is perfect for people like me who have a lighter palate. Also, you can always match it with other strong-flavour sauces or spread, like chutney, to suit your liking. I've paired it with onion chutney before and it was really really delicious!
Violife Smoky Cheddar Flavour Slices (200g)
Honestly, I am not usually a big fan of smoky-taste food, but the flavour of these smoky cheddar flavour slices is a surprise for me. They taste slightly more salty than the original sliced vegan cheese, but it's not overwhelming, still in the comfortable range to be enjoyed on their own.
The hickory smoky rind delivers a gently smoky aroma that really brings the whole flavour to another level. I really like to enjoy these smoky cheddar flavour slices with crackers, rice cakes, and bread as a snack. The gently smoky taste also makes them perfect to match with red wine.
Violife – Le Rond Camembert (150g)
If you want the simplest review of this Violife – Le Rond Camembert from me, I will just say it's currently my favourite vegan cheese alternative. It's super creamy with a delicate savory taste.
You can melt this Camembert by putting it into the microwave for 30-60 seconds. But honestly most of the time I just eat them directly like this with crackers or bread. It kind of reminds me of cream cheese but more on the savory side.
Violife – Epic Mature Cheddar – Vegan Cheese Block (200g)
The final one is this Epic Mature Cheddar Cheese Block. As the name suggests, it's a whole "block" that requires a cheese grater or a (cheese) knife for serving.
At first, I thought this one would taste very similar to the original Cheddar slices, but I was wrong. This mature cheddar has more depth in flavour that captivate me unexpectedly. You can taste the savory cheesy flavour even when consuming it cold.
I like to grate this cheese block to pasta dishes and jack potatoes. It just adds so much flavour and tastes really really close to dairy cheese without the heaviness from what I remember.
Violife – Original Flavour Violife Grated Cheese (200g)
This Grated Cheese is the second vegan cheese I tried and used a lot when I was working as a chef in different restaurants. It's been grated so very convenient for making pizza or adding to jack potatoes or pasta.
The taste is similar to Original Sliced Vegan Cheese, not too salty with a more gentle cheesy flavour.
I'd like to mention one thing that I think many people will care about: DOES IT MELT?
The answer is YES, but compared to common dairy grated cheese, it takes more time to melt in the oven and it doesn't melt as much as normal dairy cheese. However, I think its "melting ability" is already enough, at least for me.
As a 24-year omnivore and 4-year vegan, I know that one thing that stops many people from turning vegan or adopting a plant-based diet is letting go of cheese because I was a cheese lover too. But seriously you don't need to, thanks to those great cheese alternatives like Violife.
And even if you're not vegan or not interested in a plant-based diet, I'd say you can still give them a try. You might like them better than dairy cheese, which happened to a few people I know.
If you want some recipe ideas, there are tons of them on Violife's website too. All in all, I think it's not really that hard to adopt a vegan/plant-based diet nowadays in the UK, at least compared to what I had gone through about 4 years ago.
Hope you'd like to give these vegan cheese a try and find out what your favourite. Cheers!