This post is also available in: 繁體中文
Stacked with vegetables with just a few ingredients, these Vegetable Korean Pancakes are easy to make but serve so well as an additional side dish.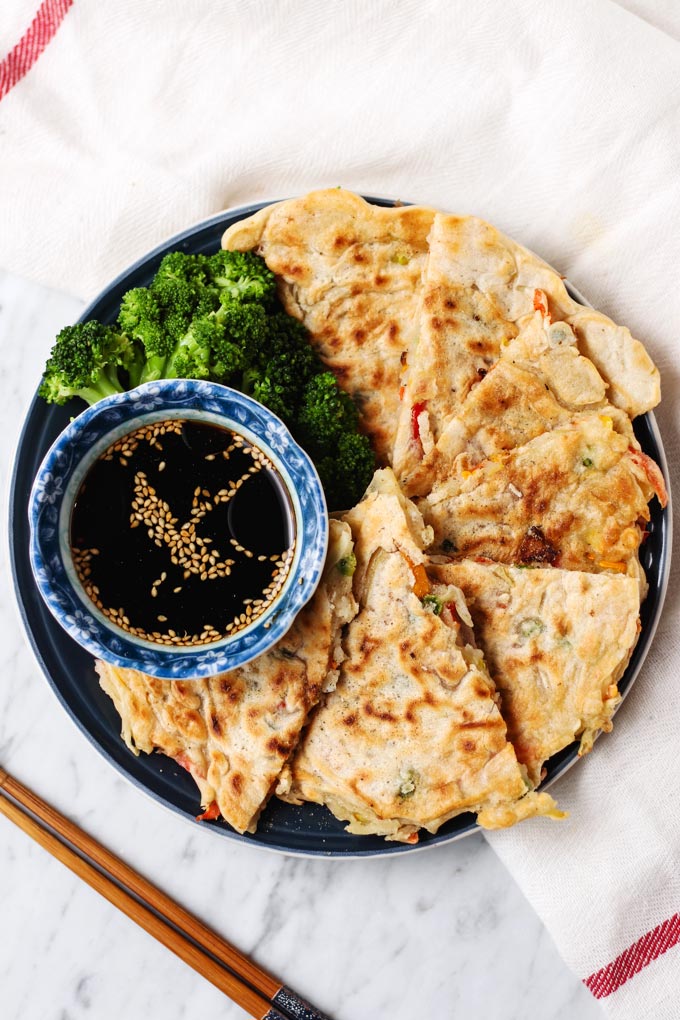 Vegan Korean Pancake (Yachaejeon)
I love Korean food. Whenever I go to a Korean restaurant, I usually order Bibimbap and Korean pancakes, also known as Yachaejeon. But most of the Korean pancakes outside are not vegan. So here are the Vegan Korean Pancakes!
Common Korean pancakes (Jeon) are mainly divided into 3 flavors: seafood, kimchi, and vegetables. They all based on the same batter, so, why not having the delicious and nutritious vegetables?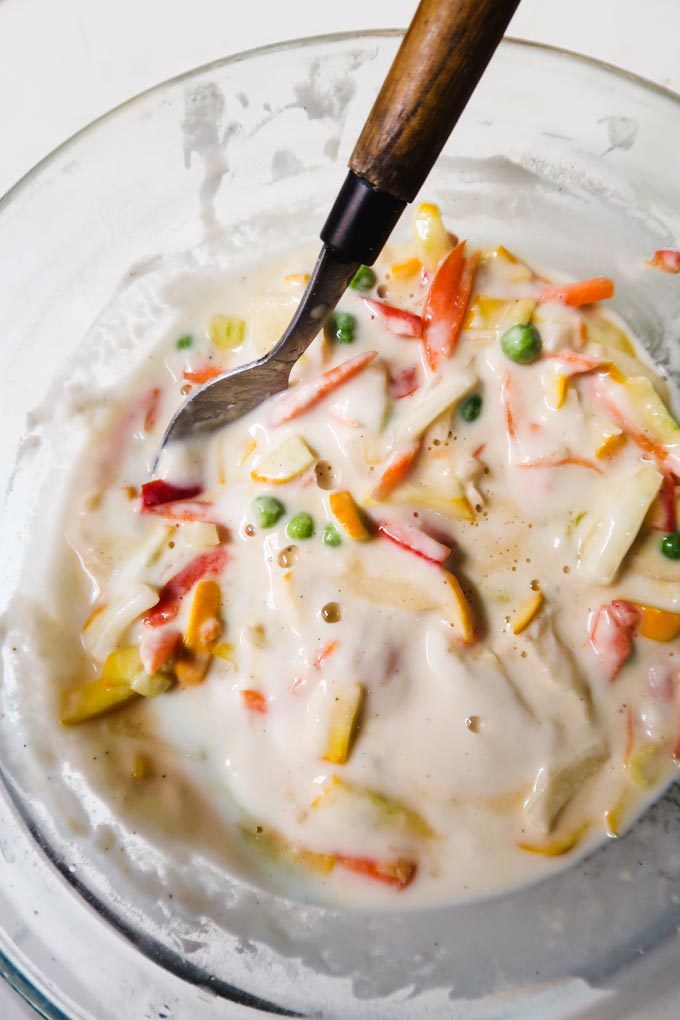 It's really simple and easy to make these Yachaejeon. You only need 7 ingredients, minus the salt and water. And you can even cut down the ingredient list by just using fewer types of vegetables.
Here I use what I have at hand: carrots, red peppers, and zucchini. I also add some peas to add more color and texture, which is totally optional.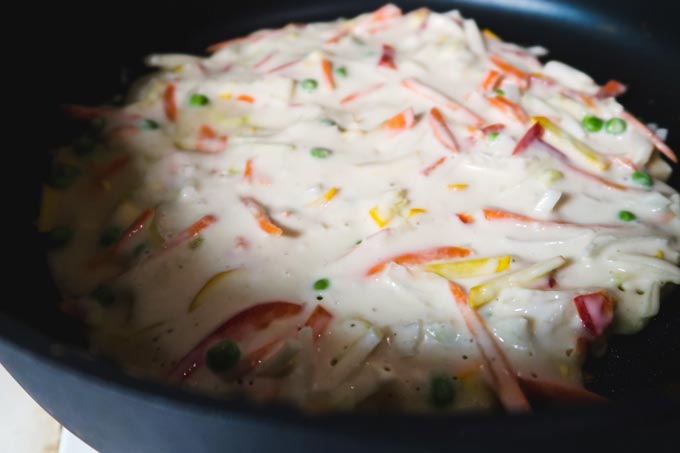 Different from the regular batter that only uses white flour, the Korean pancake batter also contain potato starch to produce a slightly different texture.
You can adjust the amount after trying this recipe first to suit your taste. Or if you don't have potato starch at hand, you can also try to replace it with all-purpose flour, but you might need to cut down the amount of water.
The texture of these Korean Vegetable Pancakes are crispy on the outside and a little bit soft inside. My sister says that they taste good.
I personally like to cook them until they're a bit brown on the outside, which will give them a toasty flavor.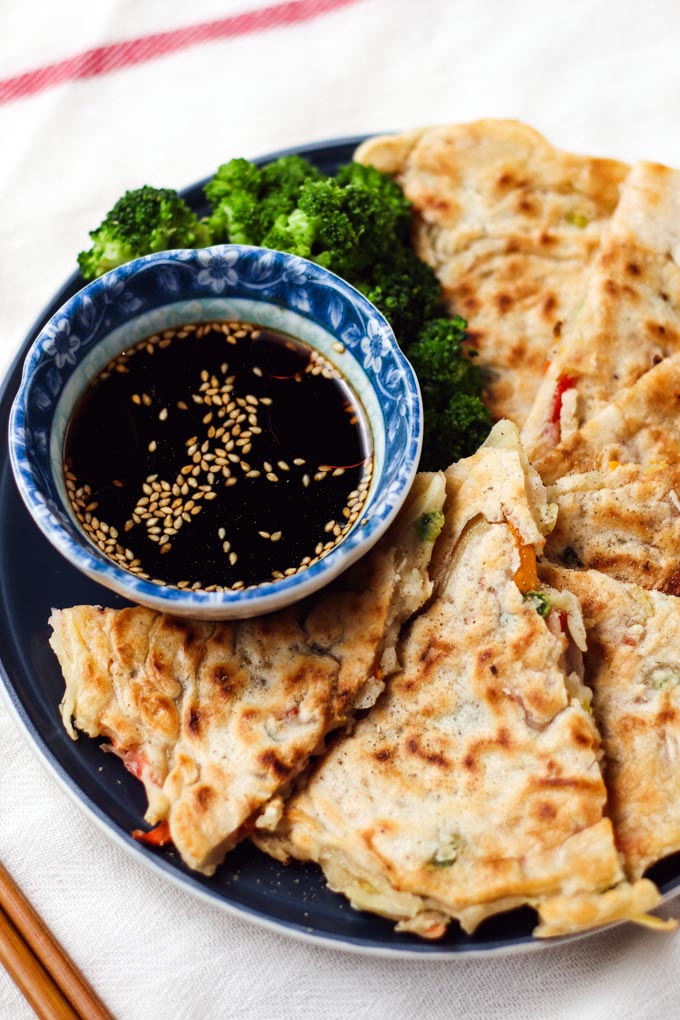 Here I also share a simple sauce recipe for these vegetable pancakes. The sauce is based on some basic Asian seasoning, like soy sauce, sesame oil, and rice vinegar.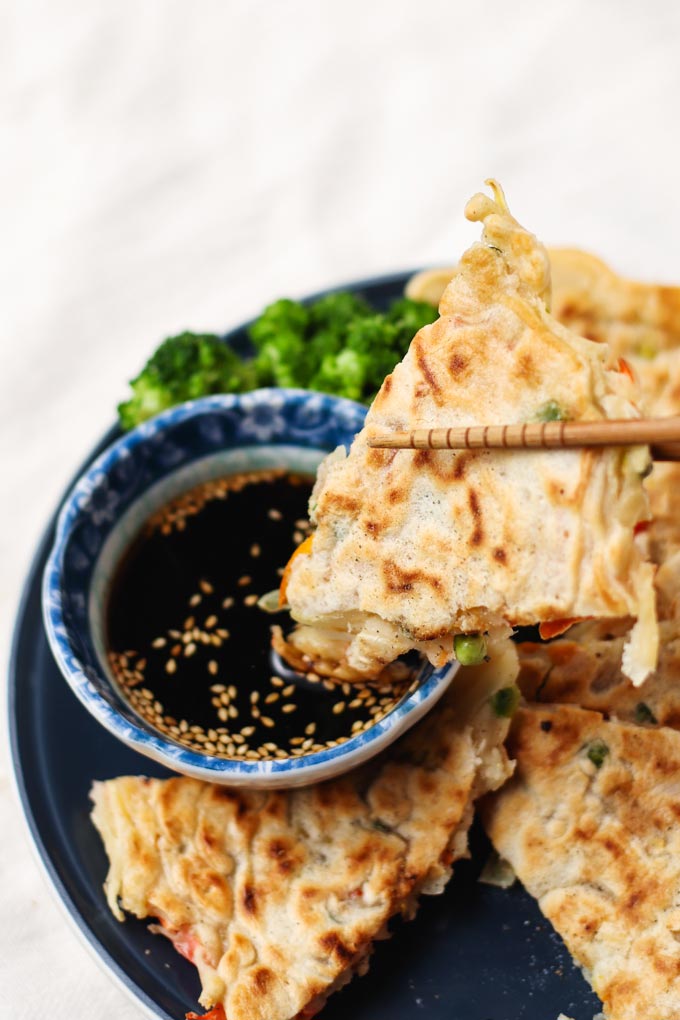 These vegetable Korean pancakes are really yummy and you can easily make them at home. If you're interested in more Korean recipes, check out my Vegan Kimchi, Bibimbap, and Korean Veggie Stir-fry Noodles (Japchae).
Okay, shall we?
Finally, I hope you enjoy it as much as I do. If you make this recipe, don't forget to tag @Barrelleaf + #barrelleaf on Instagram. I always love to see them and to know how it went. ❤
How To Make
蔬菜韓式煎餅 Vegetable Korean Pancake (Yachaejeon)
Stacked with vegetables with just a few ingredients, these Vegetable Korean Pancakes are easy to make but serve so well as an additional side dish.
Ingredients
65

g (½ cup)

all-purpose flour 中筋麵粉

38

g (¼ cup)

potato starch 馬鈴薯澱粉,

or rice flour

¼

tsp

salt 鹽

,

I use black salt

120

ml

cold water 冰水

½

small

carrot 胡蘿蔔

,

thinly sliced 切細條

½

small

red pepper 紅甜椒

,

thinly sliced 切細條

½

small

zucchini 櫛瓜

,

thinly sliced 切細條

4

Tbsp

peas 豌豆

,

optional

1-2

Tbsp

oil 油

,

for frying
Dipping Sauce:
1

tbsp

soy sauce 醬油

½

tbsp

rice vinegar 米醋

1

tsp

toasted sesame oil 白芝麻油

1

tsp

light brown sugar 黃砂糖

1-2

Tbsp

water 水

¼

garlic powder 大蒜粉

½

tsp

toasted sesame seeds 熟白芝麻
Instructions
In a mixing bowl, add the flour, potato starch, salt, and water. Mix to combine.

Add the sliced vegetables. Stir to mix all together.

Place a frying pan over medium heat. Add the oil and gently wiggle the pan to let the oil distribute evenly.

Once the pan is well-heating, pour the mixture onto the pan and spread it out a big to make it into a single layer.

Cook on the first side for about 5 minutes over medium heat. Then flip to cook the other side for another 3 minutes or until both sides get slightly brown.

Preparing the sauce while cook on the first side: Add all sauce ingredients in a small bowl and mix well.

Once the pancake is down on both sides, transfer it to a cutting board and chop into the shapes you like. I chop them into triangle slices like pizza! Serve with the sauce. Enjoy!
中文版
於一攪拌碗中放入麵粉、馬鈴薯澱粉、鹽、冰水,攪拌混合至無粉粒

第一面用中火煎約 5 分鐘,之後翻面再煎 3 分鐘,或至兩面都有點棕黃色

煎第一面時來準備醬料:將醬料的全部食材於一小碗中混合均勻即可

煎餅煎好後,移至占板上,切成喜歡的大小,搭配醬料享用
---
Note: This page contains affiliate links, which support me with a small commission to produce more great content on this site at no additional cost to you. You could go to the Disclosure Page for more information. You can also directly support us on Patreon. Thank you for reading and supporting.
---