This post is also available in: 繁體中文
Made with whole wheat flour and only 8 plant-based ingredients, these Vegan Whole Wheat Cinnamon Rolls are here for you as the morning satisfaction or afternoon tea snacks.
Vegan Whole Wheat Cinnamon Rolls
I've been thinking about making cinnamon rolls for a very long time. If you've followed my instagram for a while, you might have seen some of the tested cinnamon pictures rolls for a few times.
Why? Because I was trying to make vegan cinnamon rolls with 100% whole wheat flour. And here they are!
Due to the high fiber content of whole wheat flour, these cinnamon rolls are not as fluffy as the regular ones. But you can totally replace half of the whole wheat flour with all-purpose flour to make it lighter and palatable.
Because of the coconut oil, these cinnamon rolls need to be warm to be softer. I usually sprinkle some water and reheat them in the oven right before eating.
I just took it as a challenge (and fun) to see if I can make cinnamon rolls with only whole wheat flour for the flour part. The second reason is … I don't have all-purpose flour at hand and I want to finish the bag of whole wheat flour sitting in my fridge for a while.
Anyway, the result proves that it could happen! But if you have all-purpose flour at hand, I will recommend replacing half of the whole wheat flour with all-purpose flour, which is what I'm going to do once I got my all-purpose flour at hand.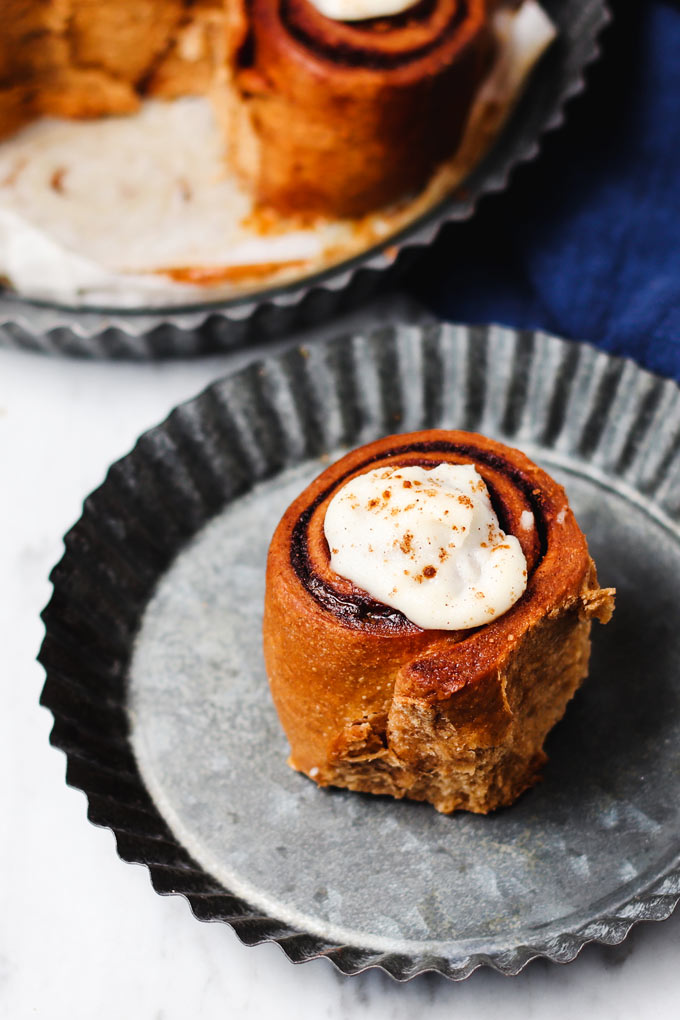 The flavor of these vegan cinnamon rolls is pretty neutral. By that I mean it's not very sweet or cinnamony. If you like a sweeter version, you can add another 2 tablespoons of sugar in the dough. If you're a huge cinnamon lover, sprinkle more ground cinnamon before you dive in. Simple.
I top with these vegan cinnamon rolls with a coconut glaze and sprinkle some ground cinnamon for decoration, as well as for flavor too.
If someone says cinnamon is addictive, I might believe it is. I just love this ground cinnamon so much, but not to the degree that I cannot live without them, so … I guess I'm not officially addicted to it?
OK, too much cinnamon talking, get back to our cinnamon rolls. (Yes we still have cinnamon in the sentences 😉)
These vegan cinnamon rolls are made with only 8 ingredients. All of them should be really familiar to you if you've been doing some vegan baking.
It's quite simple to make as well, but it does take time because of the fermentation. Yet if you want a bunch of vegan cinnamon rolls for the next week, schedule an afternoon or any other time that suits you to make them. Keep me posted on how it went by tagging me or commenting here.
If you want to see more breakfast or snack options, check out my Chocolate Caramel Oat Bars, Peanut Butter Banana Waffles, and Chocolate Raspberry Muffins. OK, let's make some cinnamon rolls, shall we?
Finally, I hope you enjoy it as much as I do. If you make this recipe, don't forget to tag @Barrelleaf + #barrelleaf on Instagram. I always love to see them and to know how it went. ❤
How To Make
Vegan Whole Wheat Cinnamon Rolls (8 ingredients) with Coconut Butter Glaze
Made with whole wheat flour and only 9 plant-based ingredients, these Vegan Whole Wheat Cinnamon Rolls are here for you as the morning satisfaction or afternoon tea snacks.
Ingredients
120

ml (¼ cup)

unsweetened soy milk 無糖豆漿

,

plus more when baking 烘烤時額外會需要一些

40

g (2 Tbsp + 2 tsp)

coconut oil 椰子油,

melted

2

Tbsp

coconut sugar 椰糖

5

g (1+¾ tsp)

instant dry yeast 速發乾酵母

200

g (1+½ cup)

whole wheat flour 全麥麵粉

,

replace half (100 g) with all-purpose flour for a fluffier texture 一半用中筋麵粉取代口感會較鬆軟

½

tsp

baking powder 泡打粉

½

tsp

salt 鹽
Coconut butter glaze
4

Tbsp

coconut butter 椰子奶油

3-4

Tbsp

warm water 溫水

2

tsp

maple syrup 楓糖漿

½

tsp

vanilla extract 純香草精
Instructions
175 C / 20-25 mins

Heat the soy milk until it's warm to the touch, about 40 C / 105 F degree.

Add the melted coconut oil, coconut sugar, and yeast to the milk. Mix to combine and let it sit for 5 minutes. In the meantime, let's mix other ingredients.

In a big bowl, add the whole wheat flour, baking powder, and salt. Mix together.

Once the yeast liquid has form bubbles, add it to the dry mixture. Start by using a fork to mix them. After most of the liquid is absorbed, change to use your hand and knead it for 5-10 minutes. If you have a stand mixer, just mix until the dough are smooth on the outside.

Place the dough into the original mixing bowl. Cover the bowl with a clean towel and place the bowl to a warm place, like the rack above your oven. Let it ferment until it's double in size, about 1 hour.

Remove the dough from the bowl. Use a rolling pin to roll it out into a long flat rectangle.
Add the filling
Use a brush to smear the coconut oil onto the roll-out-dough.

In a small bowl, mix the coconut sugar and ground cinnamon. Sprinkle the mixture onto the dough. Use your hand to gently pat the sugar-cinnamon mixture so it sticks to the dough.

From the long side, roll the dough as you do to the cake rolls. Seal the end with some coconut oil. Use a sharp knife to divide it into 6-8 pieces. (I made 7, which might be a lucky number?)

Line the bottom of a 6″ cake pan. Place the rolls into the pan, spaced evenly.

Cover the pan with a clean towel and let it ferment again in a warm place until the become about 1.5 bigger. It should take about 30-60 minutes. For the last 10 minutes, preheat the oven to 175 C / 350 F.

Once the cinnamon rolls have grown up, remove the towel and place the pan into the oven to bake for about 10 minutes first at 175 C / 350 F. Then add a dash of soy milk to each roll and return to bake for another 15 minutes until the dough is firm to the touch and your kitchen smells AMAZING.

Once the cinnamon rolls are baked, transfer the pan to a wire rack to cool down for 10 minutes. While we're waiting, let's make the coconut glaze.
To make the coconut glaze
Melt the coconut butter by using a double boiler or a microwave.

In a small bowl, mix together the coconut butter, warm water, maple syrup, and vanilla. You can adjust the amount of water according to how thick you want your glaze to be.

Drizzle the glaze onto the cinnamon rolls and EAT!
Notes
Storage & reheating : Store in the freezer for 2-3 weeks. Let it defrost at room temperature for a while, sprinkle some water on them, and reheat in the oven before eating.
保存 & 加熱:冷凍保存 2-3 週。享用前取出室溫解凍,表面噴一點水,用烤箱烤熱來吃 
---
Note: This page contains affiliate links, which support me with a small commission to produce more great content on this site at no additional cost to you. You could go to the Disclosure Page for more information. You can also directly support us on Patreon. Thank you for reading and supporting.
---