Read the post in:
繁體中文
Fluffy, soft steamed buns filled with sweet, warm black sesame paste, these Black Sesame Steamed Buns are one of my favourite cosy and satisfying Taiwanese food to enjoy.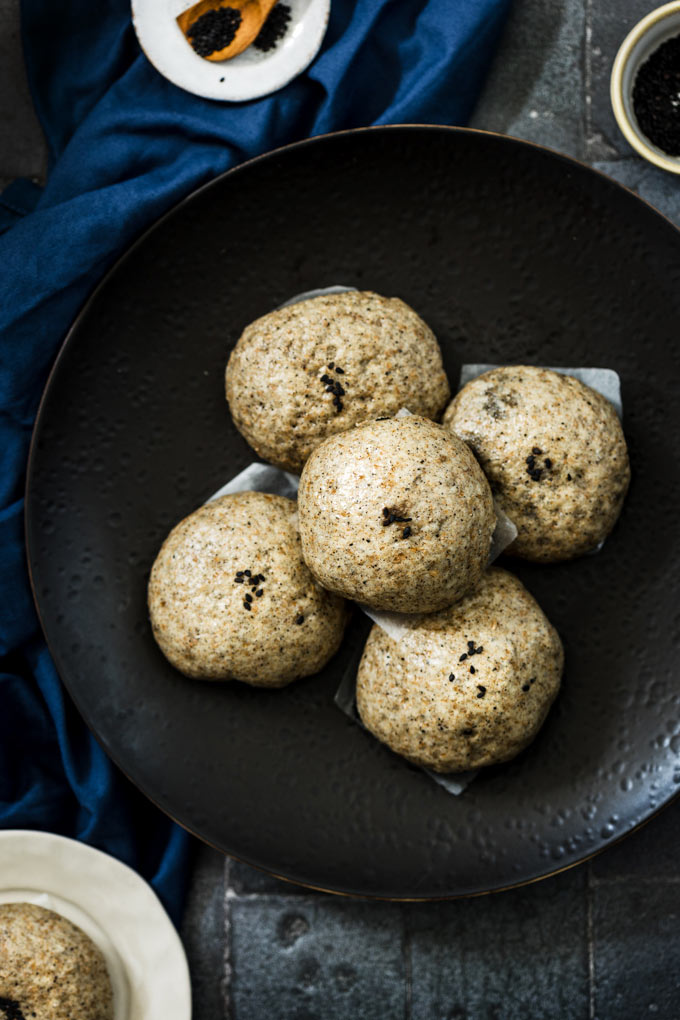 Nora's Story Behind Black Sesame Steamed Buns
Black sesame steamed buns are one of those things I'VE LOVED since childhood. The fluffy wheat-based buns filled with hot, sweet black sesame filling are to die for.
They are very common in Taiwan (I can validate this because I'm from Taiwan) and usually budget-friendly as well. I often eat them for breakfast or snacks, sometime desserts. (Yes, I'm Asian, so desserts don't have to be cakes or pastries.)
After I came to the UK for almost two years, I really missed black sesame steamed buns SOOOOO MUCH, which is also the more important motivation for this recipe: I really want to eat black sesame buns (even though black sesame seeds are really not cheap in the UK).
That's basically what motivated me to make these black same steamed buns. I adapted the recipe from The Plant Wok to make these special wholewheat black sesame steamed buns. It took me 4 times to perfect this recipe based on my personal preferences and experiences.
What's special about these Black Sesame Steamed Buns ?
Made with wholewheat flour = more fibre and nutrients
Vegan. Some traditional sesame buns in Taiwan involve lard. This recipe is 100% vegan, plant-based ingredients only.
Lower sugar and oil, but the buns are still fluffy and very satisfying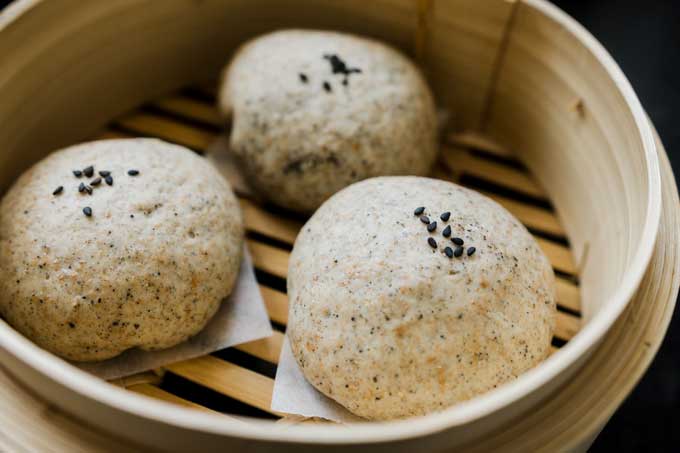 Wholewheat Black Sesame Steamed Buns 全麥黑芝麻包
Fluffy, soft steamed buns filled with sweet, warm black sesame paste, these Black Sesame Steamed Buns are one of my favourite cosy and satisfying Taiwanese food to enjoy.
Ingredients
Bun Dough
160

g

warm water

,

* (2/3 cup)

1

Tbsp

cane sugar

,

fine

1

tsp

instant yeast

,

or active dry yeast (3 g)

160

g

all-purpose flour

,

(1 1/3 cup)

80

g

wholewheat flour

,

(2/3 cup)

20

g

cornflour

,

(2 Tbsp + 3/4 tsp)

1/2

tsp

baking powder

10

g

black sesame seeds

,

ground into powder

1

tsp

vegetable oil

,

I use rapeseed oil (2 g)
Instructions
To make the black sesame filling
Blend the black sesame seeds in a blender and blend until they turn powdery. (You can blend the black sesame for the dough part as well. Then reserve 10 g for the dough.)

Add the sugar and salt to the ground black sesame. Blend for another 5 seconds. Then add the rest ingredients. Use a spoon or small spatula to combine all ingredients evenly. It will look quite runny at this stage.

Refrigerate the sesame filling for 20 minutes to let it get slightly thicker. Line an 8" (20 cm) loaf tin with cling film. Pour the filling mixture into the tin and wrap it well. Place it in the freezer for at least an hour. In the meantime, let's make the dough.
To make the bun dough
In a jar, add warm water, sugar, and yeast. Mix them together and let it sit for 5 minutes until you see some bubbles foaming on top.

In a large mixing bowl, add all-purpose flour, wholewheat flour, cornstarch, and baking powder. Use chopsticks or wooden spoon to mix them together.

Make a well in the middle of the flour mixture. Then pour in the yeast mixture. Mix together to form a dough. Then add the black sesame powder and oil. Knead the dough for 5 – 7 minutes.

Then cover and let it rest to proof until it has doubled in size. It usually takes about an hour, depending on the weather.
Shape the black sesame filling
Take out the wrapped sesame filling from the freezer. Use a knife to divide them into 10 even portions, around 20 g each.

Use your palms to roll them into balls. Make sure don't roll them for too long. Otherwise, it might start getting soft, not easy to deal with. If the weather is warm, save half of the black sesame filling balls in the freezer until right before using them.
Assemble
Once the dough has doubled in size. Transfer the dough onto a lightly floured, clean surface. Knead the dough for another 2 minutes. Then shape it into a long sausage-shape thick strip. Use a dough cutter or a knife to divide the dough into even 10 portions, about 42 g each.

Use a Chinese rolling pin to roll one of the bun dough into a disk shape, about 5 mm (1/5 inch) thick. Then use the rolling pin to roll around the edges of the dough to make them thinner. (Watch the video for clearer demonstration) While rolling out, cover the rest of the bun dough with cling film, so they won't dry out.

Place one black sesame filling ball in the centre of the rolled out bun dough. Wrap it up by folding the edges towards the centrer and twist at the end to seal it. Flip it upside down and place it on the surface. Use your palm(s) to gently shape the dough into a more rounded shape. Then place it on a small square piece of baking paper (parchment paper), covered with cling film. Repeat to finish all the bun dough with the sesame fillings.

Once finish assembling and shaping the sesame buns, cover and let them sit for another 30 – 40 minutes for the second proofing. They should grow slightly bigger, around 1.5 times more. Alternatively, you can let them proof in the steamer, covered.
Steam
Boil the water first and keep it on medium-high heat. Place the buns with the baking paper underneath into steamer baskets and put the baskets over the boiling water to steam for 12 minutes, covered with a lid.

Once they've been steamed for 12 minutes, turn off the heat. Let it sit for another 5 minutes.

Uncover the steamer and carefully take out the buns (Be careful. The steam is really hot.) Let it sit for another 1 – 2 minutes, then dive in!
---
Notes
Adapted from The Plant-based Wok
*Warm water: The water should be slightly warmer than body, around 38C°C/100°F. **Black sesame seeds: It's better to use toasted sesame seeds for the best flavour. You can also use black sesame paste for the filling part if that's what you have.
Storage: Store the leftover black sesame buns in airtight containers or bags in the fridge for 2 days, or 2 weeks in the freezer. 
How to Store Black Sesame Steamed Buns
Store the leftover black sesame buns in airtight containers or bags and store them in the fridge for 2 days, or 2 weeks in the freezer.
Extra Tips for Success
Use warm water (~ 38C°C/100°F) for the yeast. Temperature is very important in activating the yeast. If it's too hot the yeast will die; too cold, the yeast won't get awaken. 
Let the dough have enough time to proof. Proofing is crucial for the final size and shape of the buns. If the dough didn't have time to proof, the buns might sink on the top or look irregular.
Let the buns sit in the steamer for at least another 5 minutes after cooking. Once the buns has been steamed for 12 minutes, let the buns stay in the steamer for a few minutes. This way the buns will set up more and less possible to shrink afterwards.
Questions You Might Have
What kind of oil can I use?
For the dough part, you can use any neutral-flavour vegetable oil, such as sunflower oil or canola oil.
Are there other substitutions for coconut oil?
Yes, you can also use vegan butter to replace coconut oil in this recipe. You probably will want to add lightly more (54 g in total) for a closer texture. Also, keep in mind the final sesame filling will taste slightly buttery.
I don't have baking powder, can I use baking soda instead?
Yes, you can use baking soda in this recipe as well, but you might want to reduce the amount slightly (~1/4 teaspoon).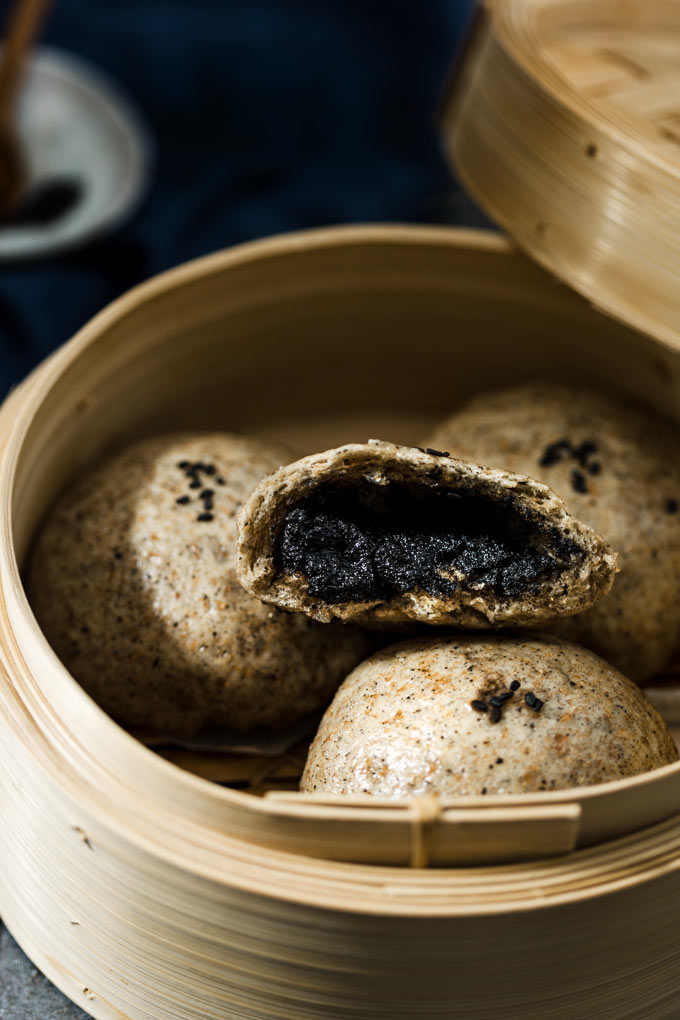 Final Words
想了好久,終於做了這些黑I'm so glad I finally made them because they turned out so delicious and fluffy. Jonathan (British partner) loves them as well! And I hope you will like them too.
x. – Nora
You might be interested in these recipes as well: