Read the post in:
繁體中文
With the creamy, "meaty" mushroom filling and sea-flavored nori, these Vegan Spicy Mushroom Rice Balls are delicious, flavorful, and satisfying, especially on a hot day.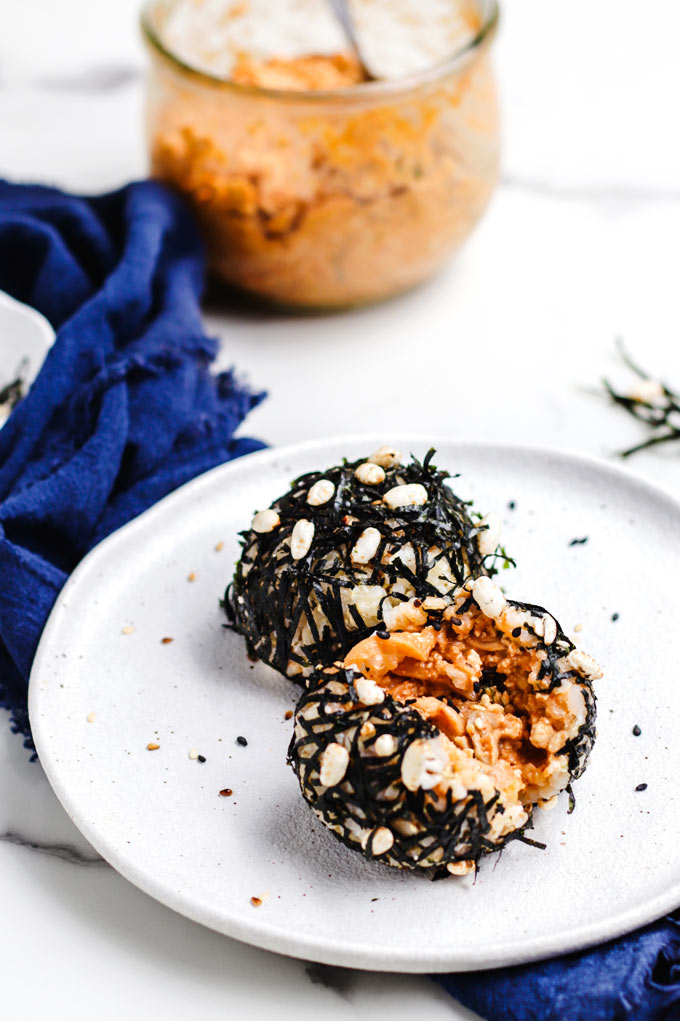 Vegan Spicy Mushroom Rice Balls
I've been really enjoying more cold meal lately since the summer came. It's pretty reasonable, I think.
As I've stated in my Instagram post that I will get in touch more works of Black People, I really did and enjoyed so much.
And as soon as I saw the rice balls pictures by Kimberly from The Little Plantation, I immediately fell in love with them and determined to make the rice balls no matter what.
I adapt and adjust a little bit to suit my own taste after some testing. And these Spicy Mushroom Rice Balls have officially become my recent addiction, which I really didn't expect that one day I would say that to savory food.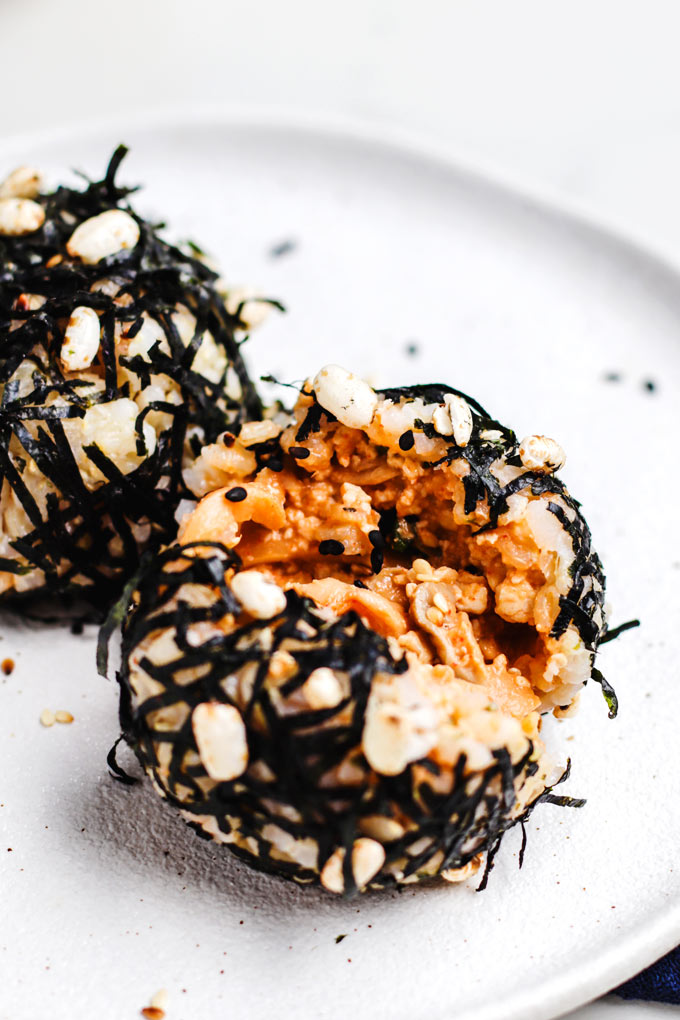 I love these rice balls so much that I literally make this recipe twice in one week, which is really a really big deal to me considering it's a savory dish. (If it's a dessert, that's pretty normal for me.)
These Spicy Mushroom Rice Balls are kind of a Japanese and Korean mix. The base ingredients are pretty "Asian" but the taste is so interesting with the vegan mayo and yellow mustard inside.
And since this is a vegan recipe (and I'm a vegan too), there's no meat, no egg, no dairy products to be expected. But it's seriously so delicious that I think non-vegan will enjoy too!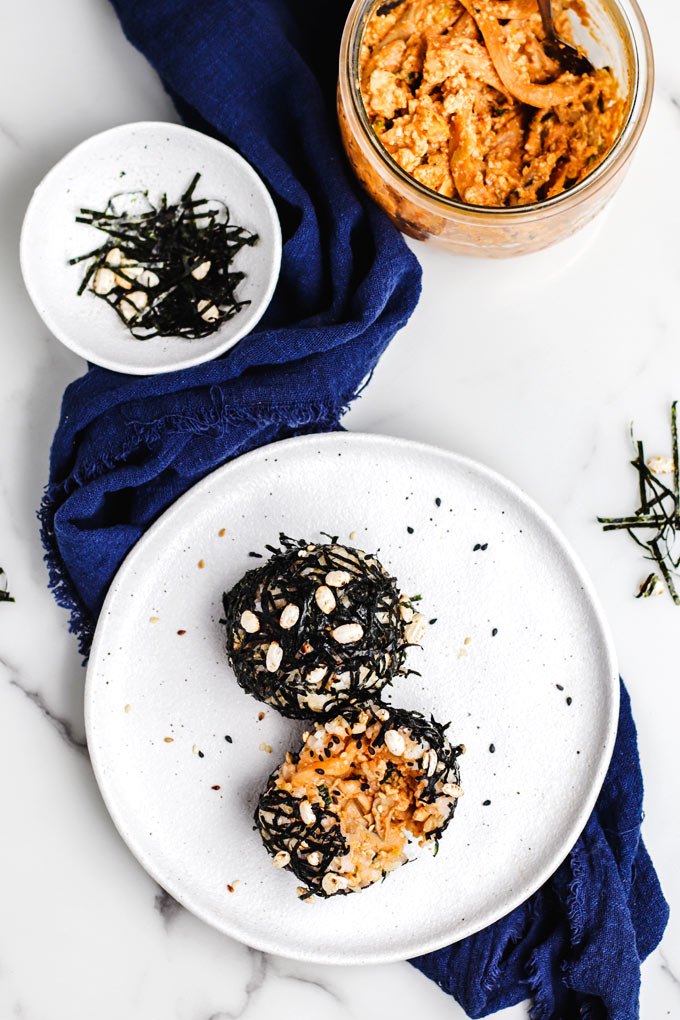 Key Ingredients You Need
You do need a handful of ingredients but most of them are seasoning.
Seasonings: including soy sauce (or tamari), yellow mustard, ground black pepper, gochujang, and vegan mayonnaise (I use homemade vegan mayo).
Mushrooms: the key ingredient for this rice balls' filling. You can use any type of mushrooms, preferably meaty ones like cremini, trumpet, and oyster mushroom. (I personally love the last one!) You can also use a mix of mushrooms if you have more than one type at hand. I've tried the combo of oyster mushroom and beech mushroom once and enoki mushroom with beech mushrooms. Both versions are delicious.
Firm Tofu: another Key ingredient. It gives this filling a meaty and kind of smooth texture.
How to Make Spicy Mushroom Rice Balls
There are three parts for these mushroom rice balls: the filling, the rice, and the nori coating.
I personally think these rice balls are most delicious when served cold. The flavor will incorporate more after refrigeration. So I'll recommend you make them ahead of time or the day before.
Soak the rice for at least 10 minutes. Cook the rice by using a rice cooker or instant pot. Let it cool.
Make the filling by cook the garlic, ginger, and mashed firm tofu first. Add some soy sauce, then add the mushrooms. Add the rest soy sauce, black pepper, and maple syrup. Cook until the mushrooms are soft.
Stir in the gochujang and let it cool to room temperature and stir in the yellow mustard and vegan mayo.
Transfer the filling mixture and cooked rice to two separate containers. Place them in the fridge to chill.
Scoop out about 120 ml (1/2 cup) of cooked rice and spread it out on a sheet of plastic wrap. Place some mushroom filling and wrap it up.
Coat the rice ball with shredded nori and puffed rice (optional). Enjoy!
The spicy mushroom filling with the creamy, sweet mayonnaise and nori covered rice taste so amazing together.
Because nori will gradually lose the crispiness after touching the rice, it's better to enjoy these rice balls immediately.
I hope you could really try out this recipe and let me know what do you think about it. 🙂
---
If you're interested in more Asian recipes, you could check out:
---
Vegan Spicy Mushroom Rice Balls (Onigiri)
With the creamy, "meaty" mushroom filling and sea-flavored nori, these Vegan Spicy Mushroom Rice Balls are delicious, flavorful, and satisfying, especially in a hot day.
Ingredients
240

ml (1 cup)

rice

1

tsp

sesame oil

150

g

firm tofu

,

drained out the liquid

200

g

oyster mushrooms

2

garlic cloves

,

minced

A

thumb-size of

ginger

,

minced

1

Tbsp + 1 tsp

soy sauce

,

or tamari

1

tsp

maple syrup

1/8

tsp

ground black pepper

50

g

vegan mayonnaise

, I use the one in my e-book 「醇美全植物」

20

g

gochujang (Korean Chile paste)

1/2

tsp

yellow mustard

2-3

Tbsp

chopped scallions

,

optional if you're not a big fan
Coating
240

ml (1 cup)

shredded nori

,

plus more if needed

4

Tbsp

puffed rice

,

optional
Instructions
Gently rinse the rice for 1-2 times. Then soak them in 240 ml (1 cups) water for at least 10 minutes. Then cook the rice in an instant pot or a rice cooker.

While the rice is in the rice cooker, let's make the filling. Place a non-stick pan over medium heat. Once the pan is hot, add the sesame oil, minced garlic, and ginger. Cook for about 30 seconds.

Crumble tofu into the pan. Cook and stir for about 2 minutes to pan-fry the tofu crumbs. Add 1 Tbsp of soy sauce to the tofu. Stir to let the sauce distributed evenly.

Add the mushrooms. Cook until they release water and shrink down. Add the left 1 tsp soy sauce, maple syrup, mirin, and black pepper. Stir to bring all things in the pan together.

Turn off the heat and stir in the gochujang. Transfer the mixture into the container and let it cool down. Add the yellow mustard, vegan mayo, and chopped scallions. Stir to combine.

Place the cooled mushroom mixture and the cooked rice into the fridge to chill for at least 2 hours, covered with lids or plates.

Remove the rice and mixture from the fridge. Scoop out about 1/2 cup of cooked rice on to a sheet of plastic wrap. Spread out the rice and press down. Add about 2 Tbsp of mushrooms filling in the center of the spread-out rice. Wrap it up to shape it into a ball. (Just do your best)

In a shallow bowl, mix the shredded nori and puffed rice. Coat the rice ball with the nori/puffed rice mixture. EAT!
---