Read the post in:
繁體中文
Want some pumpkin flavor for dessert or breakfast? This Vegan Spice Pumpkin Pie is here for you! It's full of autumn flavor, consisting of a spiced pumpkin filling and cinnamony gluten-free curst. (Hi, my dear gluten-sensitive friend.)
Vegan Spiced Pumpkin Pie
When I was thinking that I've finished all pumpkin recipes for this Fall, the folder storing the picture of this vegan spiced pumpkin pie suddenly popped up. That's when I realized that I haven't shared this warm and cozy dessert.
But… it's still November, and the pumpkin is still in season. So I guess it's not too late for another pumpkin recipe, right?
Recently I make the no-baked pies more often than baked one because I don't have much time and I'm a bit lazy (haha). But when I saw Ameera and Robin's pumpkin pie, I knew that I really craved for one! So, here we go.
For the Crust …
OK, let's start from our pastry part: the crust. Yes, we're going to bake this time. This pumpkin pie has two components: A nutty, cinnamony crust and spiced pumpkin filling.
The crust is gluten-free, mainly made of ground almond and brown rice flour. And for the "fat" part, we're going to use sunflower butter instead of oil or butter. I really love the combo of toasted sunflower seeds and pumpkin.
If you don't have brown rice flour at hand, you can try to replace it with all-purpose flour. However, you might need a little bit more because every flour has its own characteristics.
As for the sunflower butter, you can use almond butter as a substitution. I don't recommend using peanut butter because it has a stronger flavor. But if you don't mind and want to give a try, I won't stop you, either.
This curst is really easy to make. First, mix the ground almonds, brown rice flour, cinnamon, salt, baking powder, and coconut sugar in a big bowl. Then add the sunflower seed butter and water. Combine all and shape it into the pie pan.
This time we're going to blind bake our pie crust for 10 minutes, then set it aside while we make the pumpkin filling.
For the pumpkin pie filling …
The pumpkin pie filling is even easier. Add all ingredients to a blender or a strong food processor (like the one I'm using) to blend until smooth.
There are two special ingredients in the pie filling: ground almonds and dates. Well, they are as special as tofu in my dessert recipes, but they are not common in pie filling, so … you know what I mean.
The ground almond is here to hold up the filling so the texture is firmer than common pumpkin pie. The dates are here both as a binder and a sweetener. But you know that I will not call a pumpkin pie yummy without adding the maple syrup. 😉
The following steps are simple. Pour the pumpkin pie filling into the half-baked crust. Add some walnuts or pecans on top as you like, and return it to the oven to bake until firm.
When the filling is firm and it smells great, it's time to place it onto a wire rack to cool down. Let it cool at least 20 minutes in the pan before removing it. Otherwise, the crust might fall part.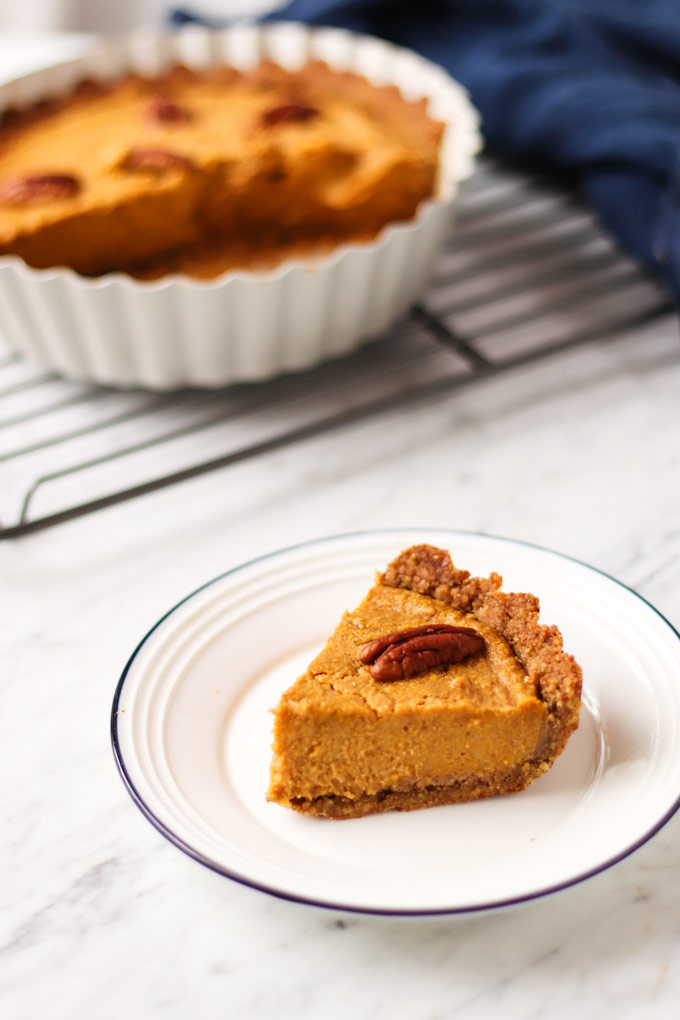 After some work, it's time to cut a slice of this warm, cozy pumpkin pie and sit down to enjoy, maybe accompanied by a cup of tea or coffee.
This pumpkin pie is amazing with the sunflower butter crust and spiced pumpkin pie filling.
I use homemade pumpkin pie spice, which I often make ahead for the rainy day (or pumpkin-pie day). You can use a store-bought one for sure.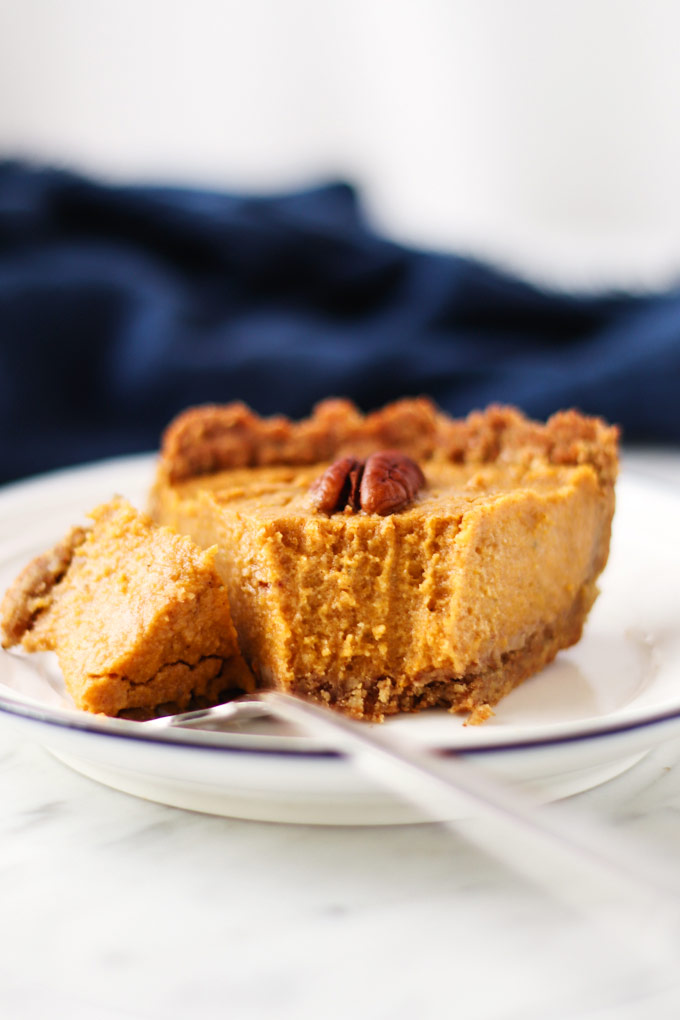 The ground almonds really make the filling firmer compared with regular pumpkin pie. The sweetness coming from the dates and the syrup is on the spot. If you want it to be a bit naughty, you can top it with some caramel sauce, which I think would be heavenly divine.
Yet If you want to make pumpkin but don't have an oven, I've got your back. Here are my No-bake Vegan Pumpkin Pie and Chocolate Spice Pumpkin Caramel Bars for you.
OK, enough talking, Shall we?
Pin it
Vegan Spiced Pumpkin Pie
食材
Pumpkin Pie Filling
40

g

pitted dates 去籽椰棗乾

200

g

pumpkin puree 南瓜泥

1

tsp

pumpkin pie spice 南瓜派香料粉

½

tsp

vanilla extract 香草精

1

tsp

baking powder 泡打粉

50

g

ground almond 杏仁粉

½

Tbsp

ground flax 亞麻籽粉

1

Tbsp

maple syrup 楓糖漿

3

Tbsp

full-fat coconut milk 全脂椰奶

½

cup

plant milk 植物奶

A

small handful of

pecans 胡桃
作法
Preheat the oven at 175 C / 350 F.
To make the Pie Crust
In a mixing bowl, add the ground almond, brown rice flour, ground cinnamon, salt, baking powder, and coconut sugar. Mix all together.

Add the sunflower butter and 1 tablespoon of water at first. Mix to combine. The mixture should be able to stick together when pressed. Otherwise, add 1 tablespoon of water to the mixture to bring it together.

Grease a 6" pie pan with coconut oil. Press the mixture into the pan and form the crust. Rember to make the "wall" by pushing the mixture up to the sides.

Blind bake the pie crust for 10 minutes. Then let it sit on a wire rack while we make the filling.
To make the Pumpkin Pie Filling
Add all ingredients to a blender or a strong food processor to blend until smooth. Use a tamper to help to blend if you have one. Or stop and scrape down the sides once or twice to make sure it's well blended.

Pour the filling mixture into the crust and give it a few gentle shakes to let the mixture even out. Add some pecans on top to decorate if you like.

Place it into the oven to bake for 25-30 minutes or until the filling is firm.

Transfer it to a wire rack to cool for 15 minutes or let it chill in the fridge before removing it from the pan. This pie could be served both warm or cold. If you want to enjoy it warm, simply reheat the slice in the oven for 5-10 minutes. I personally enjoy them warm more than cold.
---
備註
Store in an air-tight container in the fridge for 3 days or 2 week in the freezer.
---
You might also be interested …