Read the post in:
繁體中文
Eggless, Dairy-free, full of chocolate, these Vegan Spelt Chocolate Chip Cookies is a satisfying and healthy snack option for you! And this is also a great recipe to use your almond pulp left from making almond milk.
Vegan Spelt Chocolate Chip Cookies
Even though you probably don't know me, but by noticing the number of cookie recipes, you should find that I'm a cookies person. Actually, I usually called myself a "cookie monster."
One of my leisure activities is baking cookies, so there often are several jars with different cookies in different shapes. I don't know it's a good thing or bad. (lol)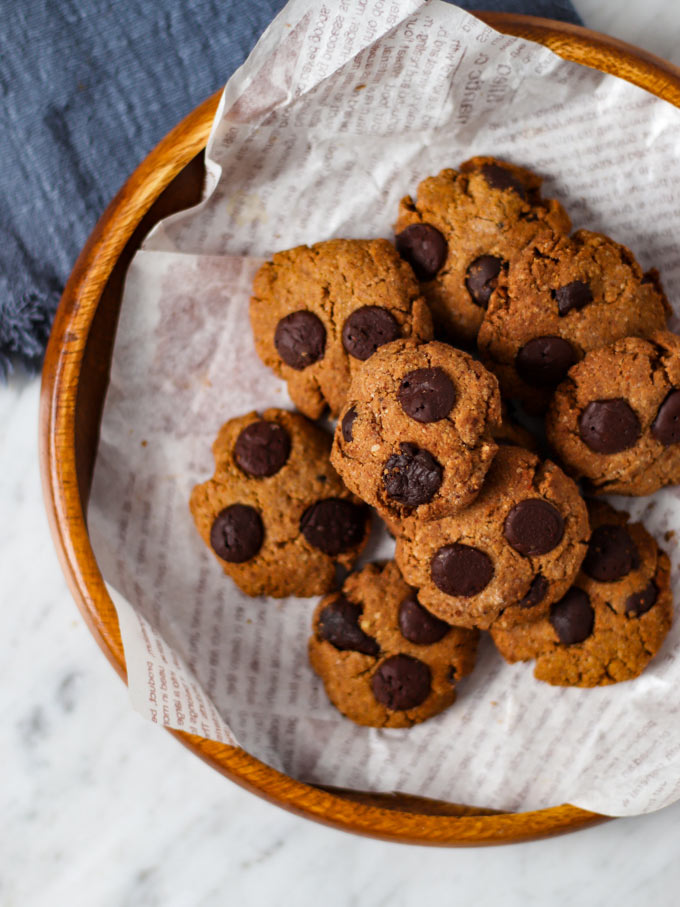 There are 3 main triggers for me to make these vegan chocolate chip cookies:
I really really want some chocolate chip cookies. (This is a pretty common reason, right?)
I got an opened bag of spelt flour that I think I need to use.
I also got some almond pulp, which I mentioned before that I will share some recipes using them.
So, here are these Vegan Spelt Chocolate Chip Cookies!
I want to share my love-hate relationship with spelt flour. I have tried some recipes shared by other people; however, the finish products didn't turn out good nor as it should look like.
Then I went back to watch the videos and notice that the color of my spelt flour is a litter darker than the one in the videos. I went on to grab the bag of spelt flour, read the words on the package and noticed that it's "whole grain" organic spelt flour. I guess maybe that's what makes a difference.
Anyway, even though there are some failures, there are also some delicious outcomes, such as the Vegan Banana Muffins, Cardamon Oatmeal Cookies, and Caramel Marbled Brownies.
These Spelt Chocolate Chips Cookies are one of the success group members. It's also simple to make. The basic steps are stir and mixing. Sounds easy, right?
First, we need to make the "flax egg" by combining the water and the ground flaxseeds. Then in another bowl, beat the sugar and oil together. Then add in the flax egg to the party.
It's followed by spelt flour, baking powder, oat flour, and almond pulp.
If you don't know what almond pulp is, they're just the residue of homemade almond milk. I usually squeeze them until they are really dry and store them in the freezer. If you don't have them, no biggie, use almond flour instead like the above photo shown.
Then finally, the highlight: many many chocolate chips!
Some Final Thoughts:
If you don't have spelt flour, you can also try to use whole wheat flour or even plain flour. However, every flour has its own "flour-nality," they absorb liquid differently. So if the dough is a little dry, you can add some plant milk, like almond milk, walnut milk, oat milk, or a little coconut oil.
I've done my best to reduce the oil and sugar to necessity, so I don't recommend cutting more. And even though I love "sweetness" in my life, I don't like very sweet stuff, so most of my recipes are on the not-very-sweet side. If you find it under-sweet after the first try, you could add 5-10 more sugar to make it a little bit sweeter.
For the chocolate chips, I recommend using around 70% cacao content ones since the cookies are not very sweet by itself. However, if you don't get used to the bittersweet 70% chocolate, I'll say use 50% ones.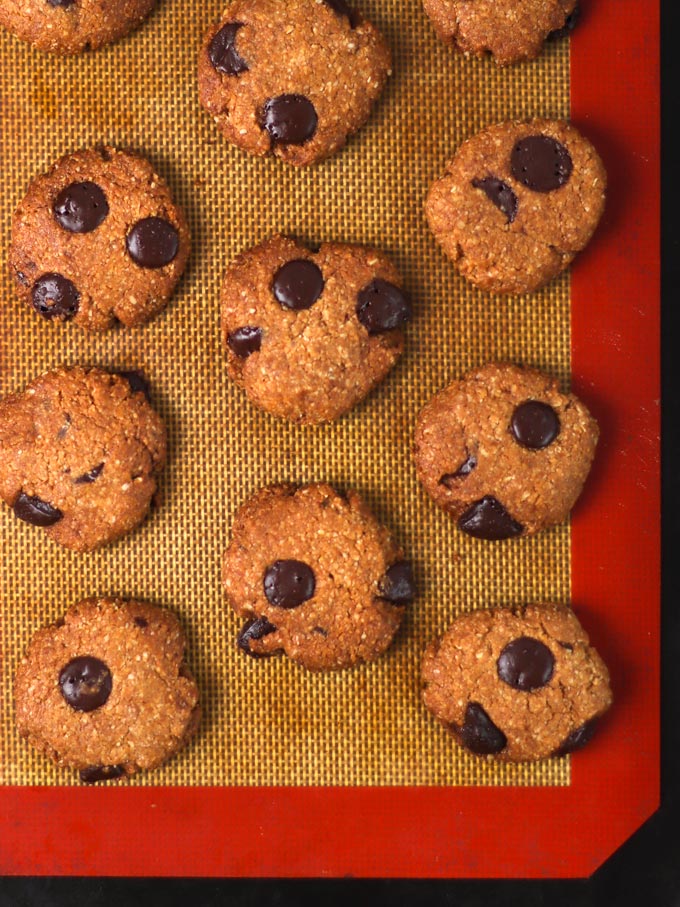 If you love cookies as I do, then I recommend the other two recipes that only require 6 ingredients each: Vegan Peanut Butter Cookies and Vegan Oatmeal Cookies. But first, shall we?
I hope you enjoy it as much as I do. If you make this recipe, don't forget to tag @Barrelleaf + #barrelleaf on Instagram. I always love to see them and to know how it goes.
Pin it
全素斯佩爾特小麥巧克力豆餅乾 Vegan Spelt Chocolate Chip Cookies
Eggless, Dairy-free, full of chocolate, these Vegan Spelt Chocolate Chip Cookies is a satisfying and healthy snack option for you! And this is also a great recipe to use your almond pulp left from making almond milk.
食材
½

Tbsp

ground flaxseed 亞麻籽粉

1.5

Tbsp

water 水

3

Tbsp

coconut oil 椰子油,

melted if solid 若凝固,以隔水加熱方式軟化

35

g

coconut sugar 椰糖

½

tsp

baking powder 泡打粉

A

pinch of

salt 鹽

40

g

rolled oats 傳統燕麥片

25

g

almond pulp 杏仁渣

,

or almond flour 或脫皮杏仁粉

35

g

dark chocolate chips 70% 黑巧克力豆
作法
將烤箱以 160 C / 320 F 預熱;烤盤鋪烤墊或烘焙紙備用

先將亞麻籽粉與水放入一小碗中,攪拌混合均勻,置於一旁備用

取一攪拌碗,放入椰子油、椰糖,用叉子攪打約 2-3 分鐘,至油糖混合,整體有點膨鬆感

將事先混合的亞麻籽水液加入油糖混合液,攪拌混合均勻

接著再用過篩的方式加入斯佩爾特小麥粉與泡打粉,之後加入鹽、杏仁粉與燕麥粉,攪拌混合均勻,不要過度混拌

若有時間的話,建議將混合物冷藏 20 分鐘會較好進行此步驟;用 1 Tbsp 挖取混合物,用手滾圓,再放到鋪烤墊的烤盤上,壓成約扁圓餅乾型狀,重覆此動作至用完全部的混合物。我做出大約 10 片小餅乾

將剩下的巧克力豆平均壓入每個餅乾表面。放入烤箱烘烤約 15-20 分鐘,至表面乾透、呈棕色。取出,置於網架上讓餅乾完全放涼即可享用
English Version
Preheat the oven at 160 C / 320 F. Line a baking sheet with baking mat or parchment paper.

In a small bowl, mix the ground flaxseed and water. Then set it aside.

In another mixing bowl, add the coconut oil and coconut sugar. Beat them for 2-3 minutes until the they incorporate and get a bit fluffy.

Add the flax-water mixture to the oil-sugar mixture and mix to combine.

Sift in the spelt flour and baking powder. Then add the salt, oat flour, and almond pulp. Mix to incorporate but don't overmix.

Add in about 3/4 chocolate chips. Save the rest for the final decoration.

If you have time, put the mixture into the fridge for 20 minutes. It will be more easy to work with. Use a tablespoon to scoop out the mixture. Roll it into a ball, place it on the sheet, and press it down into a thick disk. Repeat to finish all mixture. I end up having 10 small cookies.

Take the saved chocolate chips and press them down into each cookies. Place in to the oven to bake for 15-20 minutes until the surface is dry and brown. Remove from the oven and place onto a wire rack to cool down completely. Then it's time to enjoy!
---
備註
Storage: Store the cookies in an airtight jar for 1-2 weeks.
保存:剩下的餅乾放入密封罐常溫保存,約可放 1-2 星期
---