Read the post in:
繁體中文
Sweet, tangy, fruity, this Strawberry Crumble is a perfect single-serving dessert or snack for summer or any occasion. And you only need 7 ingredients to make it!
I've always like crumble, especially berry-related. And the sour, tangy, sweet strawberries are one of my favorite go-to options.
Many crumble recipes are huuuge, I mean like, in a big baking dish, which is great for a whole family.
Yet if you're like me, making food for just a few people or even just for ourselves, the single-serving type works best for us. That's also what this recipe is: single-serving strawberry crumble deliciousness.
It's also very simple to make and it will take you just about 30 minutes. Oh, did I mention you only need 7 ingredients for it?
Watch How to Make Here >>
Ingredients You Need
Strawberries: They are undoubtedly the hero of this delicious crumble. I usually use frozen ones because they are more budget-friendly and juicy.
Vanilla Extract: We need a little vanilla extract to bring this dessert to the next level.
Rolled Oats: We're going to use rolled oats because their texture is perfect for the topping.
Pecans: No other nuts have the caramel taste like pecans. That's why I use them here.
Ground Almonds: We need some almond meal as well for the topping to make it crunchy and nutty.
Maple Syrup: There's no other thing I would replace for maple syrup in a crumble.
Coconut Oil: Here I'm using extra-virgin coconut oil because I love it in baked goods.
I also like to add a hint of cinnamon and salt to bring out more flavor. They are optional but if you have them, I highly recommend adding them.
How to Make Vegan Strawberry Crumble
It's quite easy and straightforward to make this strawberry crumble. All you need to do is:
Divide the strawberries into ramekins.
Drop a hint of vanilla extract to each ramekin. Give a gentle toss.
Mix all other ingredients in a bowl and spread the mixture on top of the berries.
Bake at 175 C for 25 minutes in the preheated oven.
How to Serve Vegan Strawberry Crumble
Before digging in, I will say let it sit for 5-10 minutes so it can hold together a little bit. Then you can enjoy it just as it is or adds vegan vanilla ice cream on top for a complete dessert.
(What a shame that I didn't have any vegan ice cream at hand… Hope one day I could find vegan ice cream in a nearby supermarket in Taiwan.)
This crumble is best served warm. But I taste it after taking photos and it's not bad either. You can reheat it in the oven if you really want it burning hot (but definitely not literally).
How to Store Vegan Strawberry Crumble
If you got leftover, cover it and store it in the fridge. It should be last for 3-4 days.
Questions You Might Have
Are there other substitutions for coconut oil?
Some people might be big fans of coconut oil due to its distinguished coconut taste. This recipe doesn't use a lot so I don't think the coconut taste is obvious. But if you're not a big fan of a coconut taste and quite sensitive to it, you can use refined coconut oil, which will produce the same texture without the coconut taste.
Another option will be vegan butter. But I haven't tried it myself so I'm not 100% sure it will taste the same.
Can I use other nuts to replace pecans?
Yes, you can use other nuts like walnuts to replace pecans. But they will be a little bit different in taste.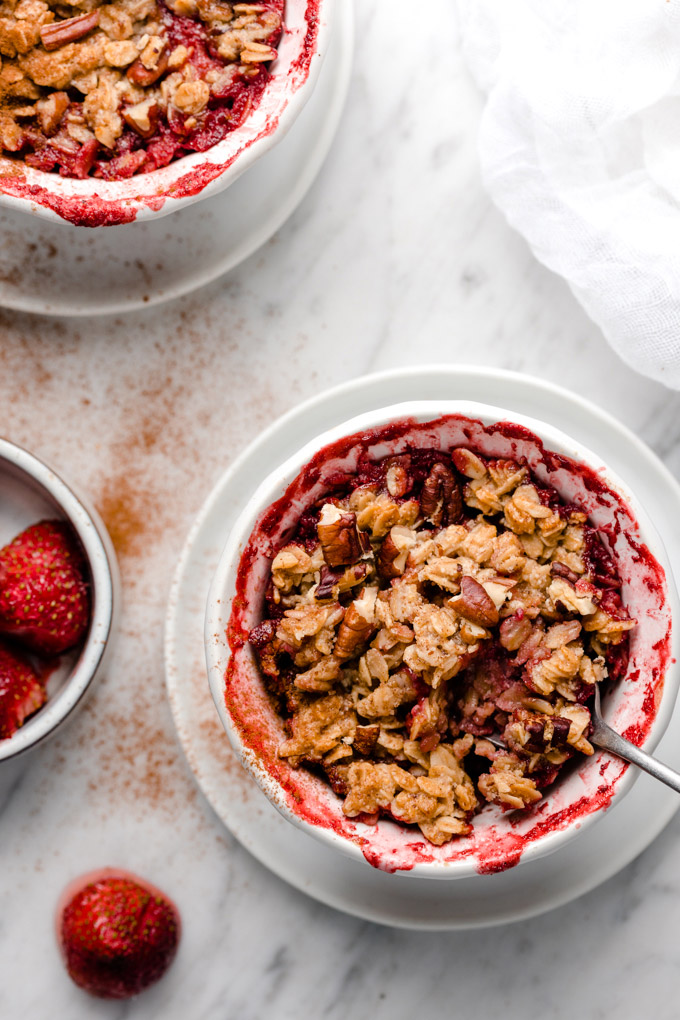 That's it. I hope you are thrilled to make this simple and delicious strawberry crumble. If you do make it, please share your thoughts by commenting down below!
Other recipes you might be interested in:
Vegan Strawberry Crumble (Gluten-free)
Sweet, tangy, fruity, this Strawberry Crumble is a perfect single-serving dessert or snack for summer or any occasion. And you only need 7 ingredients to make it!
Ingredients
175

g (1 heaping cups)

frozen strawberries

,

defrosted

1/4

tsp

vanilla extract

45

g (1/2 cup)

rolled oats

24

g (1/4 cup)

pecans

,

broken into small pieces

24

g (1/4 cup)

ground almonds

35

g (1 3/4 Tbsp)

maple syrup

16

g (1 Tbsp + 1/4 tsp)

coconut oil

,

melted*

1/8

tsp

ground cinnamon,

optional

A

pinch of

salt

,

optional
Instructions
Preheat the oven to 177 C / 350 F.

Cut the strawberries into chunks. Divide them into two ramekins.

Drop a hint of vanilla extract to each ramekin. Give them a gentle toss.

In another bowl, mix all other ingredients together. You can save a few pecans for final decoration.

Spread the mixture on top of strawberries. Put

Place them into the oven to bake for 25 minutes until the strawberry filling is bubbling and the topping is golden brown.

Let them sit for 5-10 minutes before digging in. Serve warm, optionally with vegan vanilla ice cream.
---
Notes
*Coconut Oil: Use refined coconut oil if you don't want any coconut taste. (Though I don't think it's obvious)
Storage: Cover them and store them in the fridge for 3-4 days.