Read the post in:
繁體中文
Christmas is almost here and these Vegan Speculoos Cookies are here for you if you want some spiced cookies! They are crispy without oil and full of holiday flavor.
Vegan Speculoos
Even though Christmas is not very big in Taiwan, I still want to put myself in that "holiday mode" by testing and trying various Christmas recipes. And this time I really feel something crunchy and full of flavor, which is how these Vegan Speculoos Cookies were born.
These Speculoos Cookies are vegan, which means no egg, no dairy, no animal cruelty, which is an important thing and should be the goal at every Christmas: harmless giving and loving.
But if you're here, I think you probably are already a vegan or interested in vegan. So, let's get into these cookies.
Speculoos, also known as speculaas (Dutch) or spéculoos (French), is a type of spiced shortcrust biscuit that traditionally served before St. Nicholas' Day in the Netherlands. Regardless of history, the flavor is just very "Christmas" to me, so here we go.
Many common speculoos recipes use white flour, butter, and eggs, which is definitely not the case here. Instead, we're going to use a "flax egg", spelt flour, oats, and almond butter, etc., these plant-based and nutritious ingredients. This recipe is inspired by Sarah's Vegan Guide. I test and adjust a bit according to my preferences.
This recipe calls for 10 ingredients if you already have a speculoos spice mix at hand. If you don't, I've got your back with a simple speculoos spice mix recipe as well. But you might need to find those different spices first, though. If you love spices, I would really recommend that because you can add them to your drinks or other baked goods, too! 🙂
These cookies are thin, crispy, and full of flavor thanks to different aromatic spices. They are sweet but not so sweet, which is perfect for holiday snacks or company for the afternoon tea.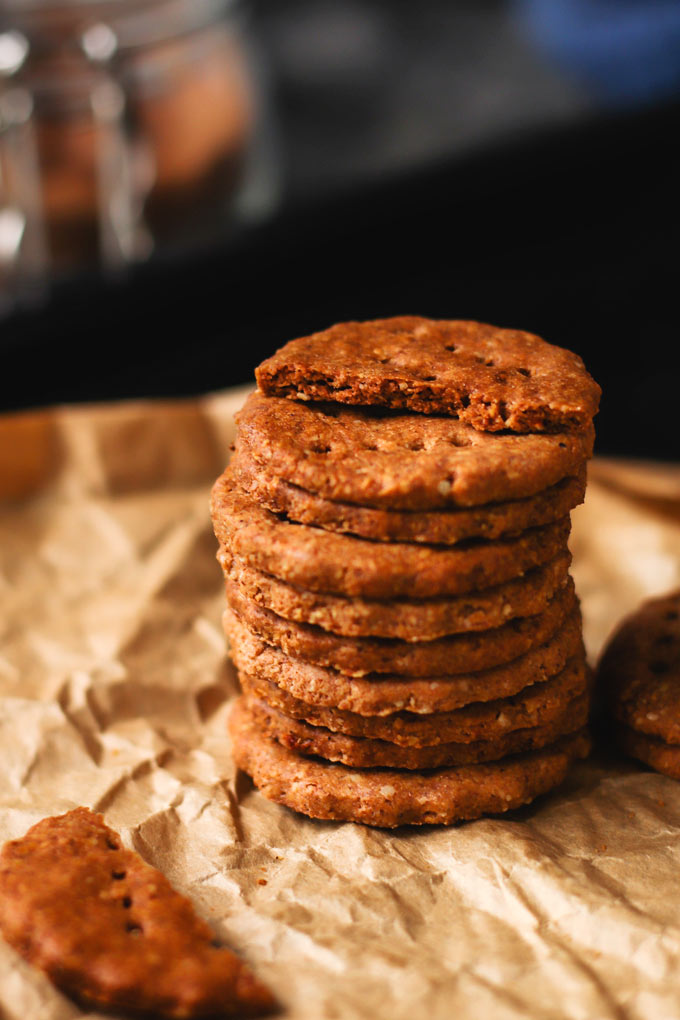 It's also really simple to make. All you need to do is mix, roll, and cut. I just use a simple round cookie cutter to shape these cookies. You can definitely use fancier ones like star shape, flour, or even the ones made specifically for speculoos cookies.
If you're into Christmas vibes as I do, you could also read my Open-face Apple pie, Vegan Double Chocolate Coconut Cookies, and Christmas Matcha White Chocolate Mousse Cake. For now, shall we?
Vegan Orange Speculoos (Dutch Spiced Cookies)
Christmas is almost here and these Vegan Speculoos Cookies are here for you if you want some spiced cookies! They are crispy without oil and full of holiday flavor.
食材
1/2

Tbsp

ground flaxseed 亞麻籽粉

1.5

Tbsp

water 水

25

g

rolled oats 傳統燕麥片

,

ground

25

g

ground almond 杏仁粉

1/2

tsp

baking powder 泡打粉

A

pinch of

salt 鹽

½

tsp

orange zest 橙皮

2

tsp

speculoos spice mix 薑餅香料粉

,

recipe down below

60

g (¼ cup)

almond butter 杏仁醬

2

Tbsp

maple syrup 楓糖漿
Speculoos Spice Mix
2

tsp

ground cinnamon 肉桂粉

½

tsp

ground nutmeg 肉荳蔻粉

½

tsp

ground ginger 薑粉

¼

tsp

ground cloves 丁香粉

⅛

tsp

ground coriander 芫荽粉
作法
For the Speculoos cookies
Start by mixing the ground flaxseed and water in a bowl. Let it sit for 5 minutes. In the meantime, grind the oats in a grinder or blender into fine flour. If you don't have a grinder, you can buy the pre-ground one from the stores.

Preheat the oven to 175 C / 300 F. Line the baking sheet with a baking mat or parchment paper.

In a big bowl, add the ground oats, ground almonds, baking powder, salt, orange zest, and speculoos spice mix. Give them a mix.

Add in the almond butter and maple syrup. Use a fork to bring all together into a dough.

Place the dough between two pieces of parchment paper. Roll out the dough into a thin single layer.

Use a cookie cutter to cut out the cookies. Place them onto the baking sheet, evenly spaced.

Bake at 175 C / 300 F for 10-12 minutes until the cookies become hard to the touch. Transfer the baking sheet onto a wire rack to let them cool down completely before biting one.
For the Speculoos Spice Mix
In an air-tight jar, add ingredients, seal the lid, and give it a shake.
---
備註
I use whole wheat spelt flour because that's what I have. You can use white spelt flour or all-purpose flour as well, but you might need to add more because they abosrob the liquid differently.
Recipe adapted from Sarah's Vegan Guide
---