Read the post in:
繁體中文
Without egg and any animal product, this Vegan No-Bake Mango Mousse Cake is a summer delight with its fruity flavor and creamy texture.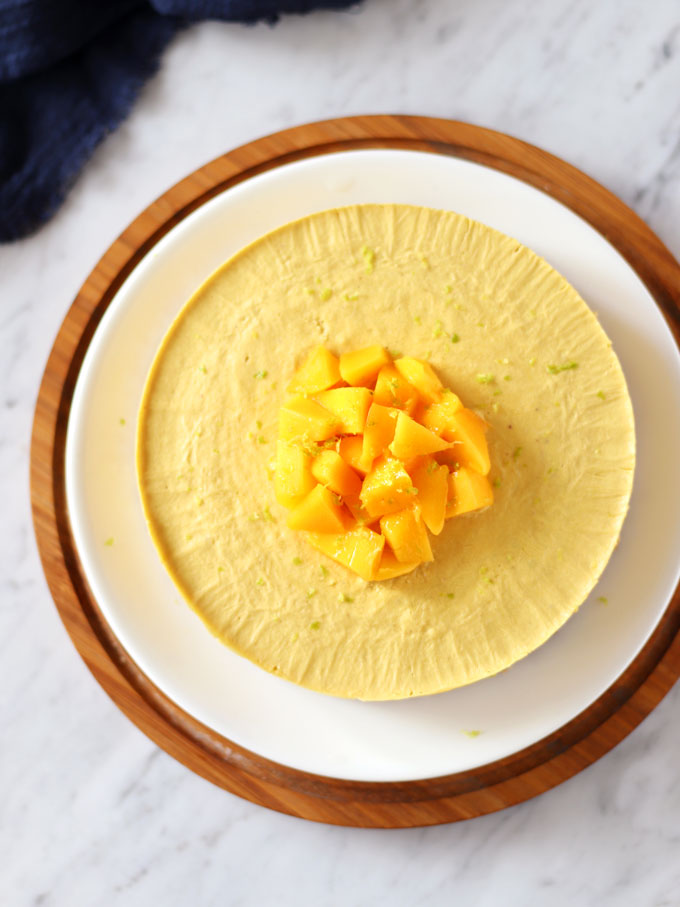 Vegan No-Bake Mango Mousse Cake
If you often hang out in the market as I do, then you probably already notice that the mango season is officially coming! And this time, it's exactly the hero in this Vegan No-Bake Mango Mousse Cake.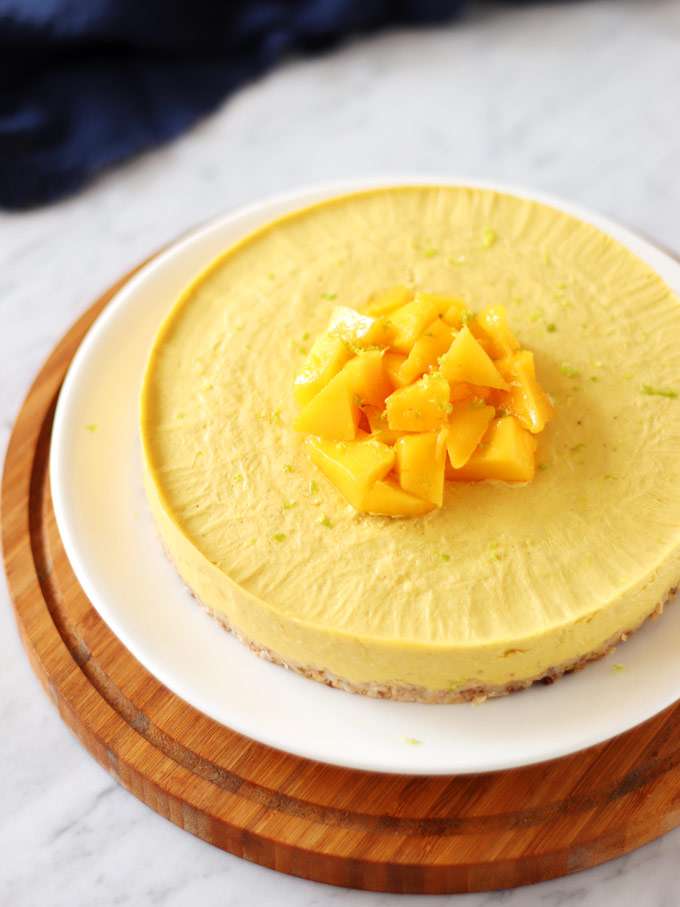 Eggless, Dairy-free, Plant-based
You should probably know that since I'm a vegan, there will be no egg, no dairy in this mango mousse cake, or any recipes in the future to come. But I'm just wondering if I didn't tell people that this golden beauty is vegan, would people know that? Humm, that's an experiment I would really want to try.
I like to combine different ingredients to create endless possibilities in terms of flavor and texture. In some way, I also want to take this vegan mango mousse cake as an example to show that we can use all plant-based food to make something exceptional and beautiful. This mango mousse cake is really stellar! (At least, in my opinion.)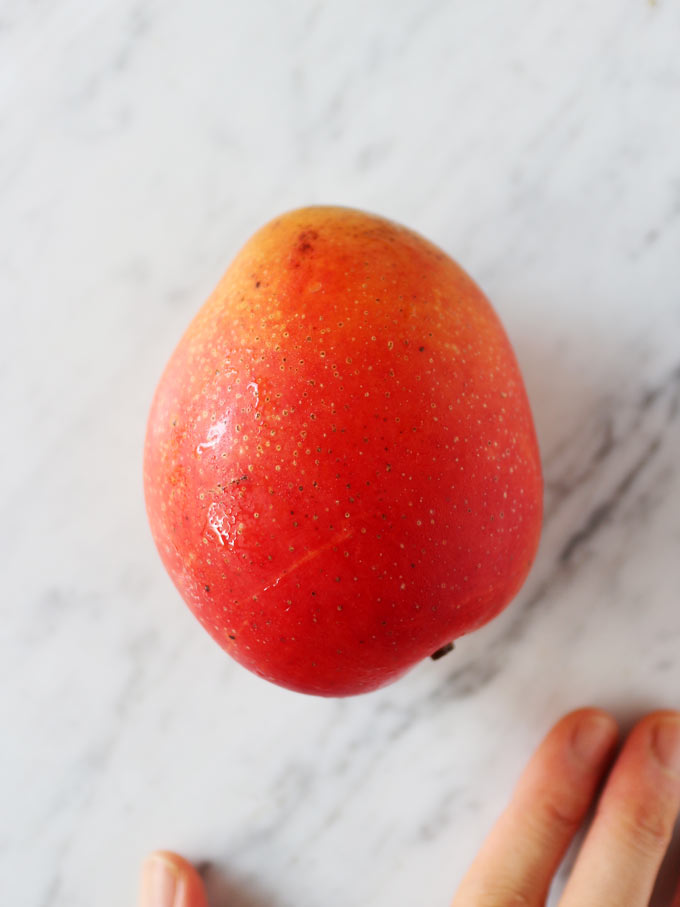 I remember that I was not a big fan of mango, so I seldom bought mango before. However, I don't know why this summer I really really craving them. So, I bought a few. Actually, not a few.
This time I use the common type of mango: Irwin mango. Irwin mangoes are really sweet. You can directly "smell" their sweetness a few feets away. That the sweetness we're going to take advantage of, so there's no need to add much sweetener to achieve a sweet, satisfying dessert.
One of the reasons for my love for Taiwan, my country, is the fruit. Even though we don't have many berries, compared with other countries, as far as I know, we do get a bunch of fruits. And almost all of them are delicious! So it makes me more treasure every single time and opportunity hanging in the market.
BTW, I also have a huge craving for pineapple and papaya recently. They're not cheap these few weeks though.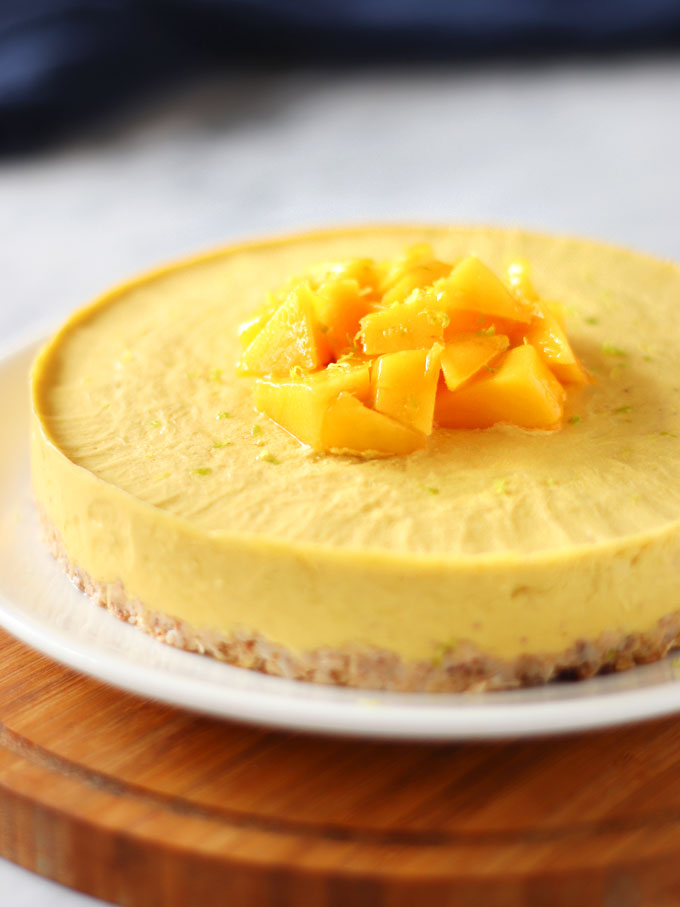 This vegan mango mousse cake is not complicated with 2 main layers.
A Nutty Base with a subtle coconut-y aroma.
A Creamy Mango Mousse Layer
Topping (optional): Make it as you like. I personally like to add more fresh mango chunks to enjoy. 🙂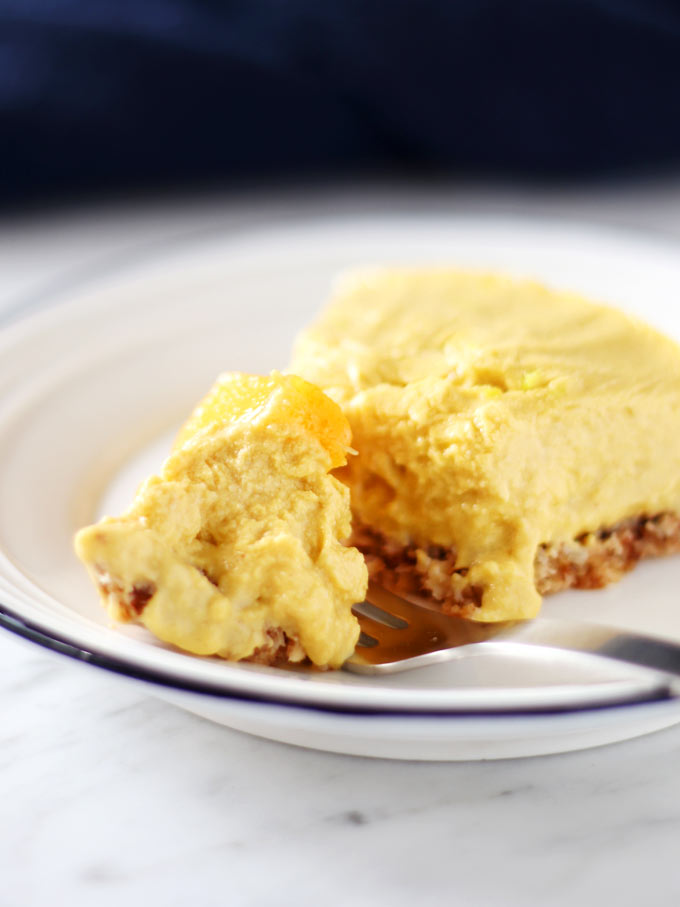 Due to the fresh mango in this cake, it tastes creamy, naturally sweet without any unpleasant feeling to the mouth. Along with the nutty base, the combination of coconut flavor and mango, it really tastes like summer. So … I often eat more than I thought.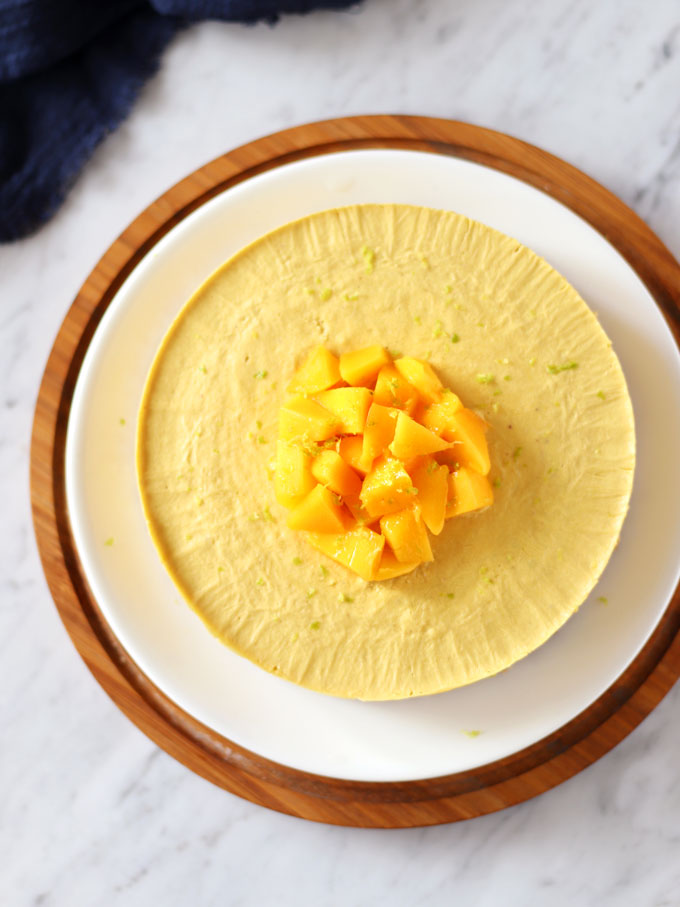 If you're interested in more vegan mango recipes, check out my Vegan Mango Sorbet, Mango Chia Pudding, and Summer Mango Crisp. Ok, shall we?
I hope you enjoy it as much as I do. If you make this recipe, don't forget to tag @Barrelleaf + #barrelleaf on Instagram. I always love to see them and to know how it goes.
全素免烤芒果慕斯蛋糕 Vegan No-bake Mango Mousse Cake
無蛋奶、無動物性製品,這個全素免烤芒果慕斯蛋糕有著自然酸甜的夏日芒果滋味,綿潤化口的慕斯口感,絕對是個適合夏季的甜點!
Without egg and any animal product, this Vegan No-Bake Mango Mousse Cake is a summer delight with its fruity flavor and creamy texture.
食材
For the base 底層
30

g

pitted dates 去籽椰棗乾

35

g

walnuts 核桃

10

g

shredded coconuts 椰絲

35

g

rolled oats 傳統燕麥片

A

pinch

salt 1 小撮鹽
For the mango mousse filling 芒果慕斯層
100

g

raw cashews, soaked 生腰果

,

浸泡於飲用水中 3-6 小時

1

medium mango 中型芒果

,

~275 g

100

ml

full-fat coconut milk 全脂椰奶

2-3

tsp

maple syrup 楓糖漿

A

pinch

salt 1 小撮鹽

2

Tbsp

coconut cream 椰子奶油

,

slightly melted if it's hard 若太硬隔水加熱融化

1

Tbsp

lemon juice or lime juice 新鮮檸檬汁 或 萊姆汁
作法
將一小烤盤或可冷凍的平盤上鋪烘焙紙,將芒果去皮取肉,切成大塊狀置於上頭,放入冰箱冷凍備用
製作底層
將去籽椰棗乾放入小的食物處理機中,攪打將椰棗切成小碎塊

放入燕麥片、核桃、椰絲、鹽,一同攪打混合,至有點像微溼麵包屑的質地。用手指按壓應可成團,若質地偏乾,可加少許飲用水再攪打一下

將 1 個 6 吋圓模底層鋪烘焙紙,將底層混合物按壓放滿底層
製作芒果慕斯層
取出冷凍的芒果塊,將其與全脂椰奶、楓糖漿、鹽、椰子奶油、檸檬汁、腰果一同用調理機攪打混合均勻至滑順

取至冷凍的底層,將芒果慕斯層混合物倒入模具中,輕搖使表面平均

將模具表面封住,放入冰箱冷藏 4 小時,或至完全凝固即可脫模,可再搭配新鮮芒果切塊享用
English Version
Place a parchment paper onto a small baking sheet or a freezer-safe plate. Peel the mango and slice the meat from the seed. Chop the mango meat into big chunks and place them onto the lined pan. Put them into freezer for later use.
To make the base
Add the pitted dates to a food processor and chop them into fine pieces.

Then add in the oats, walnuts, shredded coconut, and salt. Continue to process until it becomes a bread-crumb-liked mixture. The mixture should stick together when pressed between your fingers. Otherwise, add a dash of water and process again to help to bind.

Line the bottom of a 6" round pan with parchment paper. Transfer the base mixture to the pan and press down evenly with a spoon or your fingers.

Place the pan in the freezer while we make the filling.
To make the mango mousse filling
Drain out the water from the soaked cashews. Give them a gentle rinse.

Remove the mango chunks from the freezer. Add them into the blender, along with coconut milk, maple syrup, salt, coconut butter, lemon juice, and the cashews. Blend until smooth.

Remove the 6" pan from the freezer. Pour the mousse mixture into the pan. Slight wiggle the pan to even it out.

Cover the pan and place it into the fridge for 4 hours or until set. Remove from the pan and add more fresh mango chunks to enjoy as you want!
---
備註
保存:放入保鮮盒中冷藏保存 3-5 天
Storage: Store in a food container in the fridge for 3-5 days.
---