Read the post in:
繁體中文
Naturally-sweet apples and dried fruits filling with an oaty crust, these Vegan Mince Pies are cute, delicious, and definitely here for Christmas!
Vegan Mince Pies
If you have read the Open-face Apple Pie post that I shared a while ago, you probably know that I got these Mince Pies in my mind for a while, at least subconsciously. Why? I guess it's because Christmas is officially here!
Mince pies are made of two elements: mincemeat and pastry cups.
The "mincemeat" is actually a pretty name (is it?) for cooked mixed dried fruits, so don't worry, there's no meat. But traditional pastry does have butter and eggs, which is definitely not gonna happen in this recipe as well. And this recipe does prove that we don't need them to make delicious mince pie, at least that's my humble opinion.
This recipe is also gluten-free because I'm more into the oaty crust that mainly made for oat flour and ground almond than plain flour. I mean, they seriously have more flavor.
If you don't have easy access or you don't have much time to find the ingredients for the crust, you could totally use store-bought pie dough, just check if they're vegan.
But if you have some extra time and the ingredients needed, I would recommend trying the oaty crust, which tastes like biscuits in cup-shapes, and tell me what you think. 😉
These mince pies are really flavorful with the oat crust and the cooked dried fruits inside. I also add apples to the filling because I love cooked apples and I also feel they tone down the dense sweetness of the dried fruits.
Also, there's another fruit that joins this part: orange. To be specific, I use a Murcott, an Australian small orange that I have at hand. You can use other types of orange for sure, just make sure they're sweet and zesty because we're going to use both the juice and the zest.
It might seem like we need a lot of ingredients to make these mince pies, but no. We really only need only 10 ingredients to make these cute little Christmas pies, minus the water and salt.
They are small in size but really satisfying with the biscuit-like oat crust and mixed-fruit inside. The combining flavor really makes me feel the holiday vibes.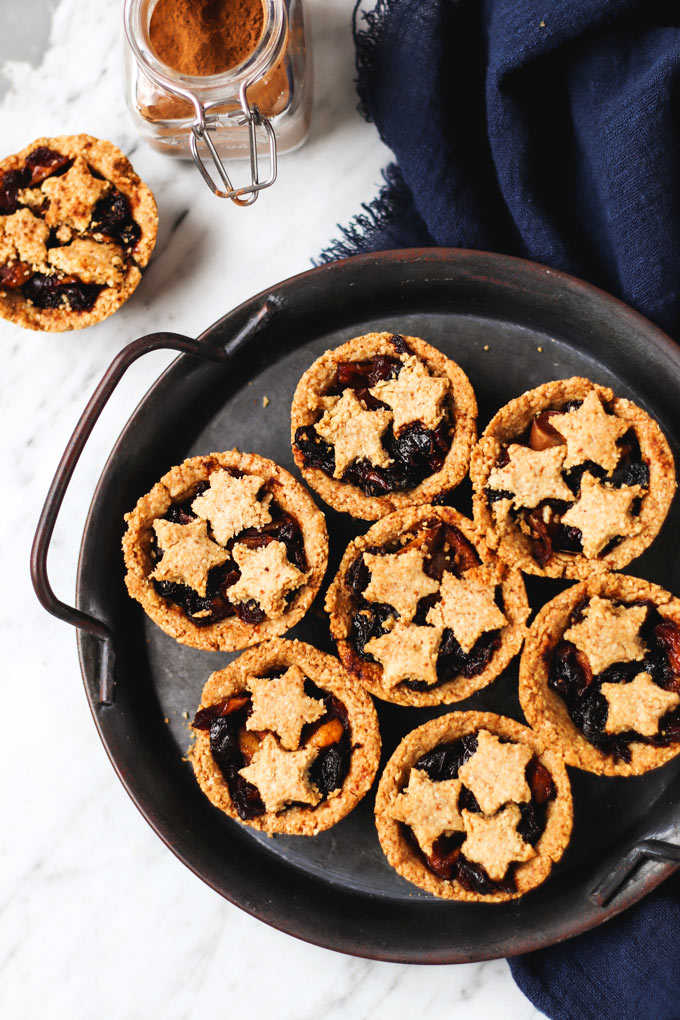 Mince pies are traditionally served at Christmas, but you can definitely make them whenever you feel like it. I mean, why not?
If you also zone in the holiday vibes, check out my Open-face Apple Pies, Vegan Pecan Pie, and Vegan Orange Speculoos. Oh, and since it's Christmas time, I also share a Holiday Gift Guide this year for those who might have trouble figuring out what for the gift exchange.
I hope the recipes or the gift guide are helpful to you. For now, let's make these cute little mince pies, shall we?
Pin it
Vegan Mince Pies (Gluten-free)
Naturally-sweet apples and dried fruits filling with an oaty crust, these Vegan Mince Pies are cute, delicious, and definitely here for Christmas! And you only need 10 ingredients to make them!
食材
mincemeat
1

small

apple

,

~120 g

30

g (¼ cup)

dried cranberries

35

g (¼ cup)

raisins

½

tsp

ground cinnamon

¼

tsp

ground ginger

1

Tbsp

water 水

1

small

orange

,

Murcott – zest

Juice from ½ small orange
pastry
150

g (1 + ⅔ cup)

rolled oats

,

ground into fine flour

50

g

ground almonds

¼

tsp

salt

3

Tbsp

extra-virgin coconut oil,

soft, plus more for greasing the pan

2

Tbsp

maple syrup

1

Tbsp

cold water
作法
To make the mincemeat
Peel and core the apple. Chop it into small cubes.

In a small pot, add all ingredients for the mincemeat. Cook and stir until the apple cubes are soft. Set it aside to cool down while we make the pastry.

Ground the rolled oats in a grinder or blender into fine flour. You can just use store-bought oat flour if that works best for you.
To make the pastry
In a big bowl, add the oat flour, ground almonds, and salt. Give them a mix.

Add the soft coconut oil, maple syrup, and cold water. Mix all together to bring them into a dough. If the mixture is too dry, add a bit more cold water to help.

Preheat your oven to 175°C / 350°F. Grease a 9-cup mini muffin pan with coconut oil.

Place the dough between two pieces of parchment paper. Roll it out into about 0.5 cm thick.

Use a cookie cutter (bigger than the top diameter of the cup of the pan) to cut out the pastry. Place it into the cave of the pan. If it's broken, it's fine, Use your hand to seel and shape it into your cup shape. Repeat the same to finish all 9 pastry cups. If your dough is running out, reunite the dough together and roll it out again. Use a start cookie cutter to cut out some "stars" as well.

Divide the mincemeat into the cups. Place the "stars" on top of each cups.

Bake at 175°C / 350°F for 25–30 minutes until the pastry is golden.

Transfer the pan onto a wire rack to sit for 15-20 minutes before removing from the pan. Then EAT!
---
備註
Storage: Store in an air-tight food container. They can last about 3–4 days at room temperature, 5–7 days in the fridge. Reheat in the oven to enjoy a more crispy texture.
---