Read the post in:
繁體中文
Gluten-free tart crust made with grain flour, mild matcha tea flavor matched with sweet azuki beans, this Vegan Matcha Azuki Bean Tart is a tart version of Uchikindoki.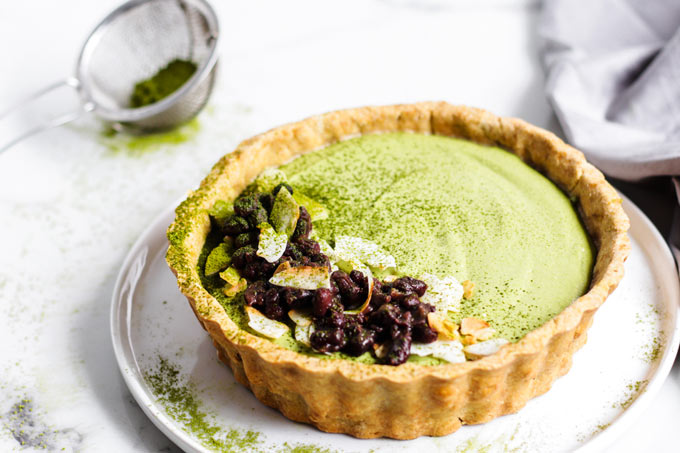 I love matcha. And when it is accompanied by sweetened azuki beans, there's no way I  would miss it!
The gentle matcha/green tea flavor and sweetness from my beloved sweetened azuki beans are a match made in heaven. The combination is so good that it almost reaches my love for peanut butter and chocolate. (Yes, that's another level.)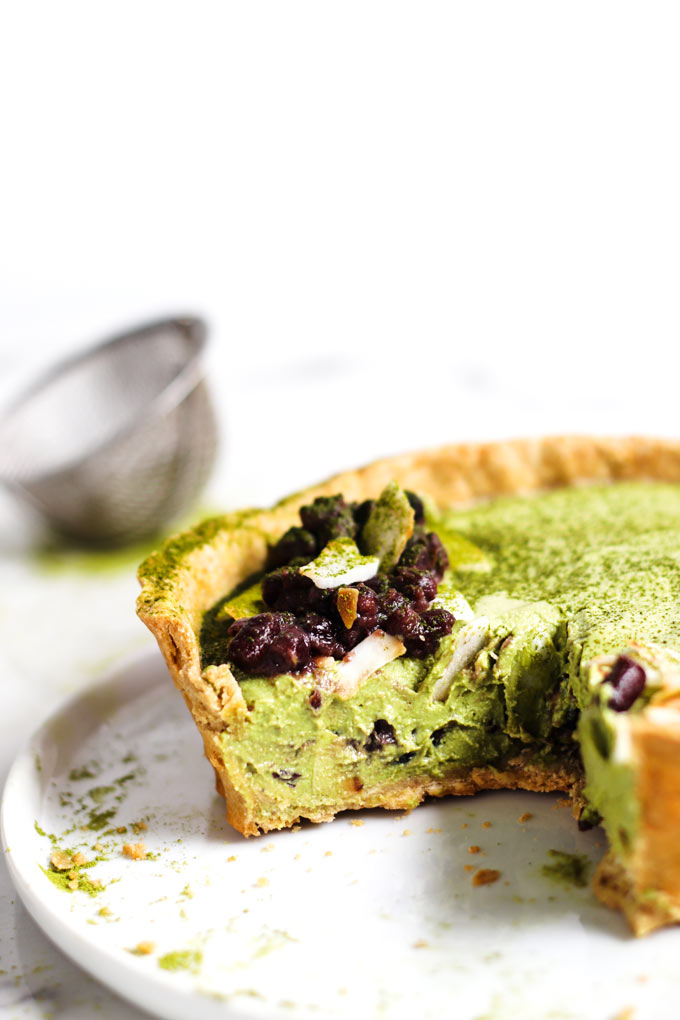 This Matcha Azuki Bean Tart is made of 2 parts:
Gluten-free & Nut-free Tart Crust
Japanese Matcha Azuki Bean Filling
Different from common tart/pie crust, this crust is gluten-free made with grain flour, which technically has more nutrition than regular white flour. Plus, they are new things for me to play with.
Oh, I almost forgot to mention. There's a secret ingredient in the filling. If you read my dessert recipes quite often, I bet you know what I'm talking about.😉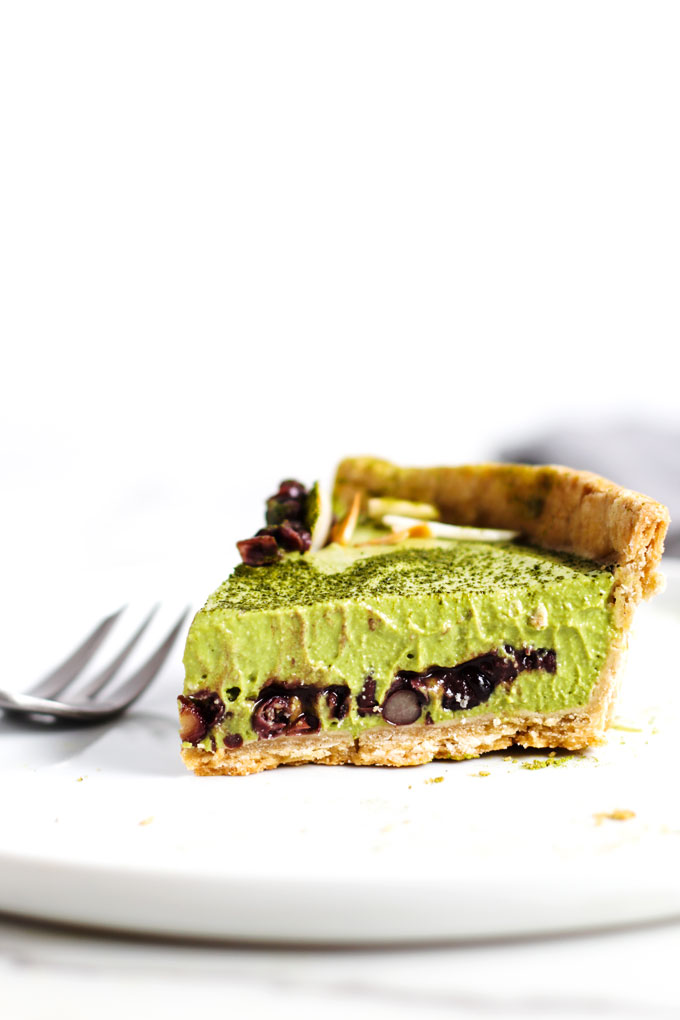 Another thing I want to bring up is the texture of the tart crust. Since there are no nuts or butter in the crust, the texture is harder than common pie crusts. 
If you prefer a nuttier, crunchier pie crust, you can use this oat flour pie recipe instead. 
BTW, I'm not restricting anything. I just want to try to reduce the usage of almond flour due to the bee-almond issue.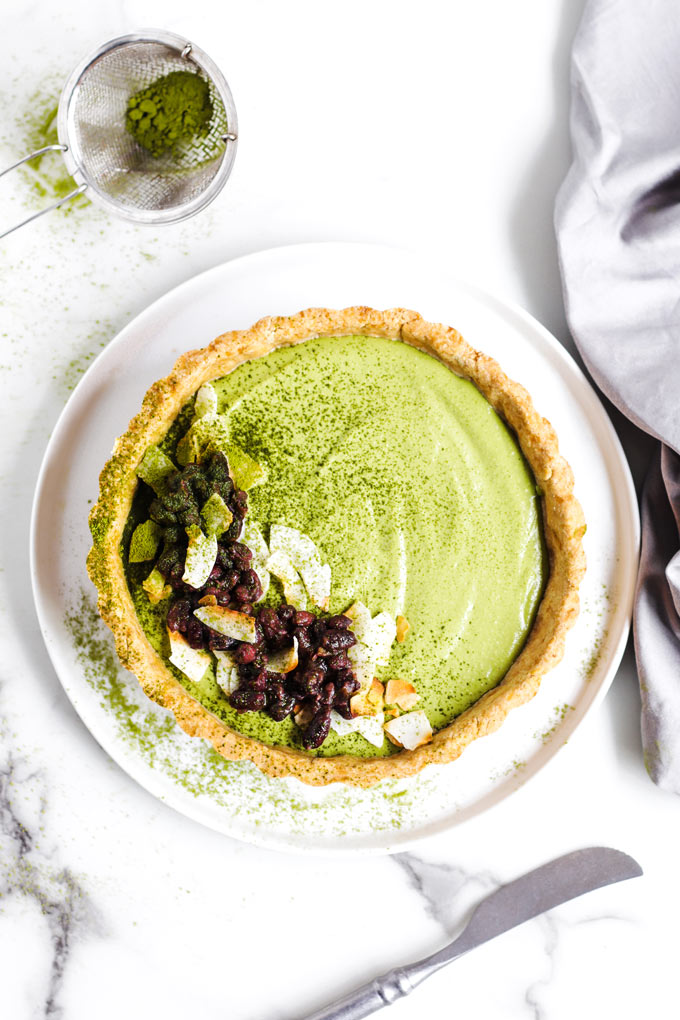 Without egg or dairy, this Matcha Azuki Bean Tart is delicious without the heavy feeling that normal pies usually give me. And what's more important is the matcha tea and azuki beans inside. (You know.)
If you're interested in more vegan dessert recipe, here are:
Vegan Matcha Azuki Bean Tart (Gluten-free)
Made of a whole-grain gluten-free tart crust and mild matcha tea flavor matched with sweet azuki beans, this Vegan Matcha Azuki Bean Tart is Uchikindoki in a tart dress!
Ingredients
Matcha Filling
70

g

raw cashews

,

soaked for 4-6 hours

2-3

Tbsp

maple syrup

200

g

silken tofu

,

drained

2

Tbsp

coconut oil

,

melted, plus more for greasing

1

Tbsp

matcha powder

4-6

Tbsp

Sweetened Azuki Beans,

plus more for decorating
Instructions
Make the Sweetened Azuki Beans first. It's better to make them the day before and refrigerate them overnight.
To make the crust
Grease a deep 6″ pie pan (better with removable bottom) with coconut oil.

In a food processor, add millet flour, buckwheat flour, arrowroot flour, and coconut sugar. Blitz to mix evenly. You can do this in a bowl with a fork as well.

Add the coconut oil, pulse a few times. Then gradually add the cold water while pulsing the food processor until the texture like wet bread crumbs.

Transfer the mixture onto a piece of parchment paper and bring it into a flat dough.

Use a rolling pin to roll out the dough into about 1/2 inch thick. Gently transfer it to the pie pan. Use your hand to press and shape the pie crust.

Place the pie crust into the fridge. Preheat your oven to 175 C / 350 F for 15 minutes.

Once the oven is heated, place the pie crust into the oven to bake for 35-40 minutes. Keep an eye on it for around 35 minutes.

Remove the pan from the oven to a wire rack to cool down while we make the filling.
To make the filling
Drain out the water from the cashews and give them a rinse.

Add all ingredients EXCEPT the sweetened azuki beans to a high-speed blender to blend until smooth.

Store the filling mixture in the fridge while waiting for the crust to cool completely.
Assembly
Pour about 1/3 of the matcha filling into the crust and spread out evenly.

Scoop in the sweetened azuki beans. Then pour the rest of the matcha filling over the azuki beans, gently spread out.

Cover the pan with a plate (or something) and refrigerate the pie for 4-6 hours until the filling is set.

Decorate with more azuki beans, coconut flakes, or whipped coconut cream. Remove from the pan and slice to enjoy!
---
Notes
*Arrowroot Flour: I think tapioca starch and potato starch can work as well, but I haven't tried them myself. If you do, please let me know how it turns out. 🙂
Storage: Store in an air-tight container in the fridge for 1-2 days or 1 week in the freezer.
Adapted from Martha Rose Shulman