Read the post in:
繁體中文
Spicy, "meaty" without meat, this Vegan Mapo Tofu is made with real food without any fake stuff. It's warm, hearty, and tasty with warm rice.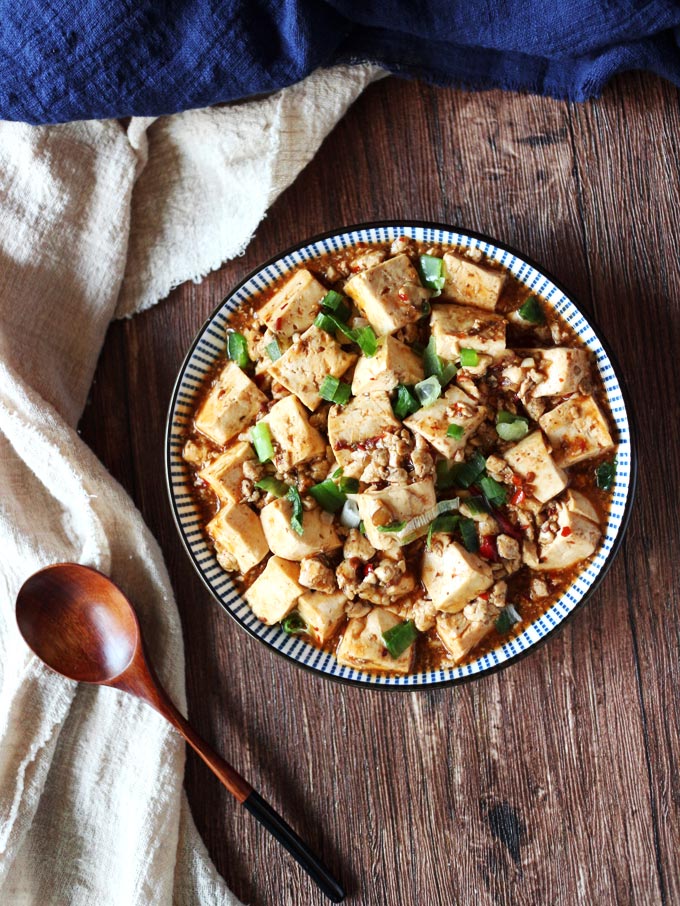 Vegan Ma-Po Tofu
I'm a person who loves tofu very much, no pun here, literally. I think this is quite obvious because I even include tofu into my dessert recipes from time to time. But this time, we're not going to make dessert, but this Chinese dish ─ Mapo Tofu.
The original Mapo Tofu includes meat, which is not gonna happen here. We're going to make a meatless Vegan Mapo Tofu that still tastes amazing!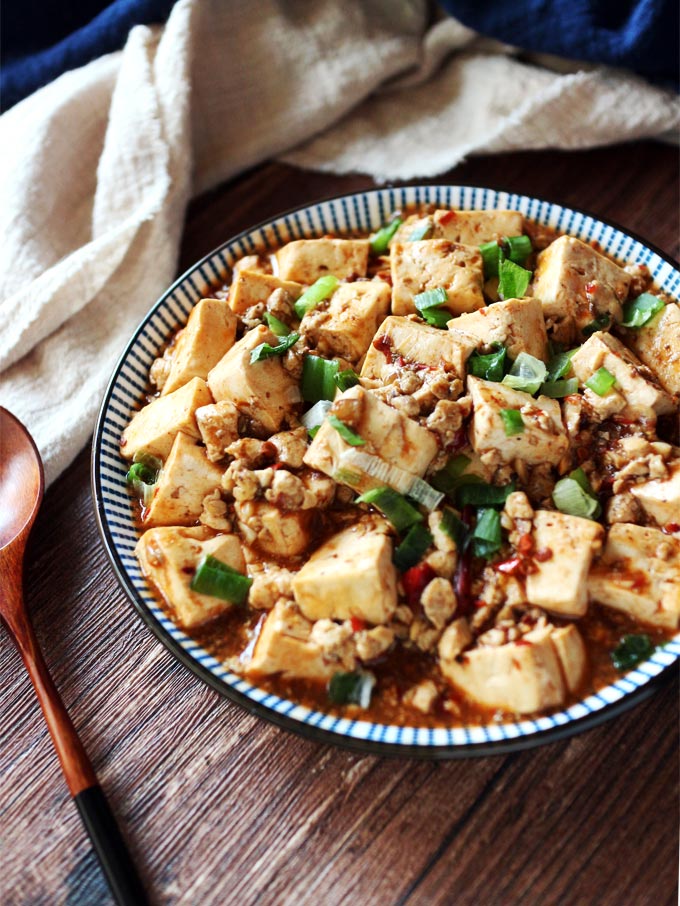 Take a look at the picture, if I didn't tell you that it's vegan, would you know? At least I won't because it really looks like the common Mapo tofu. But it's made with plants.
Even though this Mapo Tofu doesn't include any meat or animal products, it still very tasty and aromatic with the Sichuan pepper powder, sesame oil, and chili bean sauce. Just a big scoop on warm rice will make a satisfying meal.
Simple ingredients with the right seasoning
You might have seen some meatless recipes using store-bought fake meat, which is not wrong but I just not a big fan of that. So this Vegan Mapo Tofu is made without any fake stuff, all real food.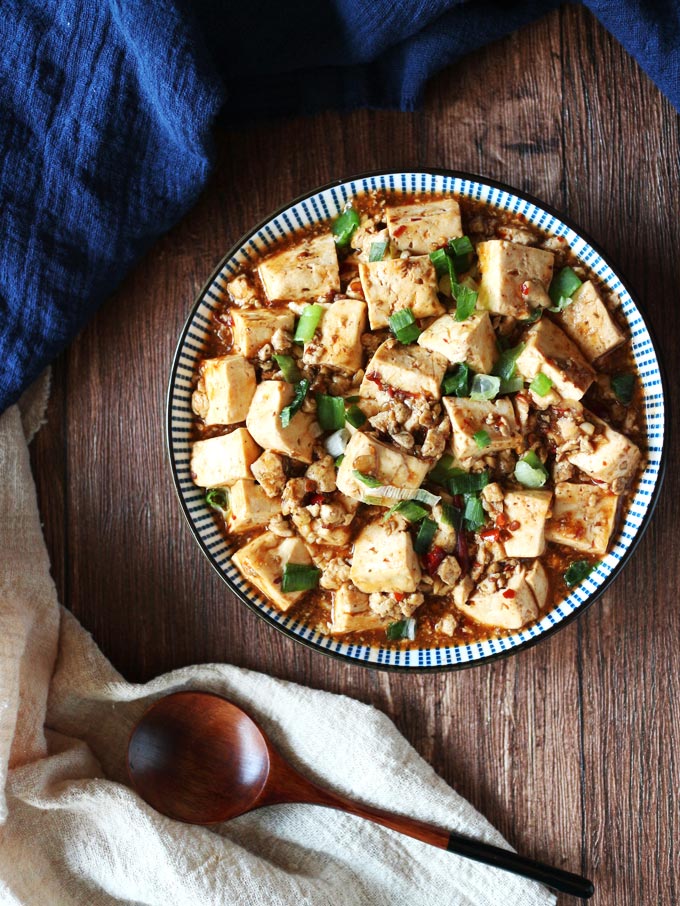 Have you guessed what the thing that mimics the meat part in this Mapo tofu? Take a guess. If you know it by just seeing the photo, you're really good! I really couldn't tell it by simply see the photos if I didn't make this dish myself.
It's not store-bought fake meat or mushrooms.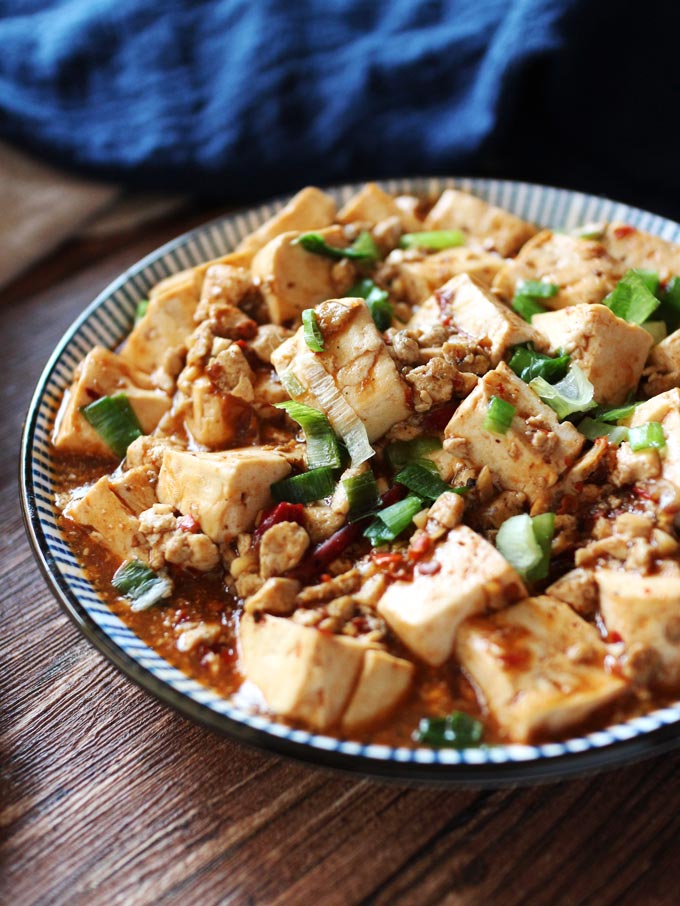 The answer is … Tofu!
Did you guess right? Yes, this Vegan Mapo Tofu is kind of a "double-tofu" dish. But with the right seasoning, tofu can be really versatile, even tastes like meat.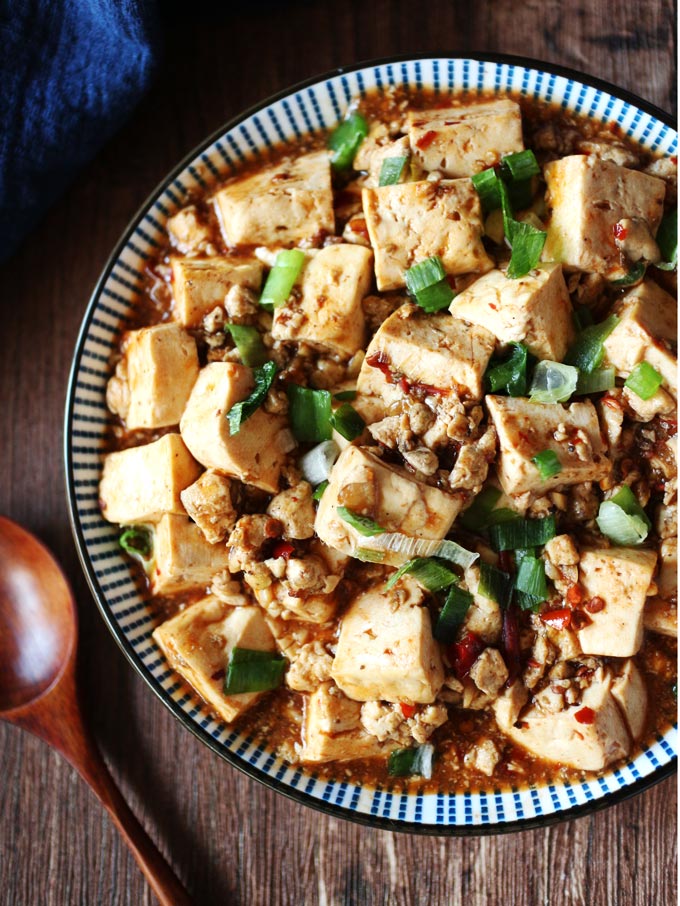 I remember that I love Mapo tofu since I was little. When my family went to Chinese restaurants, we always ordered mapo tofu if it's on the menu.
After I grew up, I found that what makes Mapo tofu appealing to me is the tofu and the seasoning. It's never been meat. And now I can make it my own vegan version, which is not only better for my body and better for the earth.
I really love the tofu with the spicy, Sichuan chili flavor. With a bowl of rice and a plate of Mapo tofu, I'm a happy girl.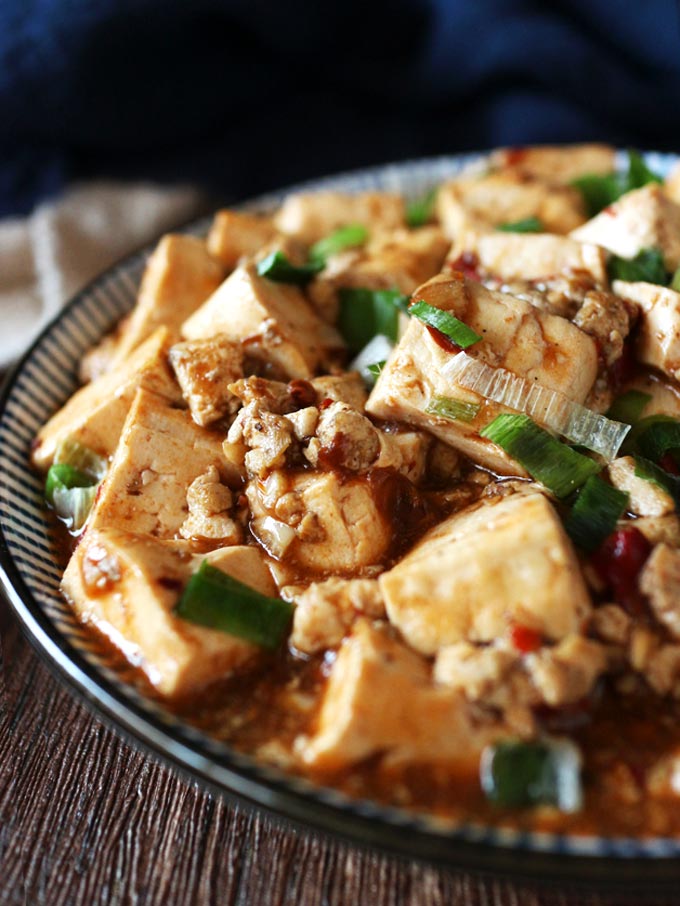 This Vegan Mapo Tofu is the final result that I've tested for a while. I hope you enjoy it as I do.
If you want to see more tofu recipes, check out my Steamed Stinky Tofu, Spicy Stinky Tofu, or Vegan Tofu Chocolate Brownies. Ok, shall we?
I hope you enjoy it as much as I do. If you make this recipe, don't forget to tag @Barrelleaf + #barrelleaf on Instagram. I always love to see them and to know how it goes.
全植物素麻婆豆腐 Vegan Mapo Tofu
Spicy, "meaty" without meat, this Vegan Mapo Tofu is made with real food without any fake stuff. It's warm, hearty, and tasty with warm rice.
Ingredients
Other ingredients 其它
230

g

firm tofu 板豆腐

,

cubed 切成小方塊

¼

tsp 

Sichuan pepper powder 花椒粉

2

garlic cloves 蒜瓣

,

minced 切末

1

tsp

minced ginger 薑末

1

Tbs

chili bean sauce 辣豆瓣醬

1

tsp

soy sauce 醬油

¼

tsp

ground rock sugar 冰糖粉

,

or b-grade white crystal sugar 或二砂

A

dash of

ground white pepper 白胡椒粉

½

tsp

arrowroot starch 葛根粉,

or tapioca starch 或太白粉

water 水

,

for cooking 適量

A

small handful of

chopped green onions 蔥花

,

to sprinkle on top 最後點綴
Instructions
先製作偽肉末:鍋中放白芝麻油,以中火熱鍋,將 70 g 的板豆腐用手大略扒碎放入鍋中

加入醬油一同拌炒至像肉末,若豆腐碎太大,可再用鍋鏟剁碎

放入板豆腐丁塊、花椒粉、蒜末、薑末,稍微拌炒一下

加入適量水(稍微淹到豆腐一半),調成中大火煮滾,煮滾後調低火至微滾,再燉煮 5-10 分鐘

將葛根粉 與少許水於一小碗中混合均勻,再倒入鍋中一同拌炒、開大火煮滾勾茨,稍稠即可熄火盛盤、灑上蔥花即可配飯享用
Directions:
To make the "meat": Add sesame oil to the pan over medium heat. Use your hands to break the 70 g tofu into the pan.

Add soy sauce and stir fry until it looks like minced cooked meat. If you find the tofu pieces are a little chunky in the pan, use the cooking spatula to chop them.

Add the cubed tofu,  Sichuan pepper powder, minced garlic, and ginger. Stir fry for another 30 seconds.

Add the spicy bean paste, soy sauce, sugar, ground white pepper and stir to bring them together. Add some water (about half the high of the tofu cubes), bring to boil, and reduce the heat to simmer for 5-10 minutes.

Mix the arrowroot starch and a little water in a small bowl, then add the mixture to the pan. Stir to combine and bring to boil.

Once the sauce is slightly thickened, turn off the heat. Sprinkle the chopped green onions on top and enjoy with cooked warm rice.
---
Notes
密封冷藏保存 3 – 5 天
Store the leftover in a food container in the fridge for 3 – 5 days.