Read the post in:
繁體中文
Rich, super chocolatey, but not heavy, this Vegan Gluten-Free Chocolate Layer Cake is a treat for you to enjoy every day!
I've been thinking about making a Double Chocolate Layer Cake for ages, and I finally realize it! And it's not an average chocolate cake, it's a vegan, gluten-free, oil-free double chocolate cakes, with bananas!
I've tried a few gluten-free chocolate cake recipes before but many of them are not good enough to share. This one is really something I think deserves a post!
This cake recipe is adapted from one of my favorite bloggers – Minimalist Baker. I believe my grocery list is very similar to her because I usually have all the ingredients for her recipes, even though we're at two very different geographic locations.
For the filling, I use the Vegan Chocolate Frosting and some banana slices for a simple yet still elegant touch. (I hope so)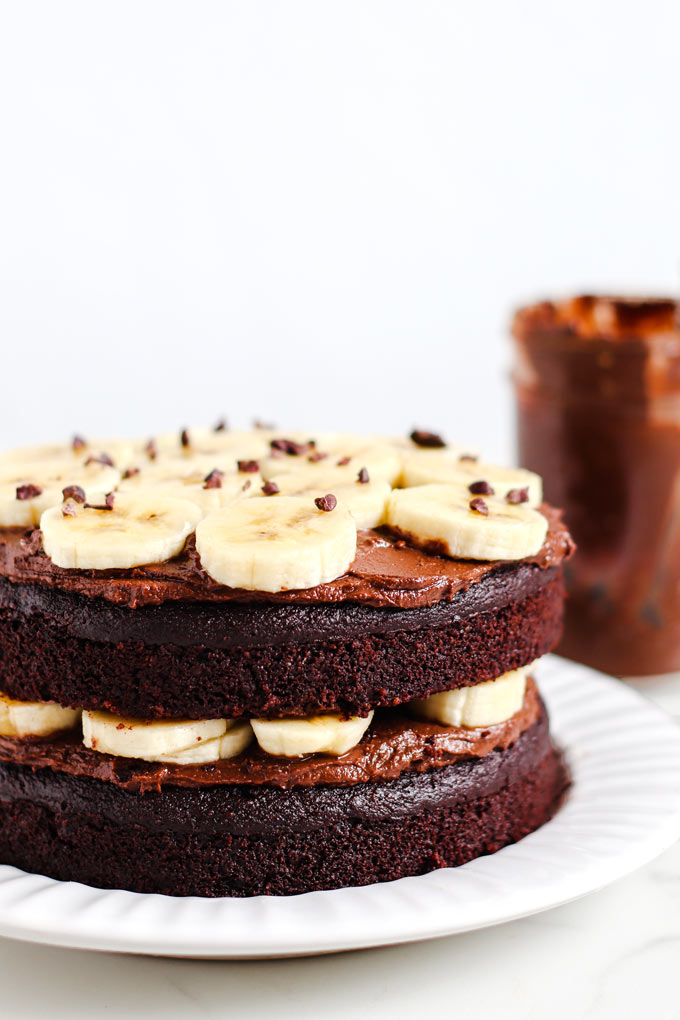 The chocolate cake is chocolatey but not heavy that I can easily finish a piece.
As for the method, it's really "a piece of cake"! Well, I mean, nothing really complicated is here. Most of the work is whisking.
I really love the balance of sweetness and bitterness of this cake. It makes your taste bud comfortable and satisfied.
One thing I have to say is that the vegan chocolate frosting is a must for this cake because the cake is not very moist on its own, which I can understand, considering there's no oil in the ingredient list.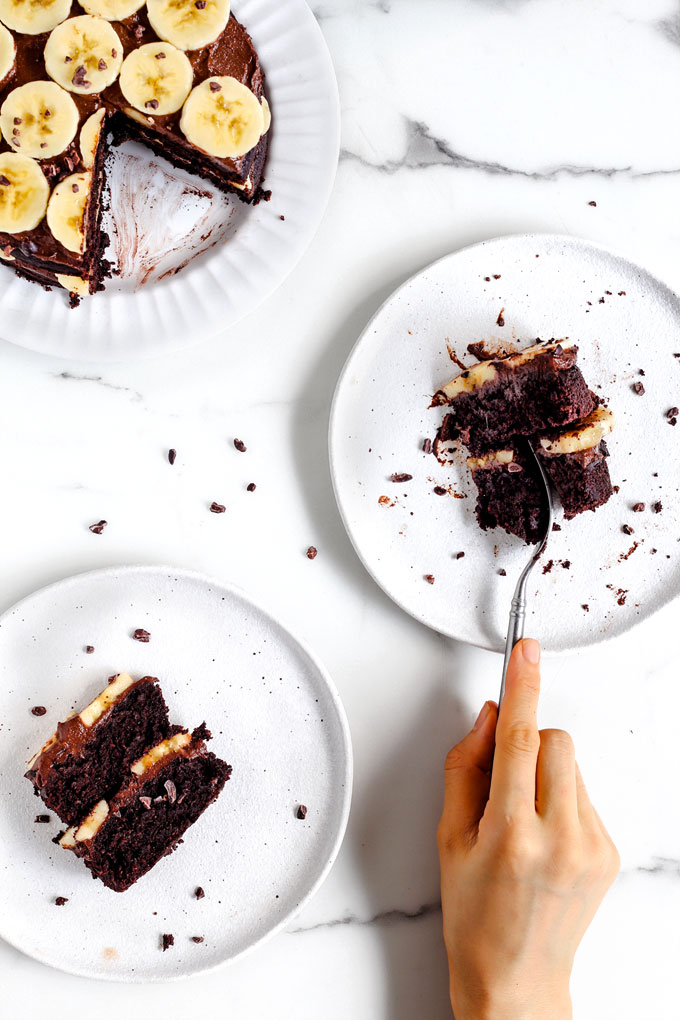 The cake is best served at room temperature or on the warm side for a fluffier texture. I usually warm it in the oven before serving if I've put it in the fridge.
Share this cake with loved ones or serve it with a cup of coffee or tea in the afternoon for yourself!
Vegan Gluten-Free Double-Chocolate Layer Cake
Rich, super chocolatey, but not heavy, this Vegan Gluten-Free Double Chocolate Layer Cake is a treat for you to enjoy every day!
Ingredients
150

g (1/2 cup + 2 Tbsp)

plant milk

,

I use boxed unsweetened almond milk

75

g (~1/2 large)

mashed banana

30

g (2 Tbsp)

applesauce

,

*

15

g (1 Tbsp)

nut/seed butter

,

better to use a runny one**

1/2

tsp

vanilla extract

90

ml (3/8 cup)

maple syrup

48

g (packed 1/4 cup)

coconut sugar

1/2+1/4

tsp

baking powder

1/2+1/4

tsp

baking soda

1/8

tsp

salt

48

g (1/2 cup)

cocoa powder

26

g (1/4 cup)

arrowroot starch

19

g (1/4 cup)

coconut flour
Instructions
Preheat the oven to 175 C / 350 F. Line two 6″ cake pans with parchment paper.

In a mixing bowl, add the plant milk, mashed banana, applesauce, almond butter, vanilla extract, and maple syrup. Mix to combine.

Add coconut sugar. Sift in baking powder, baking soda, salt, cocoa powder, arrowroot starch, and coconut flour. Mix evenly.

Divide the cake mixture into two cake pans. Drop them against the counter a few times to remove the air bubbles.

Bake for 28-35 minutes until a toothpick inserted in comes out clean (without wet batter).

Transfer the two pans onto a wire rack to sit for 15 minutes before removing from the pans. Let them cool completely before frosting.

Frost the cake with this Vegan Chocolate Frosting or other frostings you prefer. I also add some banana slices in the filling and on the top. Enjoy it warm or at room temperature.
---
Notes
*Applesauce: It's American-style applesauce that is smooth, not chunky. I usually use Homemade Applesauce because it's not common in Taiwan. 
**Nut butter: I use homemade almond butter for the cake in the pictures. You can use runny nut butter or seed butter like peanut butter or tahini.
***Serving: This cake is best served at room temperature or on the warm side. The texture will be dryer when chilled.
The frosting I use: Vegan Chocolate Frosting
Storage: Store the cake in an air-tight container in the fridge for 5 days or 3-4 weeks in the freezer.
Adapted from Minimalist Baker