Read the post in:
繁體中文
Vibrant pistachio layer packed between a nutty oatmeal base and dark chocolate, these chocolate pistachio bars are perfect snacks/desserts for pistachio lovers!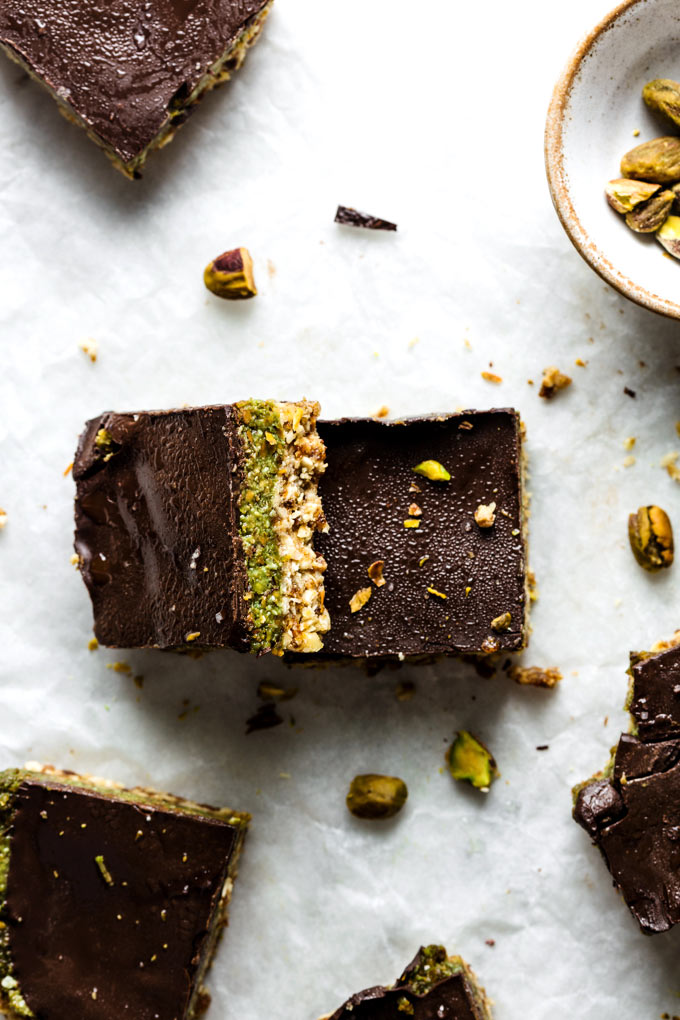 I've been thinking about making these chocolate pistachio bars for ages and they are finally here! The reason behind my procrastination is the price tag on pistachio. I mean, they are REALLY expensive, at least in Taiwan.
But my craving for this unique nut grew day by day and I just couldn't resist it anymore. (Sorry, my wallet, this is all for recipes!) So I bought a huge bag of pistachio and started trying new recipes.
This recipe is inspired by Full of Plants. I tweaked it a little bit to suit my pantry as well as my taste bud. It turned out really good so let's dive into it!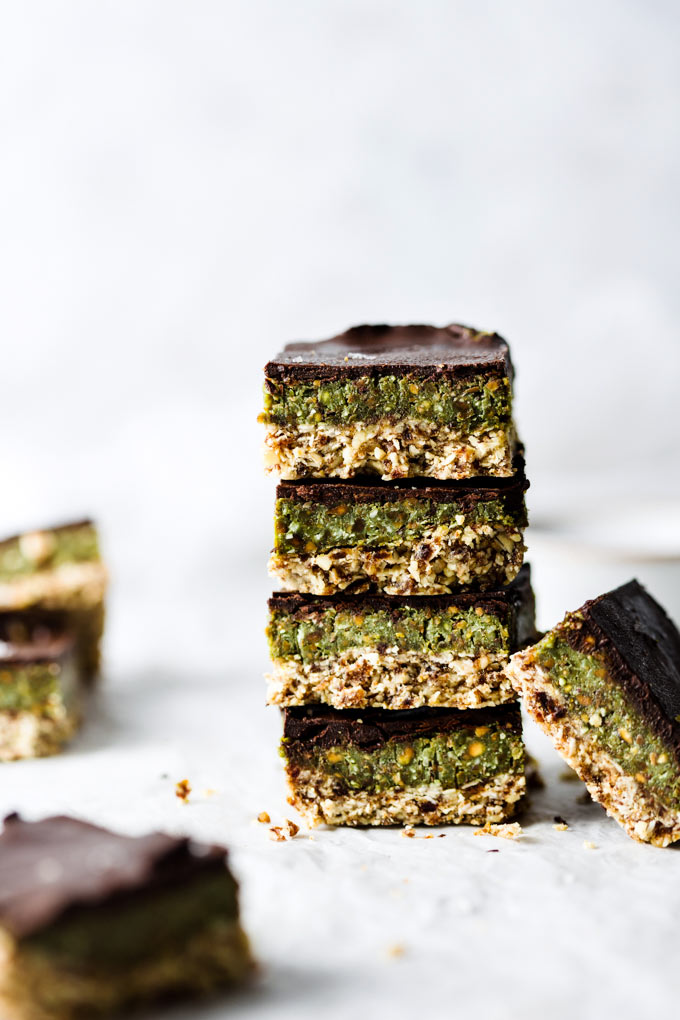 What are these pistachio bars made of?
These chocolate pistachio bars are mainly made of nuts, oats, and dates. You can see 3 layers in the pictures:
Nut-oat base at the bottom
Green pistachio layer in the middle
Dark chocolate on top
How to Make Chocolate Pistachio Bars
I know it might look a little bit complicated, but trust me it's really easy to make, as long as you got your hand on a food processor. (I put my often-used Kitchen tools in THIS PAGE.)
Basically, you just blend ingredients for the base first, press it down to a loaf tin. Freeze it. Then Blend the pistachio layer in the same food processor. Spread it on top of the base. Freeze again.
Finally, melt the chocolate with some cacao butter together and pour it onto the pistachio layer. Even it out. Done!
Easy, right? (Don't panic. There are step-by-step instructions down below.)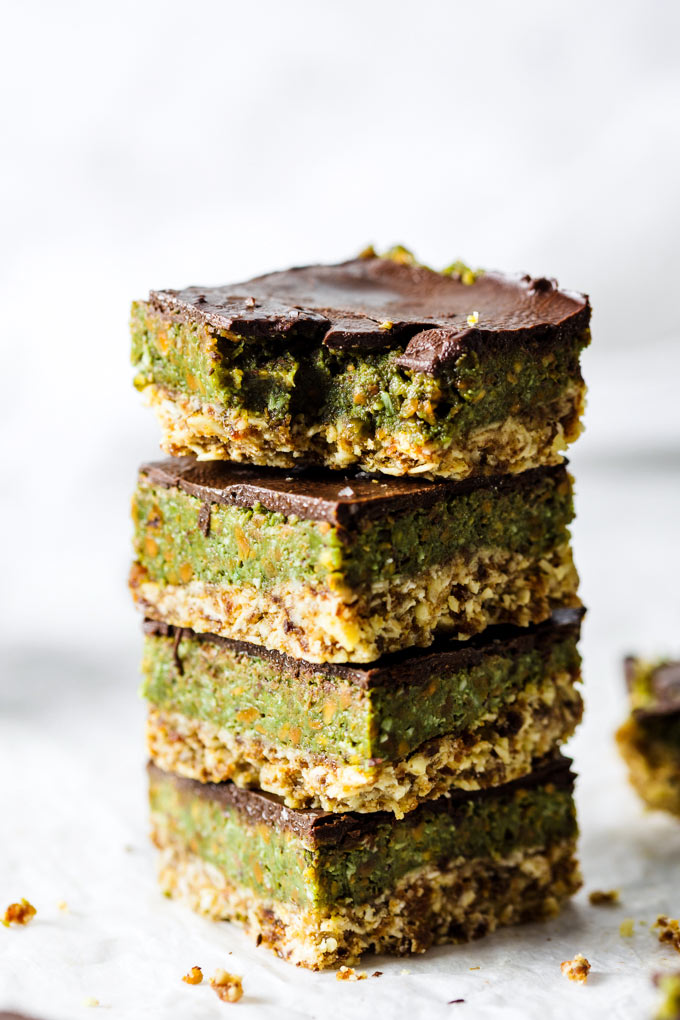 What's the taste and texture?
Because this is a no-bake recipe, these bars are not crunchy like biscuits. They are mainly soft but still got a lot of texture from the nuts and oats.
Plus, you can adjust the texture by adjusting the defrosting time. I personally love them to bit on the "harder" side, so I usually store them in the freezer and grab one bar out. Let it sit at room temperature for about 3~5 minutes and eat.
You can definitely taste the unique nutty flavor from the pistachio mixed with bittersweet dark chocolate and oats.
How to Store Chocolate Pistachio Bars
These bars need to be kept in the fridge. They will be fine for 5~7 days. If you want them to last longer, you can put them in a freezer-safe container or bag in the freezer for 2 weeks.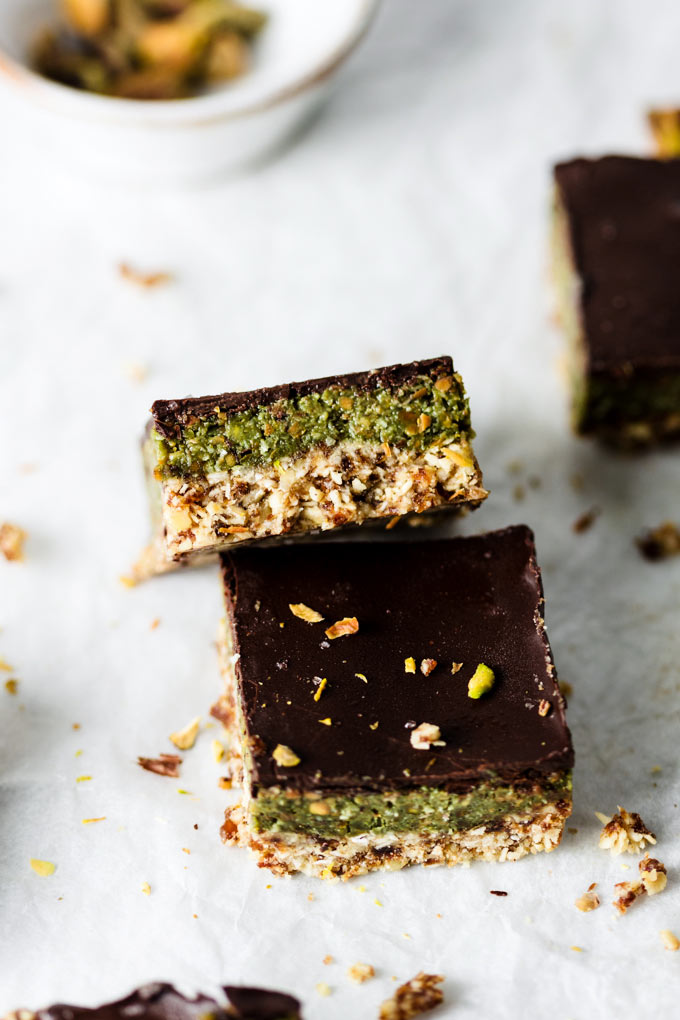 Questions You Might Have
Are there other substitutions for cacao butter?
Yes, you can use coconut oil to replace cacao butter. But if you could find cacao butter(surely food-grade), I would highly recommend you using cacao butter because it got a really great cacao aroma.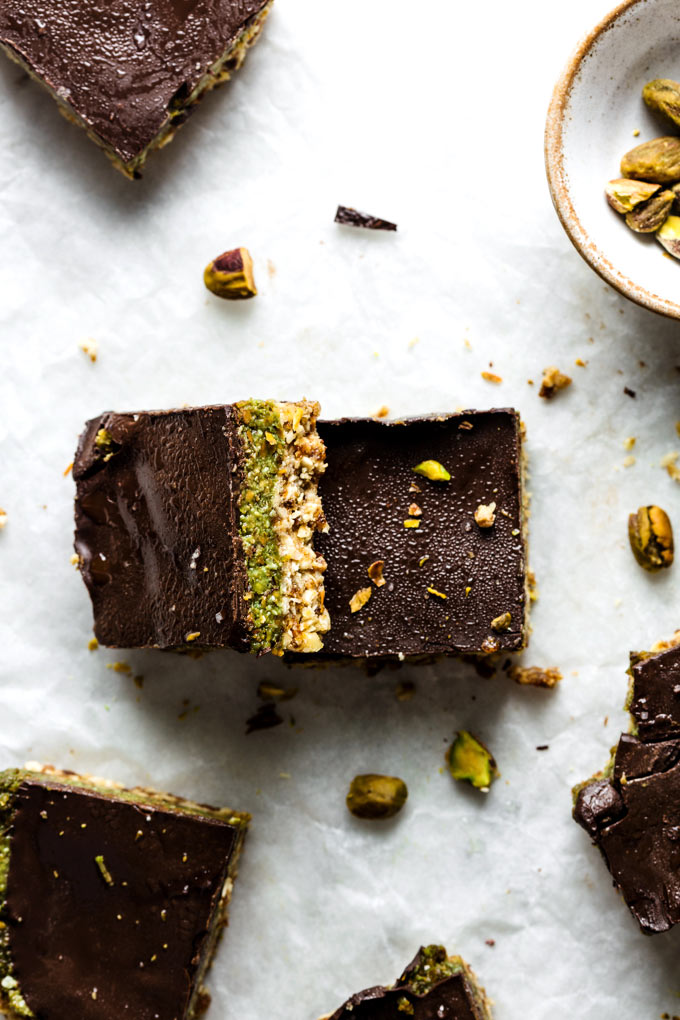 That's it! I hope you will love these vibrant-look chocolate pistachio bars as well! If you have any thoughts or questions, you can let me know by leaving a comment down below!
More Vegan Dessert Recipes:
Vegan Chocolate Pistachio Bars (No-bake)
Vibrant pistachio layer packed between a nutty oatmeal base and dark chocolate, these chocolate pistachio bars are perfect snacks/desserts for pistachio lovers!
Ingredients
Nutty Oat Base
60

g

pitted dates

,

1/3 cup

50

g

toasted walnuts

,

a scant 1/2 cup

60

g

rolled oats

,

2/3 cup

1

Tbsp

cacao butter,

melted*

1/4

tsp

pure vanilla extract
Pistachio layer
100

g

toasted pistachio

,

1/2 cup + 2 Tbsp

20

g

maple syrup

,

1 Tbsp

2

Tbsp

full-fat coconut milk

2

Tbsp

desiccated coconut

1/8

tsp

salt

1/8

tsp

spirulina powder,

optional but makes it looks greener
Instructions
Line an 8″ loaf pan with parchment paper.
To make the base:
Add the pitted dates to a food processor and chop them into small pieces.

Then add walnuts, rolled oats, melted cacao butter, and vanilla. Use pulse to chop them and bring them all together. The mixture should be able to stick together when pressed between your fingers. Otherwise, add 1~2 tsp water to help to bind. Stop and scrape down the sides if needed.

Transfer the mixture to the prepared loaf pan. Use a spatula or a spoon to press down the mixture into an even, single layer.

Place the pan in the freezer while we make the pistachio layer.
To make the pistachio layer:
Add the pistachio to the same processor and process until they are finely chopped.

Add the rest ingredients and process to bring all ingredients together.

Remove the pan from the freezer. Transfer the pistachio layer mixture into the pan and spread it out evenly.

Return the loaf pan to the freezer for another 3~4 hours until it's set.
To make the topping:
Add dark chocolate and cacao butter into a heatable bowl. Melt them over simmering water. Make sure the bottom of the bowl doesn't touch the water.

Mix to incorporate the melted chocolate and cacao butter. Then take out the pan from the freezer and pour the melted chocolate on top of the pistachio layer. Wiggle the pan to let the chocolate evenly cover all. In this step, you want to move fast because the chocolate will get harden quite quickly.

Let it sit for about 2 minutes. Then grab the parchment paper to lift it up to remove it from the pan. Use a sharp knife to cut them into 8 squares. You can eat them directly or you want them to be softer, let them defrost for 5 minutes. Enjoy!
---
Notes
*Cacao butter: If you don't have cacao butter, you can also use coconut oil instead. But cacao butter is better because it got a beautiful cacao flavor that makes these bars more chocolaty!
Adapted from Full of Plants