Read the post in:
繁體中文
This Vegan Cream Cheese Frosting is rich, creamy, but not dense with a secret ingredient in it. It works well as frosting and sauce for your favorite desserts. And I really don't miss the regular cream cheese at all!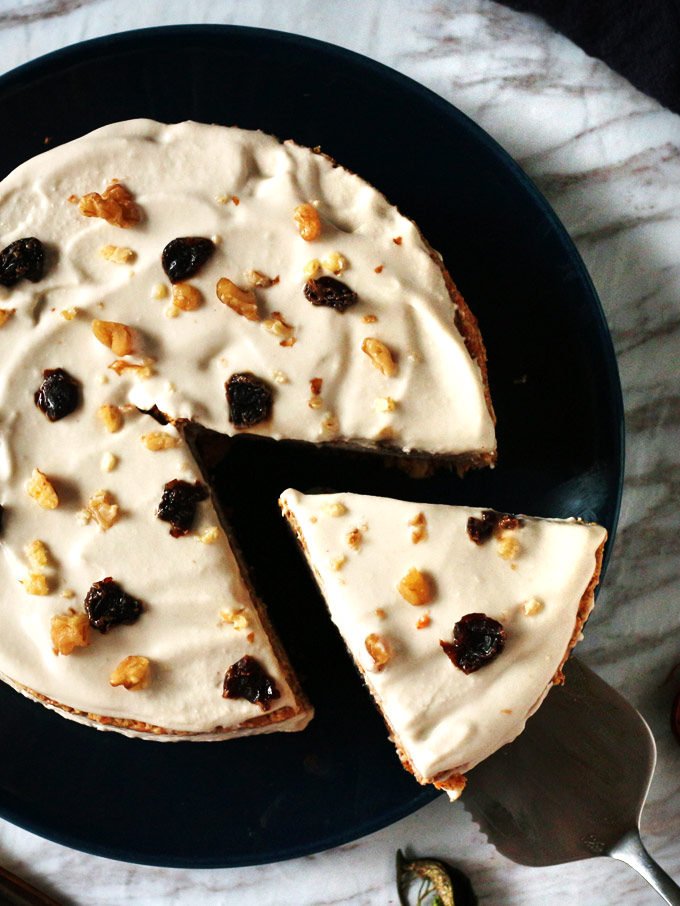 Vegan Cream Cheese Frosting
I used to be a sucker for cheesecake and cream cheese, that's why I had a hard time letting go of cheesecake when I just started transitioning to a vegan diet.
But the more I dig into vegan cooking, the more I find that we can really use plant-based ingredients to create delicious food as well, even to mimic the ones we used to love.
Here I'm going to share a delicious Vegan Cream Cheese recipe that is great for frosting as well as dipping.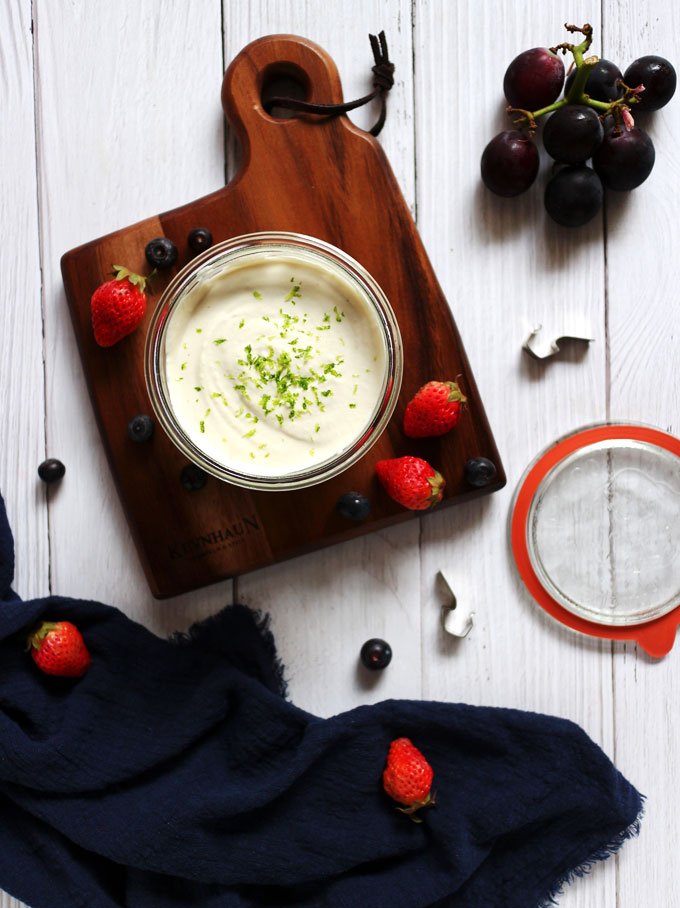 Let me tell you a short story behind this vegan cream cheese frosting first. (It's short, I promise.)
I was really craving for carrot cake for the past few weeks and would love to have some sauce to matcha it.
I googled a few carrot cake recipe (both vegan and non-vegan ones) and found that many people use cream cheese for the frosting.
So, here I am. (And I guess you too!)
Watch How to Make Vegan Cream Cheese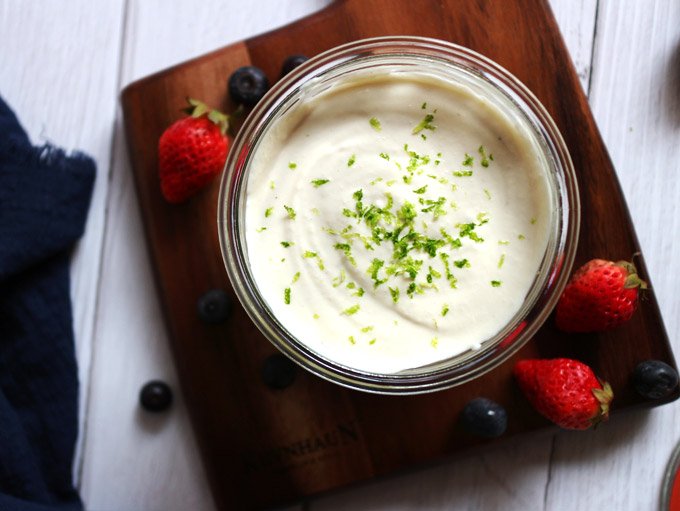 INGREDIENTS FOR VEGAN CREAM CHEESE FROSTING
This cream cheese frosting is vegan, meaning no egg, no dairy, no animal products in it. And I add a secret ingredient to make it more delighted as well.
Raw Cashews: Cashew is buttery white in color and they become really soft after soaking, which is perfect for blending. Make sure to use raw cashews for the smoothest texture.
Full-fat Coconut Milk: We need the fat in coconut milk to create a rich and creamy texture. The keyword is full-fat. Use the canned one, not the carton one.
Coconut Oil: it will make the cream cheese get more solid in the fridge. We need it to form our frosting.
Vanilla Extract: Add great flavor to the frosting. I want to say it's optional but every single time I try to omit it, the final product seems to miss something.
Silken Tofu: This is the secret ingredient I mentioned earlier. It might seem weird to put tofu into dessert recipe but trust me you won't taste it.
Maple Syrup: I love to use maple syrup because a) it's my favorite liquid sweetener and b) it really creates the flavor that I want in cream cheese.
Apple Cider Vinegar: We use it as a short route to gives a little tangy flavor to our vegan cream cheese because there no fermentation going on here.
HOW TO MAKE VEGAN CREAM CHEESE FROSTING
It's really simple and easy to make this vegan cream cheese frosting. All you need to do is:
Soak the cashews for 3-6 hours. Then drain them and give them a rinse.
Blend all the ingredients along with the cashews until smooth.
Place into the fridge to let it set up. Done.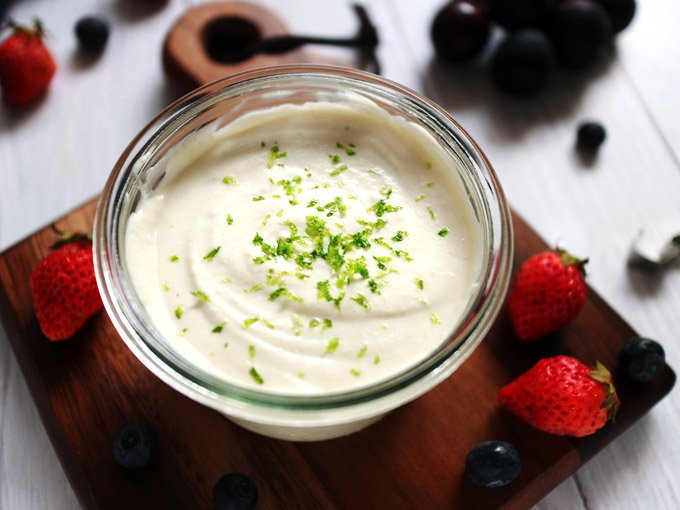 The whole process is simple but you do need some time to soak the cashews and let it set up in the fridge.
Sometimes I put it into the freezer and give it a whisk every 30 minutes to fast forward the pace.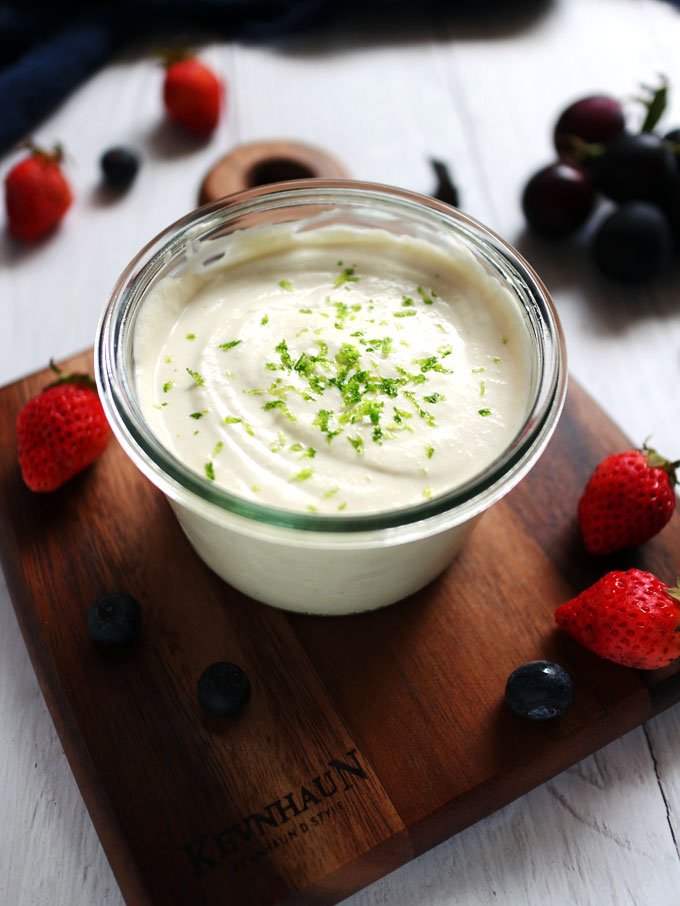 This vegan cream cheese is super smooth and creamy. The taste is rich but not heavy, thanks to the tofu.
I use it in my vegan carrot cake recipe and I have to say it's one of the best things I've tasted in this world, yet.
I even add more of this vegan cream cheese while enjoy the cake.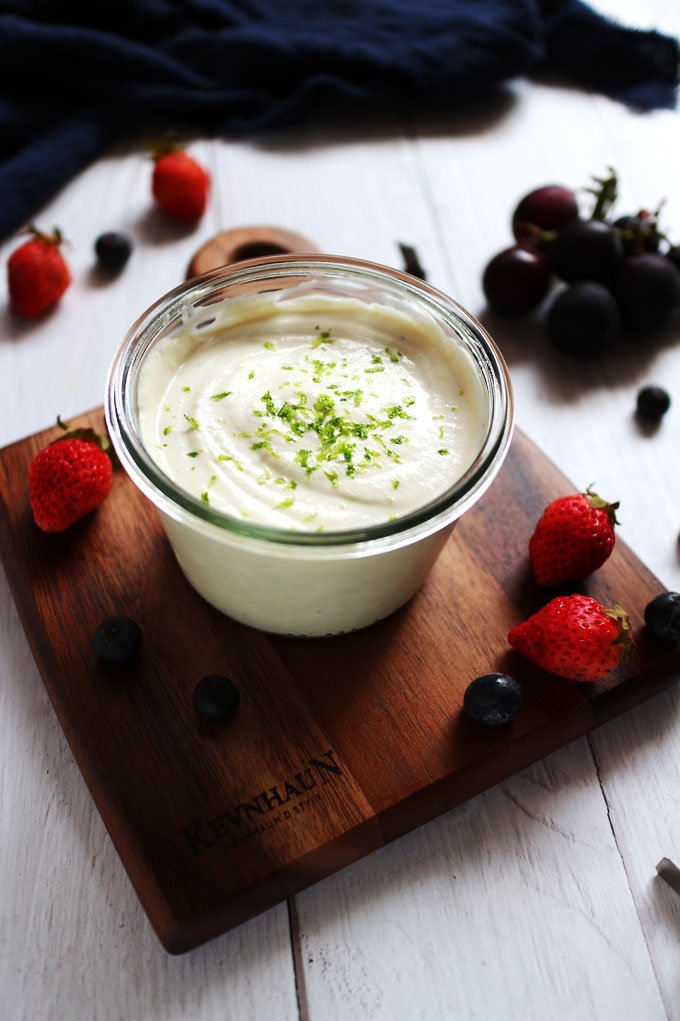 I hope you could give this vegan cream cheese a try and let me know how it went!
---
More vegan dessert recipes:
---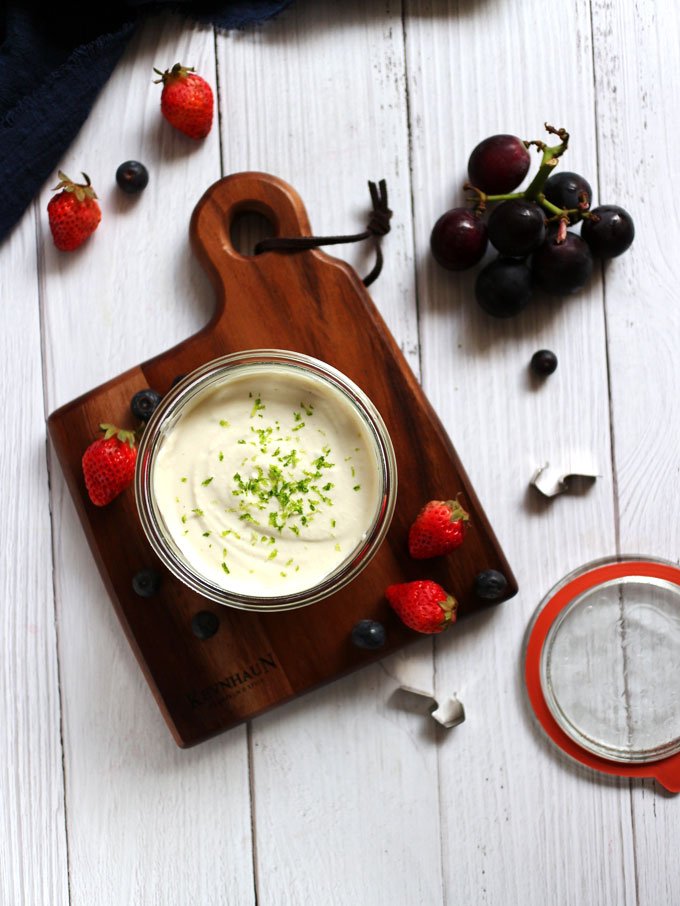 《How to make cream cheese (freezer version)》
Vegan Cashew Cream Cheese Frosting 全素腰果奶油乳酪糖霜
This Vegan Cream Cheese Frosting is rich, creamy, but not dense with a secrect ingredeint in it. It works well as frosting and sauce for your favorite desserts. And I really don't miss the regular cream cheese at all!
食材
70

g (a heaping 1/2 cup)

raw cashews 生腰果

,

soaked for 4-6 hours 浸泡於飲用水中 4-6 小時

4

Tbsp

full-fat coconut milk 全脂椰奶

4

Tbsp (1/4 cup)

water 飲用水

3

Tbsp + 1 tsp

coconut oil 椰子油,

melted

1

tsp

pure vanilla extract 純香草精

90

g

silken tofu 嫩豆腐

1

Tbsp

maple syrup 楓糖漿

1/4

tsp

apple cider vinegar 蘋果醋
作法
Drain the soaking water from the cashews and give them a rinse.

Pour the mixture into a freezer/fridge-safe container. Freeze for 20-30 minutes or refrigerate for 4-6 hours until it thickens into the frosting-thick texture.

Whisk the mixture until the consistency is even.
中文版
將混合物倒入可冷凍/冷藏的容器/密封罐中,置於冰箱冷凍 20-30 分鐘,或冷藏 4-6 小時,至整體質地變濃稠,

取出後再攪拌一下使質地均勻即可使用/享用
---
備註
Storage: Store the leftover in an air-tight container in the fridge for 4 -7 days or 1 month in the freezer Let it thaw for a while and blend it again in a food processor before using.
保存:密封冷藏保存,約可放 4- 7 天,冷凍 1 個月,使用前先解凍,再用食物處理機攪打混合一下即可