Read the post in:
繁體中文
Nutritious, chunky, and satisfying, these Vegan Cardamom Chia Oatmeal Cookies are packed with tons of nutrients and perfect as snacks or breakfasts!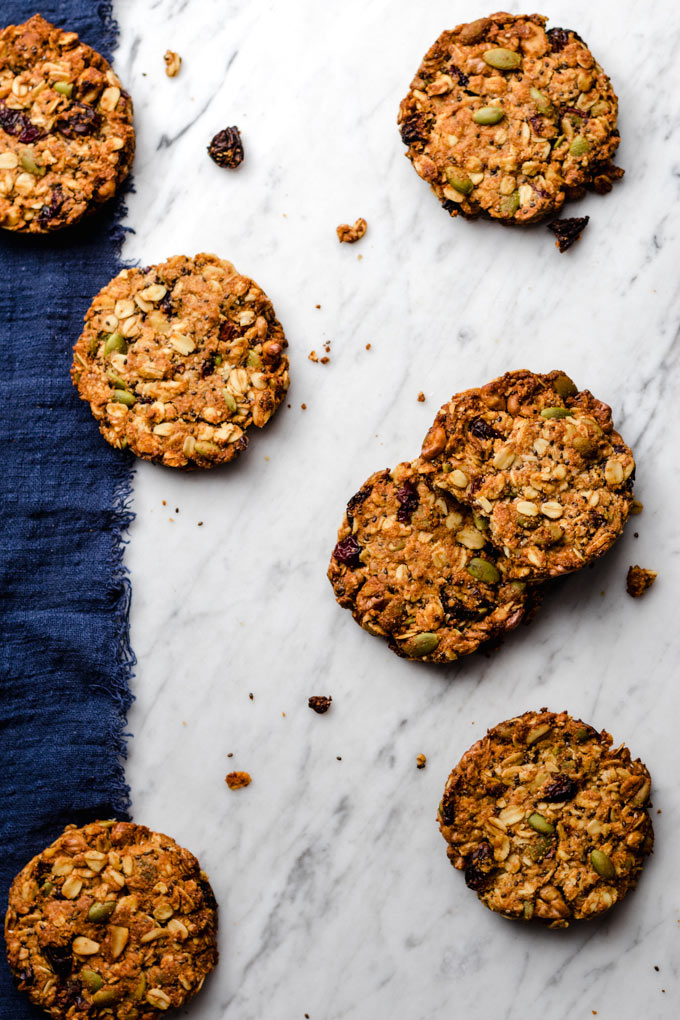 I love oatmeal cookies. I remember that when I saw the store-bought oatmeal cookies are on sale, I usually bought them without a second thought.
But things definitely changed after I started to bake my own cookies. I guess you might have heard me rambling how much I adore the Crunchy Oatmeal Cookies, yet still, I want to make something different.
And these vegan cardamom chia oatmeal cookies are definitely up to the next level, both texture-wise and nutritional-wise.
These cookies are inspired and adapted from Amy Chaplin's At Home in the Whole Food Kitchen. I was really intrigued by the ingredient – cardamom, which turns out to be one of my favorite spicy. I adjust the recipe to suit my taste and my budget and they turn out to be one of the most crunchy, delicious cookies I have ever made.
It's vegan, packed with oats, walnuts, pumpkin seeds, and dried fruits. I also added some chia to give them an extra texture (as if it's not enough) and nutrients like omega-3 and protein.
They are perfect as snacks or parts of the breakfast. I like to enjoy them after I finish my main breakfast as the perfect ending.
Ingredients You Need
Chia Seeds: Use the whole kind for the crunchiness.
Rolled Oats: They are the hero of these gorgeous cookies.
Spelt Flour or wholewheat flour: We need some flour for the "cookie" texture. I usually use whole wheat spelt flour, but whole wheat flour will work too.
Almond Meal: It gives out a crunchy texture for these cookies.
Baking Powder & Baking Soda: We need some leavening agent
Ground Cardamom & Cinnamon: Spices are magical! A little goes a long way.
Extra-virgin Coconut Oil & Olive Oil: Yes, we need both for the super crunchy texture.
Maple Syrup: It's my favorite liquid sweetener in the world!
Vanilla Extract & Salt: They are here to bring out more flavor from the cookies.
Dried Fruits: Here I'm using dried cranberries and golden raisins. You can use other dried fruits as well.
Pumpkin Seeds & Walnuts: Adding nuts and seeds is always a good idea, right?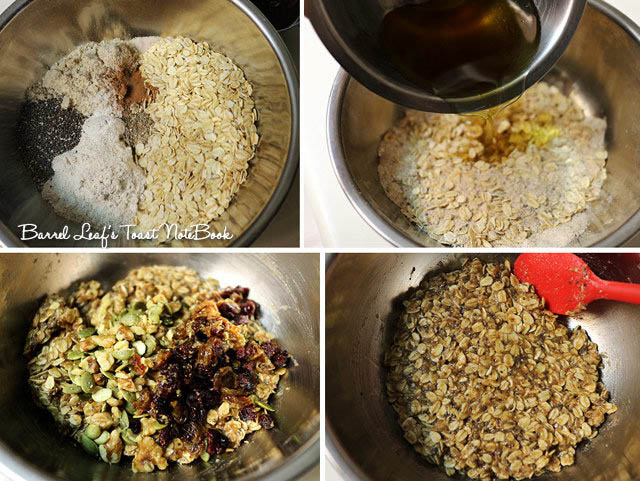 How to Make Cardamom Chia Oatmeal Cookies
It's quite easy to make these cookies. Basically you just do some mixing and scooping.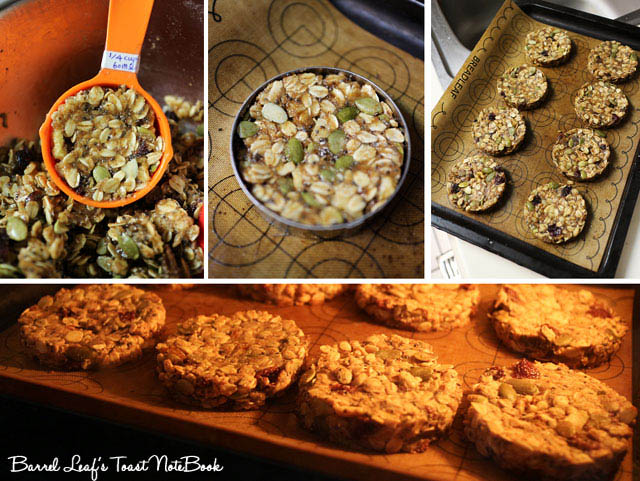 I use a mousse ring to help shape the cookies so they look pretty tidy and clean-edges. It's totally optional for sure.
In terms of baking, I like to bake them until they are golden brown, which usually takes about 20 minutes. The last step is to let them cool completely so they can "crunchy" up!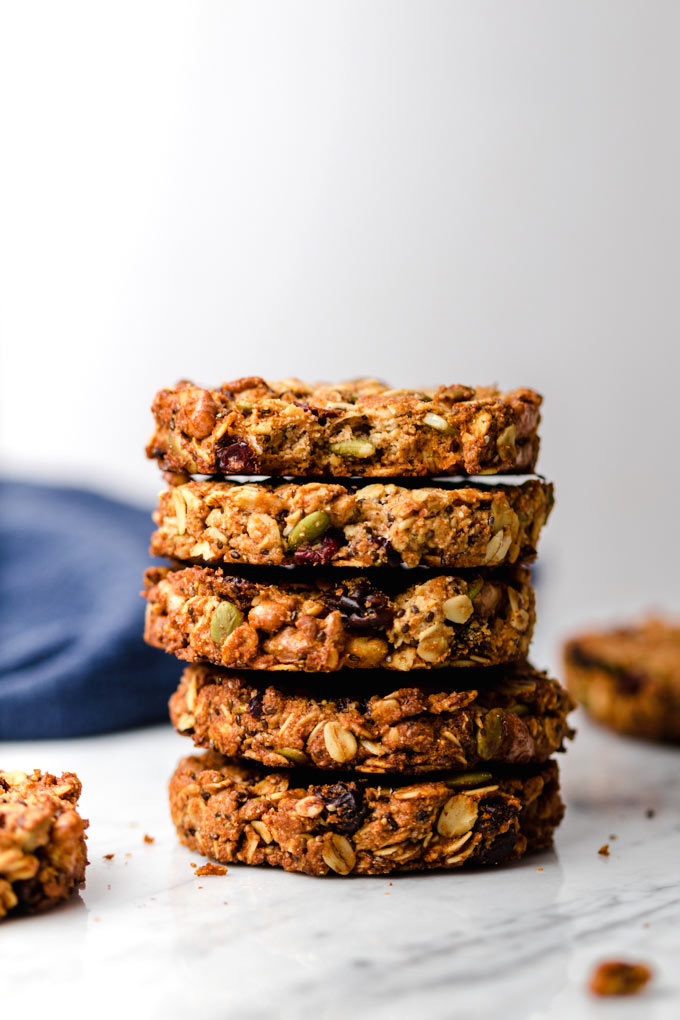 How to Store Cardamom Chia Oatmeal Cookies
These cookies can be in an air-tight container or jars at room temperature for aleast 2-3 weeks. I never let them stay in my house for that long, though.
This recipe makes about big 8 cookies. You can double the recipe if you want to make a bigger batch.
These cookies taste really amazing with the spicy taste from the cardamom and the out-of-this-world crunchiness. I've never tasted anything store-bought like these beauties.
I really really really love these chia oatmeal cookies and I hope you could give them a try! If you're hungry for more vegan cookies, check out:
Vegan Cardamom Chia Oatmeal Cookies
Nutritious, chunky, and satisfying, these Vegan Cardamom Chia Oatmeal Cookies are packed with tons of nutrients and perfect as snacks or breakfasts!
Ingredients
1

Tbsp

chia seeds

100

g (a slightly heaping cup)

rolled oats

60

g (1/2 cup)

spelt flour,

or whole wheat flour

37

g (a scant 1/2 cup)

almond meal

1/4

tsp

baking powder

1/2

tsp

ground cardamom

1/4

tsp

ground cinnamon

4

Tbsp (1/4 cup)

extra-virgin coconut oil,

melted if solid

2

Tbsp

extra-virgin olive oil

4

Tbsp

palm syrup or maple syrup

1/2

Tbsp

vanilla extract

1/4

tsp

pink salt

20

g (2 Tbs)

golden raisins

20

g (2 Tbs)

dried cranberries

35

g (3 Tbs)

pumpkin seeds

35

g (3 Tbs)

walnuts

,

chopped
Instructions
Soaked the dried fruits in 80 ml (1/3 cup) of water for 10 minutes. Then drained out the water (or you can drink it if you like :). Cut the soaked dried fruits into small pieces.

Preheat the oven to 175 C / 350 F. Line a baking sheet with a baking mat or parchment paper.

Add the chia seeds, rolled oats, spelt flour, almond meal, baking powder, cinnamon powder, and ground cardamom to a mixing bowl and roughly mix them together.

In another bowl, mix the coconut oil, olive oil, maple syrup, palm syrup, and salt together.

Pour the wet ingredients into the dry ones. Stir until all are well incorporated.

Add the chopped dried fruits, pumpkin seeds, and walnuts to the dough. Stir to combine.

Use a 1/4 cup to scoop the dough. Press the dough into the cup first, then drop it onto the baking mat. Place the dough into the 7-cm ring and use a spatula to flatten the dough. Lightly wet the spatula if you find the dough too sticky. Repeat with the remaining dough.

Bake at 175 c for 20-23 minutes until the edges look crispy and golden brown.

Leave the cookies in the oven for another 5-15 minutes. Then move them onto a wire rack to cool down.
---
Notes
Storage: Store the cookies in air-tight containers at room temperature for 2-3 weeks.
Adapted from At Home in the Whole Food Kitchen by Amy Chaplin