Read the post in:
繁體中文
These Vegan Brownies are rich but not dense and really amazing with the fluffy mousse-like frosting. It's also gluten-free and made with whole-food-based ingredients. The point is … they are delicious!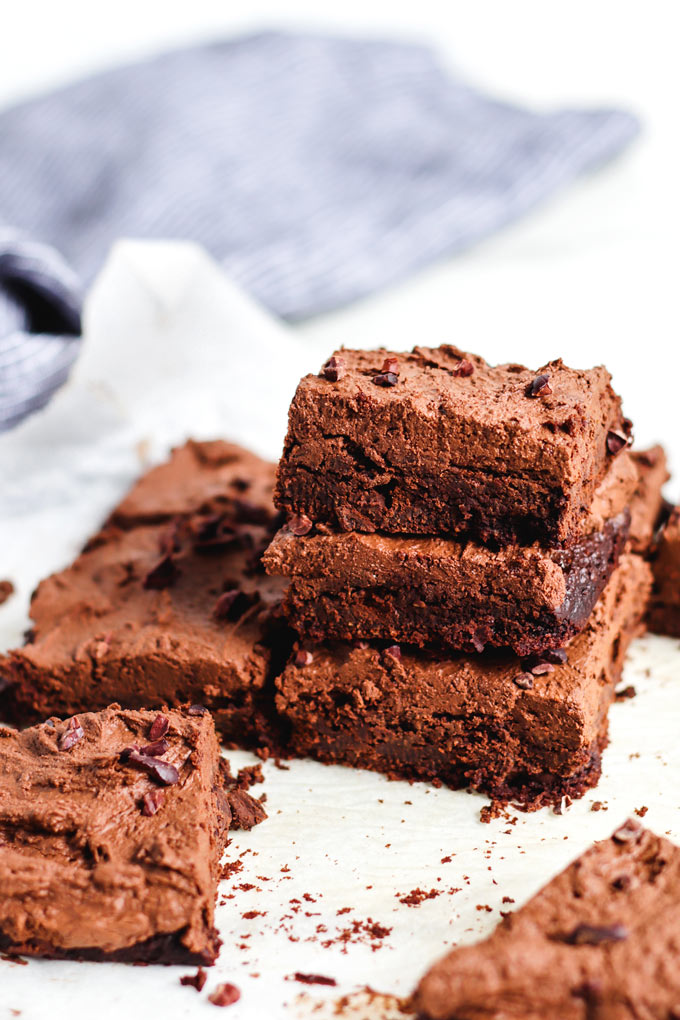 There're two things that I think I'll never get bored of making (and eating). One is granola, the other is chocolate brownies.
There's never too much chocolate brownie recipes. You agree, right?
I've shared quite a few chocolate brownie recipes using different ingredients like avocado, tofu, and black beans.
Then, you might think, is there any special ingredient in these brownies too?
I'll say there are different ingredients but not so special. But don't go away just yet cus they are seriously way too delicious to miss out.
I think there's nothing better than some rich vegan chocolate brownies with a layer of light chocolate mousse.
They are moist, chocolatey, and super delicious.
Watch How to Make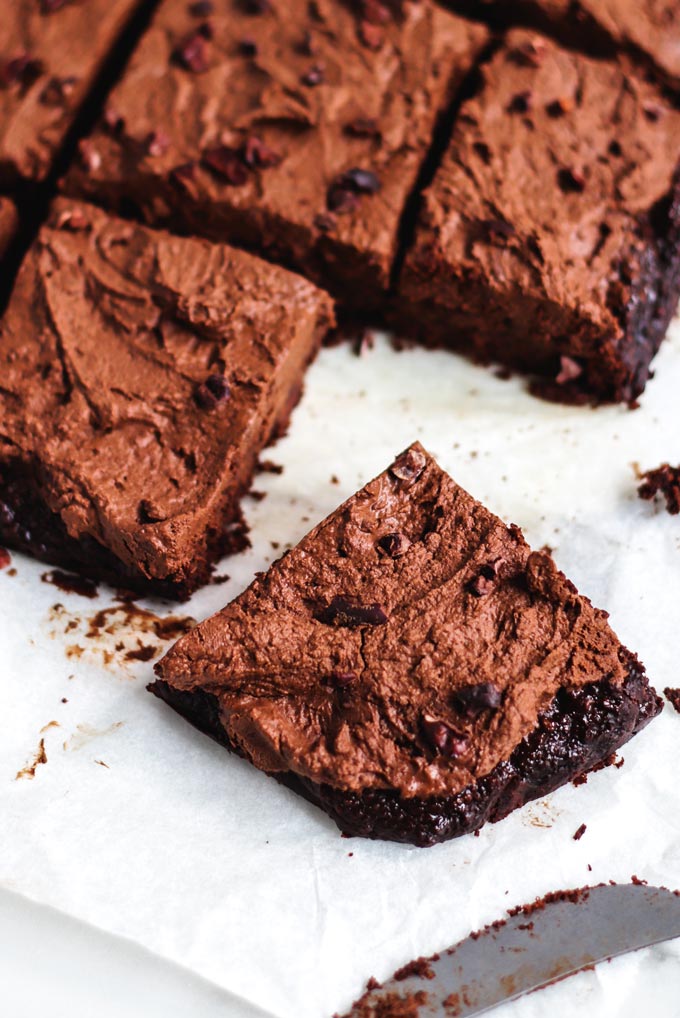 These brownies are super rich in chocolate flavor thanks to the real dark chocolate and coffee inside.
And these brownies probably are on the healthy-ish side since there's no butter or added oil. But there's still moist and fudgy, thanks to the applesauce and peanut butter.
Also, there's a layer of fluffy chocolate mousse on top. It not only creates extra texture but also strikes a perfect balance with the chocolate brownies.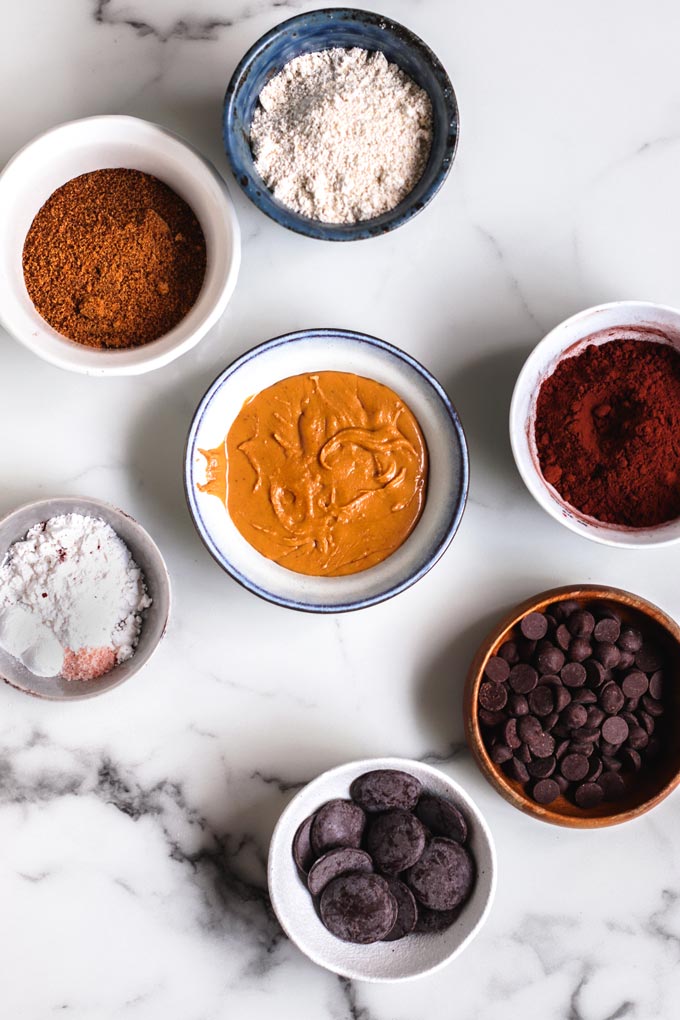 Ingredients for Chocolate Brownies
Dark Chocolate: We will use quite some dark chocolate to build up the rich chocolate flavor and fudgy texture. I recommend using the one with 70% cacao content, which will produce the right amount of pleasant sweetness and enchanting bitterness.
Strong Coffee & Vanilla Extract: They can enhance the overall chocolate flavor.
Oat Flour: Instead of regular wheat flour, we're going to use oat flour to give these brownies the right texture and make them more friendly to gluten-sensitive friends. (You might want to use the oats marked "gluten-free" like this one)
Arrowroot Starch: give some gooeyness to these brownies. You can also use tapioca flour if you don't have arrowroot starch at hand.
Unsweetened Cocoa Powder: provides even stronger chocolate flavor and makes these brownies look sexy. ( They are really sexy in my eyes)
Coconut Sugar: one of the sweeteners in this recipe. You can also use can sugar.
Baking Powder & Baking Soda: adds a little fluffy texture so it will be more pleasant to our mouth.
Peanut Butter: Enrich the overall texture. You can also use other nut butter or tahini for substitution.
Applesauce: It's really a good way to sneak in some natural fruit in baked goods and you won't taste it at all.
Plant Milk: To adjust the consistency of the brownie batter. You can use any kind of plant milk.
Dark Chocolate Chips: I wanted to say they are optional but I think you will miss out something extraordinary if you omit them. So, we need them in these brownies, so do our lives. (Vegan one for sure)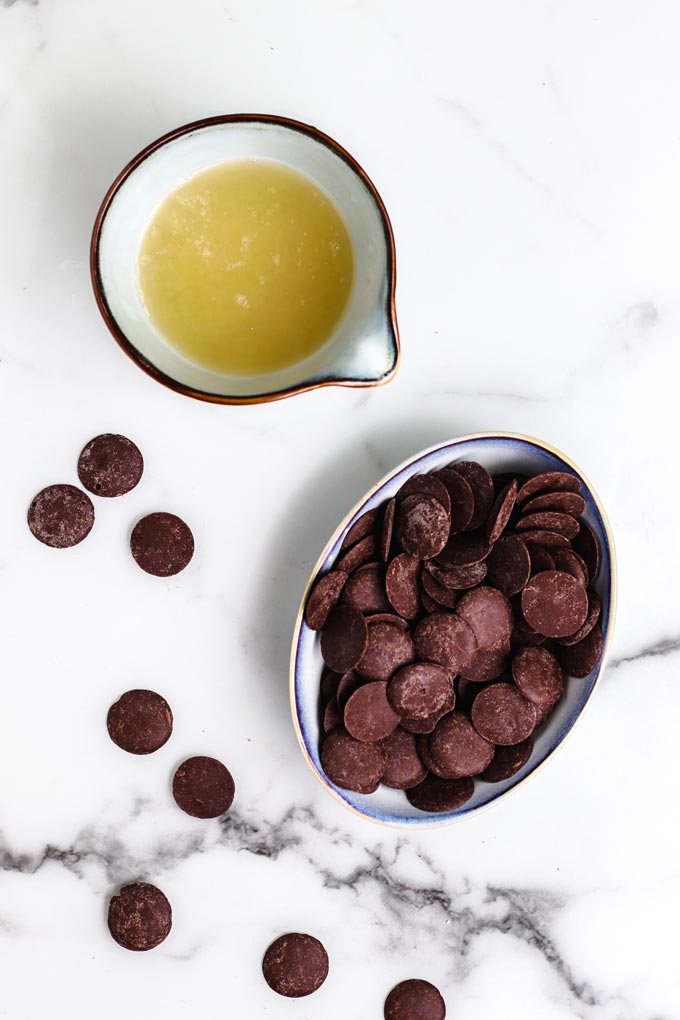 Ingredients for Vegan Chocolate Mousse
Dark Chocolate: Yes, chocolate again. We will make the chocolate-inside-out brownies. I'll say go for the 70% one as well to create the on-spot flavor.
Aquafaba: the secret ingredient for the chocolate mousse. You can just use the liquid from canned chickpea. I like to cook chickpeas by myself so I usually have tons of aquafaba left. The aquafaba is better to be cold for a better result.
How to Make Vegan Chocolate Brownies
It's really easy to make the chocolate brownies. You just need two bowls and a spatula to finish the batter.
Melt the chocolate with freshly brewed hot coffee. Set aside.
Mix the dry ingredients.
Add the peanut butter, vanilla, and applesauce to the chocolate-coffee bowl. Mix.
Add the wet mixture to the dry one. Stir in the dark chocolate chips.
Bake at 175 C / 350 F for 20 minutes. Let it cool a bit.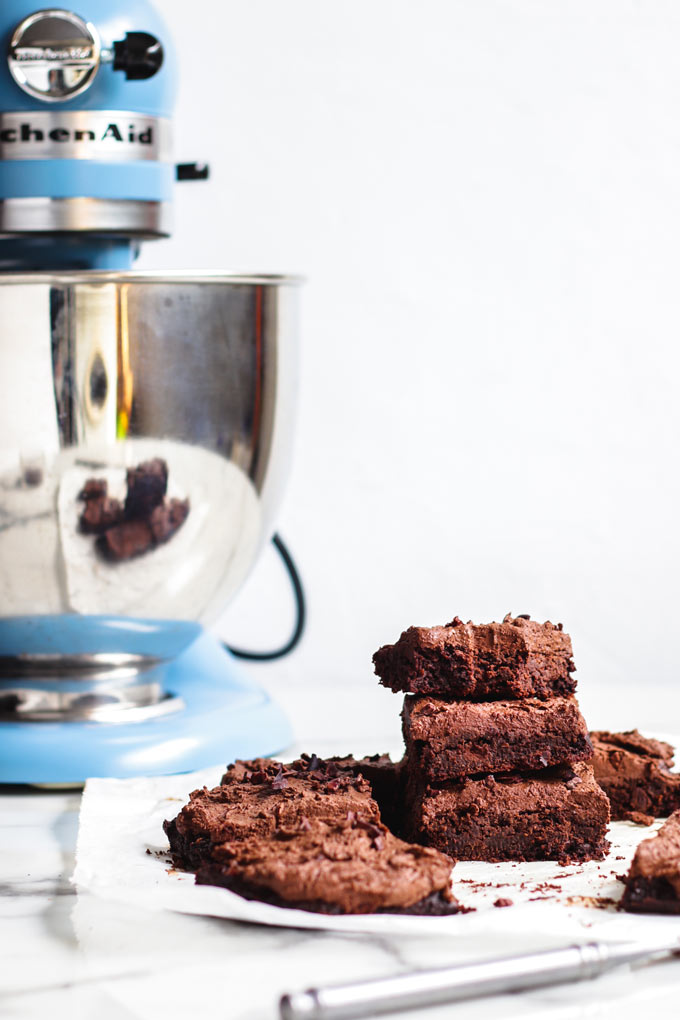 The mousse part is a little bit tricky because you need to pay attention to the details. You know, the devils are in the details.
Oh, and this time we need a stand mixer or a hand mixer to beat the aquafaba into a meringue-like thing. So it's better to make sure you got the machine at hand before you start.
How to Make Vegan Chocolate Mousse
Melt the dark chocolate by using a double boiler or in a microwave. Let it cool down a little.
Beat the aquafaba until it becomes foamy and gradually turns into a white mixture like whipped egg white.
Gradually add the melted chocolate to the whipped aquafaba.
When the mixture becomes a little bit liquidy, place the mixing bowl into the fridge to chill for 30 minutes.
Take out the bowl from the fridge and whisk again for about 30 seconds until it starts to get lighter in texture. Do not overmix.
Spread the chocolate mousse on the cooled brownies. EAT!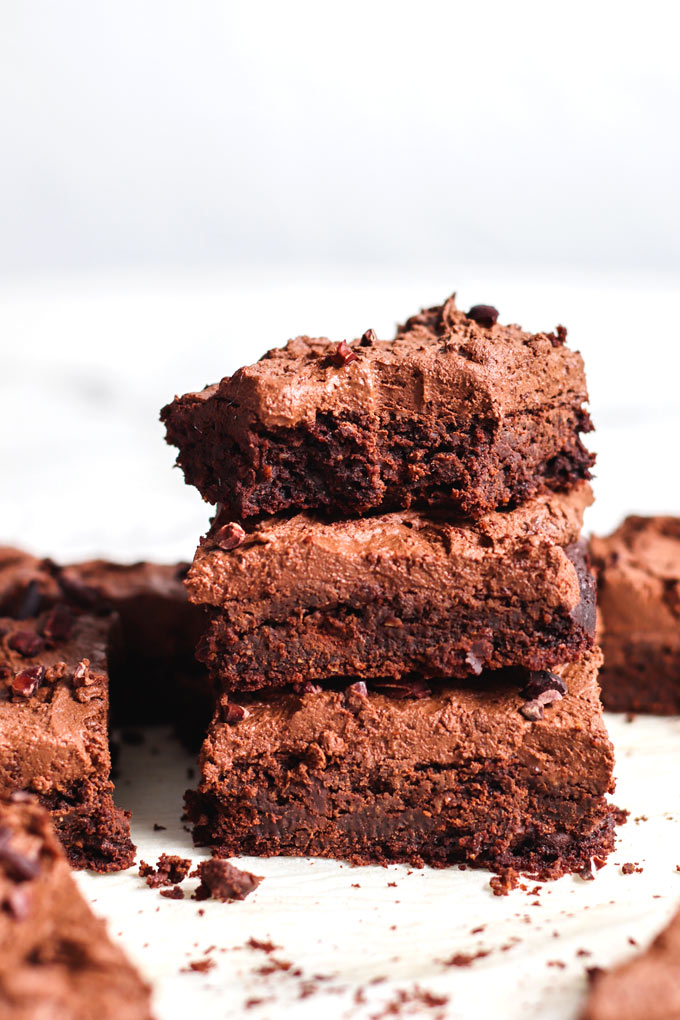 You can enjoy these brownies both warm or cold. The texture will be firmer when cold, softer, and moister when cold.
I like them either way. And you can choose based on the mood. (I do)
The rich chocolate flavor and fluffy chocolate mousse is everything I need in this chaotic and hectic world. (Seems like these brownies are turning me into a poet. Just kidding. 😎)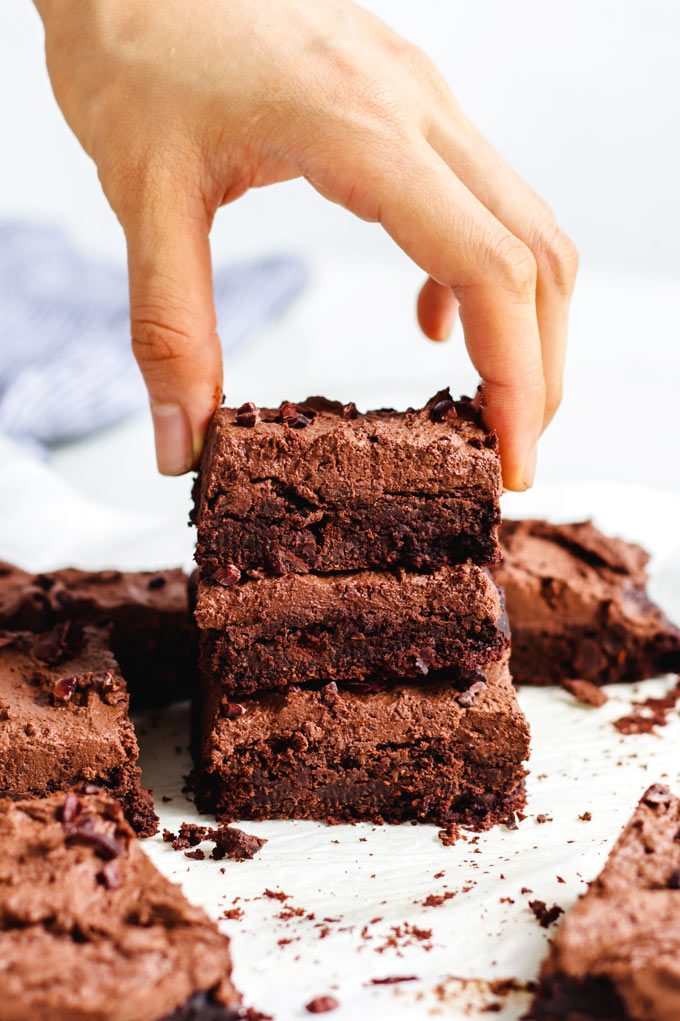 If you're a chocoholic like me, I hope you really give them a try and share your chocolate soul with me. 🙂
---
More Vegan Dessert recipes for you:
---
Vegan Brownies with Aquafaba Chocolate Mousse Frosting
These Vegan Brownies are rich but not dense and really amazing with the fluffy mousse-like frosting. It's also gluten-free and made with whole-food-based ingredients. The point is … they are delicious!
Ingredients
For brownies
40

g (1/4 cup)

70% dark chocolate

,

chopped finely

75

ml (1/4 cup + 1 Tbsp)

strong coffee

,

freshly brew

75

g (3/4 + 1/8 cup)

oat flour

, use gluten-free oat flour if sensitive

1

Tbsp

arrowroot starch

,

or tapioca starch

24

g (4 Tbsp)

unsweetened cocoa powder

40

g (3 heaping Tbsp)

coconut sugar

1/2

tsp

baking powder

1/4

tsp

baking soda

1/4

tsp

salt

60

g (4 Tbsp)

creamy peanut butter

60

g (4 Tbsp)

apple puree

2

tsp

vanilla extract

60

ml (1/4 cup)

plant milk

40

g

70% dark chocolate chips 
For aquafaba chocolate mousse
120

g (3/4 cup)

70% dark chocolate

,

chopped

120

ml

aquafaba

,

chickpea water preferably cold

A

pinch of

salt
Instructions
To make the brownies:
Preheat the oven to 175 C / 350 F. Line an 8×8″ square pan with parchment paper.

Place 40g chopped chocolate into a bowl. Add the hot coffee. Let it sit for a few minutes. Then stir to make sure all chocolate is melted. Set it aside to cool down a little bit.

In a mixing bowl, add the oat flour, arrowroot starch, cocoa powder, coconut sugar, baking powder, baking soda, and salt. Give them a mix.

To the chocolate/coffee mixture, add the peanut butter, applesauce, and vanilla extract. Stir them together.

Add the wet mixture to the dry one. Stir for a few seconds. Then add the plant milk. Mix until the consistency is even. The batter is pretty thick.

Finally, stir in the chocolate chips. Transfer the batter into the lined square pan. Spread the batter out evenly.

Bake for 20-22 minutes until the surface is firm to the touch. Remove from the oven and place on a wire rack to cool down.
To make the aquafaba frosting:
Melt the chocolate in a bowl over simmering water or in a microwave. Set it aside to it cool a bit.

Add the aquafaba to the bowl of a stand mixture (or use a hand mixer). Whisk for about 3-5 minutes until it becomes foamy. Then add a pinch of salt. Keep whisking.

As the stand mixture keep whisking, gradually add the melted chocolate, about 3 Tbsp at a time. Depending on the temperature, the mixture might be liquidy. Place the mixing bowl to the fridge for about 30 minutes to let it chill and set up a little.

Whisk again for about 1 minute until the mixture becomes fluffy and light. Make sure do not over-mix.

Spread the aqufaba frosting onto the brownies. Add additional toppings if you like. Slice and EAT!
---
Notes
Storage: Store in an air-tight container in the fridge for 4 days or 2 weeks in the freezer.
Adapted from The Little Plantation