Read the post in:
繁體中文
If you're wondering about "What is tempeh?" or "How to cook tempeh?", you're at the right place! In this article, we're going to learn almost everything about tempeh, from what it is, where to buy it, how to cook it, and different recipes to go with tempeh!
Have ever taste tempeh? If you're a vegan, or people who adopt a plant-based diet, you might have heard of tempeh because tempeh is a great substitution for meat.
The time I learned about tempeh is via online videos about 2 years ago, when I was just went vegan for a while. And then I found it in an Indonesian store in my neighborhood. I still remember how excited I was.
The flavor of tempeh is super unique. I remember the first time I tasted it is not quite as much as I had expected. But as I gave it the second try and tried different seasoning options, I really like it now.
I like to add tempeh to stir-fry, bake it, or pan-fry it for sandwiches or rice bowls.
This time I'm going to share what I've learned about tempeh and a delicious baked tempeh recipe. So, here we go!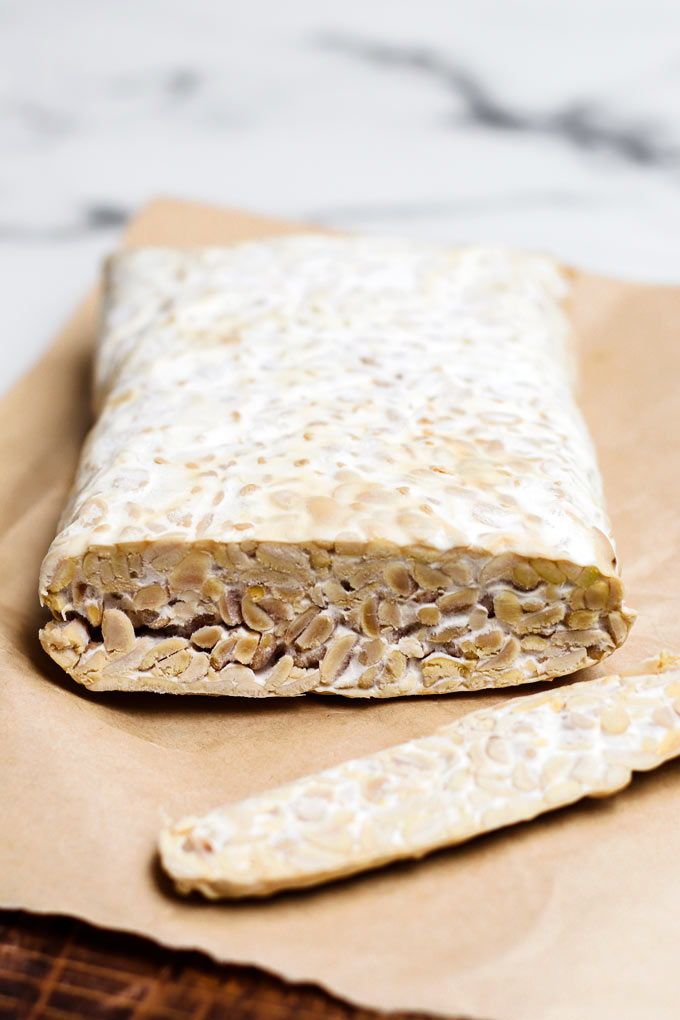 What Is Tempeh?
Tempeh is a traditional Indonesian food made from fermented soybeans with the help of a tempeh starter. It's a rectangle brick in snow-white color.
Like tofu also made from soybeans, tempeh is high in protein and fiber. It also contains a lot of nutrients, including some remarkable ones like calcium, magnesium, phosphorus, and iron.
It also contains some vitamins like Folate, Vitamin B12, and B6. Just give you an overall idea of the nutrient profile of tempeh:
A 100g serving of tempeh contains about (3):
Protein: 18.5 gram
Iron: 2.7 mg (15% of RDI)
Calcium: 111 mg (11% of RDI)
Magnesium: 1.3 mg (65% of RDI)
Phosphorus: 266 mg (27% of RDI)
Folate: 24.0 mcg (6% of RDI)
Vitamin B12: 0.1 mcg (1% of RDI)
Vitamin B6: 0.2 mg (11% RDI)
Just a little note: I don't usually check nutrition labels because it's easy to get addicted (and triggering for eating disorder) and overwhelmed with the information. But here I'm just really interested to know the overall nutrition profile of tempeh, not that I'm going to count how many tempeh I "should" consume.
Thanks to its high protein content and firm texture, tempeh is a great substitute for meat and dairy products in many dishes, like tempeh steak, tempeh bacon, and tempeh sandwiches.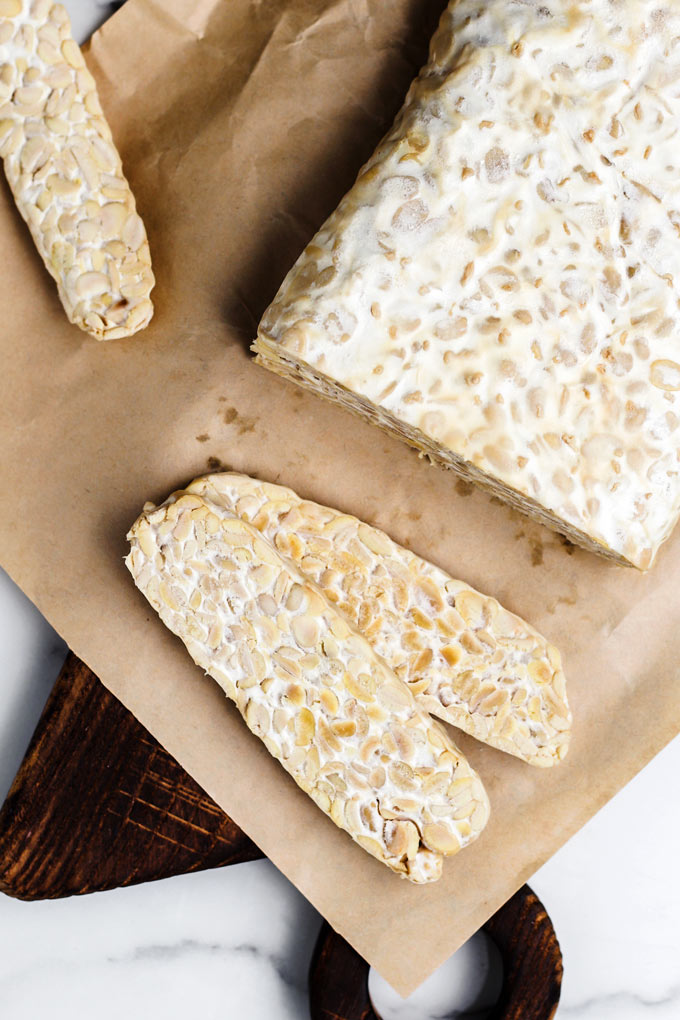 How Does Tempeh Taste Like?
Well, the flavor of tempeh is really hard to describe, and I think it also differs a little between different brands or manufacture. But for the purpose of sharing, here I'll share how it tastes to me.
Tempeh tastes pretty unique. In terms of flavor, it's a little bit nutty with a depth of fermented note. As for the texture, it's firm and a little bit chewy, which is totally depended on how you cook it.
I have to admit that I was not the biggest fan of tempeh when I first tasted it. It tasted pretty weird to me and I didn't very like it. I wasn't even sure if I would buy it again (true story).
However, after giving tempeh one more try, I found that it's actually not bad. Actually, with the right seasoning, it can be really delicious!
So just don't judge it on the first try because tempeh really has a huge potential to becoming your future staple or something you would like to eat from time to time.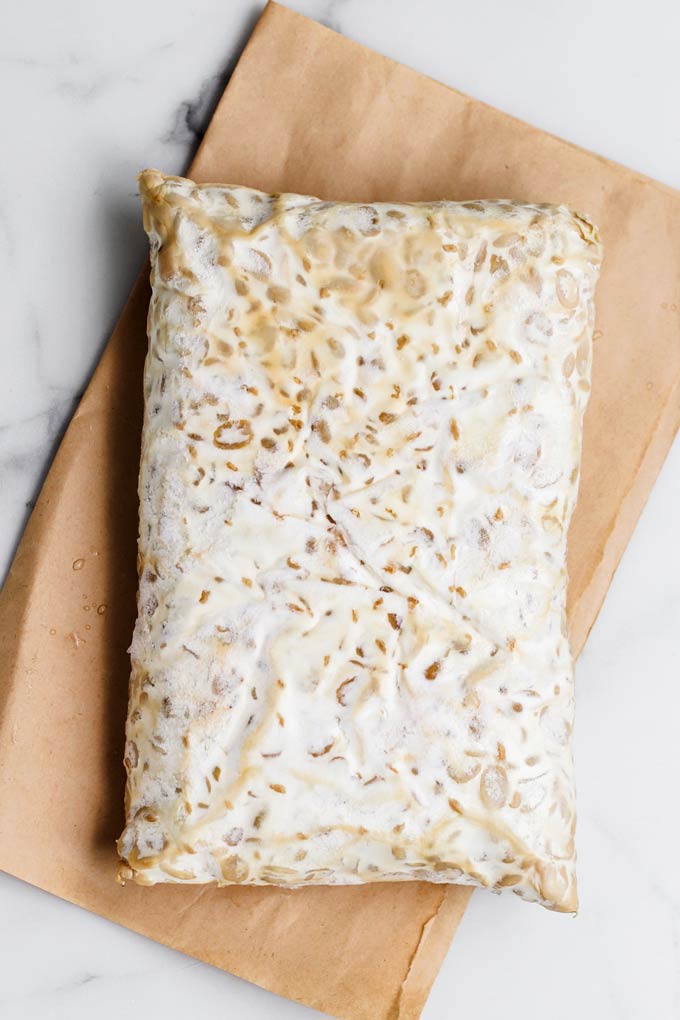 Where to Buy Tempeh?
Since tempeh is Indonesian food, it's a good idea to check out in Indonesian or Asain grocery shops. It should be stored in the fridge or freezer or just ask the shop owner directly.
The other option will be online shopping. But since tempeh needs to stay chilled, you probably want to order a certain amount to even out the shipping fee.
How to Cook Tempeh?
The easiest way to cook tempeh is baking. It's really easy because you don't have to worry about burning your pan or stay on its side all the time. Plus, it's super delicious with the caramelized flavor. Here is my go-to:
First, chop the tempeh into small cubes. I like to chop it into small cubes because they can stand on their own without overlapping one another.
Next, steam it (optional). If you want your tempeh more absorbent, steam it. But if I'm really lazy or busy, I skip this step.
Then, it's time to make the sauce and marinate. I like to use a combination of soy sauce, maple syrup, black pepper, and sesame oil or olive oil. Just mix all up and toss the tempeh cubes in the sauce. Let it marinate for 30-60 minutes. Flip them to evenly coat the cubes.
Last step: Bake it. There's two way to bake it. 1) with the sauce. 2) without the sauce. It depends on the sauce and your preference. For this recipe, I bake it with the sauce.

1) Bake with the sauce: Transfer the marinated tempeh and sauce to an oven-safe baking dish. Bake them in the oven at 175 C for 25-30 minutes. When done, the cubes should look dark brown and smell amazing.

2) Bake without the sauce: Pick up the marinated tempeh cubes and spread them on a baking sheet lined with a baking mat or parchment paper. Save the sauce. Bake them in the oven at 175 C for 15 minutes first. Then take the baking sheet out and brush each cube with the saved sauce. Bake for another 15-20 minutes. They should look charred on the edges.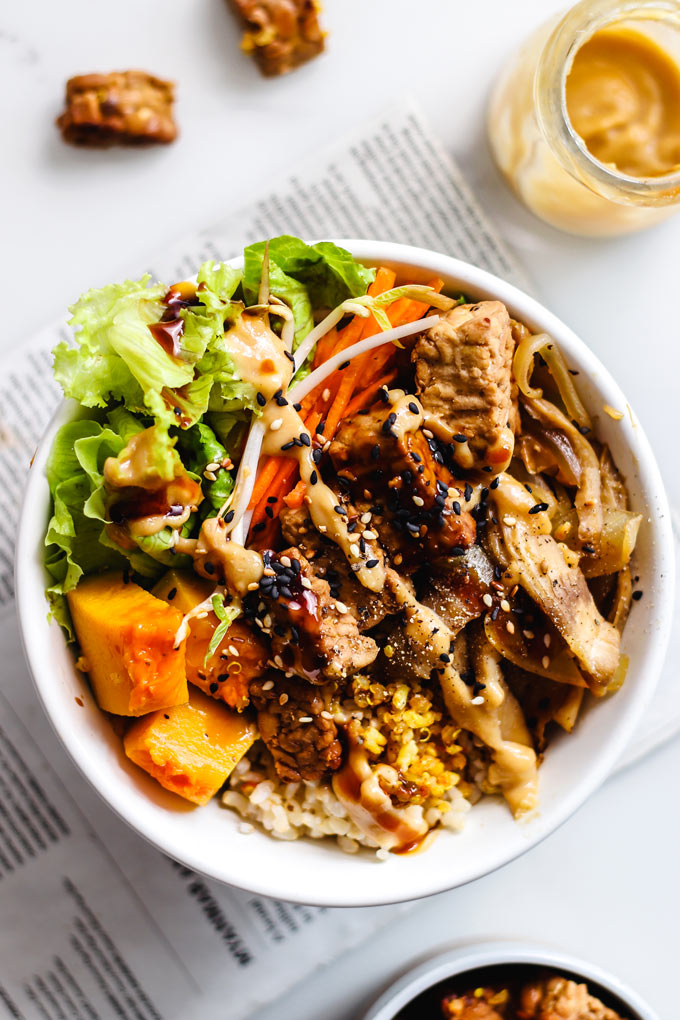 Recipes to Go with Baked Tempeh
Once you've made your baked tempeh, it's really simple to combine it into your meal. You can always serve it as a side dish to enrich your meal with the extra protein and flavor. Here's a few recipes that you can consider adding it:
How to Store Tempeh?
I know what you might think you could just pop it in the fridge and it will be fine. Unfortunately, that's not that simple because tempeh is not only unique in its flavor, but also in their "liveliness". By that, I mean the starter in it is still "alive," which makes it keep fermenting.
So here is the rule of thumb:
If you are going to cook it

within

2 days, store it in the

fridge.

If you are

not

going to cook it within 2 days, pop it in the

freezer

.
When you buy your tempeh, you should see the "Best before" tag on the package. If not, ask the owner.
Based on my experiences, the tempeh you buy directly from the shop should be fine in the fridge for another 1-2 days. But if you know you're not going to cook it in the following two days, put it into the freezer.
The reason for that is not that tempeh would go bad on the third day, but that tempeh will keep ferment even in the fridge. Hence, the taste will change. So if you know that you won't cook the tempeh in 2 days, put it in the freezer to stop the fermentation.
It will last for longer in the freezer, but I still suggest cooking it within one month. Why? because food (most of the time) is still best eating fresh.
As for the dishes you made with tempeh, the storage time will depend on the each dish due to different food combination.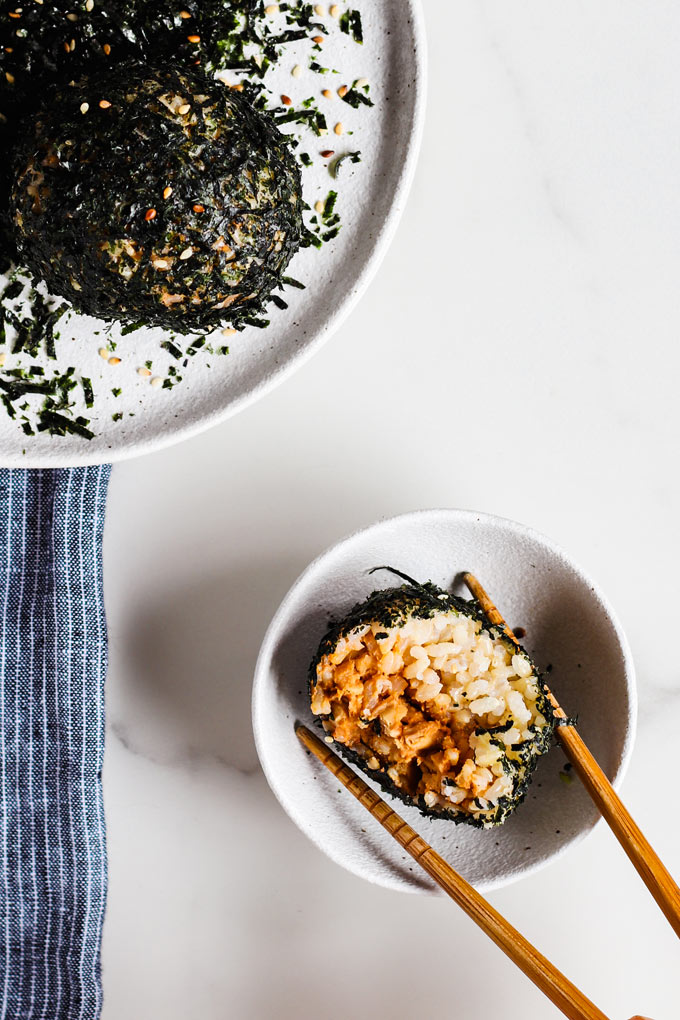 I hope this article is helpful or intriguing so that you might want to give tempeh a try.
If you're hungry for even more recipes, try the Spicy Tempeh Onigiri Rice Balls or Creamy Vegan Rosé Sauce Lentil Stew next!
Best Baked Tempeh
Nutty, sweet, salty, with the delicious, caramelized flavor, this baked tempeh is a perfect add-on for your buddha bowl or meal.
Ingredients
150

g

tempeh

1

Tbsp

maple syrup

2

Tbsp

low sodium soy sauce

Some

black pepper

1

tsp

sesame oil

,

or olive oil

A

hint of

tabasco

,

or sriracha sauce/other hot sauce, optional
Instructions
Preheat the oven to 175 C / 350 F.

Chop the tempeh into 1-inch sized small cubes.

In a baking dish, add the maple syrup, low sodium soy sauce, freshly ground black pepper, oil, and a hint of tabasco. Give it a mix.

Toss the tempeh cube in the sauce evenly.

Bake the tempeh for 25-30 minutes until the edges are a little charred and they are dark brown in color. Enjoy with warm rice or serve as a side dish
---
---
參考資料:
https://www.sciencedirect.com/topics/food-science/tempeh
https://core.ac.uk/download/pdf/159180596.pdf
https://www.healthline.com/nutrition/tempeh