This post is also available in: 繁體中文
With only 3 ingredients and a pressure cooker or rice cooker, you can make warming, cozy, and full of peanut flavor Taiwanese Sweet Peanut Soup!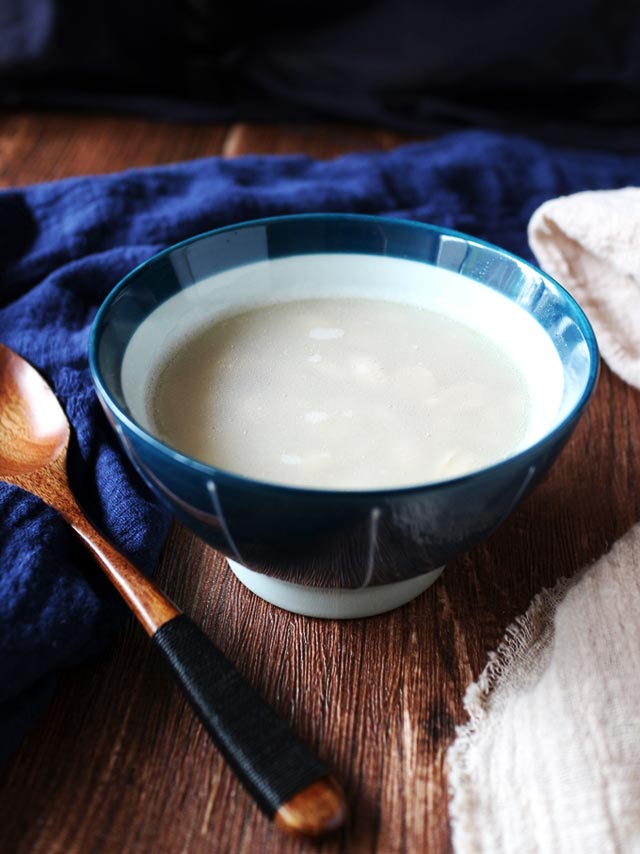 Homemade Sweet Peanut Soup
I was thinking that this winter might just pass without any cold days, then I heard that the forecast saying the temperature will drop down to almost 10 Celcius for the days to come. The first thing came to my mind was not getting a thick jacket, but preparing a warming Sweet Peanut Soup, seriously. Or maybe my subconsciousness just rose up. So, here we go.
Peanut has always been one of my favorite foods. Put peanut butter, which I love since I was a kid, aside, 99% of my douhua topping is stewed sweet peanuts. And I often bought sweet peanut soup from dessert shops.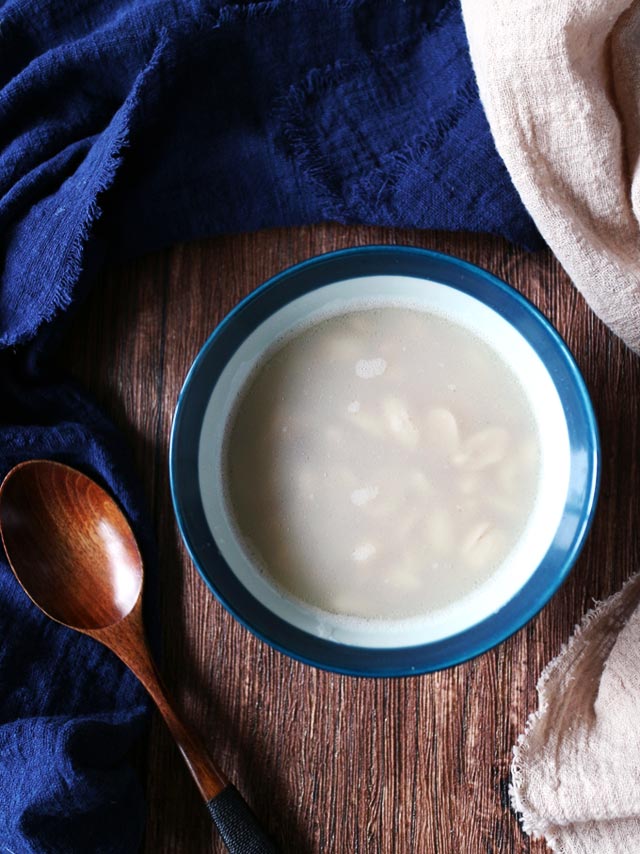 I had thought about making sweet peanut soup by myself before, but I didn't have a pressure cooker to make the peanuts soft enough. It's not until last month when I bought a pressure cooker that I finally cook my own sweet peanut soup.
Don't go if you don't have a pressure cooker just yet because I found the other ways to make the peanuts soft without a pressure cooker, with addtional two steps.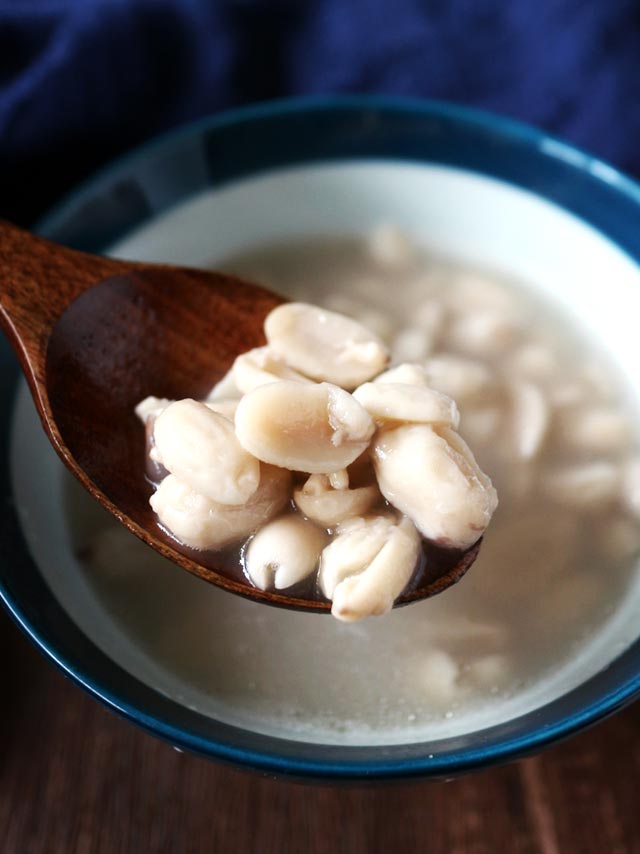 I love sweet peanut soup but I'm not a person who eats very sweet. Hence, I often find sweet soups in stores are too sweet for my liking. The benefit of homemade sweet soups is that you can adjust the sweetness according to your taste, as well as the choice of sugar. Personally, I like to use rock sugar.
To make Sweet Peanut Soup, you don't need many ingredients, just 3, actually. They are peanuts, water, and sugar. I personally like to add a pinch of salt to balance the sweetness.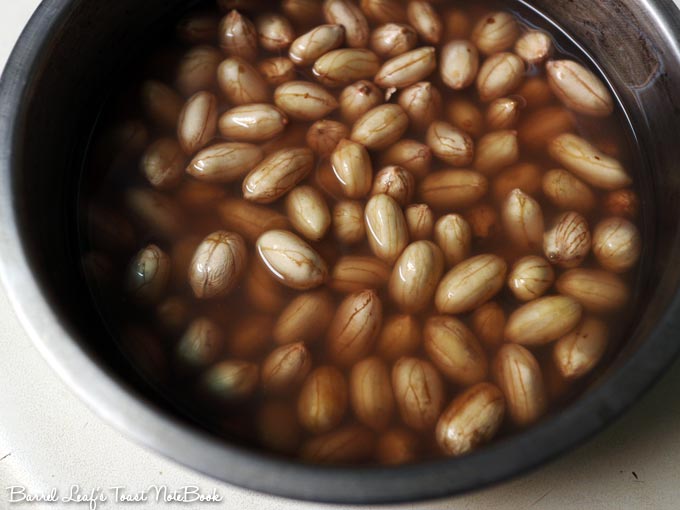 To make the peanuts soft – Step 1: Soak the peanuts in water for 6-8 hours ahead.
The first step is to soak the peanuts in water for 6-8 hours, which is similar to what I do before cooking beans or Azuki Bean Purple Rice Sweet Soup. This step is really simple but it takes time.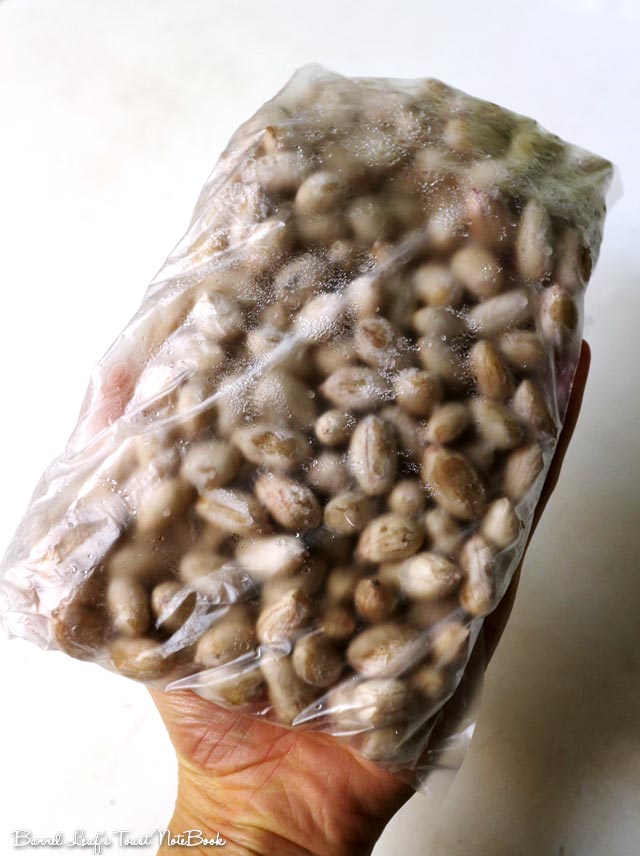 To make the peanuts soft – Step 2: Freeze the soaked peanuts for 3-4 hours.
After soaking the peanuts for 6-8 hours, drain out the water and freeze the peanuts in a bag for 3-4 hours. Like cooking rice porridge, this step is aiming to break down the inner structure of peanuts so they can be cooked through.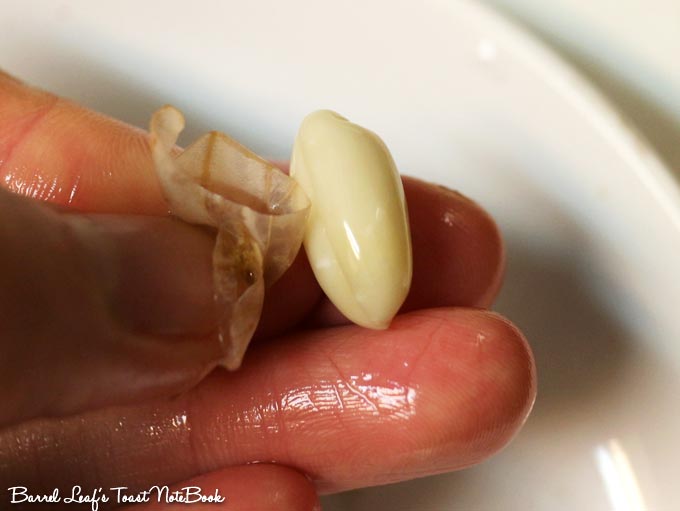 The most time-consuming step: Peel off the skins from the peanuts.
Yes, you heard me right. This step is the most tedious step of making soft peanut soups: Peel off the skin from the peanuts so we can have a more clean-white peanut soup in the end.
The skin can be easily peeled off after freezing, but it does take time to do it one by one.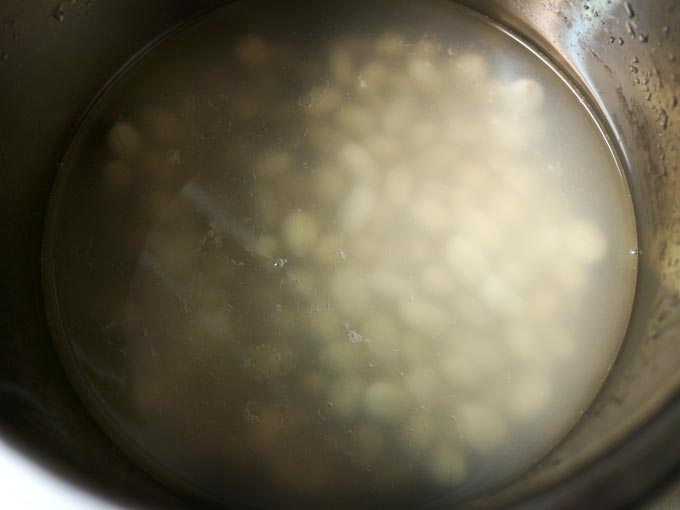 Cook the peanuts with water.
Then here comes the cooking part. If you have a pressure cooker, you can reduce the cooking time to 30 minutes. If you don't have any pressure cooker, you can also use a rice cooker, but it takes more time and energy to take care of. (I have written detailed steps in the recipe box down below.)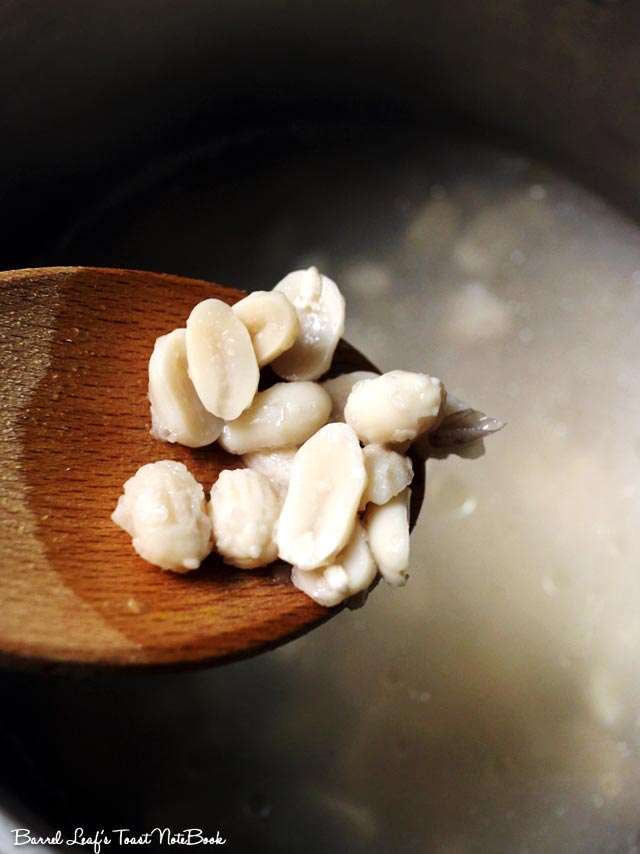 Use the pressure cooker to cook for 30 minutes, then let the pressure naturally release, which usually takes about 15-20 minutes. Then voila! We got our sweet soft peanut soup.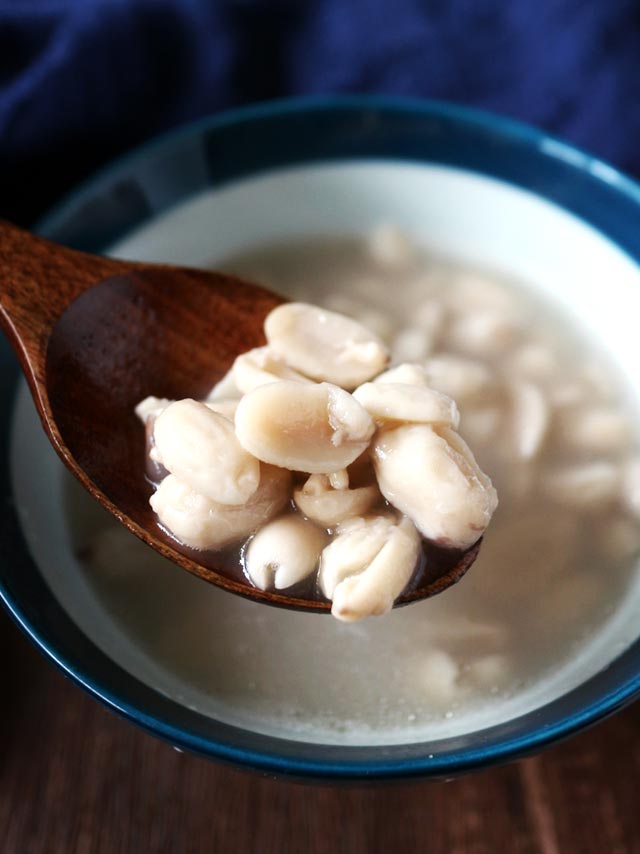 The sugar should be added after the peanuts are completely soft. I found that because the peanuts are naturally "nutty" and flavorful, it really doesn't need a lot of sugar to make this soup palatable.
Oh, and for the white speckles on the surface of the soup, don't worry, they are just the natural good fat released from the peanuts.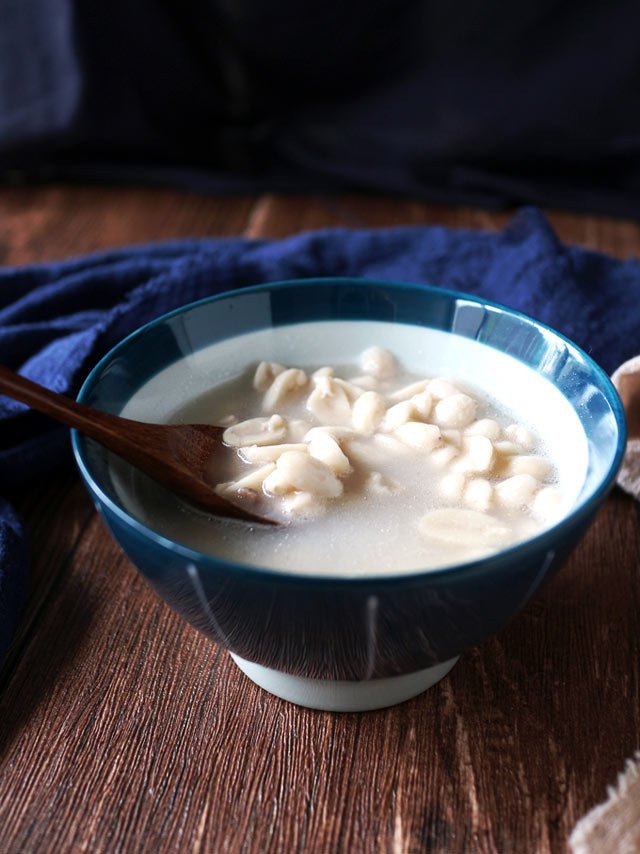 I really love a hot Sweet Peanut Soup in the cold days. It warms up my body and my soul. If you want to try more sweet warming soup, check out my beloved Black Sesame Soup and Red Bean Soup. Let's do it!
Pin it
Homemade Sweet Peanut Soup (3 ingredients)
With only 3 ingredients and a pressure cooker or rice cooker, you can make warming, cozy, and full of peanut flavor Taiwanese Sweet Peanut Soup!
Ingredients
270

ml

raw peanuts 生花生仁

,

1.5 米杯

630

ml

water 水

,

3.5 米杯,或依鍋子大小調整 or adjust the amount according to your pot.

A

pinch of

salt 鹽

4

Tbsp

rock sugar 冰糖

,

to taste, if you can, ground them ahead* 依個人口味添加, 我有事先將冰糖打成粉*
Instructions
將花生浸泡於水中 6 – 8 小時或隔夜

將浸泡過的花生濾掉水,放入盒子或用袋子包好,放入冷凍 3 – 4 小時

將冷凍花生取出倒入壓力鍋中,加入水,待花生稍解凍後,剝掉花生仁外層的皮 (泡水再加冷凍過後會很好剝)

再將 1 小撮鹽加入花生水中,用壓力鍋加壓煮 25 – 30 分鐘,或至花生仁軟透;若使用電鍋,將花生仁與水放入內鍋,外鍋放 1.5 杯水,待電鍋跳起後不開蓋,悶 1 小時,若覺得不夠軟就再煮一次

待花生軟透後,依個人口味添加適量糖即可享用
English Version
Soak the peanut for 6 – 8 hours or overnight.

Drain out the water from the peanut. Place them in a freezer-safe container or a bag. Freeze for 3 – 4 hours.

Transfer the peanuts into a pressure cooker along with the water. Wait for a while to let the peanut defrost. Then peel their skin off. (It should be easy because of the soaking and freezing process.)

Add a pinch of salt to the peanuts. Cook for 25 – 30 minutes or until the peanuts is soft. If you're using rice cooker (this kind like I have), add 180 ml water to the outer pot to cook, and let the peanut soup stay in the cooker for another hour once the cooker is done. If you still find the peanut not soft enough, repeat the same cooking process.

Once the peanuts are soft, add sugar to taste. Enjoy.
---
Notes
*冰糖大顆較不易溶,我大多會事先用調理機打成粉再添加
保存:剩餘的密封冷藏保存,約可放 3 天,冷凍 2 星期
*Rock sugar is comparatively hard to dissolve, so I usually grind them in my blender before adding them to my dish.
Storage: Store the leftover in the fridge for 3 days or 2 weeks in the freezer.
Note: This page contains affiliate links, which support me with a small commission to produce more great content on this site at no additional cost to you. You could go to the Disclosure Policy Page for more information. You can also directly support us on Patreon. Thank you for reading and supporting.
註:此頁含聯盟連結,透過此連結下單,能撥出少許金額支持本站創作,對您來說並無任何額外支出。也可透過 Patreon 獲得更多獨家內容與提供實質的支持。謝謝你們!
---