Read the post in:
繁體中文
This year's Christmas is coming and I'm thinking about creating something sweet to go hand in hand with the holiday vibes. The thing is … this Open-face Apple Pie. But it's not an average apple pie. It's vegan and made with an oaty, crumbly crust that I'm sure I will make again and again.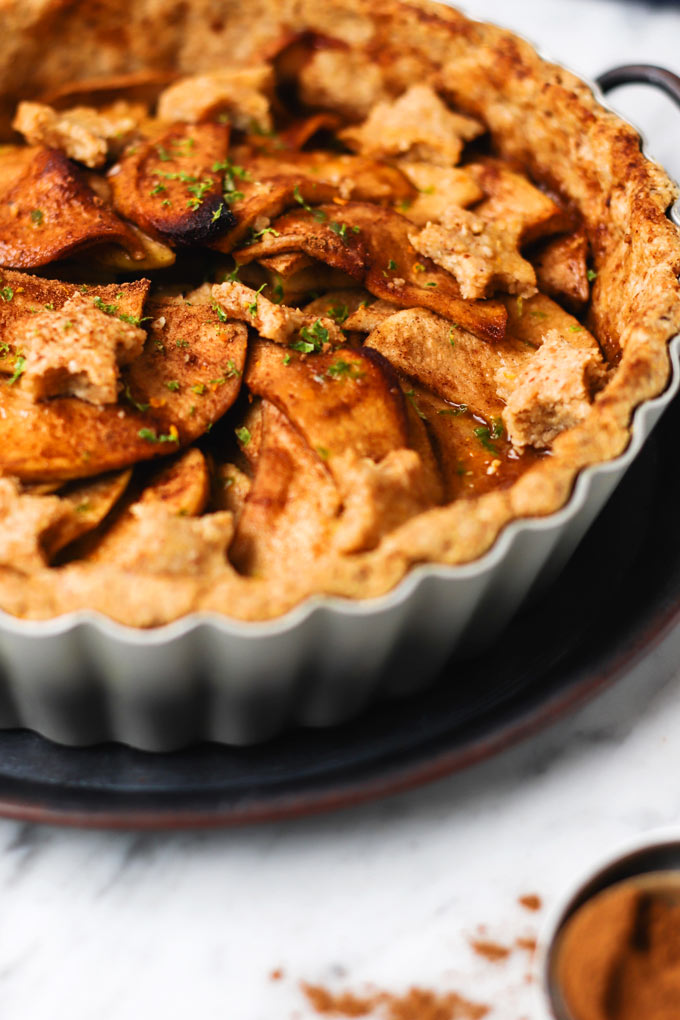 Open-face Apple Pie with Oat Crust (Vegan, Gluten-free)
I think that I've mentioned before that I adore baked apples really much, right? Well, anyway, I'll say it again because baked apples are one of my favorite things in the world, I mean, besides chocolate and nut butter.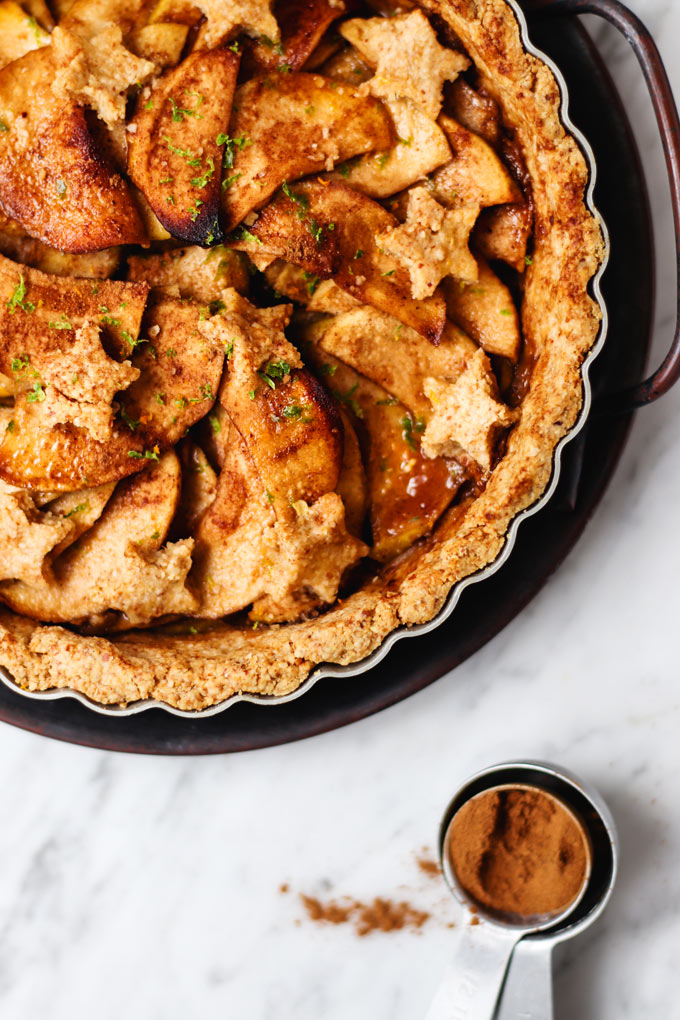 I'm not sure why Christmas makes me think of apple pie. Maybe it's the red color of apples, or I just want a darn apple pie. (And later, I realized that I took the inspiration from mince pie, but I really love apple more than dried fruits, so.)
Anyway, I want to make it look festive, so here it is ─ an Open-face Apple Pie with cute stars on top. The cute "stars" on top are made from leftover crust dough and it's definitely a good way to cut down the waste.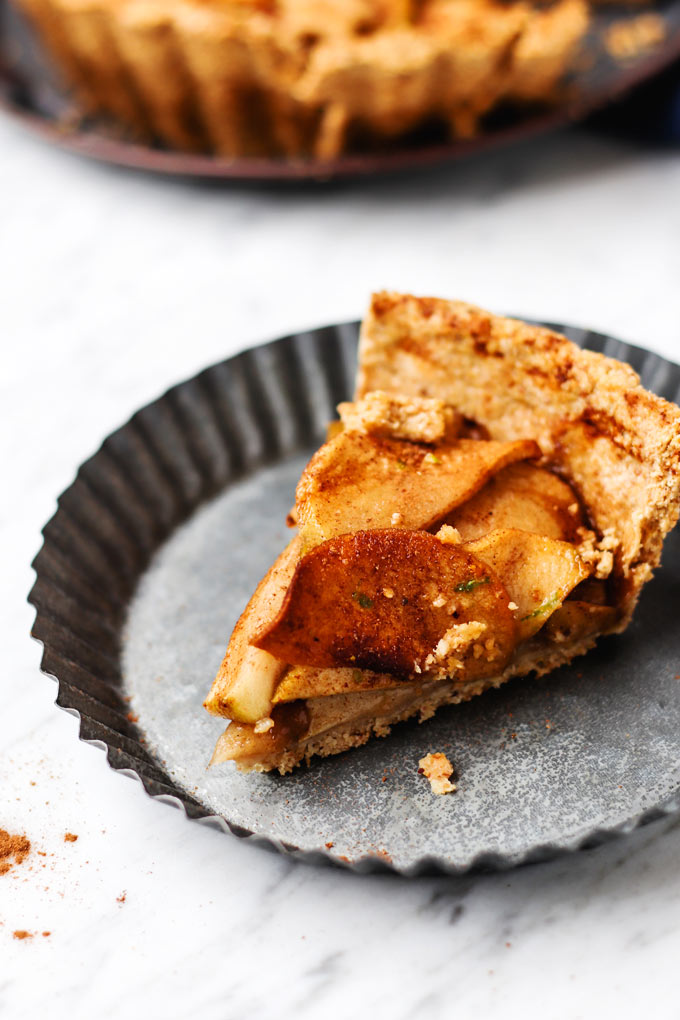 This open-face apple pie is pretty bold and simple, consisting of only 2 parts: an oat crust and layered apples.
I use the 3 Granny Smith apples I had at hand for this 7-inch apple pie. The green apples give this apple pie a tart undertone. You can use regular apples as well, but you might want to taste and add some lemon juice along the way to create more depth in flavor.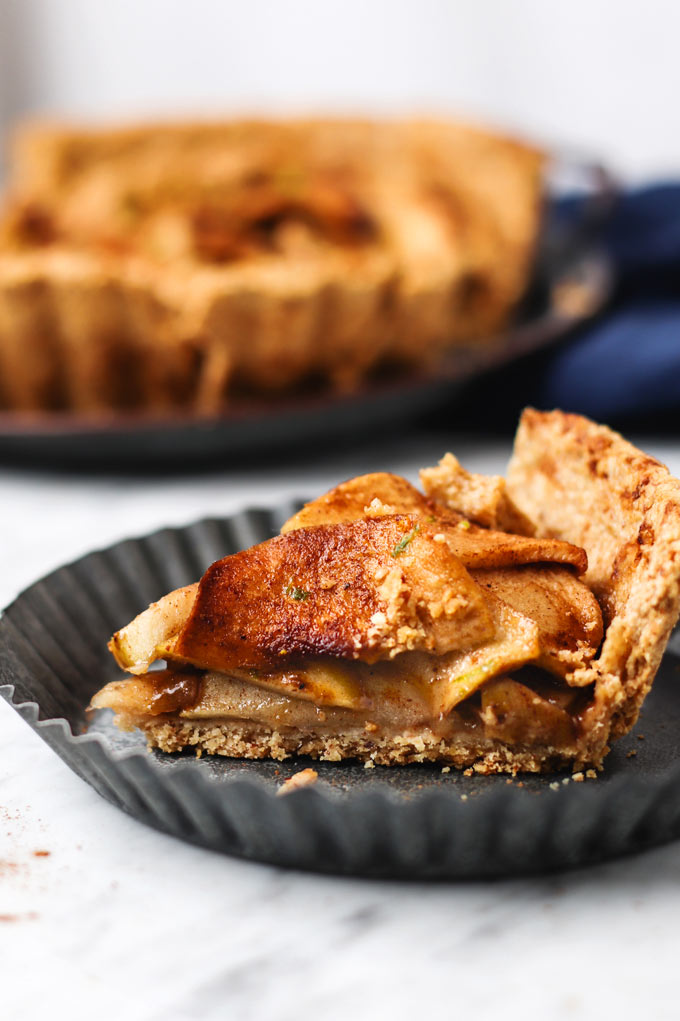 The crust of this open-face apple pie is really mainly made of oats, so the texture is more crumbly than a normal crust, which I really like. But that's also the reason that the curst doesn't hold itself really well.
In fact, after I cut the first slice out, the crust "wall" started to fall apart. I don't mind like as long as it's delicious, though. But I mention here because I want to give you a headnote that this tart might not look good after slicing if that's important for you.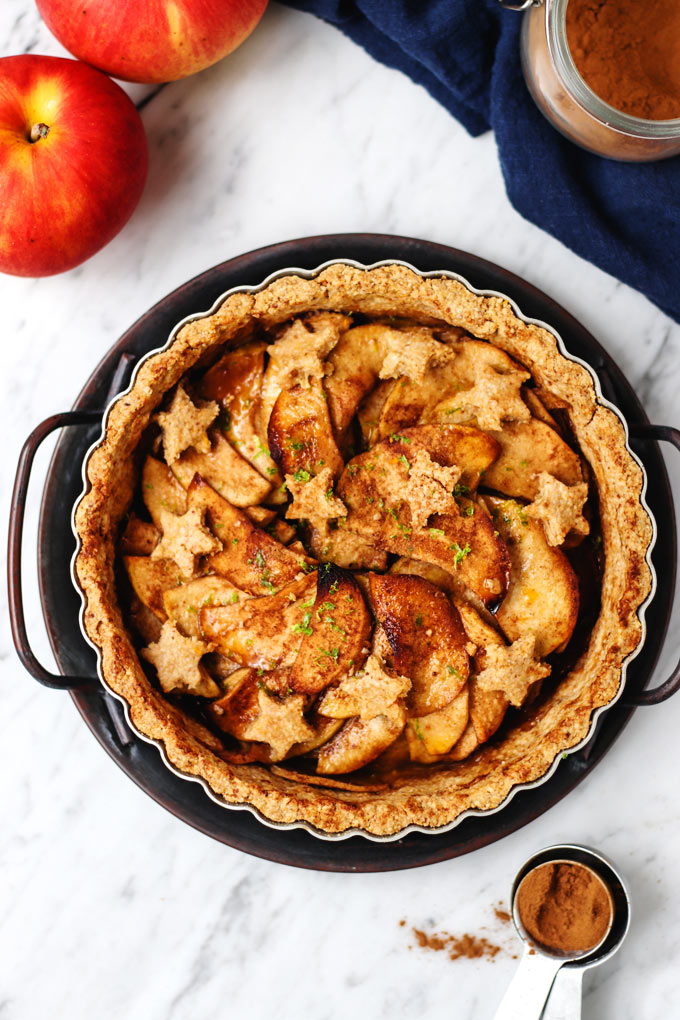 The crust is easy to make. Most of the work is mixing. For the apple filling, the same thing: mixing. But you might want to be more delicate and gently to the apples so they can keep their shape for the final presentation.
The layering-apple-slice-part is probably the more fun one. The crucial step is before the layering, though. It's best to slice the apple in the same thickness. Then you just mix them with the spices, maple syrup, and a pinch of salt. Layer them any-clockwise and bake. Voila!
I really enjoy this apple pie because it' got a balanced flavor without overly sweet or heavy. The crust is full of the oaty aroma and divine when served warm. Actually, I really don't think apple pie should serve cold. Do you agree?
Anyway, if you like cooked apples as I do, you can check out my Vegan Cinnamon Baked Oatmeal, Vegan Apple Crisp, and a sweeter Vegan Apple Pie. For now, shall we?
Pin it
Open-face Apple Pie with Oat Crust (Vegan, Gluten-free)
This Open-face Apple Pie is vegan and made with a crumbly oaty crust. The apple filling is sweet but not so sweet and it's so warming and delicious that I'm sure I will make again!
食材
Oat Crust
1

Tbsp

ground flaxseed 亞麻籽粉

2.5

Tbsp

water 水

135

g (1+½ cup)

rolled oats 傳統燕麥片

,

ground 磨成粉

45

g (½ cup)

ground almond 杏仁粉

1

Tbsp

coconut sugar 椰糖

¼

tsp

salt 鹽

3

Tbsp

coconut oil 椰子油,

soft, plus more for greasing
Apple Filling
3

Granny Smith apples 史密斯婆婆青蘋果

,

~450 g

2

Tbsp

maple syrup 楓糖漿

½

tsp

ground cinnamon 肉桂粉

¼

tsp

ground ginger 薑粉

⅛

tsp

ground cloves 丁香粉

⅛

tsp

ground nutmeg 肉豆蔻粉

⅛

tsp

all-spice mix 多香果粉*

A

pinch of

salt 鹽
作法
To make the crust
Start by making a flax "egg": In a small bowl, add the ground flaxseeds and water. Mix and let it sit for 5 minutes. In the meantime, grind the oats in a grinder if you haven't already. You can also just use store-bought oat flour.

In a big bowl, add the oat flour, ground almond, coconut sugar, and salt. Give them a mix.

Add the coconut oil and the flex egg. Use a fork first to bring all ingredients together. Then switch to hands to form a dough.

Place the dough between two pieces of parchment paper and roll it out.

Grease a 7" pie pan with some coconut oil. Place the rolled out dough onto the pan and use your hand to shape it into the mold.

Place the pan into the freezer while we prepare the apples. Preheat the oven to 175 C / 350 F.
To make the apple filling
Peel and core the apples, then do your best to slice them into the same thickness.

In a big mixing bowl, add the sliced apples and the rest ingredients. Use a spatula or your hand to gently mix all together.

Layer the apple slices from the center outwards like the petals of flowers.

Bake for 40-45 minutes until the crust is golden.

Transfer onto a wire rack to cool down before removing from the pan.

Slice and reheat in the oven for 5-10 minutes to serve.
---
備註
*If you don't have that much spices at hand, you can also use ½ tsp pumpkin spice mix instead.
Storage: Store in an air-tight container in the fridge for 3 days or 2 weeks in the freezer.
---