Read the post in:
繁體中文
This granola is full of wholesome ingredients, oats, seeds, nuts, and it's naturally sweetened with dates, which gives it the beautiful caramelly flavor that I adore so much.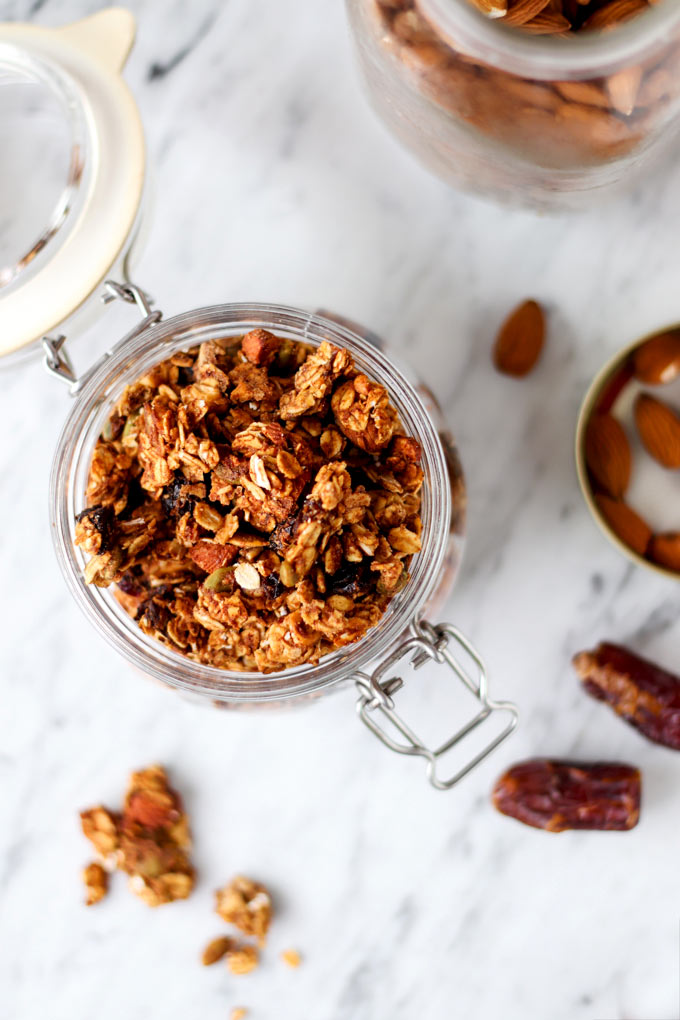 Naturally Sweetened Granola
As you probably could tell by the number of granola recipes that I've shared, I love granola. I eat granola every single day, literally. I used to buy ones from the stores but now I often make them myself due to the industrial amount I consume. 🙂
I usually sweeten my granola with maple syrup, which is my favorite liquid sweetener. Yet I was thinking, could the dates, my seriously favorite sweetener in the world, replace the role of maple syrup in granola? So, here it is.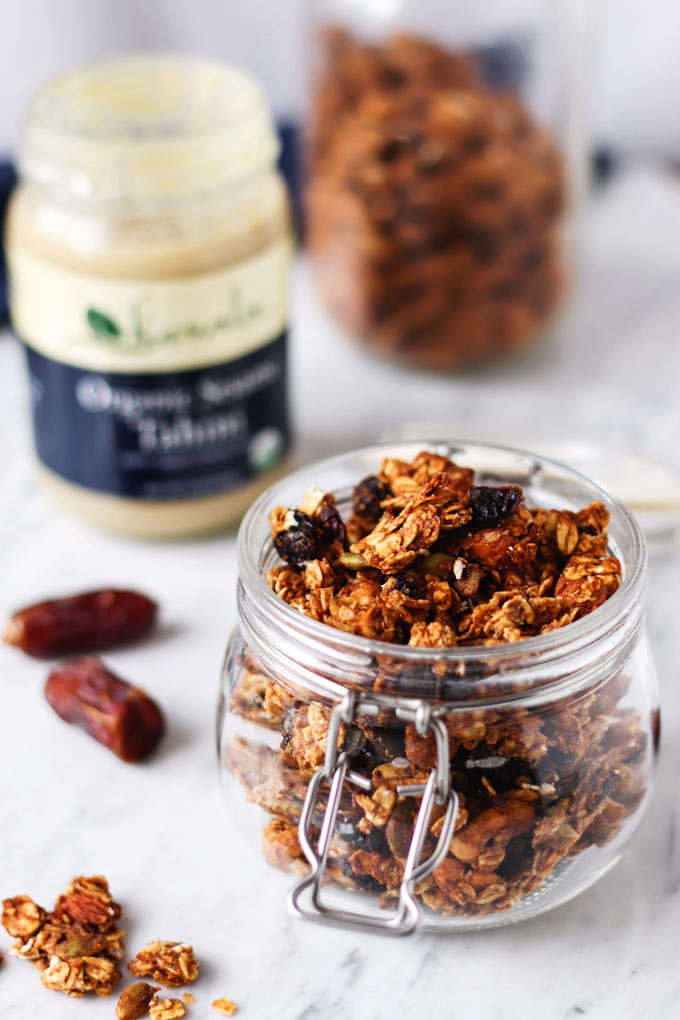 This granola is definitely the healthiest granola I've ever made, at last for now. It's pack with nutrients from the oats, seeds, and nuts. But the most important thing is that it's delicious.
It's sugar-free and oil-free, which is a fact but I don't put it in the title because that's not a very important thing I want to emphasize. (I've talked about this in this video if you're interested.)
This granola recipe is Jenny's healthy granola, which looks so good and I really wanted to try it. But I did try a few times and adjust a little bit to suit my preferences. You could do the same, too. But just keep in mind that you might have different batches of granola to finish, which I'm totally not complaining about. 😉
To make this nutritious granola is easy.
Step 1: Blend the tahini, dates, and some water together into a paste. This step required a food processor or a blender. If your food processor is not very good at puree, then I recommend using a blender instead. However, you might need a bit more water to help blending.
I had to say that this step is quite tricky, though. The catch is that the right amount of the added water is a variable. Why? Because sometimes the dates get drier than usual, you have to add more water.
I strongly recommend soaking your dates in the fridge overnight, which will make the blending process much easier. And the final blended mixture should look like that in the picture.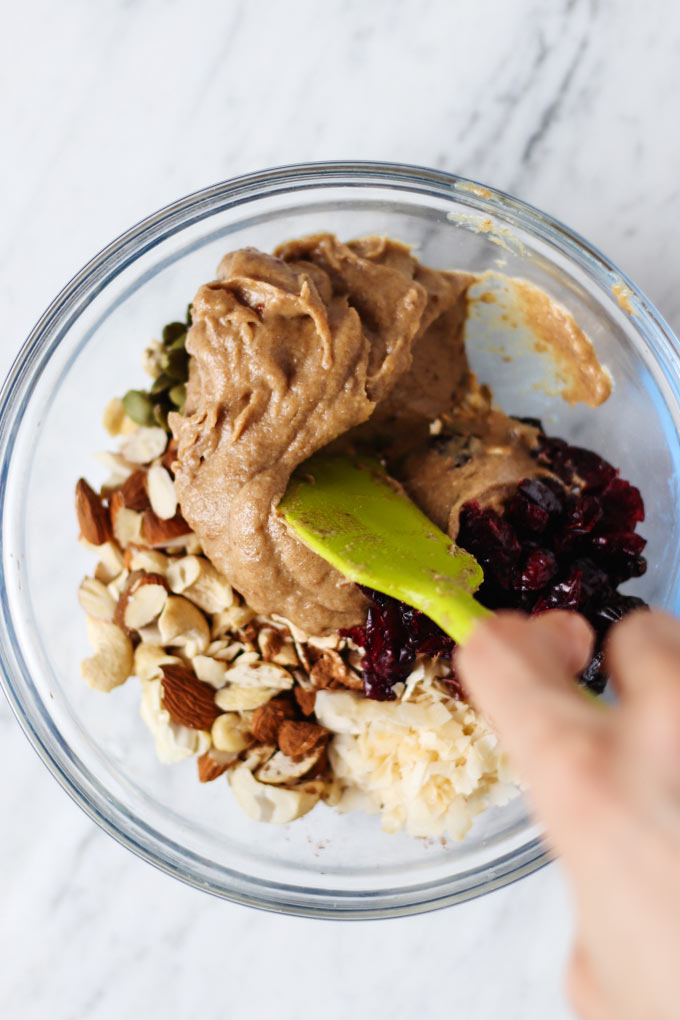 Step 2: Mix all ingredients in a big bowl.
I think this step is quite self-explanatory, right? Oh, and you need to preheat your oven at 150°C / 300°F at this stage.
Sometimes I don't add dried fruits at this moment but mix them in the end because I want it that way, or I just forget. (Yeah, it happened.)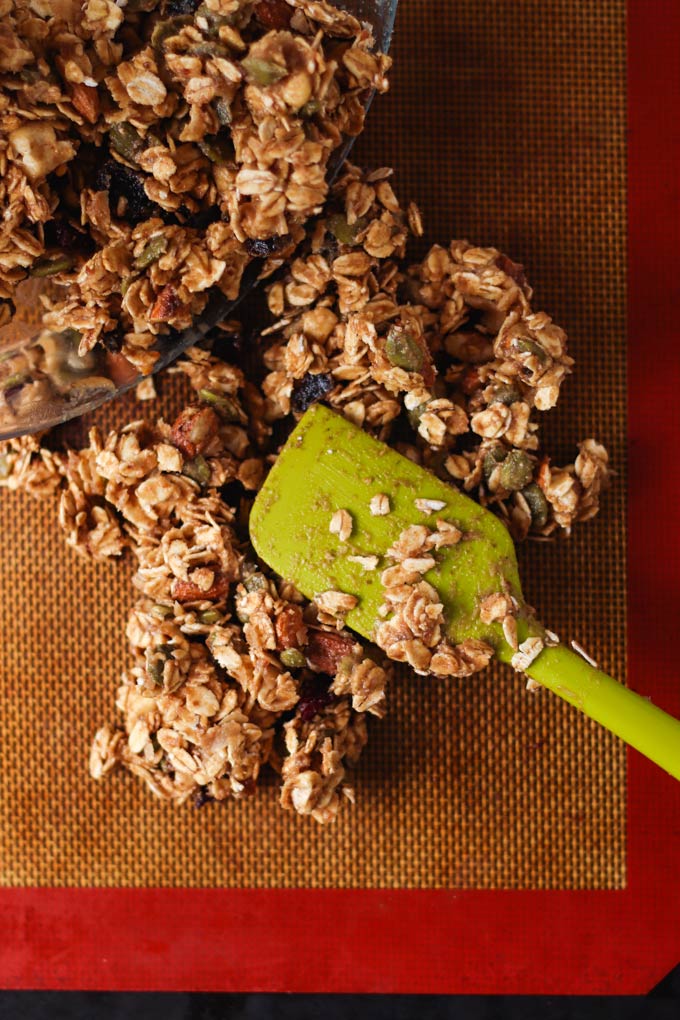 Step 3: Spread the mixture onto a baking sheet lined with parchment paper or a baking mat.
You want to spread them into an even single layer. The thinner they are, the quicker they baked.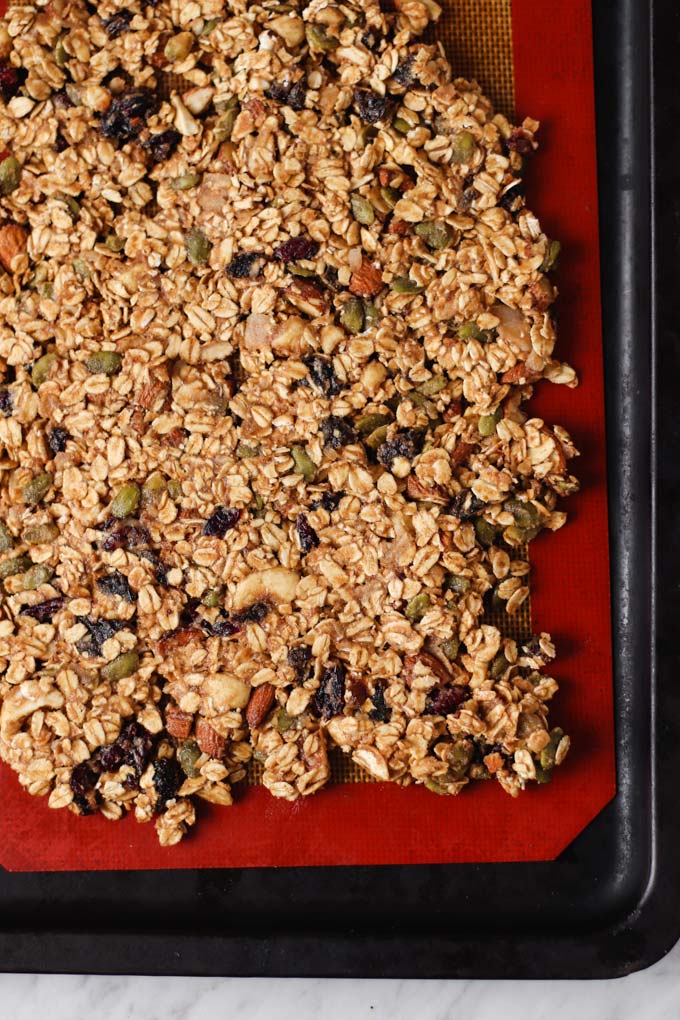 Step 4: Bake for 25-30 minutes. And let it cool in the oven completely.
The baking time differs because the thickness might be different or your oven is not as powerful as the other one. Just keep an eye on it after it's been in the oven for 20 minutes. You can give them a stir in the middle to make them more crumbly.
The last thing is to let them cool in the oven COMPLETELY. I like to leave them in the oven because they will be more crispy.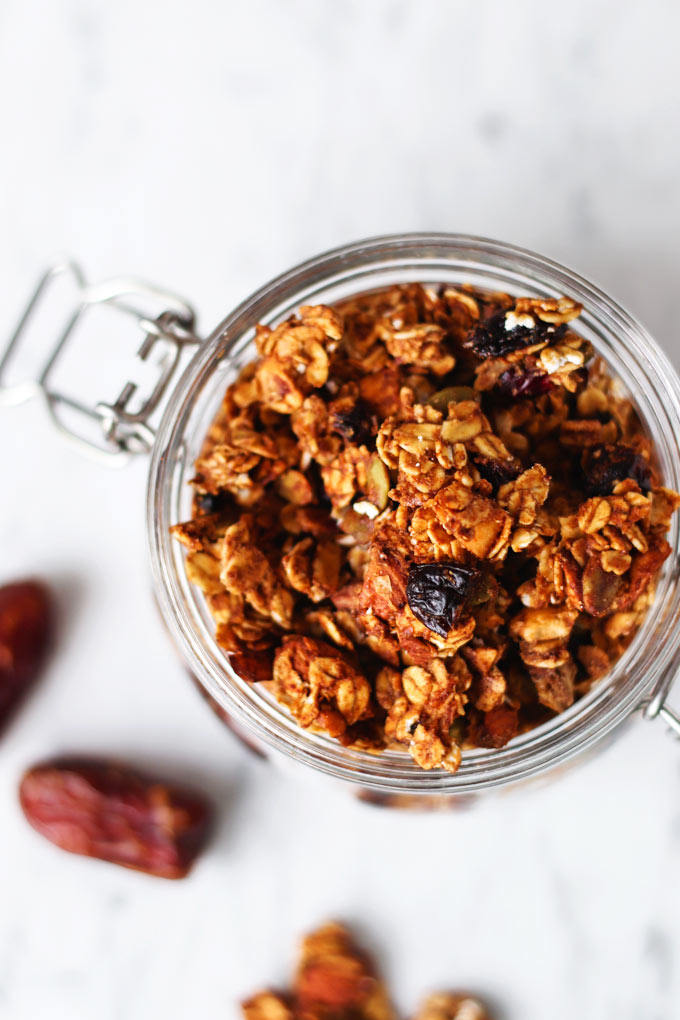 Step 5: Break them into smaller chunks and EAT.
I often make it in a big batch as a meal prep stuff that I can add to oat milk, soy yogurt, or smoothie bowl.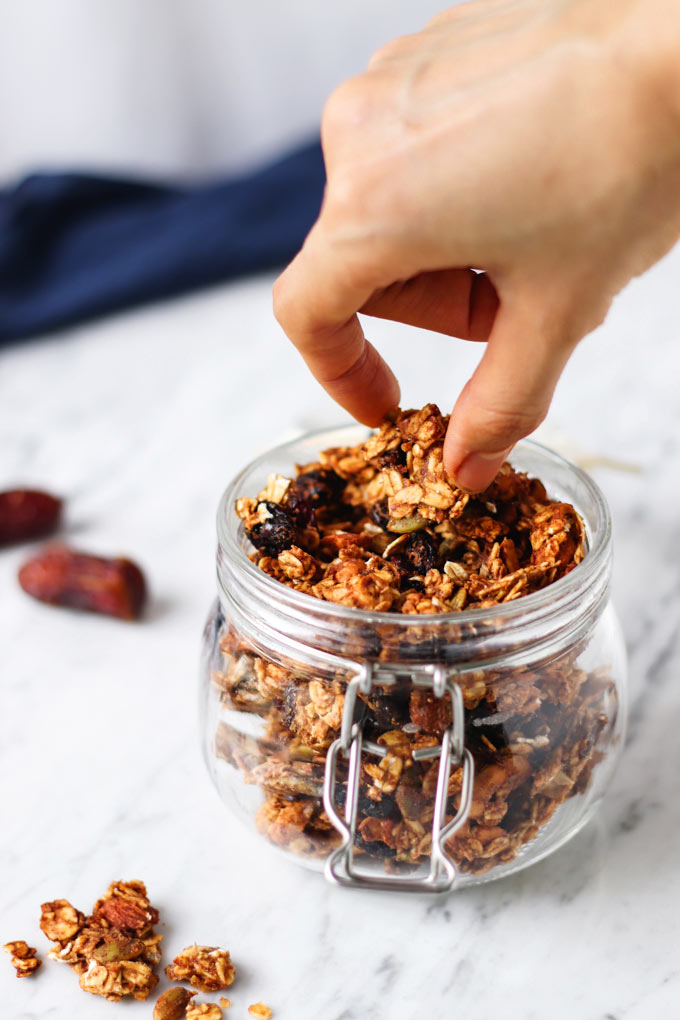 Store them in an airtight jar on the counter and you have a sweet snack ready whenever you want. It should last for 2 weeks or longer, which I'm not sure because I usually finish them before that.
You can enjoy it as it is or add them as a topping to your vegan yogurt as mentioned before, or event to ice cream. I usually just grab a handful of it to my yogurt bowl or scoop out a large scoop and put it straight to my mouth. Yes, you heard me right.
This granola tastes great and simple to make but it does require a piece of equipment.
You can also make my beloved:
No matter which you choose to make, let me know how it went by leaving a comment down below or tag me on Instagram (@barrelelaf). : )
Pin it
Naturally Sweetened Granola
This granola is full of wholesome ingredients, oats, seeds, nuts, and it's naturally sweetened with dates, which gives it the beautiful caramelly flavor that I adore so much.
Ingredients
170

g

dates

,

(1 cup) pitted and soaked for 3 hours

4-8

Tbsp

soaking water

4

Tbsp

tahini

135

g

rolled oats

,

(1+1/2 cup) use gluten-free if necessary

4

Tbsp

pumpkin seeds

4

Tbsp

unsweetened coconut flakes

1/4

tsp

ground cinnamon

A

pinch of

salt

120

ml

mixed nuts

,

(1/2 cup)

4

Tbsp

dried fruits

,

I use raisins and dried cranberries
Instructions
If you have time, soak your dates for 3 hours or overnight in the fridge. This will make the following step much easier.

In a food processor, add the pitted dates, tahini, and 4 Tbsp of the soaking water. Blend until smooth. The consistency should be a little bit drippy. If not, add more water to blend until it gets to the ideal texture (as the picture in the post). Stop and scrape down the sides as needed.

Preheat the oven at 150 / 300 F.

In a big mixing bowl, add all the rest ingredients. Give them a mix. Then add the date-tahini mixture. Mix all together until all ingredients are covered with the date-tahini paste.

Line a baking sheet with parchment paper or a baking mat. Spread the mixture onto the sheet into a single, even layer.

Bake at 150°C / 300°F for 25~30 minutes. Give it a stir in the middle to let it be more crumbly.

Once baked through, leave it in the oven to cool down completely before breaking into smaller chunks. EAT!
---
Notes
Storage: Store in an air-tight container for 2 weeks.
Adapted from Jenny.