Read the post in:
繁體中文
Creamy, fruity, and refreshing, this Mango Kiwi Yogurt Parfait is one of the easiest and prettiest things to impress someone. And it's perfect for the summer!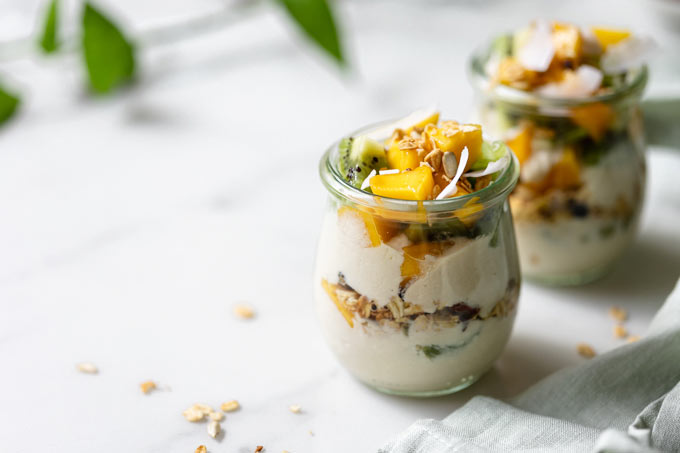 Honestly, I don't like summer very much. It's hot, and plus the humidity in Taiwan, it's really not very pleasing weather. But I do love some things in summer: fruit. I mean, is there really anyone who doesn't like fruit? (Seriously)
There are tons of summer fruits: mango, coconut, kiwis, berries, etc. I bet you can find one or two that suit your palate.
A peek into this yogurt parfait:
This yogurt parfait is super refreshing and satisfying at the same time!
It's made with simple, handy ingredients and can be made in 5 minutes.
It's very customizable. Just use whatever fruits you like, preferably mangoes and kiwis for this time.
It's vegan! No animal products are involved and you can make it gluten-free as well.
Ingredients You Need
Yogurt: As a vegan, surely I'll say use plant-based yogurt. Soy yogurt and coconut yogurt are both super great choices.
Mango & Kiwis: I use these two because they are tropical fruits and honestly they are just both in my fridge. You can also use any other fruits that remind you of summer, or not.
Sweetener of choice: My go-to choice is maple syrup, then Kuromitsu (Japanese black sugar syrup). You can also use agave, brown rice syrup, or another vegan sweetener of choice.
Granola: Homemade or storebought ones are all welcome here. I like to use the ones with coconut flakes inside for an even more tropical vibe.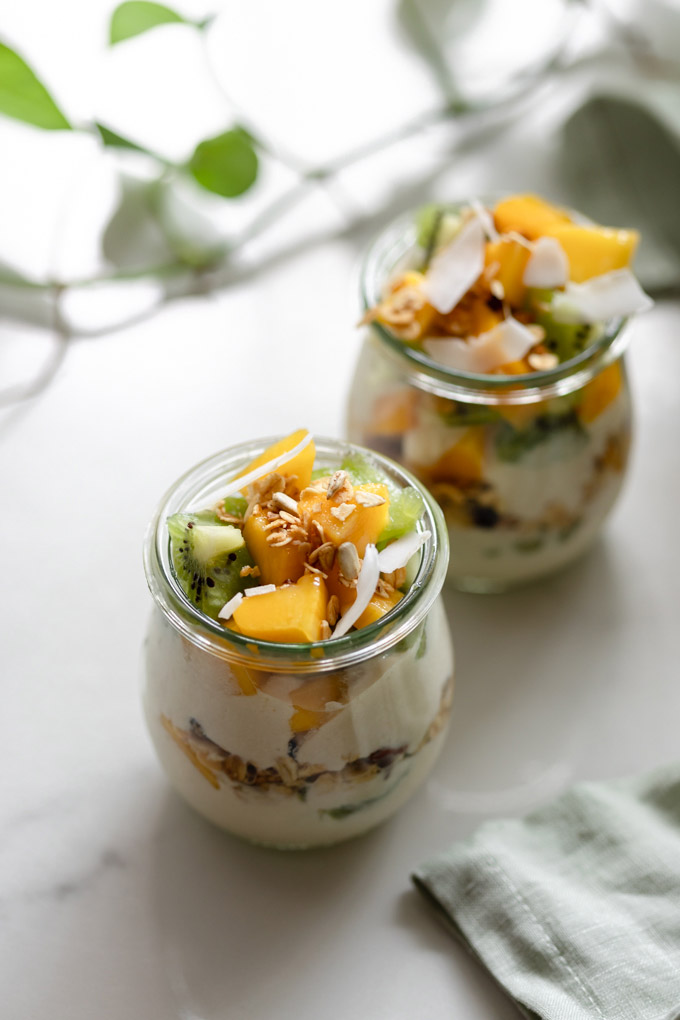 How to Make Mango Kiwi Summer Yogurt Parfait
It's super simple to make this parfait, especially if you got all your ingredients on hand. If not, you can check my homemade yogurt recipe and granola recipe.
Once you finish making them, just layer them with chopped mango and kiwi cubes. I have to say that I'm not very good at making my parfait look pretty, but still, they look okay, right?
So don't be stressed, just have fun!
How to Store Yogurt Parfait
Since there are fresh fruits in this parfait, I will recommend finishing them the day you make it. If you are not about to eat it very soon, cover it and store it in the fridge. It should last for another 1~2 days but not longer.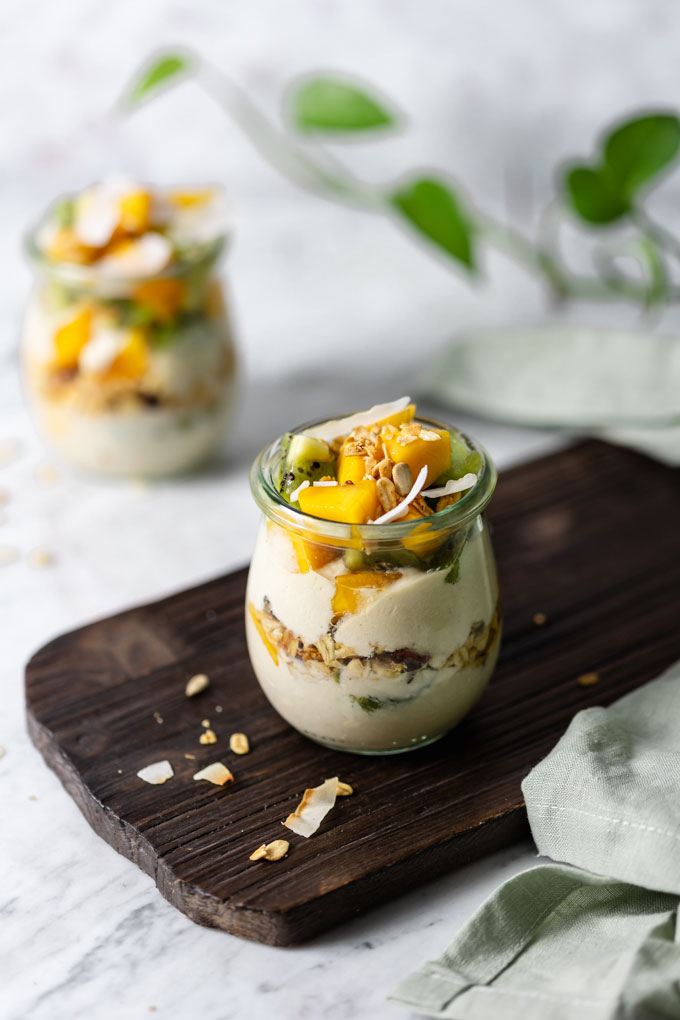 Questions You Might Have
Can I use other fruits?
Sure, you can just any fruits you like. But I'll recommend choosing the ones that are soft and juicy.
Can I use honey?
Since normal production of honey doesn't serve great to the environment and to the bees, I don't recommend using it. Vegan "honey" (not actual honey) will be fine for sure.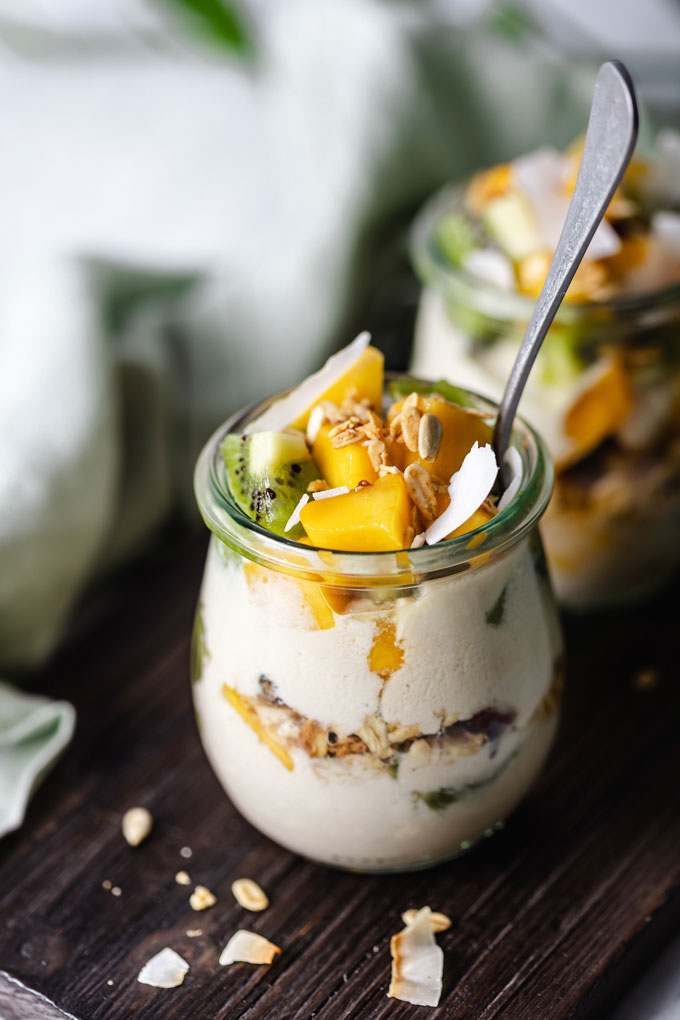 That's it! I hope you could try to make yourself a parfait because it's really "parfait" ("perfect" in French), especially in summer!
Mango Kiwi Yogurt Tropical Parfait
Mango Kiwi Yogurt Tropical Parfait
Creamy, fruity, and refreshing, this Mango Kiwi Yogurt Parfait is one of the easiest and prettiest things to impress someone. And it's perfect for the summer!
Ingredients
240

ml

soy yogurt

,

or coconut yogurt

1

Tbsp

maple syrup

,

or another liquid sweetener of choice

2

kiwis

,

peeled and cubed

1

mango

,

peeled and chopped

6

Tbsp

granola

,

*

1

Tbsp

coconut flakes

,

optional
Instructions
In a bowl, add the yogurt and maple syrup. Mix them together evenly.

Prepare two 200 ml glass jars or serving cups. Add about 4 tablespoons of yogurt to each jar. Then add 3 Tbsp of granola to each jar as well.

Add about 1/4 of the chopped kiwi and mango cubes to each jar. Then divide the rest yogurt to layer on top of the fruits.

Add the rest fruits on top of the second layer of yogurt and sprinkle the left granola and coconut flakes (optional) on top. Serve immediately for the best!
---