Read the post in:
繁體中文
With the naturally creamy texture of the avocado and the bittersweet cacao flavour, these Vegan Avocado Chocolate Truffle Energy Bites could provide you with not only energy but also deliciousness!
Story Behind Avocado Chocolate Truffle Energy Bites
Actually, I've been thinking about making chocolate avocado balls for a while. But since avocado is not very cheap, it seems a little like a waste to deprive their flavour by "processing" them too much. So I usually eat them by just adding some salt and lime juice (and some sweet soy sauce.)
Then why these chocolate avocado balls come out, you ask? Because … I bought some avocados, and they didn't taste good (yeah, we've all been there). So, I think it's time to "process" them. And here we are! Maybe that's a blessing in disguise.
These avocado chocolate truffle bites not only taste good, but will also make you feel good with the goodiness (nutrients) in them. They are mainly made of avocado and dates, which give these balls a natural sweetness and creaminess that satisfying my sweet tooth.
About the Coating
I also add a crunchy coating which is made of finely chopped coconut flakes, roasted peanuts, and pumpkin seeds. I'd say the coating part is optional if you don't have much time (or energy), but it will add more texture and flavours. Plus, it makes these ball so pretty!
Also, I sneak in some cacao nibs in these balls as well to give them an additional crunchiness.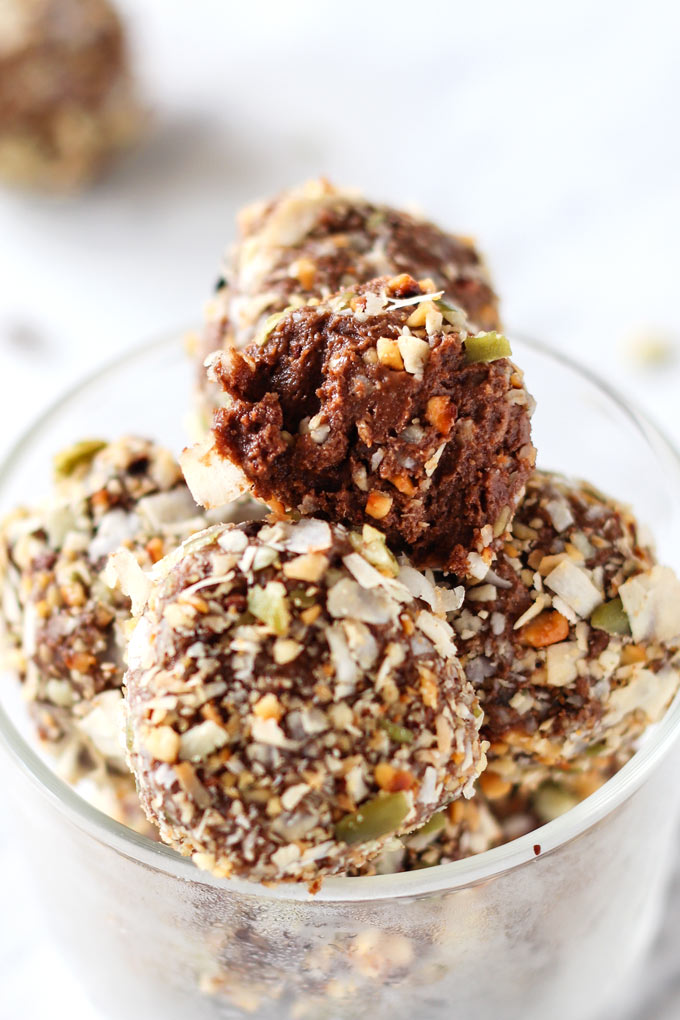 How I Enjoy Them
I like to freeze them and defrost them about 5 minutes before biting in. It makes them taste soft outside but slightly cold and firm inside, providing different layers of texture.
Eating them soft or firm? You'll be the one to decide. (wink wink)
How to Make Avocado Chocolate Energy Balls
They are quite simple to make. What you mainly need to do is to blend most of the ingredients in the food processor. The steps are chopping, rolling, freezing, chopping again, and tossing. Sounds interesting (or boring)? Anyway, they are really delicious. So let's get your hands dirty!
Vegan Avocado Chocolate Truffle Energy Bites
With the naturally creamy texture of the avocado and the bittersweet cacao flavour, these Avocado Chocolate Truffle Energy Bites can provide you with not only energy but also deliciousness!
Ingredients
Avocado Chocolate Truffles
70

g (~a scant ½ cup)

pitted dates

,

soaked in water for 15 mins if too dry

1

medium

avocado

,

~150 g

4

Tbsp

almond butter

,

*

4

Tbsp

cacao powder

⅛

tsp

salt

20

g (1+½ Tbsp)

cocoa butter,

or coconut oil, melted

1-2

Tbsp

maple syrup

2

Tbsp

coconut flour

2

Tbsp

cacao nibs
Coating
2

Tbsp

unsweetened coconut flakes,

I toast them head of time

1

Tbsp

pumpkin seeds

1

Tbsp

toasted peanuts

,

or other nuts you like, or use another tablespoon of pumpkin seeds
Instructions
To make the chocolate truffles
Add the pitted dates to a food processor to get chopped finely . If the dates are too dry, you can pre-soak them in water for 10 – 15 minutes, or add some water when chopping to help.

Then add the avocado to the food processor, along with the almond butter, cacao powder, salt, melted cacao butter/coconut oil, maple syrup, and coconut flour. Continue to process until all combine. Stop and scrape down the sides as needed.

Take a piece of parchment paper and place it on a small baking sheet or a plate. Scoop out a big tablespoon of the mixture, add in some cacao nibs, and use your hand to shape them into a ball. Then place it onto the plate. If they are too soft, freeze them for 5 – 10 minutes first.

Repeat to finish all mixture. I end up with 12 balls. You might have a different number since it depends on the size of each balls. Be it in golf ball size or a table tennis ball. Place them into the freezer to set up a little while we make the coating.
To make the coating
Add all coating ingredient to a food processor. Use pulse action to chop them.

Remove the chocolate balls from the freezer. Toss each ball in the coating mixture to get their crunchy-coat on.

Return to the freezer for another 10 – 20 minutes, then they are ready to be enjoyed! I personally like to let them sit in the freezer for longer to have the cold and hard texture when I bite in.
---
Pin it
---