Read the post in:
繁體中文
Earth, nutty, and rich, Chinese Sesame Paste is one of those irreplaceable things for me. And you will be surprised how easy it is to make it in your house with only 1 ingredient!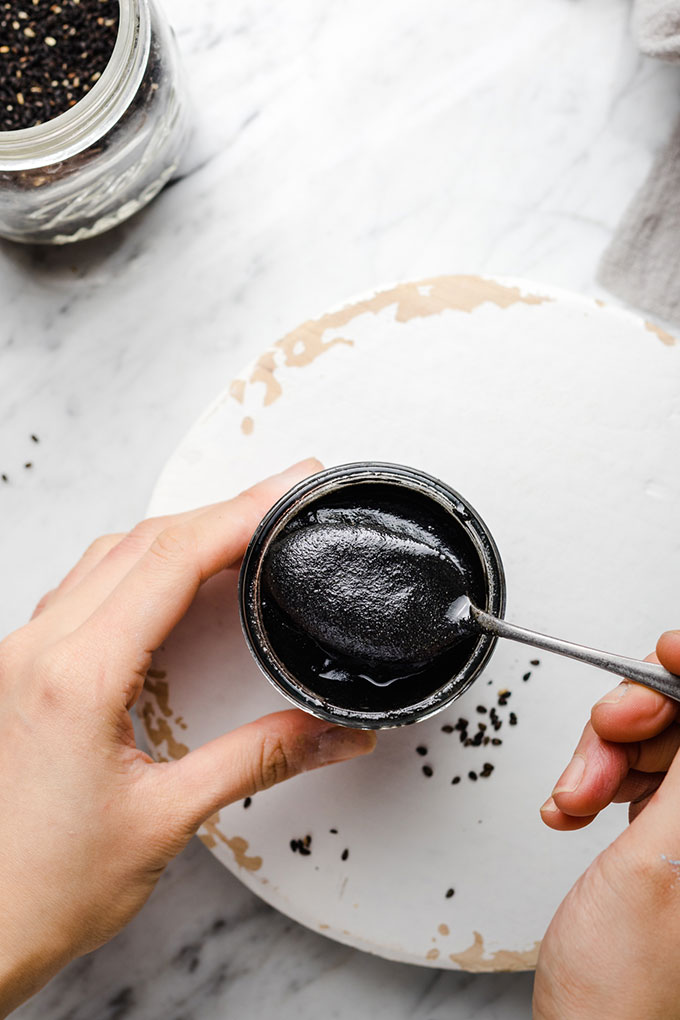 Black sesame paste is an Asian food that I'm super obsessed with, I mean, besides peanut butter.
If you're a fan of tahini, I bet you've heard about sesame paste. You might be wondering:
Are Sesame Paste and Tahini the Same?
Well, the simplest answer is no. If you're curious about the differences, you can find more details here:
Tahini Vs. Sesame Paste: Differences & Taste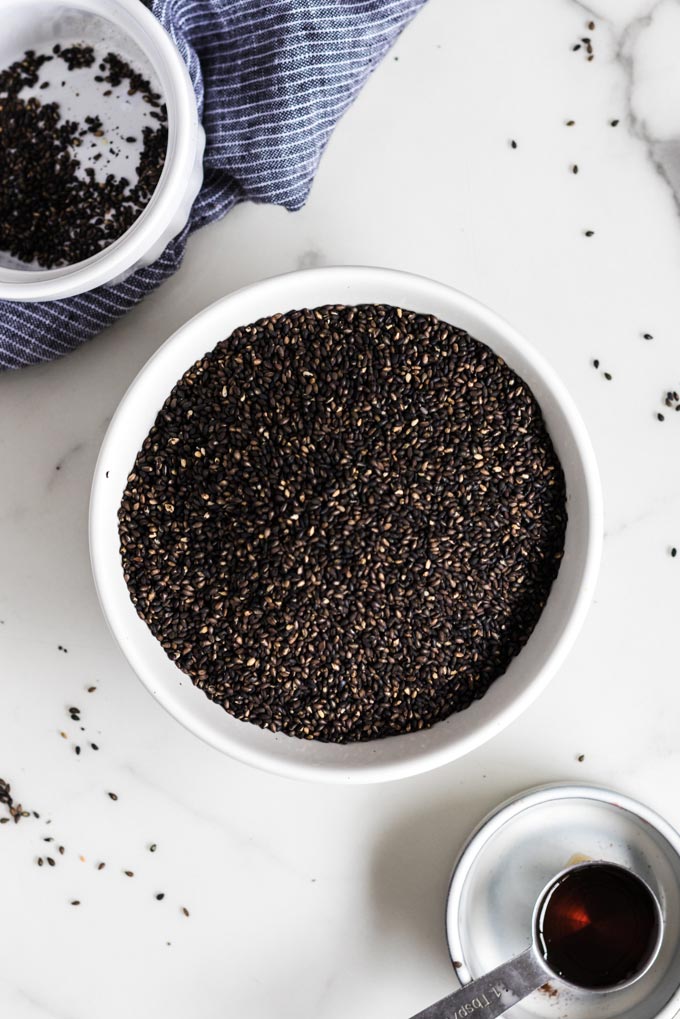 Ingredient You Need
As the title suggests, you only need one ingredient to make black sesame paste: black sesame seeds.
I will assume that you've already known the differences between tahini and sesame paste from here, so if you want to make Chinese black sesame paste, the crucial part is to toast the sesame seeds until they are fragrant.
It's really important to get the deep roasted sesame seeds. Otherwise, your final sesame paste might not have the taste that you expected.
I had tried many times with different sesame seeds before, and the sesame paste didn't turn out as I had expected. It's until I changed the sesame seeds that I started to see the light, I mean, the sesame paste I want.
How to choose Black Sesame Seeds then?
There are two ways to make sure that they are deep-roasted:
Add the black sesame seeds to a pan over medium-low heat. Cook and stir for 8-10 minutes until they are super fragrant.
Just buy the deep roasted ones.
I know the second option might seem like a shortcut, but for me, it's not. It's just one of those ways to make sure you got your black sesame seeds right before making them into the paste.
Since I'm in Taiwan, roasted sesame seeds are super common and easy to find. If you're in a western country, you can look for them in Asian grocery stores or in the Asian-ingredient area in the supermarket.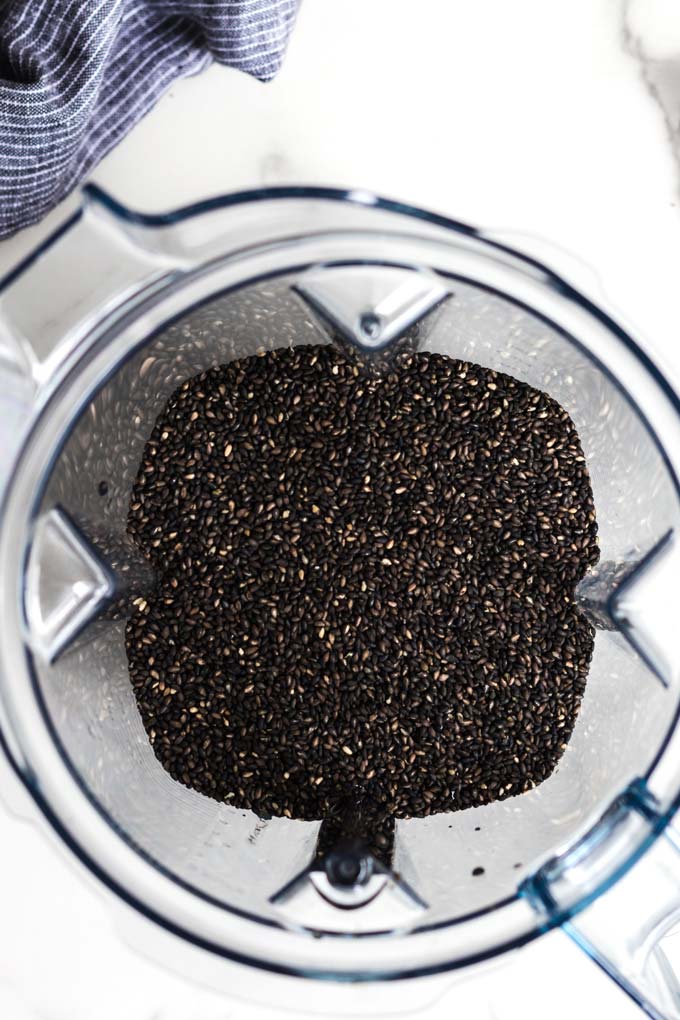 How to Make Chinese Black Sesame Paste
Once you've got the deep-roasted sesame seeds, you're already halfway. One simple step left is to grind them in your strong food processor or blender.
One thing I want to mention is that sesame paste is traditionally ground in a professional grinding machine. But since it's not something I/normal people have around the house, I just use a food processor or blender.
I will say it again in case you miss it, you need a strong blender or food processor. I recommend using a blender if you have one.
I usually make my sesame paste in my Vitamix blender (affiliate link, no sponsor) because it's faster compared with my food processor. (Though I also have a strong food processor)
Just add the roasted sesame seeds to a blender and start to blend.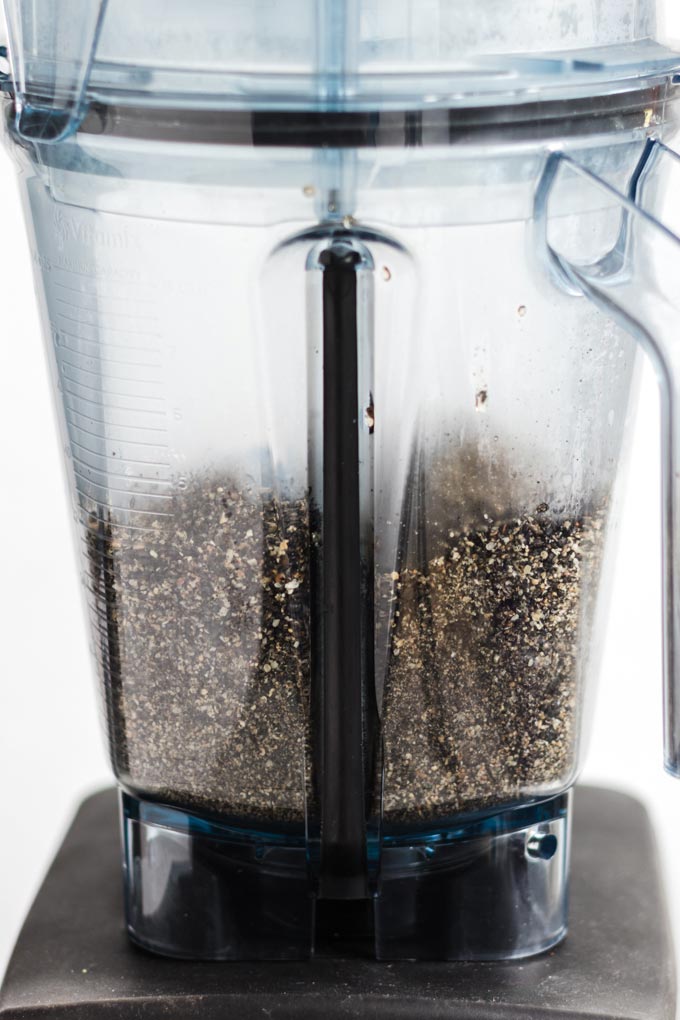 In the first stage, the sesame seeds will become powder. If that's what you need, you can stop. But we're here to make black sesame paste, so just keep blending.
Oh, and use a tamper to help blend if you have one. If you don't, stop and scrape down the sides every now and then if you hear the blade is running without hitting the sesame seeds.
Keep blending. Depending on your machine and the amount you use, it will take about 3-5 minutes to turn in the black, thick yumminess.
You should be able to smell the incredible flavor from it as well, aka perfect time to taste some!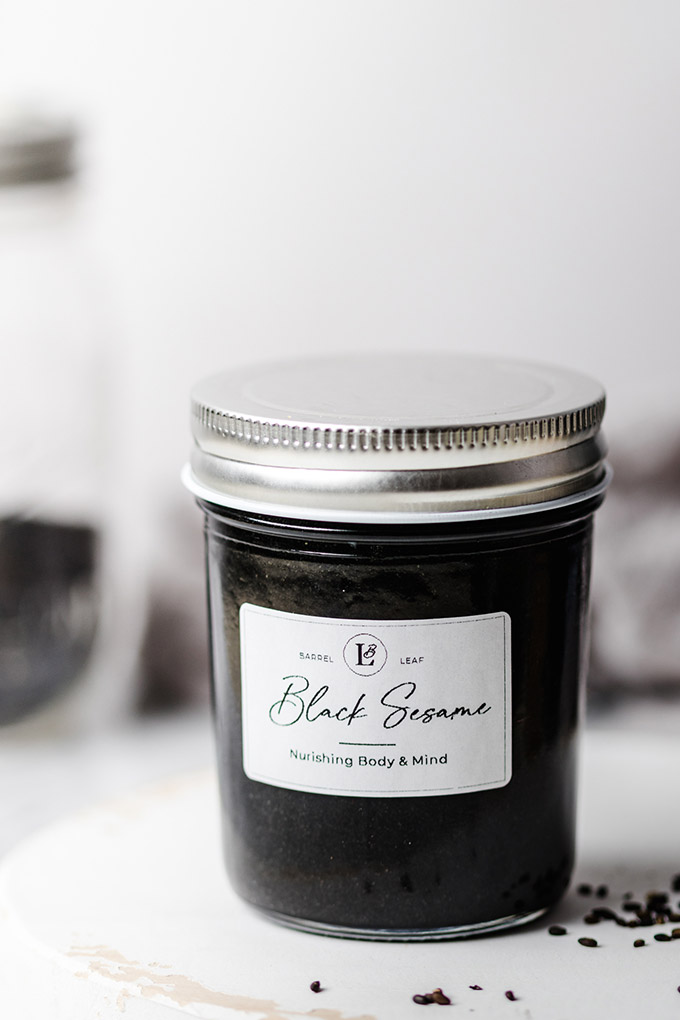 How to Store Sesame Paste
Different from nut butter, sesame paste can be store at room temperature in a cool, dry place for a long time, roughly a year. The reason behind this is the vitamin E, a natural antioxidant, in sesame seeds.
But make sure to use a dry, clean utensil to scoop the sesame paste every single time, or just pour it out.
Other things you might want to ask…
Do I have to have a high-end machine?
Well, I'll say, if you think you will have sesame paste almost every day, a good tool is a great investment.
It might look a bit expensive, but if you make your own sesame paste, nut butter, and sauce every week, it will pay off even save more in the long run.
Plus, you will have more fun and freedom in the kitchen. I've never regretted buying my high-quality-and-a-little-expensive equipment because I have so much fun creating more yumminess with them. (You can find most of my tools on the Shop page.)
But if you just want to have sesame paste-like once a year or half a year and you don't hang around in the kitchen, I will say buy the store-bought one. (But you're here, so I guess part of you still wants to make it yourself, right?😉)
Can I Add Salt or Sugar?
Sure, you can add salt or sugar to season your sesame paste. But most of the time I just make it plain or add a little bit of sugar in case I want to make some dressing or to use it in baking.
My go-to sugar option is organic cane sugar, followed by coconut sugar and maple.
One special thing I want to mention when I was testing the sesame paste recipe for the past few weeks is the effect of added liquid sweetener.
If you use maple syrup or other liquid sweeteners, your sesame paste will be less runny. It might seem a little counterintuitive but it's true. I've tried to add maple syrup to my sesame paste while blending and it became more paste-like rather than drippy.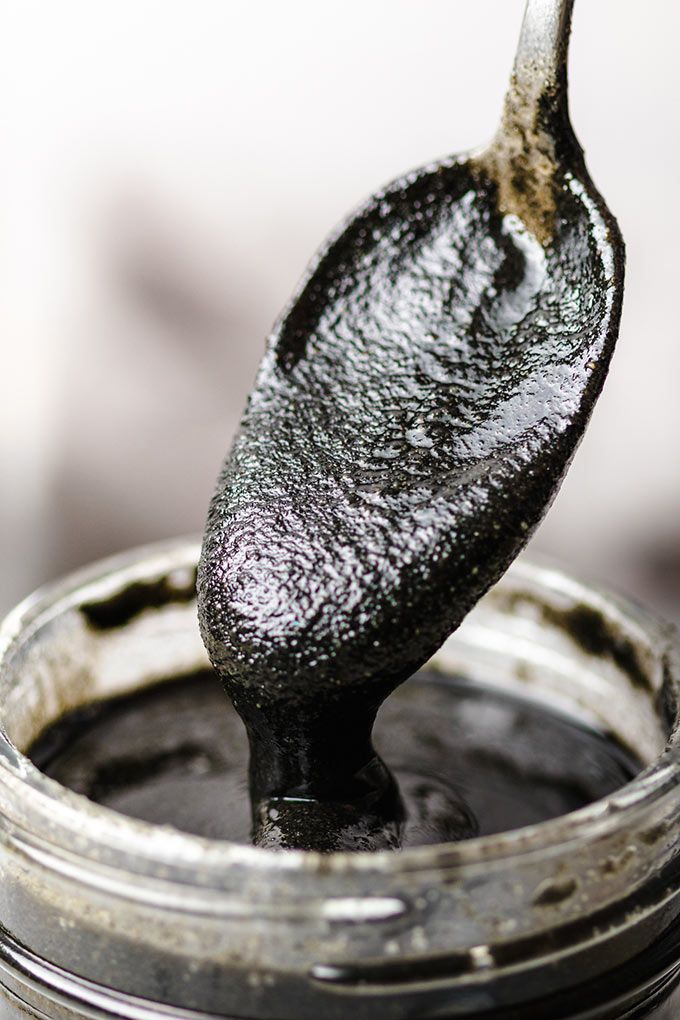 Troubleshooting
Why my sesame paste is not runny?
There are some possible reasons for not-runny sesame paste.
The equipment you use: I know I've mentioned earlier, but it's really important to use the right tool. Make sure your blender or food processor is strong and there are reported success from other people using the same tool.
The amount you add: Yes, the amount you use will play an important role in making runny sesame paste. Make sure your sesame seeds pass over the blade at least 2 inches in your container. If you're using Vitamix 64oz container, it should work with the amount of this recipe provides. I've also shared some experiences regarding this in the How to Make Nut Butter post.
The quality of the sesame seeds: I know it might sound a little bit picky, but sometimes the devil is in the detail. Some sesame seeds (mostly ground) might have been expressed once for the oil before you bought it. We need the natural oil in sesame seeds to make sesame paste, so make sure your sesame seeds are intact, aka no expression before.
Why my sesame paste doesn't taste the same as the store-bought one?
First, I want to emphasize that it might taste differently depending on the roasting process. That's why tahini and sesame paste is not the same in the first place. (Tahini Vs Sesame Paste)
One thing you can try is to toast the black sesame seeds longer until the aroma is super prominent.
One way to achieve the same flavor as the one you expected is to buy roasted sesame seeds from the store if they're selling, or to get a bag of toasted black sesame seeds that has a "deep-roasted" line on it.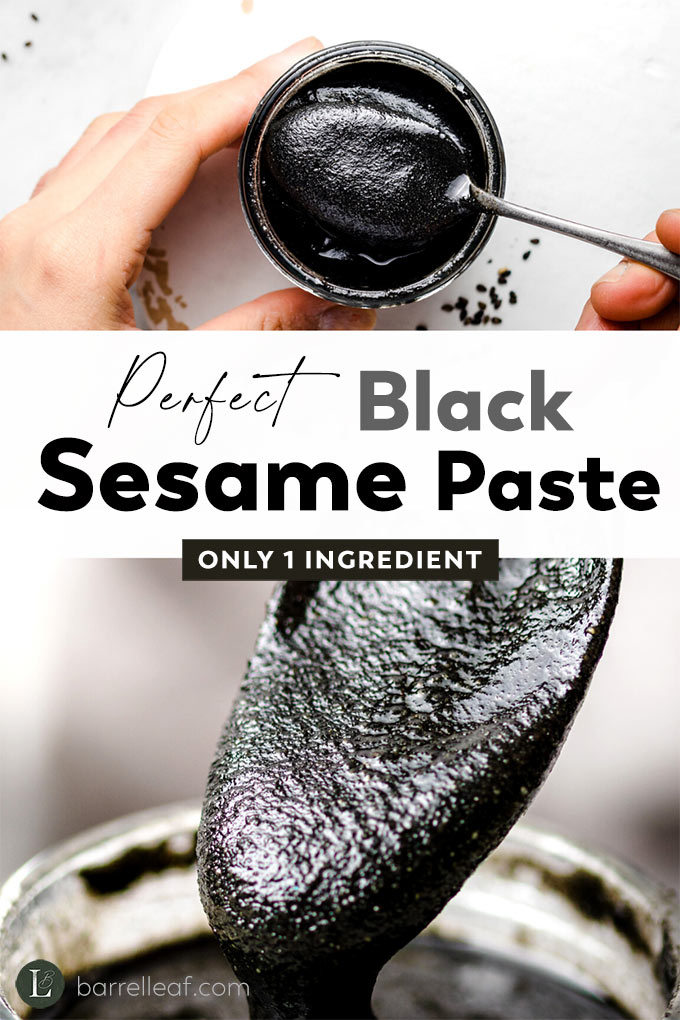 I hope this information will be helpful. If you've made your own sesame butter, please share your experiences or thoughts down below, I would love to here!
And if you love black sesame as I do, these vegan recipes you might also want to try:
Chinese Black Sesame Paste (1 ingredient)
Ingredients
600

g

black sesame seeds

,

if use pre-toasted, start from step 2
Instructions
Add black sesame seeds to a deep pan over medium heat. Cook and stir for 8-10 minutes until the sesame aroma is prominent.

Let the sesame seeds cool down a little bit. Then add them to a blender to blend. Use a tamper to help blend if you have one. The sesame seeds will first turn into powder, then paste, then the ideal runny texture. (see photo above) If you don't have a temper, stop and scrape down the sides as needed.

Taste and add sugar if you want. Pour the black sesame paste into a clean, dry jar. Serve as you like.
---
Notes
Storage: Store black sesame paste in an air-tight jar in a cool, dry place for 9-12 months.