Read the post in:
繁體中文
This Beet Hummus is one of my all-time favorite food. It's creamy, sweet, and super easy to make!
Beet Hummus (Vegan)
As the summer kicks in, I start to want something light yet still satisfying, then I think of hummus. This notion followed by me seeing beetroot in the market the other day, so here is a pinky delicious Beet Hummus.
Beetroot is not very common in Taiwan. Only in a certain season that I can find it in the market, which is also the reason why I just knew what it is last year. I've used it to make Beet Soup. I've also shared our first meeting in that recipe post.
[ 2021.05 Update: I took a few photos of this beloved hummus with lemon zest. Hope to bring some newness! ]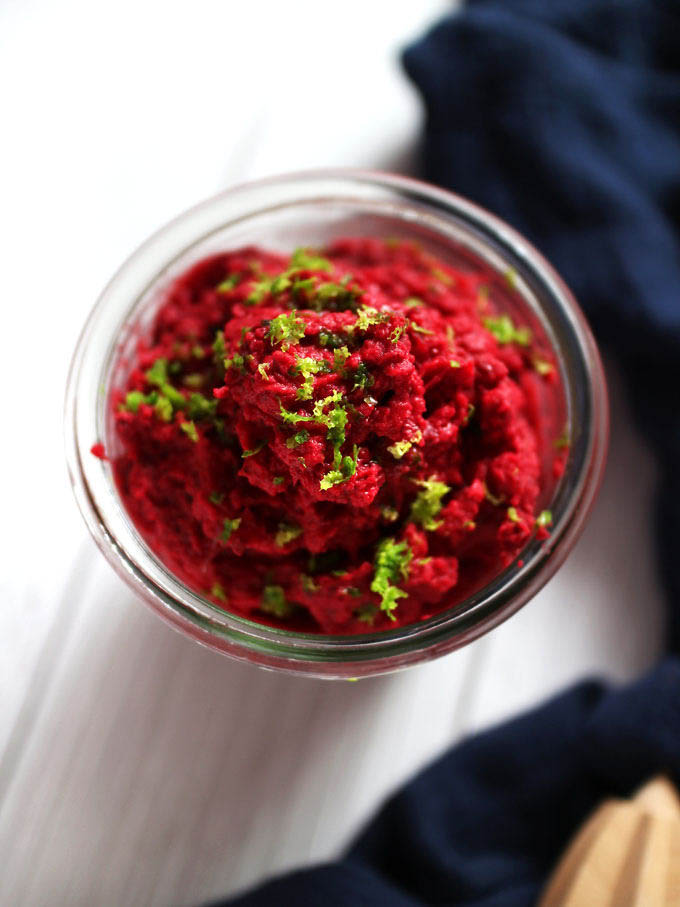 Back to our hummus. I've been thinking about making beet hummus for a long time. And I finally make it recently. The final taste is really amazingly beautiful!
Hummus is mainly made from cooked chickpeas. I've shared my basic easy hummus recipe. And this Beet Hummus is a twist from the original one, but I seriously love the beet one way way way much more than the original flavor.
Traditional hummus uses lemon juice instead of lime. But beet is naturally sweet, so I use lime juice in this beet hummus recipe. But sometimes I use lemon as well. So, you are the boss of your hummus!
You can zest some lime for the final touch to make it more appetizing as I do. (wink wink)
How to Make Beet Hummus
It's super easy and simple to make beet hummus. All you need to do is toss all ingredients to a food processor and blend until smooth. Easy peasy.
How to Serve Beet Hummus
I personally like to enjoy my hummus cold, which tastes creamier to me. And I think the flavor has more depth after refrigerating overnight.
You can enjoy this beet hummus on its own. Or you can spread it on bread, serve with cucumber sticks, or … you name it, you do it. I personally love to enjoy it with my Multiseed Crackers and Multiseed Almond Cassava Crackers.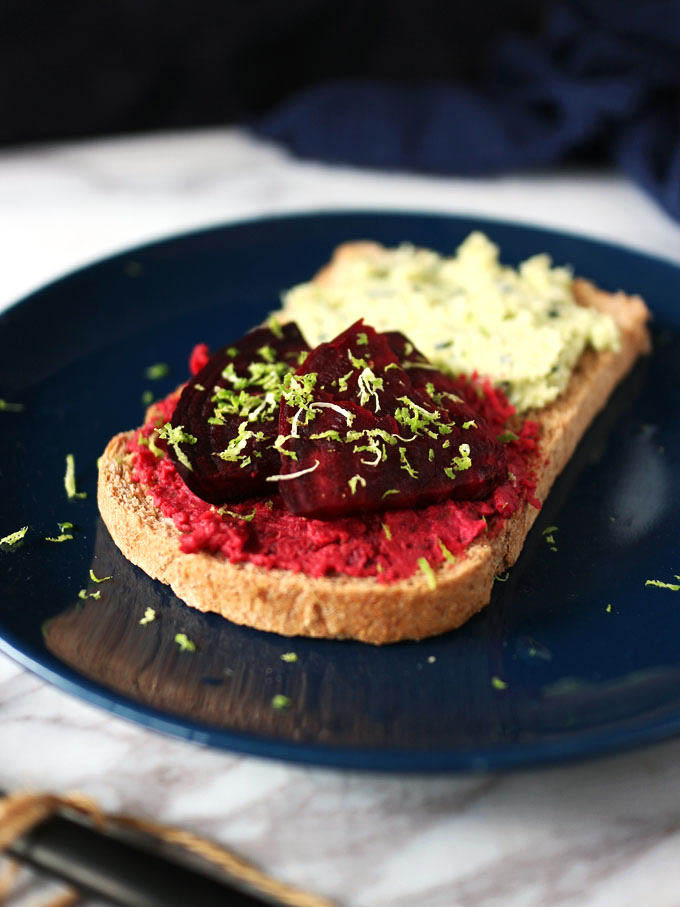 Here I use it as a spread on a piece of toast bread, which was mainly for esthetic purpose at first, but I found that it's not bad as well.
BTW, the green stuff smashed on the other half of the bread is my Roasted Garlic Edamame Puree.
I literally addicted to this beet hummus for a year and I feel it will be the same for another year to come. I make it even in winter, which should be able to show my love toward this pinky, beautiful hummus.
And, as you might have known, beet has tons of nutrition, which is definitely a plus here.
This beet hummus is really amazing. If you want to try more hummus variations, check out: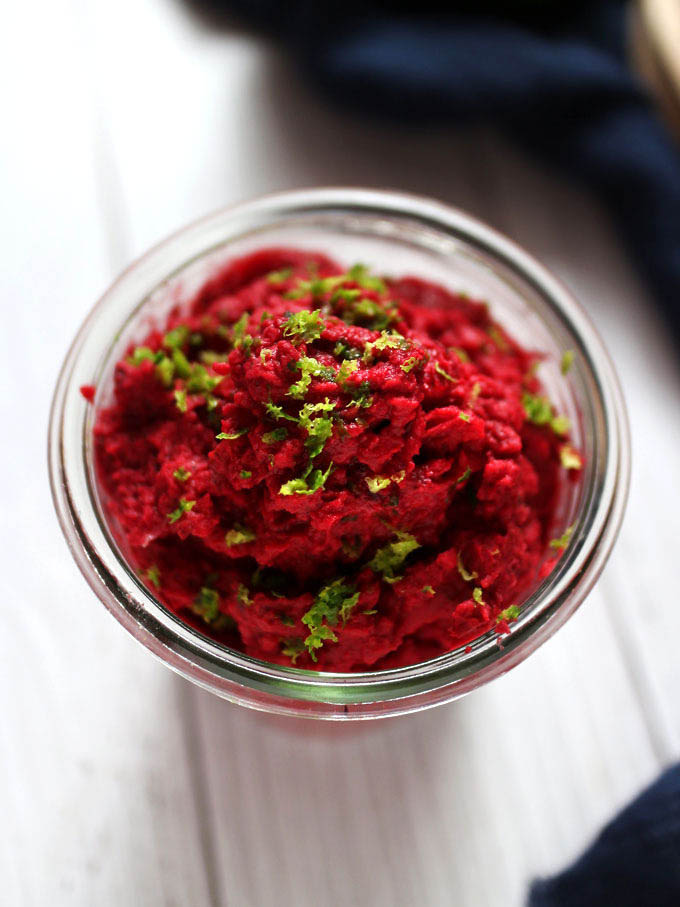 Easy Beet Hummus (9 ingredients)
This Beet Hummus is one of my all-time favorite food. It's creamy, sweet, and super easy to make!
Ingredients
100

g

beetroot

,

~1/4 big one, sliced and steamed

165

g (1 cup )

cooked chickpea

1

Tbsp

lime juice

1.5

Tbsp

extra-virgin olive oil

1

Tbsp

tahini

A

pinch of

salt

,

to taste

1/4

tsp

ground black pepper

2

garlic cloves

,

roasted

1/4

tsp

onion powder
Instructions
Steam the beet slices first. Then let them cool down.

Add the sliced beets and chickpeas in a food processor and chop them finely. Stop and scrape down the sides as needed.

Add the rest ingredients and continue to blend until smooth.

Taste to add more salt or lime juice as if you want.

Enjoy on its own or match it with some veggie sticks, crackers, or bread.
---
Notes
Storage: Store in an air-tight container the fridge for 3 – 5 days.