Read the post in:
繁體中文
Thick, naturally sweet, and tinted with a depth of autumn flavor, a cool Apple Pie Smoothie Bowls is here to welcome the upcoming Fall season. PS. No banana in this recipe.
It's September and I'm ready for the Fall, even though it's still getting hot in the noon sometimes.
That's why I choose to start with something cool but also carries the autumn note: Apple Pie Smoothie Bowl.
I love smoothie bowls. I remember I've dreamed to have a smoothie bowl every single day. But this year the urge is taken by overnight oats. (If you've followed my recent posts, I think you have a great idea what I'm talking about.)
However, I'm still in love with smoothie bowls. And I would like to try something new to kick start the autumn. The first thing that pops in my head when it comes to autumn is apple pie. So here we go.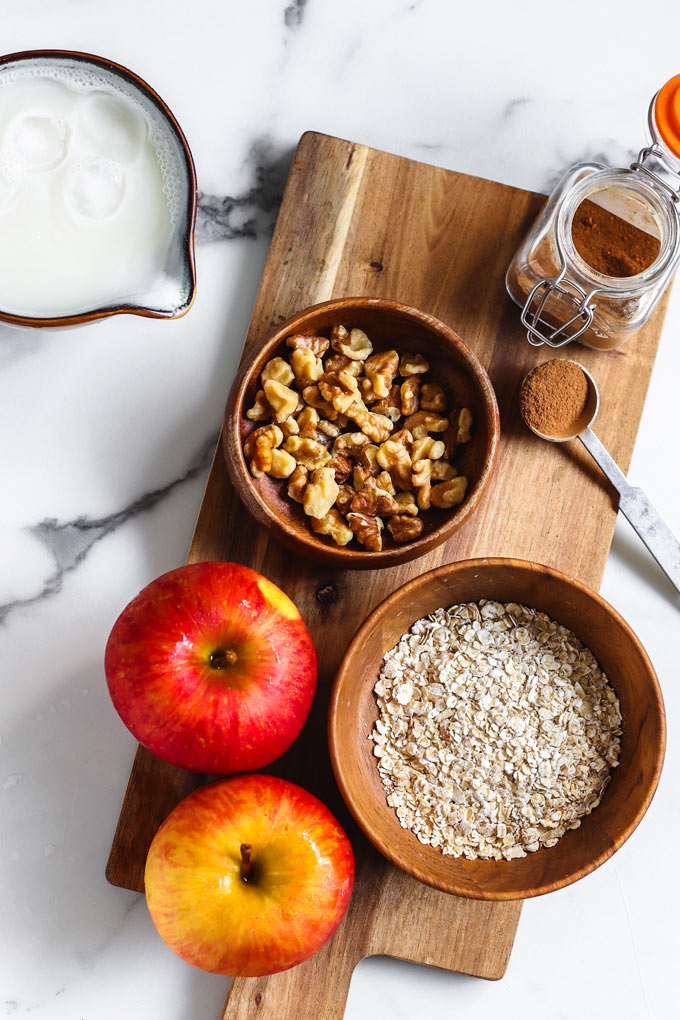 Ingredients You Need
Many smoothie bowls use bananas but not for this apple pie smoothie bowl this time. The 5 ingredients you need for the smoothie bowl are:
Apples: The hero of this recipe. You can use any kind of sweet apples. I like Fuji, Gala, and Honeycrisp.
Apple Pie Spice: It's a combination of different spices, generally including ground cinnamon, ginger, and cloves. You can buy it online (I usually shop on iHerb) or make your own HERE.
Walnuts: Walnuts are the budget-friendly option in terms of nut choice here. They are really nutty after toasted. Pecans are another good option if you got them at hand.
Instant Oats: Instant oats are a new ingredient for me in terms of smoothie bowl. The oats really help to thicken the smoothie to make it creamy and satisfying.
Plant Milk: Any kind of plant milk will work. I like to use vanilla soymilk and organic almond milk. Oat milk and walnut milk will also be great options.
Another little note: Since we're not going to use any ice cubes, it's better that the apples and plant milk are cold. Or, you can add a few ice cubes to make it a bit cool.
I don't count the toppings into 5 ingredients because I think not everyone likes to add tons of toppings as I do. (But why not?)
I usually add some granola, nuts, and freshly chopped fruits for toppings. You can do whatever you like to make your own bowls.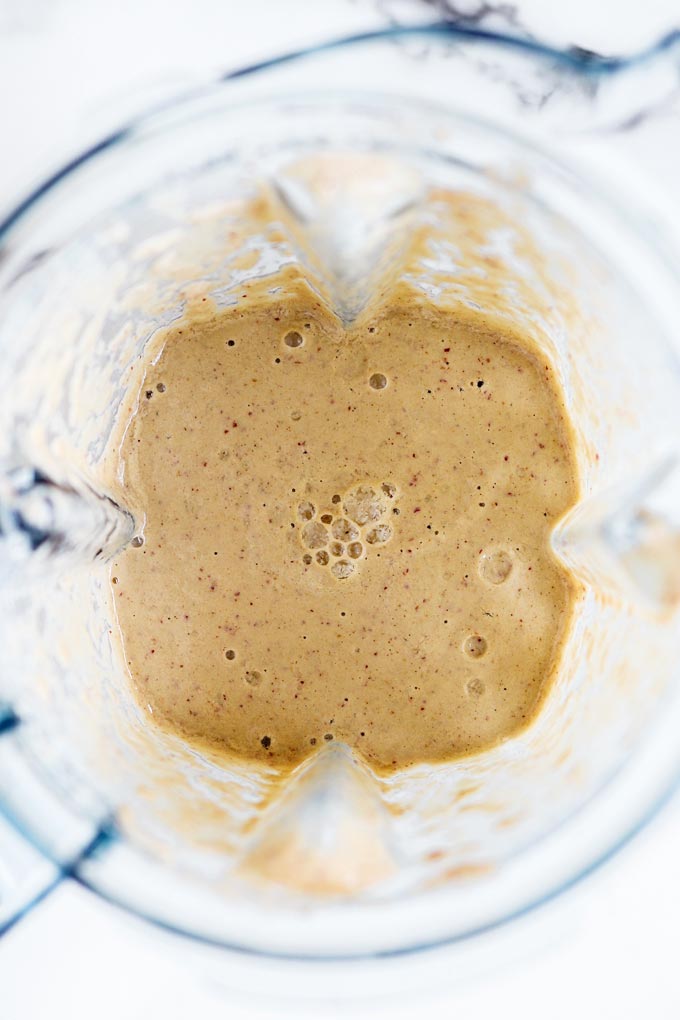 How to Make Apple Pie Smoothie Bowl
Core and quarter the apples.
Add all ingredients to a blender and blend until smooth.
Pour into your favorite bowl and add toppings you like.
That's it! It probably won't take you more than 5 minutes, especially if you got a nice blender in the house.
Because the oats and walnuts, the texture of these apple pie smoothie bowls might not be as smooth as the fruit-based smoothie bowls. But it's still creamy and thick.
If you prefer a smoother texture, you can replace the instant oats with plant-based yogurt. The replacement will add a slightly tangy note to the bowls.
The taste is pretty mild but at the same time flavorful, thanks to the apple pie spice. It's not as icy as the frozen-banana-based smoothie bowls, perfect for the cool but not chill autumn.
I hope you could give it a try and let me know your thoughts or changes. If you're interested in more vegan breakfast recipes, here are:
Apple Pie Smoothie Bowl (5 ingredients)
Thick, naturally sweet, and tinted with depth of autumn flavor, a cool Appie Pie Smoothie Bowls is here to welcom the upcoming Fall season. PS. No banana in this recipe.
Ingredients
2

medium apples

,

better refrigerated overnight

1/4-1/2

tsp

apple pie spice

,

adjust according to your preference

3

Tbsp

walnuts

,

or pecans, toasted

4

Tbsp

instant oats

,

or plant-based yogurt for a smoother texture

1

cup

plant milk

,

cold, I use vanilla soymilk
Toppings (adjust to your liking)
Instructions
Core and quarter the apples.

Add all ingredients to a blender and blend until smooth. For the most creamier texture, a great blender is recommended.

Pour into two bowls and add the toppings you like. Here I add some granola, nut butter, crushed walnuts, and apple slices.
---
Notes
Storage: This smoothie bowl is best consumed fresh. But if you do have leftovers, you can pure them into an ice cube tray and store them in the freezer. Add the cubes to a blender to blend again next time.