Read the post in:
繁體中文
Natural sweetened, this nutty "Rawnola" or "Raw Granola" only needs 3 ingredients and 5 minutes to make!
Rawnola (Raw Granola)
Most granola is baked or toasted, and I've shared quite a few granola recipes, such as Banana Bread Granola and Chocolate Peanut Butter Granola. But this "Rawnola" has just become my recent favorite!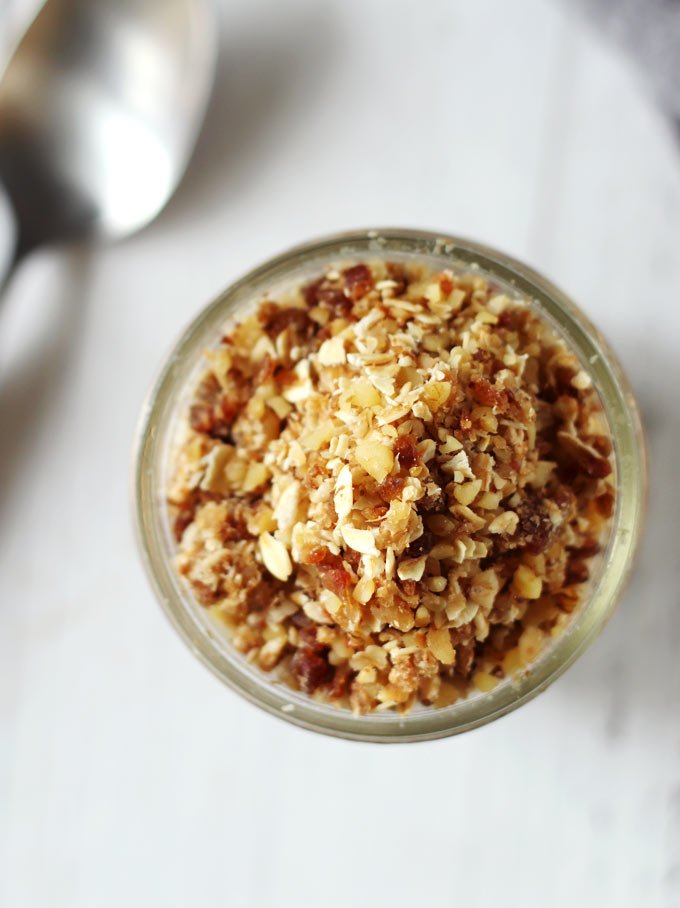 As the name suggests, this Rawnola is raw granola, without baking or turning on the stove.
I'm not a raw dieter. Actually, I'm not on any specific diet but just eat what I want with my core values. It might just be an accident that I love the Rawnola so much, a beautiful accident.
Only Need 3 Ingredients!
This Rawnola recipe is not only easy to make but also just requires 3 ingredients. How awesome is that? And those 3 ingredients are also easy to find, or, if you often make my recipes, they are probably already in your pantry. They are:
Quick & Easy to Make in 5 Minutes
You don't need to lot of time to make it as well, just 5 minutes, or less, to make your Rawnola for the following week.
Naturally Sweetened, Sweet & Nutty
It's naturally sweetened with dates and tastes really nutty thanks to the walnuts.
I usually enjoy this Rawnola with soy yogurt or overnight oats. Sometimes I just scoop out a big tablespoon and put it in my mouth. High-five if you want to do the same.😉
On Saturday or Sunday, I will add the Rawnola to my smoothie bowl, making my smoothie bowl even prettier than it already is. (I'm proud of my smoothie bowls 😂)
As the main components of smoothie bowls are usually fruits, this Rawnola is really a great add-on to fulfill the perfect nutrition profile. But if you know me, you know that taste definitely comes first when I enjoy my food.
This Rawnola is also commonly seen in my Instagram pictures.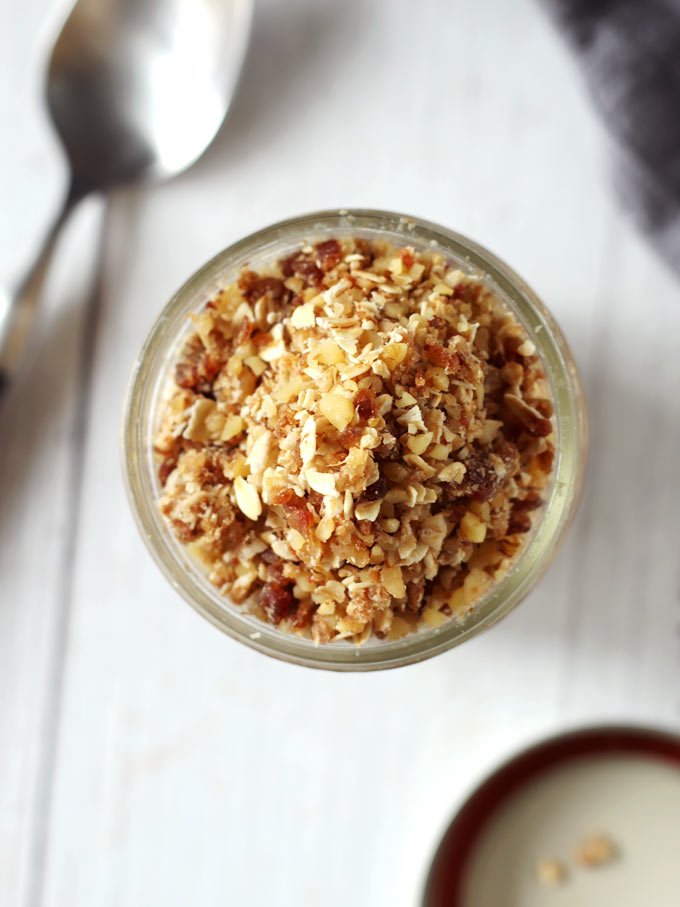 I hope that I've made it sound really enticing, even though this granola doesn't look really appealing at first glance. In the meantime, you can also check out my Coconut Chocolate Granola, Naturally Sweetened Granola, and Chocolate Hazelnut Quinoa Granola for more breakfast options. And let me know which one you like the most in the comment section below! 🙂
I hope you enjoy it as much as I do. If you make this recipe, don't forget to tag @Barrelleaf + #barrelleaf on Instagram. I always love to see them and to know how it goes.
3-Ingredient Rawnola
Natural sweetened and super simple to make, this nutty "Rawnola" or "Raw Granola" only needs 3 ingredients and 5 minutes to make!
食材
40

g

去籽椰棗乾 pitted dates

45

g

核桃 walnuts

45

g

傳統燕麥片 rolled oats

⅛

tsp

鹽 salt

,

optional, but recommended 非必要, 但建議加
作法
將去籽椰棗乾放入食物處理機中,用按壓的方式將椰棗乾切細碎

加入核桃、傳統燕麥片、鹽,繼續用食物處理機以按壓方式混合食材,至有點像麵包屑
English Version
Add the pitted dates to a food processor first. Use "pause" to chop the dates into fine pieces.

Add the walnuts and oats to the food processor. Use pause to combine them with the dates until all become small crumbles.
---
---