鹹甜微酸、帶著深韻的滋味,這道巴薩米克醋烤菇只要 7 樣食材、作法簡單,是我最愛的配菜之一,冷熱都好吃,而且 30 分鐘內就能搞定!
Salty, sweet, sour, umami, the 7-ingredient Easy Balsamic Roasted Mushrooms are one of my favorite side dishes. You could enjoy them both hot or cold. Let's make it in 30 minutes!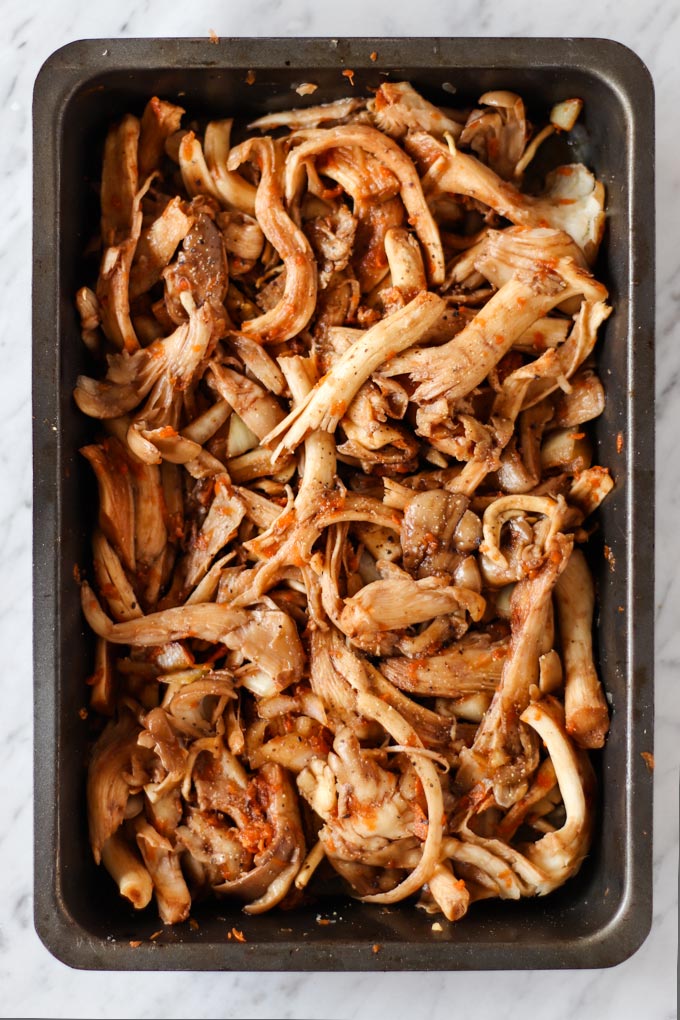 巴薩米克醋烤菇
Balsamic Roasted Mushrooms
I've been loving these roasted mushrooms for a long time. Well, at least for 1-2 years. They got a great balanced taste between sweet, salty, and a little bit sour. What makes me love the most is the umami flavor.
我已經深愛上這巴薩米克醋烤菇有段時間了,至少 1-2 年。它的味道絕佳,在鹹、甜、微酸中取得非常棒的平衡,而讓我最著迷的是那有點難形容、有深度的層次韻味。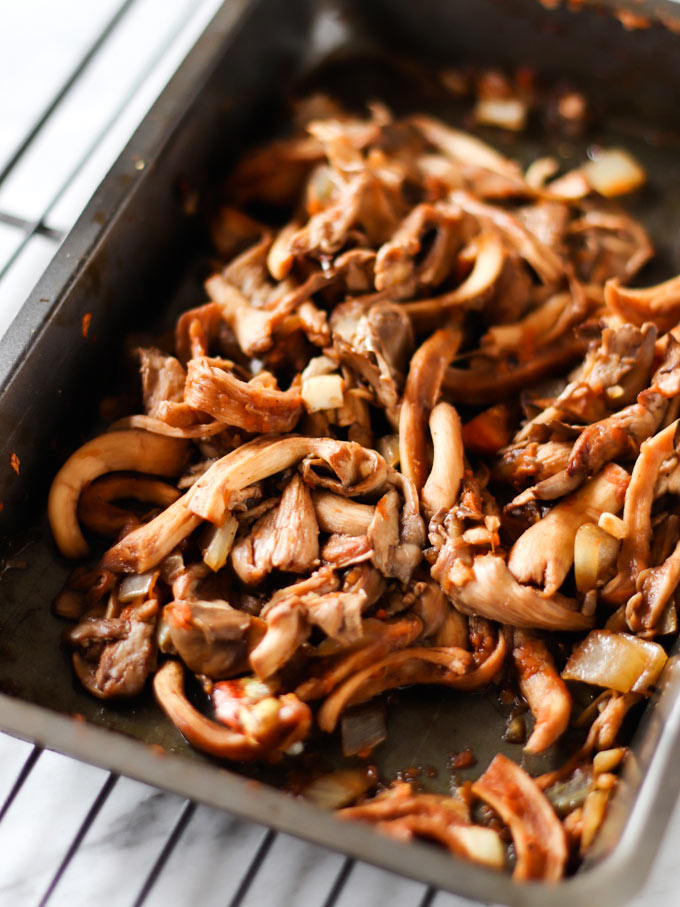 只要 7 樣食材!
Only 7 Ingredients!
It's super easy to make these roasted mushrooms and you only need 7 ingredients and maximum 30 minutes. How easy, you ask? Simply put, mix the sauce, split the mushrooms, chop and shred the veggies, mix all then bake. Done!
I personally like to use oyster mushrooms for this recipe, but feel free to try with different mushrooms that you think would work, too, such as white beech mushrooms, beech mushrooms, king trumpet mushroom, shiitake mushrooms, button mushrooms, etc.
I seriously don't have much to say because it's really a simple side dish that I could enjoy every day, either cold along with my summer salad bowl or warm in a sandwich or risotto. (PS. You could check out my 3 favorite summer salad video Here.)
製作這道巴薩米克醋烤菇非常單,只需要 7 樣食材、30 分鐘內搞定。多簡單呢? 簡短來說:混合醬料、將菇菇扒成小塊、切刨蔬果、混合後烘烤,完成!
我喜歡用秀珍菇,但你也可以用其它種你覺得適合的菇類嚐試,像是雪白菇、鴻禧菇、杏鮑菇、香菇、蘑菇等等。
其實我沒有太多話想到可以說,因為它真的是道作法簡單、我會想要每天都享用的配菜,可以冷冷得吃搭配我的沙拉碗,或是熱熱的夾入三明治或放在燉飯上。(PS.你可以點這裡看看我最愛的 3 道簡易夏日沙拉影片)
Oh, if you got quite a few mushrooms at hand, you could also try my Vegan Mushroom 'Meatballs', Chinese Sesame Mushroom Risotto, and Creamy Vegan Mushroom Pasta Sauce. OK, let's roll up our sleeves.
對了,如果你手邊有不菇類,也可以試試我的 蘑菇核桃素肉丸、麻油香菇燉飯,還有 素蘑菇白醬。好了,來動手做吧!
Click Below to Pin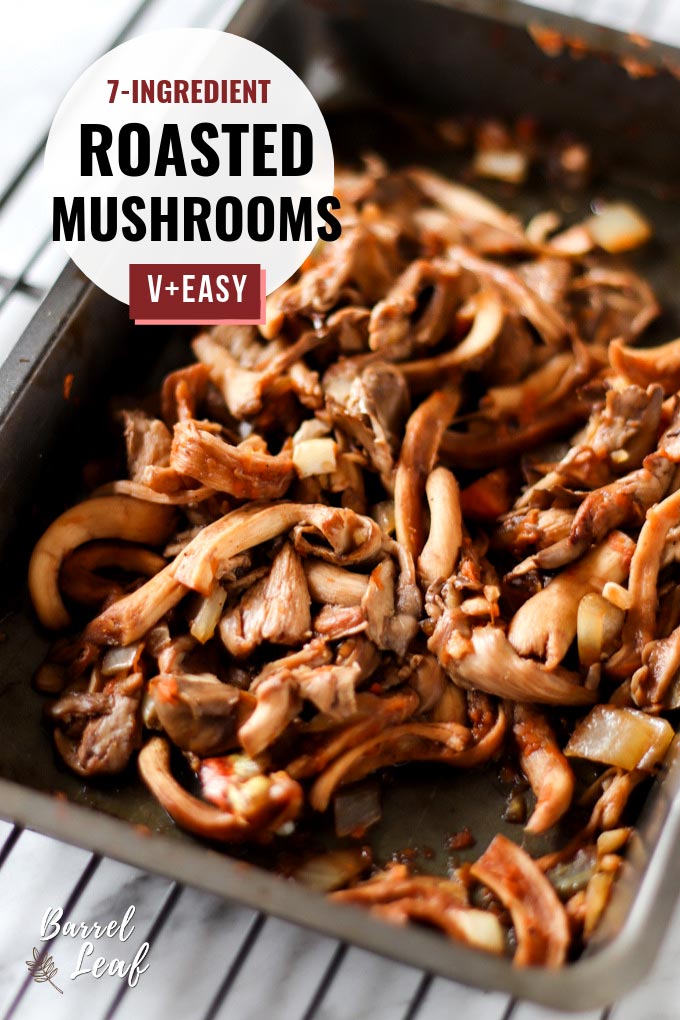 完整食譜 How To Make
Print Recipe
簡易巴薩米克醋烤菇 Easy Balsamic Roasted Mushrooms (7 Ingredients)
Ingredients
25

g

soy sauce 醬油

1

Tbsp

aquafaba (chickpea water) 煮鷹嘴豆水留下的液體

,

or olive oil 或橄欖油

20

g

balsamic vinegar 巴薩米克醋

400

g

oyster mushrooms 秀珍菇

20

g

carrots 胡蘿蔔

1/4

onion 洋蔥
Instructions
Preheat the oven at 175 C / 350 F.

In a small bowl, mix the Worcestershire sauce, soy sauce (use tamari or liquid amino if sensitive to gluten), aqufaba, and balsamic vinegar together.

Grab a 6" or 8" baking tray. Directly split the mushrooms into smaller pieces to the baking tray.

Use a grater directly shred the carrot to the mushrooms.

Chop the onion finely. Then add it along with the pre-mixed sauce to the mushrooms to mix all together.

Place into the oven to bake for 20-25 minutes until the mushrooms obviously shrink in size, soft and juicy. You can enjoy them both warm or cold.

取一個 6 吋或 8 吋深烤盤,將秀珍菇撕成小塊直接放入烤盤內

將洋蔥切細碎,之後與事先混合好的醬料一同倒入放菇的烤盤,混拌均勻

放入烤箱烘烤 20-25 分鐘,至菇明顯縮小,變得軟嫩多汁即可。可以熱食也可冷食
---
---
---